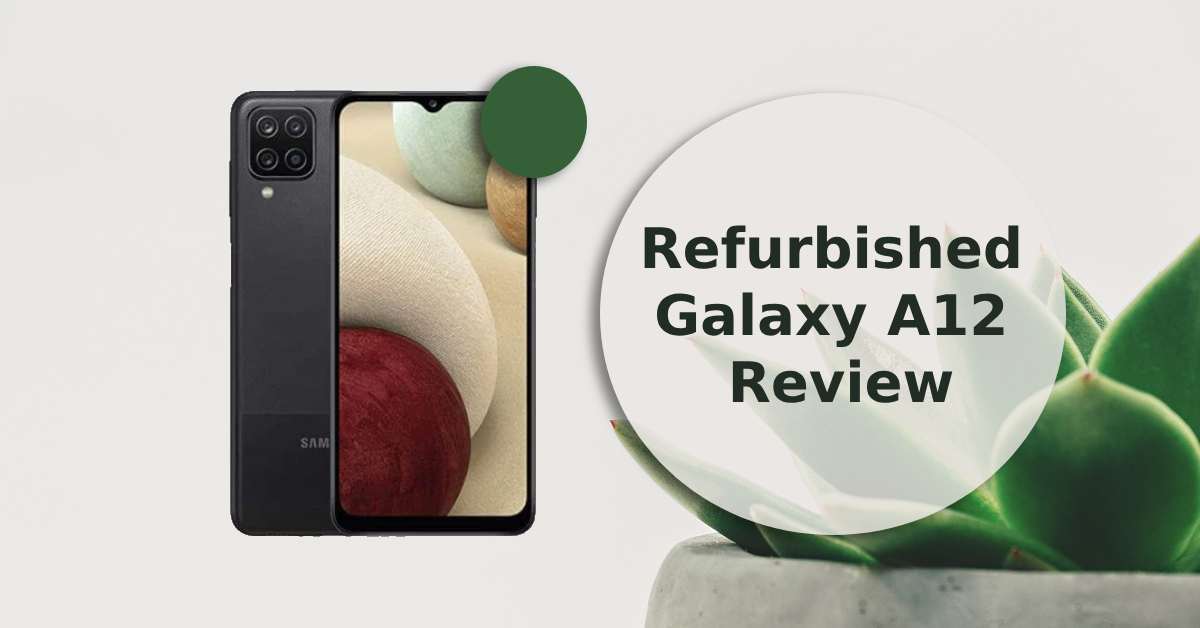 Refurbished Samsung Galaxy A12 Review: Reliable and Affordable
In the bustling market of mobile phones, the refurbished Samsung Galaxy A12 emerges as a breath of fresh air for those seeking an affordable yet reliable device.
With capabilities that span from snapping quick photos to enduring phone calls, this budget phone ensures you navigate daily essentials without depleting battery your battery.
Do you want to learn more? Read on and explore this Galaxy A12 review today.
Or, receive a phone much quicker by looking at our range of budget phones! With our collection of refurbished Samsung phones, you're never too far from a great deal with UR.co.uk.
Key Takeaways:
Robust Battery Life: Get a powerful battery life that'll keep you on the go all day long.




Rear Camera System: Great for first-phone buyers.



Refurbished: Receive all this for even less with a refurbished device.
The Budget Phone Paradigm and The Values of Refurbished
Let's face it: not everyone needs a flagship device with all the bells and whistles.
For many folks, the allure of a budget phone like the Samsung Galaxy A12 lies in its straightforward functionality.
You get the essential features without the complexity—or the price tag—of high-end models.
It covers your day-to-day basics like making calls, sending texts, and even taking decent photos with its quad-camera array.
Plus, throw the word 'refurbished' into the mix, and you can get a device that functions like a brand-new Samsung phone, but only costing a fraction of the original price.
Now, that's a deal worth considering.
Specs of a Refurbished Samsung Galaxy A12
Alright, you're probably itching to know what kind of firepower this budget-friendly Samsung Galaxy A12 refurbished packs.
The specs won't disappoint, especially considering the price point.
Display measurements and Resolution: 6.5 inches, PLS LCD, with a 720 x 1600 pixel resolution, clocking in at a 20:9 aspect ratio (~270 ppi density)




Dimensions: Measures 164 x 75.8 x 8.9 mm, making it a comfortable fit in your hand and pocket.




Weight: A modest 205 g (7.23 oz) that won't weigh you down.




Processor: Runs on a Mediatek Helio P35 (MT6765), giving you ample power for light gaming and open apps.




Audio Listening: The Samsung Galaxy A12 includes a headphone jack for wired audio listening.




Battery: Sports a Li-Po 5000 mAh battery, non-removable, backed by 15W wired charging for quicker power-ups.




You can also expect at least 80% battery health when refurbished by us.



Plus, if you're getting a Samsung Galaxy A12 refurbished by UR.co.uk, rest assured these specifications remain consistent due to our stringent 90-point phone check.
Galaxy A12's Battery Life
Battery anxiety, be gone!
The Samsung Galaxy A12 comes equipped with a beefy 5000mAh battery, designed to keep you powered throughout the day.
Whether you're scrolling through web pages, watching videos, or simply using your device for day-to-day tasks, this phone won't leave you hanging.
In fact, testing shows the A12 can last over 16 hours of web browsing over Wi-Fi. It even lasts an hour less for offline video looping. Now, isn't that something?
Note: This device doesn't support wireless charging like more luxurious Samsung phones, but don't let that deter you. 
It still offers you peace of mind by frees you from the shackles of a charging plug with the help of it's long battery life.
Samsung Galaxy A12 Cameras
Casual photography lovers, feast your eyes on this—Samsung Galaxy A12 has a quad camera rear setup to the table that's great for those wanting to take a quick snap, without breaking the bank.
Rear Cameras: Quad setup, featuring a 48 MP main camera, a 5 MP ultra-wide camera, a 2 MP macro camera, and a 2 MP depth sensor.




Front Facing Camera: 8 MP for those must-have selfies.




Video Recording: Crystal-clear 1080p at 30fps.



Camera Features: Night mode, Portrait mode and more.
What About Camera Performance?
So, you're keen to know if this camera's all show and no go, huh?
Well, the camera app on the Samsung Galaxy A12 delivers an experience as smooth as buttered toast.
All you need to do is swipe left and right to switch effortlessly between modes, avoiding any fuss or fumble.
While it might not strut down the runway with the high-end Samsung models, this rear camera system doesn't exactly slum it either.
In a bright setting, expect to capture bright, crystal-clear images that make your memories pop.
Think of it as the ultimate 'starter pack' for budding photographers or folks who just want a decent shot without diving into the labyrinth of professional camera settings.
It cuts through the confusion, serving up quality shots without the intimidating maze of buttons, settings, and modes.
Want some more intel on your favourite mobile phone? Explore our refurbished Galaxy S20 review to get more in the know today!
Extra Features when Buying from UR.co.uk
Curious about the cherry on top? When you snag a refurbished device from UR, you're not just saving cash—you're bagging a whole host of other benefits.
Condition Codes: Choose from "Premium," "Excellent," or "Good" refurbished phones - all giving you high-quality internal features, but with various degrees of physical conditions.




Eco-Friendly Package: Our phones come in 100% biodegradable boxes.




Inside, you'll find your device, a cable, a plug, and even a 100% composable eco-case and screen protector on selected devices.




Oh, and let's not forget a cleaning cloth, a warranty card, and a SIM tray opener.



But, hold the phone! UR's pulling a showstopper by handing you 12 months of FREE insurance with every phone.
This covers you for a plethora of "uh-oh" moments, from theft and accidental loss to those "spilled my tea" instances of liquid damage.
In a nutshell, a refurbished phone from UR isn't just a phone—it's a full-on lifestyle upgrade, like finding an extra chips at the bottom of the bag. All the good stuff, none of the buyer's remorse.
Final Thoughts
So here we are, at the crossroads of decision and delight.
The refurbished Samsung Galaxy A12 hits that sweet spot between performance and budget, making it an ideal contender for your day-to-day.
It's got a resilient battery, a fairly nimble camera, and it's not asking you to rob a bank.
Throw in the UR treatment, with our quality checks and customer-first perks, and you've got yourself a deal that's not just smart—it's downright savvy. Look at our FAQ section to find out more!
Trust us; you're never too far from help with UR.co.uk.