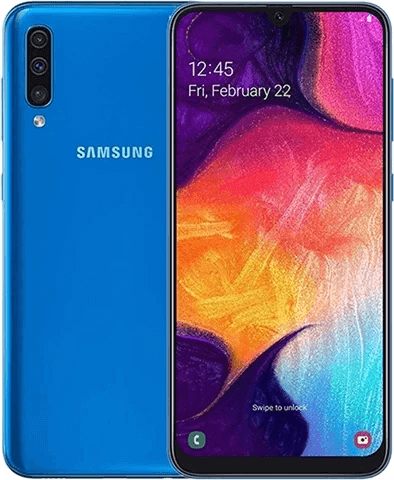 Samsung Galaxy A50
This collection is empty
The refurbished Samsung Galaxy A20e is an excellent entry-level device - a perfect phone for those on a tight budget or even as a child's first phone. Its fast charging battery, compact design, 13MP camera and intuitive user experience are just a few reasons to purchase the A20e. Combine those with ur unmissable low prices and it becomes a very easy choice.
And let's not forget that every refurbished Samsung phone bought from ur also comes with a FREE 12-month warranty, FREE fast delivery, and £45 worth of FREE accessories! 
With a massive range of refurbished Samsung Galaxy phones available from ur today, you can be sure you'll find the best phone for you.
What to expect with a refurbished Samsung Galaxy A50 from ur?
The original Samsung Galaxy A50 release date was March 2019, making this device a 5th generation Galaxy A series phone. However, even being 3 generations older than the newer models, the A50 still packs a punch and holds its own in the mid-range smartphone market.
The large Super AMOLED display with built-in fingerprint reader is a gorgeous piece of design and let's face it, no one wants to own an ordinary looking phone!
Inside, the phone does not let us down. The A50's Exynos 9610 processor performs smoothly, jumping easily between apps, with impressive performance results in tests for both CPU and Graphics.  
And of course, the superior 25MP triple sensor rear camera takes clear, bright & sharp photos. The wide dynamic range means scenes with different lighting are exposed evenly and the 2nd wide-angle lens allows you to capture more of those vast landscape scenes.
What is a Super AMOLED screen? 
First developed in 2006, AMOLED (active-matrix organic light-emitting diode) is a type of OLED display technology used in smartphones and other touchscreen devices. 
OLED displays (organic light-emitting diodes) incorporate organic materials that light up when in contact with electricity. The 'active-matrix' part of AMOLED that makes it different to OLED is a kind of screen technology that not only displays light but also a method to detect touch.
This technology has a layer behind the OLED panel, giving light to each pixel rather than a backlight like LCD displays. AMOLED displays can render a deep black colour, and with each pixel being able to be coloured as needed, this means that the AMOLED screen is able to display a huge array of colours. 
AMOLED displays also have a faster refresh rate than other types of displays, for smoother and more realistic graphics, making them great for gaming or watching movies.
A Samsung Super AMOLED display is one that has an integrated touch function built into the screen. It will automatically adapt to various levels of brightness and lighting environments, going easy on the eyes while providing amazing picture quality.
Is the Samsung A50 good for Gaming? 
With the Super AMOLED display, Exynos 9610 CPU and large battery capacity, a refurbished A50 is a high achiever when it comes to daily use. Coping impressively with multitasking and multi-apping, this is also a great little device for mobile gaming. 
The Mali G72 MP3 GPU (graphics processing unit) performed well in tests, maintaining a steady frame rate with no slowdown, even with extended gaming. The GPU supports the latest graphics APIs and processing techniques to create more realism when playing mobile games.
The 4000mAh Li-Po battery performed highly in test conditions, giving hours of combined video playback, web browsing and talk time usage, meaning that its battery performance in real life conditions is just as impressive. 
All our refurbished phones go through stringent industry checks to ensure they meet like-new condition standards – this means they arrive with a minimum 80% battery life, so you can enjoy your newly refurbished phone without worrying.
What's in the box? 
At ur, every refurbished Samsung gets delivered to you in a beautiful 100% biodegradable box, starting your journey towards change and helping our environment. 
Inside each box, you'll not only find your shiny new phone but also each of the below:
Brand new cable and plug
100% compostable eco-case*
Cleaning cloth
Warranty card
Sim tray opener
*Selected devices only
On top of the free accessories worth up to £45, we offer free fast delivery on all UK orders, a 30-day money back guarantee and a 12-month warranty! 
Love it. Use it. Return it. 
Keep hold of your box and when you have finished with your phone and are ready to find a refurbished replacement, simply pop it in and send it back to us. We'll give you the best possible price for your pre-loved phone so you can trade it in and join our circle.
Here at ur we are on a constant mission to change consumer habits to think circular – no more 'out with the old, in with the new'. We would rather increase the lifespan of just some of the billions of devices already in circulation, not constantly add more. 
That's why when you buy a Samsung refurbished phone from our huge range at ur, you'll also be joining our circle and helping to reduce both e-waste and our carbon footprint. 
Our Commitment
The dedicated team at ur are extremely proud of our ongoing fight against climate change, even despite our love for technology. To offset the environmental impact, we have promised to plant a tree for every refurbished phone we sell while also helping fund projects based all over the world.
Follow our environmental progress here
Join the ur Circle today - you'll never need to buy new again.
Stay in the loop
Once you're in the loop you won't want to leave.
Be part of our Circle for exclusive offers and discounts.