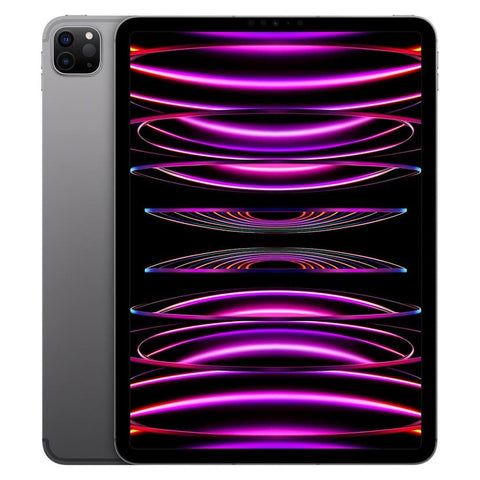 Refurbished Apple iPad Pro
Showing 1 - 20 of 20 products
Get UR iPad Pro Refurbished!
Discover the perfect refurbished iPad Pro at UR. Our certified devices offer excellent condition and performance at a fraction of the price of new ones.
Upgrade your tech game and save money with our wide selection of refurbished iPads.
Why choose refurbished? You'll get incredible savings on elite models like the iPad Air or advanced iPad Pro.
Plus, you'll be helping to reduce electronic waste. Every device is meticulously tested and inspected for pristine quality.
Browse through our collection, compare prices and features, and find your ideal iPad. And rest assured with our warranty coverage for unexpected repairs.
Don't overspend on brand-new electronics. Choose UR for top-notch refurbished devices that fit your budget and needs.
Let's make a difference while enjoying the power of high-quality iPads.
Shop now at UR!
Experience the Power of Our Certified Refurbished iPad Pro
Discover the thrill of owning a certified refurbished iPad from UR. With our wide selection of refurbished iPads, you can find the perfect device to fit your needs and budget.
Whether you're looking for a cheap refurbished iPads or eyeing the latest generation, we have you covered.
Why settle for old iPads when you can enjoy the performance and savings of a refurbished device?
Our iPads are carefully tested and inspected, ensuring they are in excellent condition. Plus, by choosing a refurbished iPad, you'll not only save money but also contribute to reducing electronic waste.
Browse our collection with ease. Compare prices, grades, and features to find your ideal iPad. From Wi-Fi capabilities to different storage options, we have something for everyone.
Upgrade today and experience the power of a certified refurbished iPad at a fraction of the cost of a new one.
Shop now and join thousands of satisfied customers who have discovered the joy of owning a top-quality refurbished iPad Pro from ur.co.uk.
Don't miss out on this exciting opportunity – start exploring our collection today!
UR's Commitment: 90-Point Check and 12-Month Warranty
Looking for a cheap refurbished iPad? Look no further. At UR, we're certified refurbished sellers committed to providing high-quality devices at incredible prices.
Why spend more on a brand-new iPad when you can save money by purchasing a fully functional refurbished one from UR?
Our tech experts ensure that each device undergoes a rigorous 90-point check and comes with a 12-month warranty.
Not only will you enjoy significant savings, but you'll also help reduce electronic waste. With UR, you can have the latest features in excellent condition without breaking the bank.
Upgrade your tech game with a refurbished iPad from UR. Shop now and experience the perfect combination of affordability and quality!
Shop with Confidence: PhoneCheck Certification and 12-Month Free Insurance
At UR, we're not just your average sellers - we're certified experts who provide reliable and affordable devices that meet our high standards.
And when buying a refurbished iPad Pro, you get to save money without compromising on quality.
Our refurbishment process ensures that every iPad Pro is fully functional and works just like new.
Say goodbye to worries about previous owners or hidden surprises. We've rigorously tested each device to give you peace of mind.
But it doesn't stop there! We believe in making a positive impact on the environment by reducing electronic waste.
By choosing a refurbished iPad Pro, not only are you saving money, but you're also contributing to a greener future.
And guess what? We've got your back with 12 months of free insurance coverage. No need to stress about accidental damage or unexpected mishaps - we've got you covered.
Upgrade to the latest features without breaking the bank. Our certified refurbished iPad Pro devices offer luxury technology at a fraction of the cost.
Shop with confidence, knowing that our devices have been thoroughly checked and come with PhoneCheck Certification.
Don't miss out on this amazing opportunity! Make the smart choice today and shop refurbished iPad Pro models from UR. Innovation, reliability, and savings await you!
More than Just a Purchase: An iPad Pro with Impact
Discover the world of possibilities with UR's certified refurbished second-hand iPad models. Experience the thrill of owning cutting-edge technology without breaking the bank.
Our collection includes a range of cheap, fully functional, and excellent-condition devices.
Choose from our lineup of refurbished iPad Pro models:
Don't settle for less when you can have it all. Upgrade to a refurbished iPad that saves you money while making a positive impact on the environment.
Join thousands of satisfied customers who have unlocked their potential with Ur's certified refurbished devices.
Unmatched Performance and Immersive Visuals of the iPad Pro
Unleash the power of the iPad Pro, the pinnacle of performance and visual brilliance.
UR.co.uk is your one-stop shop for certified refurbished iPads, offering competitive prices on top brands.
Find your dream device from the latest release year models and create your wish list today.
Experience a thrilling shopping adventure with us. Discover a world of possibilities as you explore our curated selection of sleek and powerful iPads.
Rest assured, our exceptional customer service will guide you every step of the way.
Don't wait any longer – embark on this unforgettable journey to find your perfect iPad at an unbeatable price. Shop now at ur and make your tech dreams a reality.
The iPad Pro: Where Productivity Meets Exceptional Design
Immerse yourself in the seamless blend of efficiency and stunning design offered by the iPad Pro. UR presents a range of certified refurbished iPads that enhance your productivity and lifestyle.
Explore our curated selection of leading brands featuring a range of high-quality devices.
Finding your perfect iPad has never been simpler, thanks to our competitive prices and user-friendly shopping experience.
Discover the endless possibilities that await with the extraordinary features and elegant aesthetics of the iPad Pro.
With its impressive performance and captivating design, this device effortlessly integrates into your professional and personal endeavours.
Unleash unrivalled productivity by harnessing the innovative capabilities of the iPad Pro.
Whether you're creating art, managing projects, or scanning documents on your iPad, this device empowers you to achieve more.
Upgrade your technology while keeping costs in mind by selecting our certified refurbished iPads.
Our iPads undergo extensive testing to ensure quality and are backed by a reliable warranty for your peace of mind.
Boost your efficiency and elevate your personal style with the iPad Pro from UR.
Shop now to experience unmatched design and performance that will transform how you work and play.
Stay in the loop
Once you're in the loop you won't want to leave.
Be part of our Circle for exclusive offers and discounts.