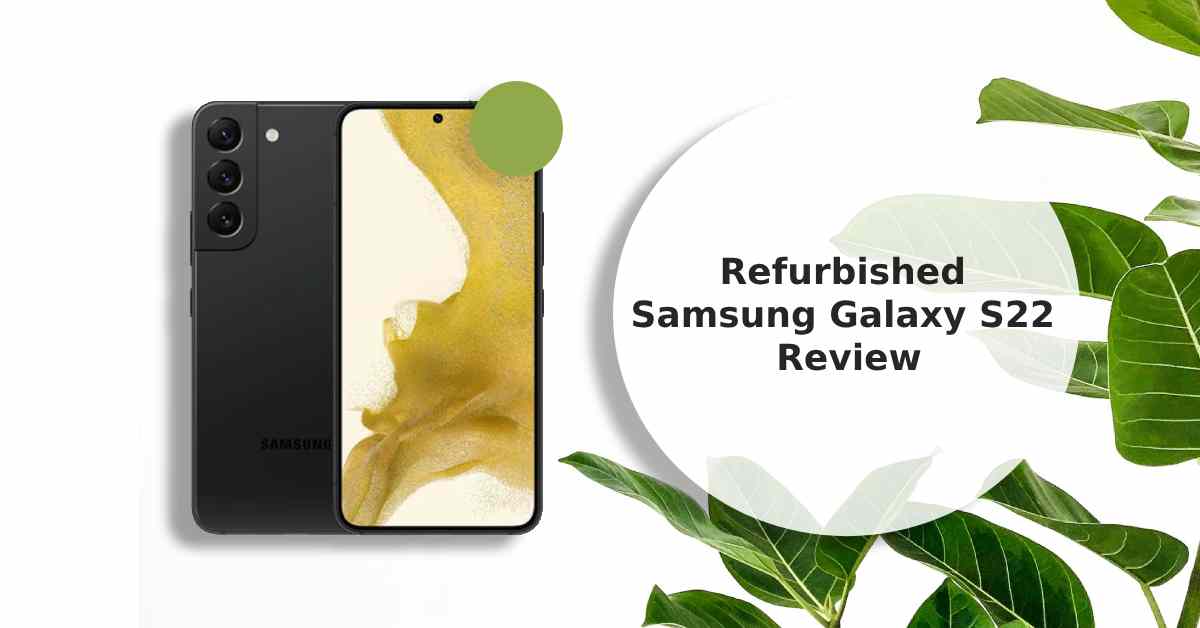 Innovation Unleashed: Refurbished Samsung Galaxy S22 Review
Are you curious about whether a refurbished Galaxy S22 can hold its own against its brand-new counterpart? You're in for a treat.
Not only does this particular Android marvel offer the same jaw-dropping performance, but it also comes at a price point that'll keep your budget in the safe zone.
Stick around as we uncover its capabilities, the stellar perks of buying from UR.co.uk, and why it just might become your next go-to gadget.
Want a device right the second? Explore our range of refurbished Samsung phones. Your next Samsung Galaxy S22 5G refurbished is ready to be discovered.
Key Takeaways
Main Camera: Experience the Samsung Galaxy S22's impressive camera when capturing important moments.




Quick and Efficient: Performance that could put rival phones to the test.




Battery Life: Extend battery life with the help of the phone's processor.



The Refurbished Root: Get this premium device for a fraction of the price.
The Specs of a Samsung Galaxy S22
Before we go any further in our review, are you ready to see what makes the Galaxy S22 tick?
Don't blink; you might just miss the sleight of hand that Samsung pulls off with this premium phone.
Whether you're scouting for a new phone or eyeing its refurbished version from UR.co.uk, you'll find these specs hard to resist:
| Specification | Detail |
| --- | --- |
| Display | 6.1 inches Dynamic AMOLED, 2340 x 1080 (FHD+) |
| Dimensions | 146 x 70.6 x 7.6 mm |
| Weight | 167 g / 168 g (mmWave) (5.89 oz) |
| Processor | Exynos 2200 |
| RAM | 8GB |
| Storage | 128/256GB |
| Battery | 3700mAh. Supports wired and wireless charging. |
These specs offer a robust framework for everything you desire in a capable smartphone.
With a display capable of HDR10+ and a peak brightness of 1300 nits, you're not just watching videos—you're virtually living them.
And talk about variety: with storage options ranging from a Samsung Galaxy S22 128GB to a Samsung Galaxy S22 256GB refurbished, you'll find a Galaxy S22 that fits you like a glove.
Performance of the Samsung Galaxy S22
So you've peeked at the specs; now let's see how it performs in real-world experiences.
Anchoring the show is the Exynos 2200 chipset.
Paired with an octa-core processor, which features a dynamite Cortex-X2 core clocked at up to 2.8GHz, this device zips through tasks like lightning.
To put things in perspective, the increased RAM and faster processor on the Samsung Galaxy S22 arguably rivals that of other Android phones like the Google Pixel 7, which has a Tensor G2 Chip that struggles to run high-demanding games as efficiently.
Smooth Transitions
One standout quality? The Galaxy S22's finesse in ramping down its performance.
It avoids those jarring, sudden drops that turn other phones into frustrating stutter-boxes.
Smoothing transitions, whether you're flipping through your gallery app, editing videos, or toggling between watching videos and making video calls.
Battery Life of the Samsung Galaxy S22
One drawback of the Samsung Galaxy S22 could be perceived as the battery life.
Why? The Galaxy S22's 3,700 mAh battery might be less robust on paper compared to other Samsung Phones, like the Samsung Galaxy S21's 4,000 mAh.
But here's the thing: it's about efficiency, not just size.
Thanks to the Exynos 2200 chipset, this phone squeezes every last bit of power out of that battery.
So whether you're snapping rear camera pics or streaming the latest binge-worthy series, you'll find it's more marathoner than a sprinter.
And with every refurbished device brought by UR.co.uk, you can expect at least 80% battery health with your Android phone.
Samsung Galaxy S22 Camera Performance
Let's talk camera—the soul of any smartphone worth its salt. 
Samsung's Galaxy S22 isn't just another phone with a good camera; it's a pocket-sized photography studio.
10 MP front-facing camera: Just for your lovely face.




Rear Cameras:




50 MP wide sensor: For those breathtaking landscape shots.




10 MP telephoto camera with 3x optical zoom: For capturing distant details.




12 MP ultrawide sensor: For those group selfies where nobody gets left out.



The camera on this device shines in varied lighting conditions, offering vivid colours, precise white balance, and expansive dynamic range.
Think less fiddling with settings and more capturing moments as they're meant to be seen, whether it's the gleam of direct sunlight or the mood of an indoor soirée.
Special Camera App Features
Beyond the impressive hardware, the Galaxy S22's camera suite offers features that tap into the magic of the moment. Let's get into the nitty-gritty.
The Night Portrait feature transforms dim settings into well-lit masterpieces.
Have you ever struggled to capture a memorable night out? Not an issue here. 
The Night Portrait can be engaged on both the front and rear lenses, ensuring you look radiant even in the moonlight.
Then there's Portrait Mode—your fast track to social media envy. It lets you snap eye-catching photos, whether it's a selfie or a candid shot of a friend.
Post-capture, you can finesse these shots further with Blur or Backdrop effects, turning any moment into a work of art.
The Designed of the Samsung Galaxy S22
Mimicking its predecessors in the S series, the Galaxy S22 sports an Infinity-O display that seamlessly integrates a circular cut-out at the top centre for that selfie camera.
The design is symmetrical from front to back, whispering 'sleek' from any angle you dare to peek.
Even the details on the sides have been dialled down to simplicity, giving it an uninterrupted, streamlined flow.
Exclusive Colours at UR.co.uk
As for colours, we offer the same as what Samsung sells.
Phantom White for those who adore a classic look; Phantom Black if you're into that mysterious vibe; Sky Blue for a dash of coolness; and Pink Gold when you're feeling just a tad fancy.
Each hue doesn't just add colour; it adds character.
Want to know more about the technical features evident in Samsung's phone? Explore our refurbished Samsung Galaxy A13 review and refurbished Samsung S23 deals to find out more.
The Value of Refurbished Samsung Smartphones
Let's address the elephant in the room.
The word 'refurbished' often makes people wrinkle their noses, conjuring images of damaged goods patched up with duct tape.
But modern refurbishing, especially for a high-end piece of kit like the Galaxy S22, is a whole different ball game.
At UR, we make sure every phone undergoes a rigorous 90-point phone check, carried out by engineers with expert experience.
The result? Phones that hit the same peak performance metrics as their box-fresh counterparts, except they come with a 'friendlier' price tag.
Environmental Considerations
When you opt for a refurbished Galaxy S22, the benefits are twofold: not only do you make a financially savvy choice, but you also contribute positively to the environment.
By giving a previously-owned device a second life, you're directly contributing to a decrease in electronic waste.
Moreover, you help to conserve valuable resources and curb the continual demand for the production of new gadgets.
What sets UR apart in this eco-friendly journey is our commitment to sustainability, exemplified by our 100% biodegradable packaging.
From the cable to the compostable eco-case available for selected devices, every element in your box aligns with our mission to minimise our ecological footprint.
Final Thoughts
All said and done, opting for a refurbished Samsung Galaxy S22 from UR is akin to hitting a jackpot.
You get a device that rivals a brand-new unit in features, performance, and design.
Yet, the ace up the sleeve? The price point of a premium device that also comes with £45 worth of accessories.
So what are you waiting for? Get a Samsung Galaxy S22 refurbished by us today.
It'll be the next best thing you do this year.