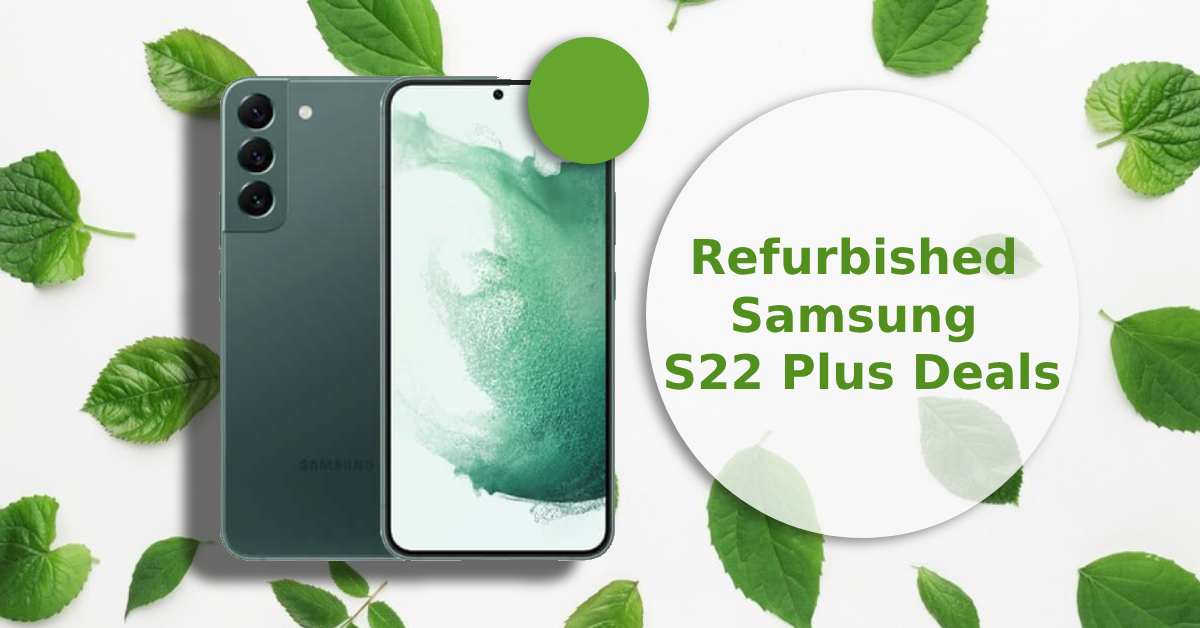 Refurbished Samsung S22 Plus Deals You Won't Want to Miss [2023]
Are you eager to explore the world of smartphones where cutting-edge technology harmonises with unbeatable affordability?
Look no further than the refurbished Samsung S22 Plus!
In this engaging guide, we'll navigate through the intriguing landscape of refurbished Samsung S22 Plus deals, promising an exciting journey through incredible features and unprecedented savings.
Just read on to discover more!
Do you want to look at a new phone here and now? Well, check out our collection of refurbished Samsung phones worth buying. You're never too far from a great deal with UR.co.uk. 
Key Takeaways:
Customisation: Get your refurbished Samsung Galaxy S22 Plus in multiple colours, including pink gold, phantom black and phantom white.




Dolby Atmos: The audio game-changer for Samsung Electronics.



Refurbished Phones: Have all the features at the best possible price.
The Values of Buying Refurbished
In a swiftly evolving tech-scape, the magnetic allure of owning the latest smartphone is undeniable.
Yet, the formidable price tags that accompany brand-new devices often leave people at a crossroads, pondering their options.
Enter the refurbished Samsung S22 Plus—a shining example of how the choice of a refurbished phone can redefine the game.
Unparalleled Cost-Efficiency
Refurbished Samsung S22 Plus deals present an irresistible proposition: substantial savings without the slightest compromise on quality.
Apart from a few marks here and there, these phones deliver a stellar performance, boasting features and specifications akin to their brand-new counterparts, all while circumventing the exorbitant price tags.
And, thanks to our meticulous 90-point PhoneCheck, you can be assured that these devices are presented in impeccable condition, offering an exceptional return on investment.
Eco-Friendly Sustainability
Embracing a refurbished phone isn't just a smart financial decision; it's also a conscientious stance towards environmental preservation.
By extending the lifespan of these devices, refurbished phones inherently reduce electronic waste, making a substantial contribution to ecological responsibility.
So when you buy a refurbished phone, you are one of the many fighting a battle against global e-waste.
Explore the Samsung S22 Plus Specs
Are you slightly more interested in a Samsung S22 Plus refurbished now?
Well, our journey continues as we delve deeper to uncover the remarkable specifications of this exceptional smartphone.
Whether you're contemplating a new or refurbished device, the following specifications remain steadfast, promising an unparalleled mobile experience.
Bigger Screen, Enhanced Experience: Prepare to indulge in a generously proportioned 6.6-inch Dynamic AMOLED 2X display, elevating your content consumption to new heights.




The display also boasts a crystal-clear 2,340 x 1,080 resolution for vibrant visuals, and a seamless 120Hz refresh rate that guarantees fluid navigation and gaming.




Sleek and Svelte Design: The Samsung S22 Plus presents itself with an elegantly slim profile, measuring at a mere 75.8 x 157.4 x 7.6mm, and comes in a wide range of colour options from pink gold to phantom black.




The device's featherweight, tipping the scales at a mere 195g, ensures effortless handling and portability for your daily activities.




Powerful Performance at Your Fingertips: The heart of the Samsung S22 Plus offers two options - the Exynos 2200 or the Qualcomm Snapdragon 898 - depending on your region.




Enhanced by a robust 8GB of RAM, multitasking becomes a breeze, whilst storage choices of 128GB or 256GB allow you to hoard your digital treasures without constraints.




Sustained Stamina: With a resilient 4,500mAh battery, the Samsung S22 Plus guarantees unwavering connectivity throughout your day, sparing you from the dreaded hunt for a charging plug.



Note: And if this isn't enough, every refurbished Samsung Galaxy S22 Plus from UR.co.uk also comes with at least 80% battery health and around £45 worth of accessories.
Now, that's a deal worth looking at.
Elevating Your Mobile Experience
All this technical information can be quite confusing for some, but don't worry! We'll break it down further.
Let's explore the key features of the Samsung Galaxy S22 Plus that'll make your everyday mobile experience a little bit better.
Dolby Atmos: A Sonic Marvel
Dolby Atmos isn't just a feature; it's your ticket to a premium audio experience.
Imagine watching your favourite movies or getting lost in your music with sound so rich and immersive, it feels like a 3D cinematic journey right in your hand.
And for those lucky enough to have Galaxy smartphones with stereo speakers, Dolby Atmos takes it a step further.
It not only enhances the phone's speakers but also delivers that immersive experience when you're using headphones or connecting to Bluetooth devices.
So, whether you're watching a movie with friends or enjoying a private music session, it's a feast for your ears.
Samsung S22 Plus Camera
The Samsung S22 Plus doesn't just sport an impressive triple rear camera setup; it's your key to unlocking a world of photography possibilities.
With a trio of lenses at your disposal, capturing the perfect shot is a breeze, whether it's a stunning landscape or a detailed close-up.
This versatile camera setup ensures that every photo you take is a masterpiece, ready to be shared and cherished.
And, if that isn't enough, the Samsung Galaxy S22 Plus also comes with a 10MP front-facing camera to snap the perfect picture for your social media profile.
Multiple Features Camera Feature
But what sets the Samsung S22 Plus apart is its ability to seamlessly switch between various modes and styles, allowing you to explore your creativity.
Whether you're in the mood for a professional touch with Pro Mode, want to capture the grandeur of a panorama, or add cinematic flair with Super Slow Motion, this smartphone's camera has got you covered.
As you navigate the Samsung S22 Plus, remember that it's not just a phone; it's your window to a world of photography excellence.
From capturing breath-taking landscapes to preserving memorable close-ups, this smartphone empowers you to document life's moments in the best possible way.
FAQs About Refurbished Samsung S22 Plus
We at UR.co.uk want to make sure you're confident in you're next mobile purchase, and that's why we've put together a range of popular questions often asked when buying a refurbished Samsung Galaxy S22 Plus.
Explore below to find out more.
Is a Refurbished Samsung S22 Plus Waterproof?
It's important to note that while brand-new Samsung S22 Plus phones come with robust water-resistant features, the same level of assurance doesn't necessarily extend to refurbished devices.
When a phone undergoes refurbishment, there may be subtle alterations or repairs performed, potentially affecting its waterproofing integrity.
So, exercise caution when exposing a refurbished Samsung S22 Plus to water.
Can I Use My Existing SIM Card with a Refurbished Samsung S22 Plus?
Yes! You can make use of your current SIM card with a refurbished Samsung S22 Plus.
These phones are thoughtfully unlocked, freeing them from the constraints of carrier exclusivity.
This means you possess the flexibility to retain your current SIM card or opt for a new one, depending on your service preferences and provider compatibility.
What Payment Options at UR.co.uk?
At UR.co.uk, a world of payment possibilities awaits you for your refurbished Samsung S22 Plus acquisition. 
Whether you opt for Visa, Google Pay or PayPal, we've got you covered.
Curious for more insights on Samsung electronics? Explore our guide on the best refurbished Samsung S23 Ultra Deals, or stay tuned for further tips and tricks like how to find your phone number on Samsung.
Final Thoughts: The Refurbished Samsung S22 Plus
The Samsung S22 Plus stands as a testament to innovation and excellence in the world of smartphones. 
With its outstanding camera capabilities, including versatile modes and exceptional quality, it captures life's moments like never before.
And what's even better, buying refurbished at UR.co.uk doesn't just save you money, but also shows your commitment to sustainability.
So why wait? Get you're refurbished Samsung S22 Plus today!