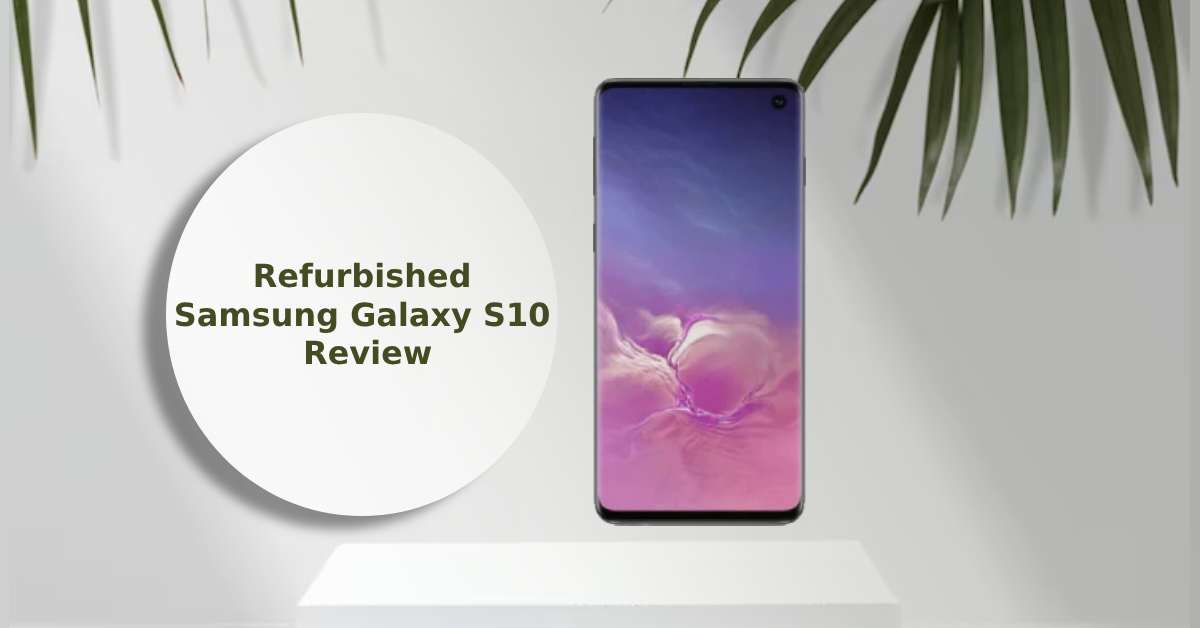 Refurbished Galaxy S10 Review: Value Beyond Its Years
Glance at your reflection on the polished screen of a Galaxy S10, and you'll see more than just your smile twinkling back.
You're peering into a universe where premium meets practicality—without the sting of a new device price tag.
The Samsung Galaxy S10 refurbished, a flagship once cradled in the palms of tech aficionados when brought brand new, now beckons the savvy shopper who wants a cheaper phone with evergreen benefits.
Find out more inside this refurbished Samsung Galaxy S10 review.
Or get the device much faster by exploring our premium, refurbished Samsung phones at UR.co.uk. Why wait any longer? 
Key Takeaways:
Camera Quality: Great camera to capture life's precious moments.




Phone Security: One of the first Samsung phones with an in display sensor for added security.



Refurbished: Get a flagship Android phone that's a fraction of the price if brought brand new.
Specs of a Refurbished Samsung Galaxy S10
The Samsung Galaxy S10 series heralds its lineage from a stellar family tree—the much celebrated tenth generation of Samsung Galaxy S smartphones introduced in 2019.
Let's dissect its specs to see if it still stands the test of time years later.
Display: Cosmic canvas of 6.1 inches Dynamic AMOLED, HDR10+ radiating with 1440 x 3040 pixels.




Processor: Heartbeat of the galaxy with options—Exynos 9820 or Snapdragon 855, depending on your world region.




Storage Model: Get either a Samsung Galaxy S10 128GB refurbished or a Samsung Galaxy s10 512GB refurbished when you shop with us.




Camera System: A constellation of cameras—triple lens rear camera with wide (12MP), telephoto (12MP), and ultrawide (16MP) options for different photographic styles.




Plus, a 10MP front facing camera for those self shots.




Battery Life: The 3400 mAh core with its 15W fast charging remains a loyal companion throughout your day. This device also comes with wireless charging .



Plus, when you choose a refurbished model from UR.co.uk, you're snagging a device that's been through a meticulous 90-point phone check to ensure it measures up to the standard of a brand new phone—promising you a phone that doesn't just keep up but excels.
Refurbished Galaxy S10 Camera Review
Capturing life's fleeting moments is a breeze with the Galaxy S10's savvy camera ensemble.
Its photography might remind one of a seasoned artist, with a palette of modes at the ready, ensuring that each snapshot is nothing short of a masterpiece.
The introduction of the ultra-wide angle lens has been a game-changer, stretching horizons wider than ever—ideal for immortalising the grandeur of cityscapes or the joyous chaos of group gatherings.
Seamlessly, the S10's cameras deliver steadfast autofocus and an intelligent approach to balancing whites and exposure, keeping images looking natural in a myriad of lighting conditions.
While it stands on the shoulders of its predecessor, the S9, subtle software tweaks give it a leg up, making the results crisp and vivid.
Sure, when night falls, it doesn't quite eclipse the prowess of a Pixel 3, but it holds its own, offering crisp, clear clarity.
Camera App on the Samsung Galaxy S10 refurbished
The camera app of the Galaxy S10 is where the magic happens, transforming the mundane into the magnificent.
It's like a digital wand with over 100 filters at its disposal, casts a spell to turn images into vibrant stories.
The ingenuity extends to selfies, too—no more awkward hand stretching, thanks to the nifty use of the volume key for snap-happy ease. 
Plus, want a flurry of shots or a perfectly timed capture? Burst shot and timer features have got you covered.
Other Nifty Features of the Refurbished Samsung Galaxy S10
In Screen Fingerprint Sensors
Securing your Galaxy S10 is a breeze with its ultrasonic fingerprint scanner, smartly embedded right into the base of the display.
The ultrasonic fingerprint sensor inside scans the unique ridges of your fingertip through the glass with a tap, allowing you access to your phone whilst keeping those unwanted intrusions out.
It's a seamless dance of security and convenience, letting you unlock your world swiftly.
But, like any high-tech dance, it prefers the perfect condition.
Although it's a way of entering your device fast, the in screen fingerprint reader can be slow if your hands are too wet or too dry - so keep this in mind before you buy.
The Wireless Powershare Feature
Imagine your Galaxy S10 as a benevolent power bank, sharing its life force wirelessly with other devices.
That's Wireless PowerShare for you.
It's almost like having a generous friend in your pocket, always ready to lend a charge without ever needing a cord.
Flip your S10 over, and it turns into a charging pad for a friend's phone or your Galaxy Buds.
The magic happens invisibly, without plugging into anything—its sharing is made simple and spontaneous, a true testament to the innovative spirit of the Galaxy S10.
Note: It's best to use this alongside normal charging capacities, as its performance can be slow depending on the device charging.
Want more information about Samsung's previous attempts to provide you with the best gadget possible? Don't wait any longer. View our refurbished Galaxy S20 FE review and refurbished Galaxy A12 review to get more insight today.
The Value of Buying Android Phones Refurbished
In a world where the cost of living is climbing like a rocket, two-thirds of adults in Great Britain are tightening their belts, often skimping on life's little luxuries.
Smartphones, though once a luxury, have woven themselves into the very fabric of our daily existence, making the thought of downgrading or passing up on a new release feels like a loss.
Here's the silver lining: refurbished phones.
Scooping up a refurbished phone is like finding a treasure trove of features without the guilt of emptying your wallet.
Plus, you get all the same features found on premium phones at a fraction of the cost.
It's a win-win, keeping you connected with the world and your pocketbook comfortably full.
Final Thoughts on our Refurbished Samsung Galaxy S10 Review
To wrap up, delving into the refurbished realm is not about trailing behind; it's about smartly embracing the future.
With each previously loved Samsung Galaxy S10 that lands in a new pair of hands, the dance between cost-efficiency and high-end specs continues gracefully.
So enjoy the brilliance of a Dynamic AMOLED display, robust processors, and versatile camera systems even cheaper.
Buy a refurbished Samsung Galaxy S10 today, and enjoy the £45 worth of accessories that arrive with it.
Have fun shopping!