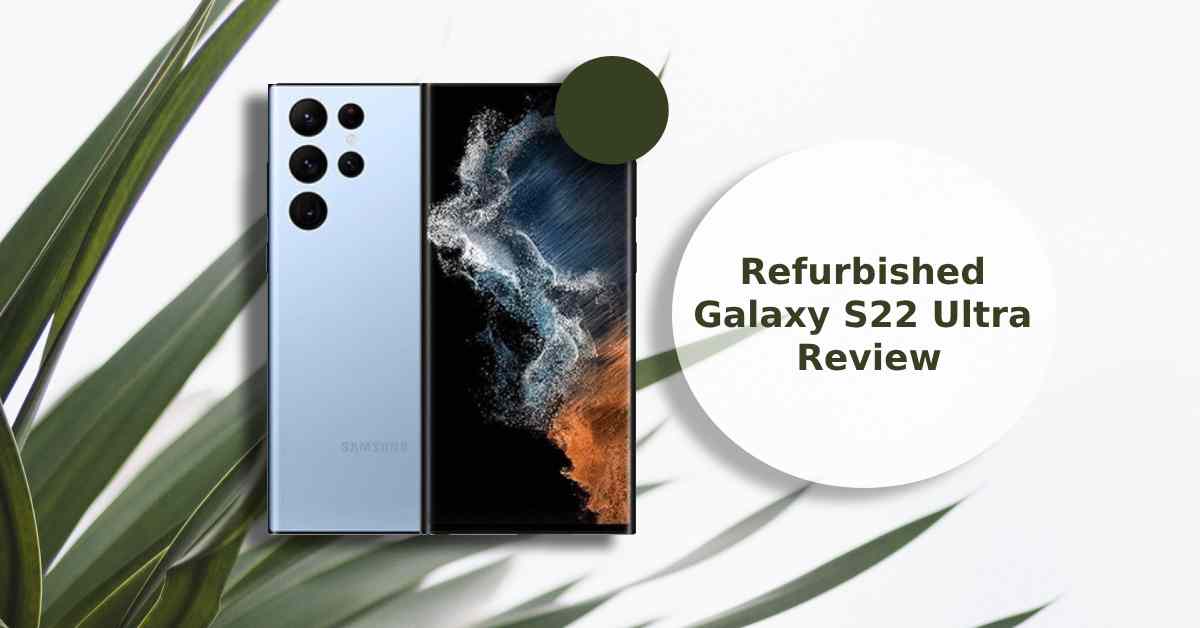 Luxury Redefined: Refurbished Galaxy S22 Ultra Review
Are you caught in a tango between your desire for the Galaxy S22 Ultra and your wallet's reluctance? Don't fret.
A refurbished Galaxy S22 Ultra serves up all the bells and whistles you'd expect from a premium Android phone—a captivating camera system, robust battery life, and unbeatable software support—minus the gut-punching price tag.
Intrigued? Well, hold your horses because we've got a plethora of details to share in this Galaxy S22 Ultra review!
Do you want a Samsung Galaxy S22 Ultra now? Or simply inspect other competing phones? Well check out our range of refurbished Samsung phones. Your next device is just around the corner at UR.co.uk.
Key Takeaways
Excellent Camera: Ditch your old phone for these expert camera lenses.




Sleek Aesthetic: Minimalistic design with an S Pen stylus thrown in.



Refurbished Phones: Get flagship phones for a fraction of the price.
Specs of a Samsung Galaxy S22 Ultra
When it comes to sheer performance and aesthetic appeal, a Samsung Galaxy S22 Ultra refurbished from UR isn't a shy contender.
In fact, it stands toe-to-toe with its brand-new counterparts, thanks to a rigorous 90-point phone check that ensures you're getting the real deal.
So, you can expect the following specs, regardless of whether the device is brand new or refurbished by us.
Display: 6.8 inches Dynamic AMOLED 2X, 120Hz, HDR10+, 1750 nits (peak)




Resolution: 1440 x 3088 pixels, 19.3:9 ratio (~500 ppi density)




Dimensions: 163.3 x 77.9 x 8.9 mm (6.43 x 3.07 x 0.35 in)




Weight: 228 g / 229 g (mmWave) (8.04 oz)




Processor: Exynos 2200 (4 nm)




RAM: 8 GB or 12GB, depending on model.




Storage: 128 GB, 256 GB, 512 GB.




Battery: Li-Po 5000 mAh, non-removable, supports wireless charging.



Are you feeling confused by numbers and acronyms? Let's cut through the fog.
The Exynos 2200 processor and 8 GB to 12 GB of RAM will ensure a smooth user experience, even for the most demanding of tasks, while the storage won't give you anxiety either; the Samsung Galaxy S22 Ultra 512GB refurbished has plenty of room for all your apps, photos, and then some.
But don't worry; read on as we expand all this further.
Performance of a Samsung Galaxy S22 Ultra
The Galaxy S22 Ultra isn't here to play; it's here to dominate.
With its Exynos 2200 chipset, it runs its high-resolution OLED panel so smoothly you'll forget you're interacting with a screen.
The vivid, colourful visuals offer a mesmerising backdrop for everything from social media scrolling to in-depth video calls.
But, smooth transition is where the Galaxy S22 Ultra really flexes its muscles.
Despite having 8GB of RAM on some models, various test demonstrates how the Samsung Galaxy S22 Ultra operated faster than the iPhone 13 Pro Max when switching or closing apps.
There's no lag, no hesitation; it's as if the device is anticipating your every move.
And you'll find an equally seamless experience whether you're swiping through your photo library or jumping into immersive gameplay.
Battery Life of The Samsung Galaxy S22 Ultra
If you've been on the fence about making the jump to the Galaxy S22 Ultra, one word should tip the scales in its favour: stamina.
Armed with a 5000 mAh battery, imagine going about your day, streaming videos, making calls, or even gaming, without that nagging fear of running out of steam.
But, wait, there's more! This device doesn't just last long; it also refuels with astonishing speed.
Using the standard 15-watt charger, you can boost the battery from 20% to a full 100% in just over an hour, allowing you to roam about your day without being tethered to a charger.
So, regardless of whether you're a casual user or a power user, this phone offers the longevity and quick recharge capabilities you need to keep pace with your everyday life.
Note: Every refurbished device from us comes with at least 80% battery health - something to consider when purchasing. 
The Camera of the Samsung Galaxy S22 Ultra
Okay, let's shift gears and focus on something that's often the deal-breaker for many: the camera.
We're talking about a camera setup that turns everyday smartphone photographers into professionals.
You can expect the following when you buy a Samsung Galaxy S22 Ultra.
Rear cameras:
108MP primary camera
10MP telephoto
10MP periscope telephoto

12MP ultrawide senses.



A 40MP front-facing selfie camera:

Comes with an aperture size of F2.2 and an 80-degree field of view.



Camera Comparison
Wondering how the Galaxy S22 Ultra's camera stacks up against heavy heavy-hitters like the Galaxy Note 20 Ultra and other Android phones, such as the Google Pixel devices?
When you look at a shot taken with the S22 Ultra and place it side by side with one from the Galaxy Note 20 Ultra, the difference is eye-opening.
The S22 Ultra delivers photos that are as sharp as a tack, with significantly less falloff around the edges of objects.
As for the Google Pixel phones, they do put up a good fight with their AI image processing.
But let's face it: when it comes to raw power and versatility, the S22 Ultra has them beat.
More megapixels mean more freedom to capture what you want, how you want it, with no AI wizardry needed
Values of the Camera App
Let's talk camera app; you've got this arsenal of high-spec lenses, but what's managing all that firepower?
The camera app on the Galaxy S22 Ultra has come leaps and bounds when compared to previous Samsung phones.
Inside the app, you can expect redesigned preview elements that streamline the whole picture-taking process. It's almost as if the app knows what you're about to do next.
Got a fidgety cat or a hyperactive dog? The Portrait mode is so intuitive, it could make your pet look like they're posing for a magazine cover.
But the star of the show might just be the Advanced Quick Take feature. One tap and you're rolling—capturing those fleeting, unplanned moments that you'll treasure forever.
So, it's clear—the camera app is not just a tool but a creative ally that empowers you to make the most of the Galaxy S22 Ultra's cutting-edge camera technology.
Design and Pen Stylus of the Samsung Galaxy S22 Ultra
The Samsung Galaxy S22 Ultra doesn't just have a powerhouse of a camera; its design is something to marvel at, too.
The flat and symmetrical front and back offer a modern minimalist look, while details on the sides are meticulously pared down.
This creates a sleek, smooth appearance that's pleasing from every angle.
Now, about its body shape—rectangular and a tad wider, it houses an S Pen, evoking memories of the Galaxy Note 20 Ultra.
Plus, if you're in the mood to jazz things up, the S22 Ultra comes in a palette of colours, including Sky Blue, Phantom Black, and Phantom White.
Trust me, this phone is as much a fashion statement as it is a tech marvel.
It's not just about what's inside; it's about looking good while you're at it.
Want to know more about your favourite refurbished Samsung devices? Read our refurbished Samsung Galaxy A13 review and our article on refurbished Samsung S23 deals to find out more today.
The Value of Refurbished Phones
But before you go hoping on other sites to buy a brand new Samsung phone, let's not forget the range of options available elsewhere.
Yes my friend, we're talking about the unsung heroes that are refurbished phones. Here why you should reconsider:
Sustainability: Less waste means a happier planet as every refurbished device gets a second life, reducing electronic waste in the process.




Affordability: Why splurge on a brand new device when you can get one that's just as good for a fraction of the price? With this considered, the refurbished root is the smarter choice.




Accessories and Insurance: But what's even better, some places even throw in valuable add-ons. Take us, for instance. Our phones come in a 100% biodegradable box with accessories worth up to £45. Plus, enjoy 12 months of free insurance. Now that's something to give you peace of mind.



Don't get me wrong, a top-of-the-line phone like the S22 Ultra is fantastic, but the world of refurbished phones is a treasure trove waiting to be explored.
Think of it as finding a vintage gem in a thrift store—full of character, history, and a story to tell. But, instead of looking outdated, it's refurbished and working as brand new!
Frequently Asked Questions
Sure, we've been drooling over the Samsung Galaxy S22 Ultra and all its bells and whistles, but you've got questions about refurbished phones, and we're going to tackle them right now.
Let's break down some common queries, shall we?
How does screen brightness on a refurbished phone compare to a new phone?
Refurbished phones, especially if they're recent models like the Samsung we offer, have almost the same screen brightness levels as new phones.
You'll be scrolling through your social media feed in direct sunlight without a hitch by adjusting the levels to suit your every need.
Plus, you'll also have an Extra brightness mode with the Galaxy S22 series, which provides 1.6 times more light when manually adjusting.
Does Samsung still update software on the Samsung Galaxy S22 Ultra?
Absolutely, yes.
Samsung's software is regularly updated on this device, regardless of whether it's refurbished or not.
So, expect frequent Samsung updates to improve your software features.
What about camera controls and gaming performance?
Fear not, shutterbugs and joystick jockeys!
Your refurbished phone's camera controls are as smooth as butter, letting you fiddle with white balance, space zoom, and even night mode.
If you're into gaming, you can activate game mode for better performance.
These phones are more than capable of handling whatever you throw at them.
Final Thoughts on our Galaxy S22 Ultra Review
To sum it up, the Samsung Galaxy S22 Ultra is an incredible piece of tech, boasting exceptional camera specs, a user-friendly camera app, and a design that's pure eye candy.
And if you're allured by the wisdom of a refurbished phone, your digital life is about to level up.
Not only are you getting a premium device for half the price, but you are also aiding our commitment to sustainability, making the planet a little bit happier a purchase at a time.
So don't wait; make the smart choice and get a refurbished Samsung Galaxy S22 Ultra today!