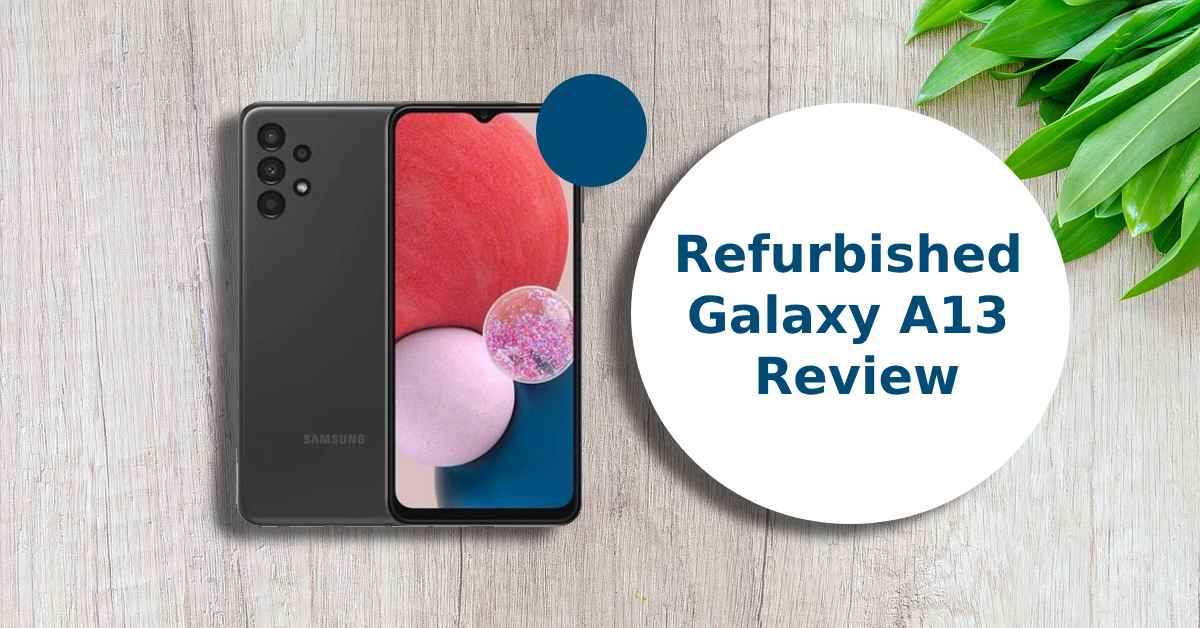 Elevate on a Budget: Refurbished Samsung Galaxy A13 Review
Fancy a snappy, budget phone that doesn't skimp on the latest tech? Meet the refurbished Samsung Galaxy A13.
Armed with a Mediatek Dimensity 700 processor, this little dynamo handles everything from email-checking to game-playing with finesse.
So, if you're scouring the market for a phone that's both wallet-friendly and future-proof, you've just struck gold.
Keep reading our refurbished Samsung Galaxy A13 review to find out what UR.co.uk can do for you.
In the market for a refurbished Samsung phone? Explore our range and get the most for your money today.
Key Takeaways
Battery life that could rival more expensive Samsung devices.




Get a decent camera for your everyday needs.



Thinking of going refurbished? You're making the right eco-friendly decision.
Key Specification of the Galaxy A13
Before we get into the ins and outs of the key features of a Samsung Galaxy A13 refurbished, let's see what makes it a remarkable contender in the realm of budget phones.
When you purchase one of these devices, you can expect the following specs:
Display: 6.6 inches, PLS LCD, 1080 x 2408 pixels, 20:9 ratio (~400 ppi density)




Processor: Exynos 850 (8nm), or Mediatek Dimensity 700 processor depending on model.




RAM: Choose between 3GB or 4GB




Storage: When you buy from us, get options like the Samsung Galaxy A13 32GB refurbished, or the same with 64GB, or 128GB of internal storage.




Long Battery Life: A robust 5000 mAh, non-removable, supported by 15W wired charging




Plus, you can expect at least 80% battery health when you buy your devices from UR.co.uk.
What Does the Battery Life Mean to You?
Well, depending on your daily usage, the robust battery life of a Samsung Galaxy A13 means the phone can last you up to one and a half days without connecting the device to a plug.
And for a comparison, the Samsung Galaxy A13 can also stay powered for 40% longer than the Samsung Galaxy S20.
That's a remarkable difference for a significantly lower-priced phone.
Nor is that everything; these specs are largely universal across all Samsung Galaxy A13, meaning that this can all be yours for a fraction of the price if you decide to buy refurbished.
Now that's a thought worth considering, eh?
Note: The Samsung Galaxy A13 does not have built-in wireless charging, but don't let that stop you.
This simple act is easily obtainable by using a wireless adapter that's compatible with a USB C port and can be placed between your phone and case.
The Samsung Galaxy A13's Design
Switch gears, and let's talk aesthetics and build quality.
Beauty might be skin deep, but the Samsung Galaxy A13's design is a visual treat that also scores high on the durability meter.
Aesthetics of a Samsung Galaxy A13
Now, if you think a cheap phone means a dull design, the Galaxy A13 will make you eat your words.
With options of black, white, blue, and even a lively peach, this phone delivers pops of colour to fit any personality.
No monochrome monotony here.
While some might scoff at the plastic unibody, don't underestimate it; it's not only lightweight but also tough as nails.
You won't be looking at a shattered or dented backside if this phone takes a tumble.
The Samsung Galaxy A13 Screen
But what about the screen? Ah, that's where the Corning Gorilla Glass 5 comes in.
It doesn't just look good; it holds its own in the battle against scratches and accidental fumbles.
According to some tests, this Gorilla Glass is four times more resilient than other glass options.
And in a market flooded with phones that compromise aesthetics for cost, the Galaxy A13 clearly doesn't cut corners.
So, why not have a phone that looks good and lasts?
But here's the kicker: This is all included when you choose a Premium Samsung Galaxy A13 at UR.co.uk.
What does Premium mean? It means your refurbished phone looks practically brand-new when you buy from us.
Samsung Galaxy A13 Camera Performance
So, you're the budding photographer type, or maybe you just love snapping pics for social media.
Either way, the camera is often the deal-maker or breaker when choosing a phone.
So, how do the Samsung Galaxy A13's camera specs hold up?
Front Camera: 5 MP or 8 MP, depending on the model, and an aperture of f/2.0 or f/2.2




Main Rear Camera: 50 MP




Ultrawide Rear Camera: 5 MP with a 123-degree field of view.




Macro Rear Camera: 2 MP



Depth Sensor: 2 MP
Features of the Galaxy A13 Mobile Photography
Now, this is where it gets fun.
The Camera app on the Samsung Galaxy A13 has a range of features to channel your inner artist, like Portrait mode, which blurs the background of your selfies to allow you to stand out.
But regrettably, if you're planning on capturing the beauty of the night sky or low light rooms, the A13 falls short; there's no built-in Night mode.
Don't expect this camera to replace your DSLR, but it's no slouch for a budget phone either.
It punches above its weight in the everyday photography department, and it's especially handy for those vital selfies and quick shots.
From family gatherings to impromptu pet photos, the Galaxy A13 rear cameras won't let you down.
The Value of Refurbished Samsung Phones
Let's chat about something that often gets shoved to the back burner: sustainability.
When you go for a refurbished Samsung Galaxy A13 from UR, you're not just saving pennies; you're saving the planet.
How? Allow me to unravel this eco-friendly yarn for you.
Issues of Manufacturing New Phones
A brand-spanking-new phone comes with a hefty environmental price tag.
Extracting irreplaceable elements like gold and cobalt for a single device can pollute waters, destroy ecosystems, and generate a scary amount of toxic waste.
80% of your phone's carbon footprint is created during the manufacturing stage.
This comes from the unsavoury combo of mining, refining, and assembling the various chemical elements that make these gadgets so captivating.
Add in the fuel consumed during this labour-intensive process, and you've got yourself a real climate menace.
How UR.co.uk Helps
UR flips the script on this grim narrative.
By refurbishing phones, UR predominantly reuses existing parts, side-lining the need for new materials, which slashes that carbon footprint right down.
Plus, the device comes in a 100% biodegradable box and a 90-point PhoneCheck that'll protect your Samsung Galaxy A13 and make it just as reliable as a new one.
So, you see, going refurbished isn't just a budget-smart move; it's a planet-saving smart one.
Do you want some more facts about Samsung phones? Explore our articles on refurbished Samsung S23 deals to find out more.
Final Thoughts and our Refurbished Galaxy a13 review
The refurbished Samsung Galaxy A13 stands as a cocktail of versatility and sustainability.
From its Mediatek Dimensity 700 processor that jazzes up your gaming to the quad-camera setup that brings your social media feed to life, this phone won't make you feel like you're trading quality for conscience.
And hey, with UR's 12-month free insurance, even if life throws a curveball, you're covered.
By choosing a refurbished Galaxy A13, you're not just ticking the boxes of specs and affordability; you're also putting a green tick on Planet Earth.
What's not to love?