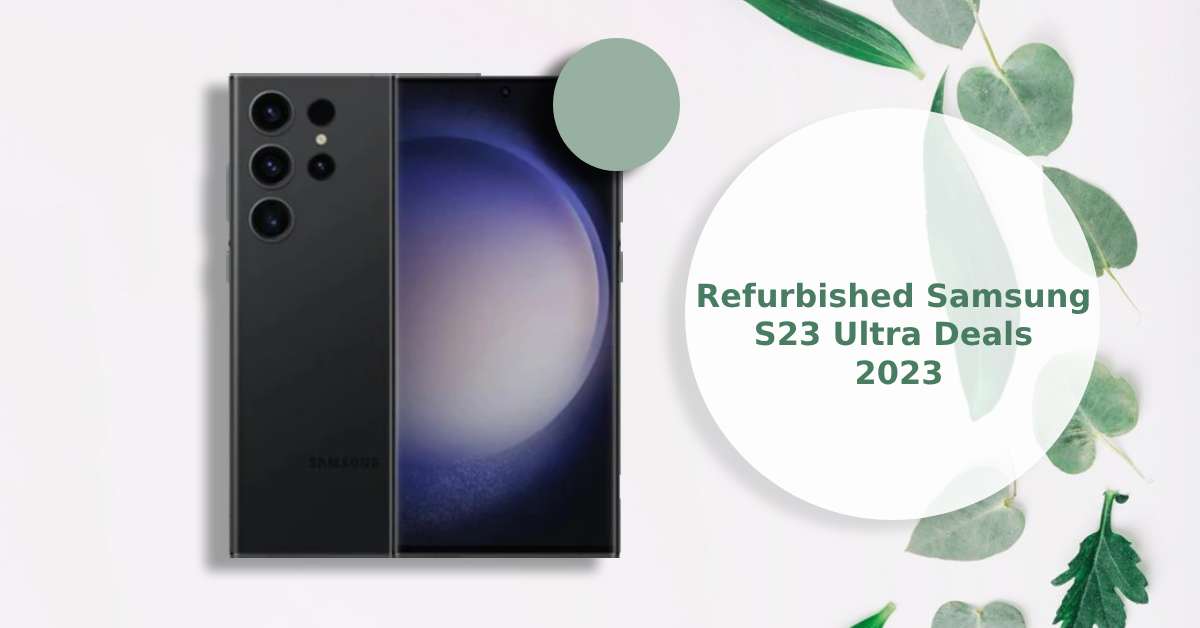 Refurbished Samsung S23 Ultra Deals 2023: Elevate Your Android Game
Have you ever felt like you're missing out on a life-changing phone experience?
UR.co.uk's got you covered! We've got refurbished Samsung S23 Ultra deals that'll knock your socks off—top-of-the-line features at unbeatable prices.
So, if you're after the thrill of a swanky phone without denting your wallet, stick around!
Are you curious to see what other stellar deals we have? Explore our full range of refurbished Samsung Galaxy phones. A treasure trove of options awaits you!
Key Takeaways
High-quality, certified refurbished Samsung S23 Ultra phones are up for grabs.




Gain access to premium features like the S Pen stylus, dynamic AMOLED display, and outstanding camera capabilities without the standard price tag.



And want more? Pick a storage capacity that suits you.
Samsung Galaxy S23 Ultra Specs
Your quest for smartphone perfection stops right here: the refurbished Samsung S23 Ultra 5G is a marvel that pushes the envelope in every conceivable way.
Brace yourselves; you won't believe what this phone packs under the hood.
Display: Gone are the days of mere Full HD; let your eyes feast on the grandeur of a 6.8-inch QHD+ Edge Dynamic AMOLED 2X Display, boasting an astonishing resolution of 3,088x1,440 pixels and a 120Hz refresh rate that promises the zenith of gaming and cinematic experiences.




Dimensions & Weight: Slimmer than a magician's deck of cards, weighing in at a mere 234g, this phone's meticulously designed dimensions of 78.1 x 163.4 x 8.9mm deliver a one-of-a-kind ergonomic experience for your palm.




Processor: A Qualcomm Snapdragon 8 Gen 2 Mobile Platform —astoundingly swift, incredibly efficient, and without a moment's lag, even under the most rigorous computing demands.




Memory: As you decide between 8GB or 12GB RAM, consider the limitless possibilities of storing your entire digital universe with 256GB, 512GB or 1TB storage capacity—no more worries about which photos to keep or which apps to uninstall.




Battery: Imagine a power source that just won't quit. With a beefy 5,000 mAh battery and the versatility of 45W wired, 10W wireless, and 4.5W reverse wireless charging, your phone turns into a reliable companion that keeps up with your hectic lifestyle.




And when you buy from UR.co.uk, you can expect 80% battery life with every purchase.



So there it is—the Samsung S23 Ultra isn't merely a device; it's an expedition into the frontiers of what a smartphone can be. 
And trust us, we're only scratching the surface here.
A Camera Setup of the Samsung Galaxy s23 Ultra
For shutterbugs, social media enthusiasts, and even undercover spies, the camera is often the soul of a smartphone.
Well, you're in for a treat, because the Samsung Galaxy S23 Ultra redefines mobile photography with a mind-blowing quad-camera setup.
The main star here is the 200-megapixel wide-angle camera—a behemoth in terms of pixel count that makes its predecessor look like child's play.
Capturing shots at such a high resolution means you're practically recording memories in hyperreality.
Selfie aficionados, meet your match.
With a 12.0MP selfie camera, your portrait photos and Zoom calls just got an upgrade.
But don't forget the 12.0MP ultra-wide camera that brings in more of the scene, ensuring everyone gets into the group shot or that your vacation pics look more like sweeping landscapes.
And for those once-in-a-lifetime moments when you need to zoom in? The telephoto camera has got your back.
It's not just a camera; it's your personal photographer, cinematographer, and visual storyteller, all wrapped in sleek metal and glass.
The S23 Ultra Design Philosophy
When it comes to the Samsung Galaxy S23 Ultra, the design mantra of "Create the Essentials" rings true.
It's the epitome of what happens when sheer craftsmanship bows down to functionality.
Made with an Armor Aluminium frame, this phone can practically arm-wrestle with the best of them.
The frame is not merely a shell; it's the backbone that holds the entire marvel together, stripping away the unnecessary, leaving you with what truly matters in a smartphone.
The S Pen Stylus
All this and get another gift for free with your Samsung electronics - the S Pen.
Think of the Samsung Galaxy S23 Ultra's S Pen as your magic wand, an extension of your creativity and productivity right at your fingertips.
This is not just any stylus; it's the game-changer in how you interact with your smartphone.
With a tip as fine as 0.7mm and boasting 4,096 pressure levels, doodling or taking notes feels like writing on paper, but better.
Whether you're sketching out your next masterpiece or circling important terms during a conference call, the S Pen captures your every nuance.
No need for any incantations; your gestures and taps work like spells.
Simply slide it back into the phone, and it pairs and charges faster than you can say "Abracadabra."
It's not merely an accessory; it's your key to unlocking a realm of possibilities.
Refurbished Samsung s23 Ultra 5G Deals
The allure of that brand-new smartphone right out of the box—its pristine state, the feel, the smell.
But let's be real. The sheen fades, but your bank account feels the pinch long after.
So why not consider a refurbished Samsung s23 Ultra? These unsung heroes deliver similar, if not identical, performance at a fraction of the cost.
Bang for Your Buck
Purchasing a refurbished phone is akin to buying a certified pre-owned luxury car.
You're getting almost all the bells and whistles of a brand-new model without depleting your savings.
And what's even better? Imagine cruising through your day with a premium device that has not only survived but thrived under a 90-point PhoneCheck.
You'll be wielding a phone that's been combed over by engineers with unparalleled expertise, right down to the last microchip.
A Nod to Sustainability
Going refurbished is a sustainable choice that speaks volumes.
By giving a second life to a pre-owned device, you're dramatically reducing waste and conserving the energy that would have been used to produce a brand-new device.
Plus, when you're using a sustainable company that delivers all phones in a 100% biodegradable box, you're strengthening your commitment to Mother Earth.
Your FAQ for Refurbished Samsung S Series
Alright, you've got questions swirling in your mind about the refurbished Samsung S Series, and we're here to lay down some wisdom. 
Let's dive right in!
How Does Samsung Pay Work on a Refurbished Device?
Don't worry about ditching your Samsung Pay account when you switch to a refurbished model - just sign into your Samsung account to get started.
Once you link your valid debit or credit cards, you're all set to pay monthly bills or even make one-off purchases, just like before.
It's convenience, securely packed in your Samsung electronics, no strings attached.
Can I Keep My Unlimited Data and Still Save Money?
With a refurbished Samsung, you're slashing the upfront cost while keeping your unlimited data intact.
We're talking ultra deals that get you the phone and free next day delivery, depending on the device.
Double win!
What's the Story with the Dynamic AMOLED Screen?
Dynamic AMOLED is all about bringing you peak brightness and incredible colours.
Whether you're snapping pics in low light or streaming the latest blockbuster, the display's got your back.
And what's best, you can get all this cheaper then standard price when you buy from us.
Are you hungry for more tips and tricks on mastering your Samsung device? Dive into our helpful articles, such as how to find your phone number on Samsung and why does my Samsung phone keep turning off. We've got you covered.
Final Thoughts on Refurbished Galaxy s23 Ultra Deals
As we reach the end of this digital odyssey, let's cap it off: The refurbished Samsung Galaxy S23 Ultra is a mecca of innovation, savings, and top-tier specs.
You're not just purchasing a device; you're investing in a lifestyle upgrade.
From its sensational camera capabilities to the creative freedom offered by the S Pen stylus, this handset morphs everyday tasks into exceptional experiences.
Plus, let's not forget the unbeatable perks like 12 months of free insurance and demonstrating your commitment to sustainability when you buy from UR.co.uk.
Jump on board; the Galaxy is the limit!