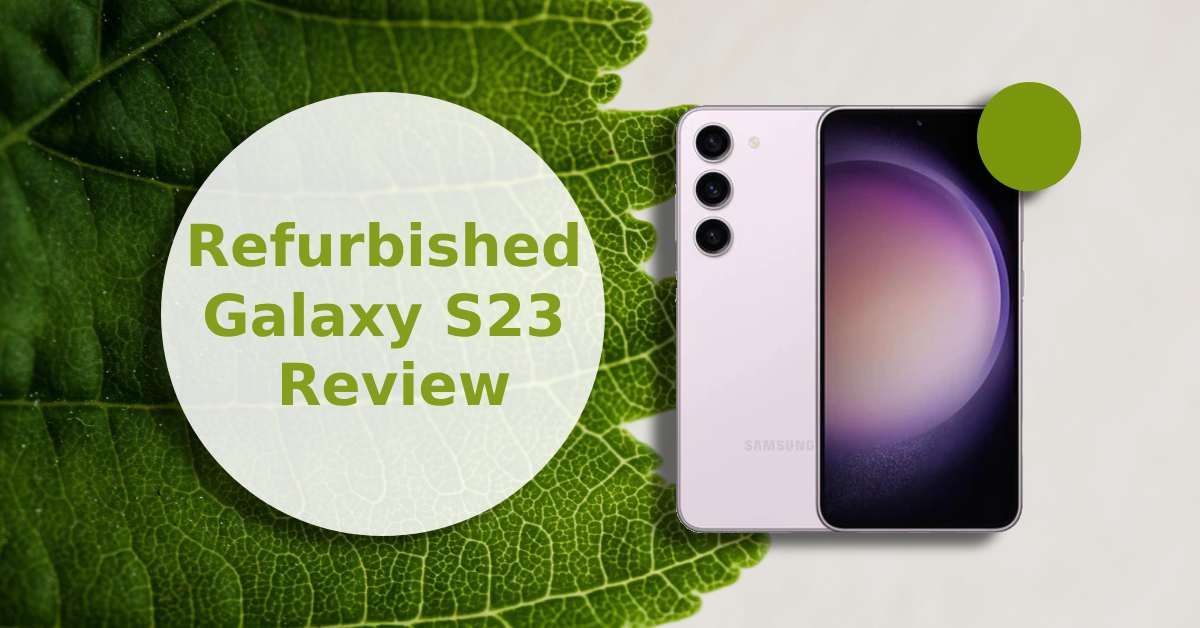 Embrace Cutting-Edge: Refurbished Galaxy S23 Review [2023]
If you find yourself stuck between the desire to upgrade your old phone and the dread of forking out exorbitant amounts for a brand-new Galaxy S23, a refurbished version from UR.co.uk could serve as your middle ground.
Quick word: it's an offer loaded with perks, and hard to overlook.
Are you intrigued by what this revamped gadget brings to your daily grind? 
Stick around as we dissect its features, performance, and the eco-friendly cherry on top.
Fancy a deep dive into other Samsung Galaxy models? Feast your eyes on our collection of refurbished Samsung phones. Your next pocket companion could be just a click away!
Key Takeaways:
Get a display that shines bright no matter what the condition.




A modern design in a range of colours to match your personal taste.



Get a refurbished phone that's practically brand-new with the help of our 90-point phone check practices.
The ABCs of Refurbished Devices
Let's set the record straight.
Often, people conflate refurbished phones with second-hand or used devices, but they're as different as night and day.
Picture this: a refurbished Galaxy S23 gets restored to its original splendour by replacing any flawed components, updating its software to the latest version of Android, and giving it a rigorous battery life test.
The goal is to make this device almost as good as new, but with a price tag that doesn't leave your wallet gasping for air.
What Goes Into Refurbishing?
Refurbished Android phones like the Galaxy S23 undergo multiple stages of quality checks, right from ensuring the screen size and brightness slider are top-notch to rigorous testing of rear cameras and the fingerprint reader.
Special attention is given to improved battery life, peak brightness, and camera lenses.
Essentially, it's not about slapping a fresh coat of paint on an old model; it's a meticulous overhaul.
The phone you get from us is not just a cleaned-up version of its former self but a device reinvigorated to function at the same level as when it was brand-new.
Specs of a Samsung Galaxy S23
So, now that you know the quality a refurbished device can offer, you can also be assured that buying a Samsung Galaxy S23 refurbished from us comes with the following specs upon purchase.
Display: A vivid 6.1-inch Super AMOLED screen with 2340 x 1080 FHD+ resolution, elevated by Dynamic AMOLED 2X technology and protected by Gorilla Glass Victus 2. 




It also comes with Samsung's One UI features.




Processor: The Qualcomm Snapdragon 8 Gen 2 (4 nm) ensures buttery-smooth performance.




RAM: 8GB for all your multitasking adventures.




Storage: A generous 128GB to hoard your favourite apps and memories.




Battery: Li-Ion 3900 mAh that's non-removable, supports 25W wired charging, and 15W wireless charging. Even a 4.5W reverse wireless charging feature!




Weight: A lean machine at 168 grams.




Dimensions: Sleek at 146.3 x 70.9 x 7.6 mm.



But it's not just the numbers that sing; it's how they harmonise.
A fantastic display for watching videos, coupled with impressive battery life, makes it a perfect daily driver. The Snapdragon processor ensures your apps run fast, while the 8GB RAM keeps everything smooth without a hiccup.
A refurbished Galaxy S23 isn't just a pretty face; it packs a punch where it matters, making it a flagship phone you'd love to swipe right on.
The Design of the Samsung Galaxy S23
From specs to aesthetics, the Galaxy S23 doesn't disappoint.
Have you ever seen a phone that embodies symmetry like the Mona Lisa?
The Galaxy S23 achieves this with its Armor Aluminum Frame and thin bezels that are balanced on all sides, making for a device that's as pleasing to hold as it is to look at.
Whether you're snapping low light photos, toggling through apps, or watching videos on the dazzling display, the balanced design enhances your user experience.
Speaking of colour, we've got options that'd make a peacock jealous.
The phone is available in a range of colours: Phantom Black, Cream, Green, Lavender and more. 
Each hue adds a distinct character to the device, letting you pick a one that suits your personal style the most.
And the best part? This Android phone is designed with a greener future in mind by incorporating recycled materials more generously than in any other Galaxy device.
So, when brought refurbished, you're only upping your commitment to sustainability than ever before.
The Galaxy S23's Display
Alright, we've chatted about the S23's harmonious design and eco-conscious materials, but what about the window to its digital soul?
The S23 goes beyond "just enough" when it comes to brightness.
It's like someone turned up the dial to eleven. Boasting 1,200 nits of typical brightness and a peak outdoor brightness of 1,750 nits, it's like having a mini-sun in your pocket.
No squinting or angling the phone awkwardly to read your texts while you're out and about, basking in actual sunlight.
Don't let the dazzling screen fool you into thinking this phone's a handful—literally.
Its 6.1-inch AMOLED always on display, aside from being an eye-candy, makes the device quite manageable with one hand - striking a delicate balance between quality and usability.
The Camera Capabilities of the Galaxy S23
Let's pivot our focus to the camera—easily one of the most anticipated features of any smartphone.
Equipped with a triple rear camera system, the Galaxy S23 offers a versatile range for your creative endeavours, including a wide camera, an ultra-wide option, and a 3x zoom telephoto lens.
Moreover, the 12-megapixel selfie camera takes care of your self-portrait, video recording, and conferencing needs with finesse.
Camera Performance
Navigating through low-light situations? The S23's selfie camera excels at night portraits, capturing detail and ambience even when the lights are dim.
And it doesn't just take pictures; it analyses them.
Utilising artificial intelligence, the camera finely tunes the bokeh effect by distinguishing between the subject's eyes, hair, and skin.
This attention to detail allows for a more natural and precise separation between you and your background.
In a nutshell, the camera on the Galaxy S23 isn't just a tool; it's more of an assistant that understands your need for quality, versatility, and creativity in photography.
So, whether you're capturing moments for posterity or for social media glory, rest assured, this device is up to the task.
Frequently Asked Questions
Allow me to pivot the Samsung Galaxy S23 review briefly to tackle some intriguing question surrounding refurbished phones.
You might be wondering how they hold up against the glittering, newly-released tech marvels like those others in the Samsung Galaxy S series.
Can refurbished phones truly compete in terms of power with the latest models?
Whilst it won't have a bigger battery health than new phones, the refurbished Samsung Galaxy S23 give you the same robust screen-on-time and often nifty features as found elsewhere.
All this, mind you, comes at a price point that doesn't scorch a hole in your pocket as a new, expensive phone would.
Do refurbished phones lag behind when it comes to software updates?
Contrary to popular belief, the Samsung S23, and other previous model, still receive updates to improve performance and functionality.
So, fear not—you won't be missing out on recent Android features.
What about camera performance? Is it compromised in refurbished models?
If you think refurbished equates to inferior, think again.
The capabilities of the main and front cameras on a refurbished model can be neck-and-neck with those of a brand-new device.
Whether capturing landscape vistas or taking mesmerising night shots, these pre-loved phones don't hold back.
Are refurbished phones genuinely worth considering as an alternative to other, more expensive phones?
Indeed, with a refurbished phone, you can relish features like a USB-C cable charging and even dodge the proverbial bullet of a price-inflated camera bump.
Competing valiantly with other devices that might boast smaller screens or weaker specs, refurbished phones shine bright in their own league.
They offer nearly the same refresh rates and favourable lighting conditions for photography as last year's or this year's hot new releases.
Want some more information on your favourite refurbished Samsung Galaxy devices? Explore other articles, like our refurbished Galaxy S22 Ultra review and refurbished Samsung Galaxy S22 review to get further in the know.
Final Thoughts
So, what's the verdict? The Samsung Galaxy S23 crosses the finishing line not just as a mere device, but as a harmonious blend of advanced specs, elegant design, and intelligent capabilities.
From its resource-efficient construction to its vibrant display and versatile camera options, it's a smartphone that practically begs to be experienced.
If you're looking for a phone that respects both tech novelties and real-world usability, you might just have found your match.
So, get a refurbished Samsung Galaxy S23 today, and receive £45 worth of accessories in the process.