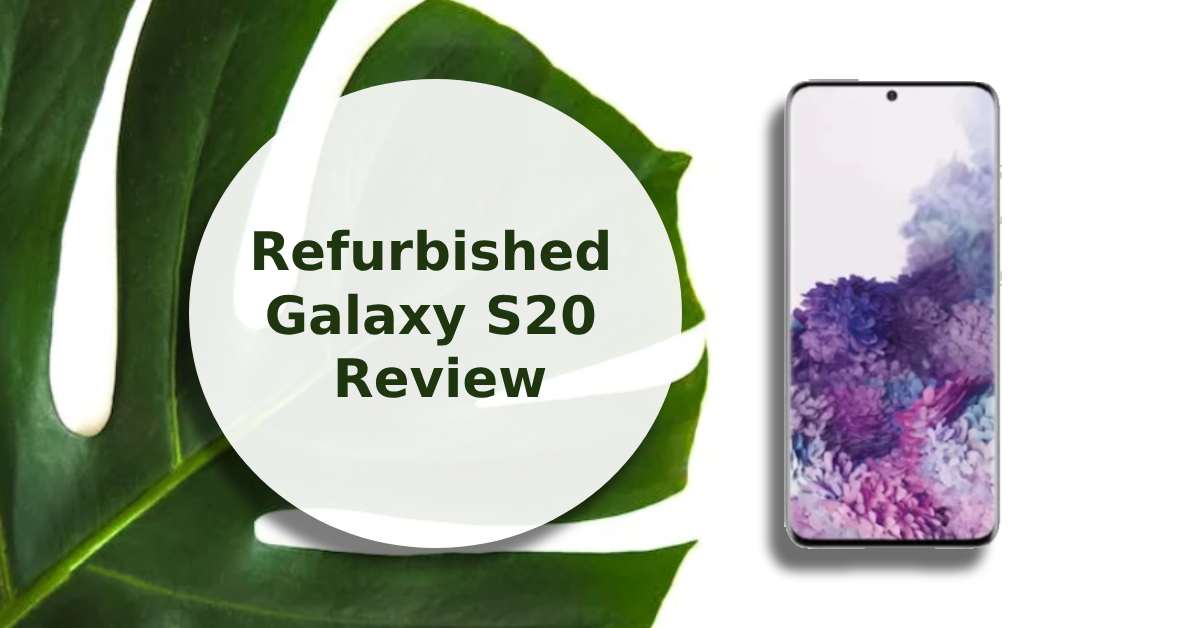 Refurbished Samsung Galaxy S20 Review: Savings Without Compromise
When you navigate the maze of smartphone options, your brain may gloss over the term "refurbished", thinking it's a whole lot of nonsense.
But stop right there.
Refurbished, especially when it comes to the Galaxy S20, might just be the golden ticket you've been searching for. 
Offering flagship features without the flagship price, a refurbished Galaxy S20 carries its own allure, steeped in both practicality and savvy.
Keep reading to unlock the mysteries of this dark horse at UR.co.uk.
Or explore our range of refurbished Samsung phones now. Your next device is just a click away.
Key Takeaways
Camera Specs: A camera system that's still competitive even today.




Large Display and Vivid Colours: Excellent quality for playing games.



Refurbished: Ease the financial burden while still getting high-quality results.
Affordability of a Refurbished Android Phone
In the tech-savvy environment of the UK, the financial burden is palpable.
Consider the stats: a typical UK adult is likely to spend an eye-watering £65,000 on gadgets throughout their lifetime.
Mobile phones, the lifeblood of our digital age, account partly for £4,742 of that sum.
And with the rising cost of living—now affecting 67% of adults in Great Britain—the tendency to skimp on non-essentials like the latest Samsung phones is becoming a sad reality.
How a Samsung Galaxy S20 Refurbished Can Help
As cost-of-living pressures mount, so does the temptation to forsake our modern-day necessities, like phones with cutting-edge camera systems and enviable battery life.
That's where refurbished Galaxy S20 phones come into the picture as a genuine lifesaver.
These aren't just budget-friendly versions of the flagship Samsung phone; they offer near-identical performance on everyday tasks without slaughtering your budget, whilst allowing you to remain connected during this tough time.
And with our 90-point phone check, you can be assured you're getting a high-quality refurbished gadget no matter the model.
Why settle for anything less?
Samsung Galaxy S20 Specs
Now that we've covered the smart economics of going refurbished, let's dig into the guts of the Galaxy S20.
Keep in mind that when you purchase a Samsung Galaxy S20 refurbished from a reliable source like UR, you're still getting the same killer specs as a brand-new unit.
Dimensions: 151.7 x 69.1 x 7.9 mm




Weight: 163 g




Display: Dynamic AMOLED 2X, 120Hz, HDR10+, 6.2 inches




Screen Resolution: 1440 x 3200 pixels, the same resolution in other S20 models.




Processor: Exynos 990 (Global) or Qualcomm SM8250 Snapdragon 865 5G (USA)




RAM: 8 Gb




Storage: UR offers a Samsung Galaxy S20 refurbished with 128GB of storage.




Audio Listening: It has no headphone jack, but instead supports Type-C earphones.



Best part? You're not missing out on anything, whether it's taking vibrant selfies with the front camera or diving into Android apps.
All in all, when you opt for a refurbished model, you're simply getting more tech for your buck.
Samsung Galaxy S20 Camera System
If tech specs were the meat and potatoes of our Galaxy S20 talk, then the camera is the sumptuous dessert. 
And let's be real, who doesn't love dessert? Whether you're a casual selfie-taker or an aspiring photographer, the Galaxy S20 camera is a game-changer.
Front-Facing Camera: 10 MP Sensor




Three Rear Cameras:

12 MP wide-angle sensor for your main camera.




64 MP telephoto Lens to get every detail of a single subject when zoomed in.




12 MP ultra-wide sensor for a wider field of view than experienced in your primary camera.
Beyond the Basic Camera Tech
But, there's more to the camera system than just its hardware. 
Imagine you're out on a dark evening and struggling to take social media-worth pictures due to the lack of light.
Well, wave those concerns goodbye with the Samsung Galaxy S20 Night mode, which employs a pro-grade camera system that captures multiple photos at once, blending them into a single, luminous shot with minimal blur and noise.
And that's not all.
Ever find yourself fumbling with camera settings, unsure of when to click? Enter Single Take photography mode. Tap once and watch as the mode captures an array of photos and videos, with AI swooping in to suggest the best shots.
To sum it up, the Galaxy S20 is more than just a smartphone; it's a versatile photography tool, with features designed to capture the essence of any scene or subject.
The camera doesn't just capture moments; it elevates them, turning even the most ordinary snapshots into memorable works of art.
Battery Life of the Samsung Galaxy S20
When it comes to endurance, the Galaxy S20 won't disappoint.
Its battery life clocks in between 9 to 10 hours, all thanks to its beefy 4,000 mAh battery.
And get this: it's a significant leap from its predecessor, the Galaxy S10, which toted a 3,400 mAh battery. From sunrise selfies to late-night video streaming, this phone's got you covered.
As if the long-lasting battery wasn't enough, this device kicks it up a notch with support for both fast charging and wireless charging.
Yes, you heard right. Plugged in or not, you're good to go.
Fast charging fills up your battery in a jiffy, while wireless charging is perfect for those moments when you'd rather not fumble with cables.
Note: Every refurbished devices from UR.co.uk comes with at least 80% battery. 
The Samsung Galaxy S20 Display
Feast your eyes on the 120 Hz refresh rate.
Often a staple in gaming phones, this feature delivers extra frames, making playing games more smooth, immersive and lifelike.
And speaking of lifelike, the phone boasts an HDR10/10+ display, which ramps up contrast on supported games and delivers a visual experience that's nothing short of cinematic.
But wait, there's more! The phone's resolution and pixel density are so sky-high, you might think you've ascended to another plane of digital reality. 
From social media scrolling to video-streaming binging, every pixel is a masterpiece of clarity and colour.
And what's even better, you get all this for cheaper when you shop for refurbished phones! Why not explore our refurbished Galaxy S23 review and refurbished Galaxy S22 Ultra review to shine more light on the situation?
Frequently Asked Questions
For those still concerned about the refurbished Samsung Galaxy S20, let's dissect a few common questions to help you see through the fog.
What are the colour options for the refurbished Galaxy S20?
Well, you've got a range of choices.
Cloud Blue and Cloud Pink are your go-to options if you want to strut around with a pop of colour.
But if you're more of a low-key individual, there's always the cosmic grey shade that exudes a subdued, classy look.
Trust me, these shades don't just make your phone look good; they practically elevate it to a fashion accessory!
Is the Samsung Galaxy S20's camera worth the hype?
In one word: yes. The Galaxy S20 features improved cameras with all the bells and whistles.
Whether it's the selfie camera with a flight sensor or the night mode that captures more light in dark settings, this phone's got your photography needs covered.
How does the refurbished S20 compare to new Android phones?
Whilst the S20 series was considered flagship phones during its release in 2020, it would be amiss to compare them to the latest new phone released by Samsung.
But, don't let that deter you!
An S20 still has an excellent camera and other nifty features that'll excel in performance beyond everyday tasks.
Plus, toss 'refurbished' in there, and you'll get all the cameras and more for a fraction of its launch price.
Final Thoughts on our Galaxy S20 Review
So there we have it—a whirlwind tour of the Samsung Galaxy S20, a device that's more like a miniaturised command centre than a mere phone.
From its astronomical battery life to its theatre-grade display, this phone packs a galaxy of features into a pocket-sized marvel.
And let's not forget the cherry on top: when you get it refurbished from UR.co.uk, you're not just snagging a killer phone—you're also making a commitment to sustainability.
Cheers to that.