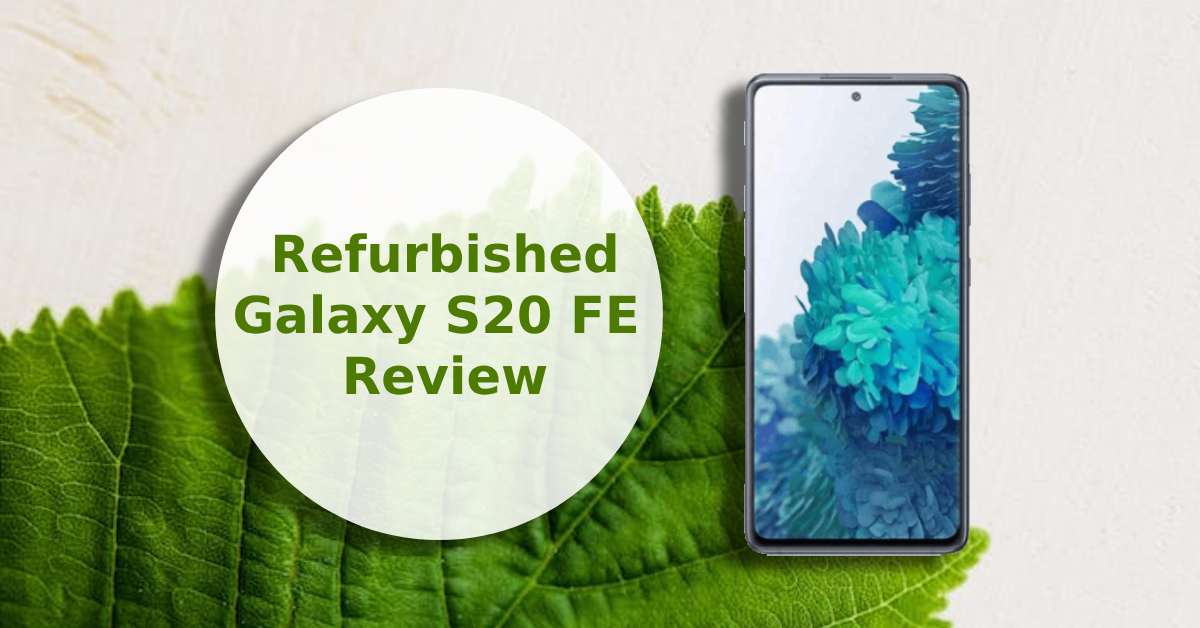 Refurbished Samsung Galaxy S20 FE Review: Experience More for Less
Have you heard the whispers about the Samsung Galaxy S20 FE?
Now imagine a refurbished version: the same dazzling features as its new S20 series counterparts, yet available at a price that won't make your bank account shudder.
A steal? Undoubtedly.
So, if the notion of flagship frills at budget-friendly figures sends your pulse racing, you'll want to delve deeper into this treasure trove of tech delights.
Or do you want to buy a device straightaway? Look at our range of refurbished Samsung phones at UR.co.uk. don't wait any longer.
Key Takeaways:
Great Camera Specs: Purchase an inexpensive device with a camera better than most Android phones.




Overall Design: Simplistic design that allows you to keep all the same features.



Refurbished: Get a great quality Samsung phone for less than bought new.
The Samsung S20 FE
So, what's the big fuss about the Samsung S20 FE? Released in September 2020, it's the darling of the Galaxy S20 series that replaces all the excess with pure functionality.
"FE" means a "Fan Edition" device, which strips down the S20 series to its most sought-after features as decided by fans.
Yes, it removes lesser-used aspects of the S20 series, but don't forget—the Samsung S20 FE isn't a watered-down model.
We're in the company of a phone that brandishes premium features to help reduce the costs found in the wallet-gutting flagship phones.
But here's the cherry on the cake: you can trim your expenses even further by opting for a Samsung Galaxy S20 FE refurbished.
Specs of a Samsung Galaxy S20 FE
With the help of our 90-point phone checks, you can expect the following features regardless of whether you buy a brand-new phone or one that's been refurbished by us.
Dimensions: 6.29 x 2.93 x 0.33 inches.




Display: 6.5 inches of Super AMOLED glory with a 1080 x 2400 pixels resolution.




Chipset: Qualcomm SM8250 Snapdragon 865 5G (7 nm+) or Exynos 990 chipset, depending on your location.




CPU: Octa-core, because who wants to settle for less?




Battery Life: Li-Po 4500 mAh, non-removable, supports fast charging at 25W, USB Power Delivery, and even reverse wireless charging at 4.5W.




Audio Listening: Uses a USB C Port for headphone listening - this device doesn't come with a headphone jack.



Now, you might be confused with all these long names and numbers, but don't worry.
Keep reading, and we'll review the Samsung Galaxy S20 FE's key features and how they could be helpful to you.
Review of the Samsung Galaxy S20 FE Battery Life
Nobody likes to be tethered to an outlet.
If freedom to roam is your thing, you'll be thrilled to hear about the Galaxy S20 FE's battery situation.
Packed with a 4,500mAh battery, this phone is designed to keep up with your fast-paced life, as a single charge can have you powering through most of the day—no pit stops required.
But that's not all.
If you decide to go the refurbished route with us, rest assured you get at least 80% battery health, meaning you're getting near-new performance at a sliver of the price.
The juice in this gadget is not just quantity; it's quality.
So, you're not just saving money—you're also saving trips to the power socket.
The Samsung S20 FE Phone Camera
Shifting gears a bit, let's delve into another piece of mobile artistry: the iPhone 11 Pro Max's camera.
Rear Cameras: Triple camera setup with 12 MP wide, 12 MP ultrawide, and 8 MP telephoto lenses, which includes digital zoom.




Front Selfie Camera: 32 MP, f/2.2, 26mm (wide), 1/2.74", 0.8µm



Camera App Features: Pro Mode, Panorama, Slow Motion, Hyperlapse, Space Zoom and more.
Comparison to other Samsung Phones
How does it stand in the Samsung arena? Let's find out.
When it comes to snapping shots in broad daylight, the S20 FE brings a performance pretty akin to its pricier sibling, the Samsung Galaxy S20+.
The dynamic range might be a tad narrower, and the colours somewhat less vivid.
But hey, we're nitpicking here.
The game changes once the sun goes down as the Samsung Galaxy S20 FE's Night mode stands out like a rock star.
It bests the Samsung Galaxy S20+ in terms of sharpness, detail, and dynamic range, laying down a masterclass in low-light photography.
In fact, when it comes to image quality, it's neck and neck with the even more pricey Samsung Galaxy Note20.
So, there you have it! When you pull the Samsung Galaxy S20 FE out of your pocket, you're not just capturing images; you're capturing keepsakes.
Not too shabby for a phone that costs less than its big brothers, eh?
The Samsung Galaxy S20 Design
Now, some of the limitations of the Samsung Galaxy S20 FE can be seen in its design.
Constructed with aluminium sides and a polycarbonate back, the S20 FE trades the glass-clad opulence of the S20 for a more practical attire.
And, as for the bezels, they are a hair thicker than those on the S20, but don't let that distract you.
The emphasis here is squarely on function over form, and it shows in the device's price tag.
Plus, if you're looking to add a splash of personality, Samsung's got you covered.
Tailor your device to your mood with Cloud White, Cloud Orange, Cloud Mint, Cloud Lavender, Cloud Navy, or Cloud Red.
Frequently Asked Questions
You've been dazzled by the smartphone cameras and wowed by their blend of luxe and practicality.
But questions still simmer, especially if you're eyeing a refurbished model. 
Let's unscramble that mental knot, shall we?
How Does the In-Display Fingerprint Scanner Compare to Other Samsung Devices?
Great question!
The in-display fingerprint scanner is slightly different from that found in other models. 
While most Galaxy S20 phones use an under-display ultrasonic fingerprint scanner, the S20 FE has an optical scanner instead.
The difference? Although the latter is considered faster, the optical scanner still gets the job done whilst knocking off some money from the device in the process.
What's the Scoop on System Wide Dark Mode, and Does the Refurbished Samsung S20 FE have it?
Yes,
The Samsung S20 FE refurbished comes packed with all software features found on a brand new device, such as Dark Mode, which turns your colour scheme to dark hues to prevent eyestrain in low light conditions.
Are you curious for more? Dive into our in-depth review of the refurbished Samsung Galaxy S20 review to compare it with other gems in the Samsung lineup. It's like smartphone window shopping, but better!
The Unsung Hero of the S20 Family
Wrapping this exploration up, the Galaxy S20 FE makes a compelling case as the unsung hero of the S20 series.
It's not vying for the spotlight with high-fashion design elements or groundbreaking tech.
Instead, it's the phone that understands the essentials matter most.
From its intuitive user interface to its camera capabilities, it ticks the right boxes without emptying your wallet.
Plus, when you buy from us, you get all this alongside £45 worth of free accessories, allowing you to save more money for a night out or a meal with the family.
So, take a look today! It's a deal you won't regret.