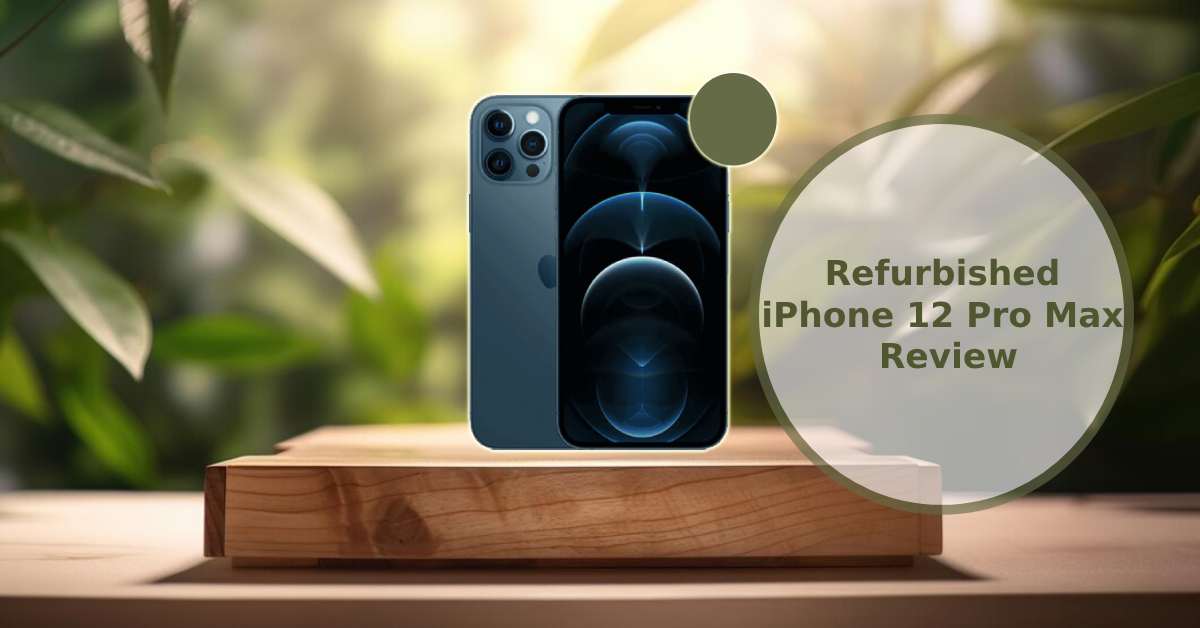 Refurbished iPhone 12 Pro Max Review: Big Size, Bigger Savings
Stepping into the arena of the iPhone 12 series, the Pro Max version arrived with a flourish of high-end features, boasting a long battery life, a robust A14 Bionic chip, and a revamped design embraced by Ceramic Shield for peak durability.
But when it comes to choosing a refurbished model, questions loom like clouds on a clear day. Is the cost-saving choice a savvy investment or a compromise on quality?
Linger a bit longer and discover why the iPhone 12 Pro Max refurbished might just be the hidden gem you're seeking.
Or have a look at other models instead! View our range of refurbished iPhones today at UR.co.uk. Your next device is just around the corner.
Key Takeaways:
Battery Life: Holds the longest battery life in the iPhone 12 lineup.




Great Camera: Take pictures of most things with ease, such as night mode portraits and far away objects, with the help of night mode and optical zoom.



Refurbished Phones: The all-time winner in the price comparison arena.
Specs of the iPhone 12 Pro Max Refurbished
The iPhone 12 Pro Max is the larger of the two Pro-level devices in the iPhone 12 series. 
Released in 2020, it was designed to provide the user with high-quality features that justified its immense price tag.
But does it still hold true even today?
Before we go any further, explore the specs of the iPhone 12 Pro Max below to gain a basic understanding of what this device can do for you.
Notes: These specs are universal regardless of whether it's a brand-new iPhone or a refurbished model.
Key Features:
Display: A vast 6.7-inch OLED canvas, painting your content in 2778 x 1284 pixels, each pixel a dot of potential.




Size & Weight: Sleek yet commanding, it measures 3.07 inches across, 6.33 inches in height, stretching elegantly in the hand.




Chip: The A14 Bionic, a tiny titan powering every swipe and tap with ease.




Main Camera: A trifecta of 12 MP lenses capturing life wide, telephoto, and ultra-wide, ensuring no detail escapes its gaze.



Front Camera: Dual 12 MP lenses, ready to elevate your selfie game to art gallery status.
These specs paint a picture of a device that's both a visual treat and a powerhouse performer.
The expansive OLED display promises an immersive viewing experience, while the A14 Bionic chip ensures swift and efficient performance.
With a camera suite that turns every shot into a masterpiece, the iPhone 12 Pro Max remains a compelling choice, even refurbished.
And what's even better, you get ample room for storage with our iPhone 12 Pro Max 128GB refurbished and iPhone Pro Max 256GB refurbished models.
Refurbished iPhone 12 Pro Max Cameras
The iPhone 12 Pro Max holds a camera array to support most photographic needs.
The telephoto lens allows you to zoom into distance objects without moving an inch closer, whilst the wide and ultra-wide lens enables you to capture a wider field of view or that seen with your own eyes with vibrant clarity.
But how does all this hold up in tests?
Camera Performance
Venturing into the visual capabilities of the iPhone 12 Pro Max reveals a photographic powerhouse that beckons enthusiasts and casual snappers alike.
The wide camera's f/1.6 aperture is not just a number—it's a gateway that lets in 27% more light, banishing the shadows of low-light environments to the periphery.
Plus, housing a 47% larger sensor than its siblings in the iPhone 12 family, the Pro Max distances itself from the pack.
This substantial sensor size upgrade is not a mere incremental improvement but an 87% boost in low-light photo fidelity.
It's as if the Pro Max dons night-vision goggles, seeing through the dark with an uncanny clarity.
Other Camera Features
Furthermore, the camera's sensor-shift optical image stabilization is a feature that was once the preserve of high-end DSLRs.
This mechanism ensures that even the tremulous hands of excitement or the unavoidable jostles in a bustling crowd won't blur the artwork you capture.
The iPhone 12 Pro Max doesn't just take pictures; it seizes moments with a surgeon's precision, offering a visual feast of stability and precision, which is only improved by the device's Smart HDR that blends multiple photos together to give you greater contrast in your photos.
And that's not all; you also receive special camera app features, such as Night mode, Portrait mode and Cinematic mode, to further adjust your phone to its surroundings and boast overall image quality.
So, though the iPhone 12 Pro Max is slightly on the price side, you get your monies worth when it comes to its cameras.
Battery Life
The iPhone 12 Pro Max also has a sufficient battery life to support all your photographic activities.
Its 3,687 mAh battery allows this device to last an impressive 10 hours and 53 minutes over 5G, providing a longer battery life than other iPhone models, like the rest in the iPhone 12 lineup.
Plus, the iPhone 12 Pro Max also lasts 20 hours of video playback and around 80 of audio playback, as proclaimed by Apple themselves.
The reality of these outcomes can vary slightly between a new phone and one that's been refurbished.
But rest assured, you'll be getting at least 80% battery health when you shop with us, allowing you to perform your daily tasks for years to come without your device giving up.
Processor in the iPhone 12 Pro Max Refurbished
Inside the sleek frame of the iPhone 12 Pro Max beats the heart of a titan—the A14 Bionic chip, which is the same processor across the iPhone 12 range.
Here, speed isn't just increased; it's redefined, with the CPU executing tasks at a blistering pace that outstrips the A12 by a staggering 40%, ensuring that whether you're flipping through apps or immersing yourself in the latest mobile game, the experience is silk-smooth and razor-sharp.
Plus, the chip's four-core GPU is an artist, rendering graphics with 30% more speed than the A12.
This leap in graphics performance isn't merely noticeable; it's transformative, offering visual fluidity that turns gaming sessions into epic adventures and video streaming into a cinematic experience.
What does this mean for you? 
Well, whilst some might view this chip as outdated in comparison to newer generations, the iPhone 12 Pro Max's processor can still provide you with fast, stable performance when undertaking most high-demanding tasks.
The Values of Going Refurbished
With all this considered, the allure of a new phone is undeniable, yet the virtues of a refurbished device shine just as bright when you scratch the surface.
Let's peel back the layers:
Cost-Effective: Picking a refurbished model like the iPhone 12 Pro Max means a gentler nudge on your finances.




You're bagging the same cutting-edge technology, often with barely a blemish to separate it from its just-boxed counterpart, but at a significantly lower price point.




Quality Assurance: With every phone from us undergoing a rigorous 90-point phone check, there's peace of mind in knowing that 'refurbished' can be synonymous with 'reliable'.




Eco-Friendly: Opting for a refurbished phone is a silent shout-out to Mother Earth. It's a reduction in waste, a vote for sustainability, and a step away from the relentless cycle of producing new devices.



Choosing refurbished is not just a purchase; it's a statement. It says, "I want the high-end, without the high spend, and I care for the planet too."
It's about getting more bang for your buck while being a conscious consumer.
Frequently Asked Questions
Before you go searching more about refurbished phones, we've compiled a few commonly asked questions in the list below to help you on your journey.
Is opting for a refurbished iPhone 12 Pro Max truly cost-effective compared to the latest models?
While flagship smartphones like the Galaxy Note may rally for attention with flashy new designs, a refurbished iPhone 12 Pro Max holds its own, especially when price tags are compared.
Offering a high-end experience with features like Dolby Vision and deep fusion photography without the hefty expense, it provides you with remarkable value without giving up any luxury features.
Can I expect top-notch photography, especially in low light conditions, with a refurbished model?
Absolutely, the larger main sensor and night mode shot capability on the iPhone 12 Pro Max allow for capturing more detail even when the sun dips.
This larger display phone doesn't skimp on quality, ensuring your memories are as crisp as an autumn dawn, whether you're comparing it to other iPhones or newer offerings in the market.
What about the display technology?
The refurbished iPhone 12 Pro Max sports an OLED display that rivals many new phones out there. 
It adapts colour and brightness smoothly to different conditions and has a larger screen and resolution than other expensive phones, such as the iPhone 14 Pro Max.
Whilst this device might lack some aspects found in newer models, be assured you are still getting a high-quality device that's still usable in today's high-tech world.
Want more details on a phone with the same price point or lower than the refurbished iPhone 12 Pro Max? Explore our refurbished iPhone 12 Mini review or our refurbished iPhone 14 Plus deals for more information.
Final Thoughts on Our iPhone 12 Pro Max Review
In wrapping up, the journey through the refurbished iPhone 12 Pro Max landscape reveals a path paved with value.
Its blend of sophisticated technology and enduring design speaks to a wise choice for the eco-conscious and budget-savvy individual.
It's clear: this device isn't just holding its ground; it's a testament to timeless innovation, proving that some stars shine with a light that lasts.
So, get your iPhone 12 Pro Max refurbished by us today, and enjoy your £45 worth of accessories that come with it.