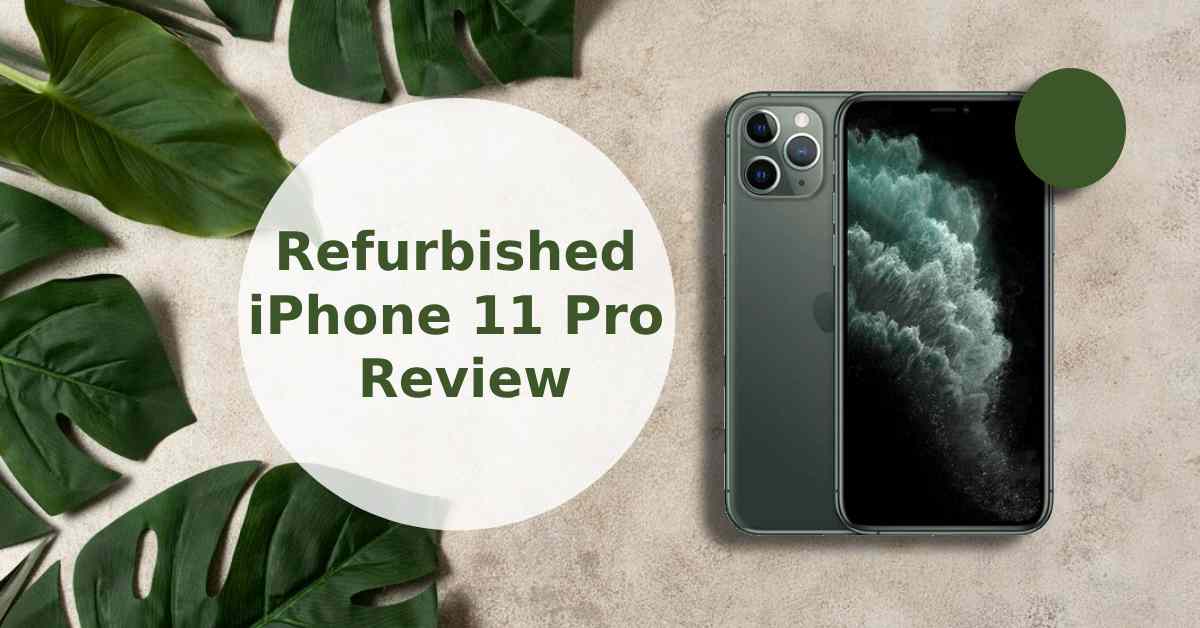 Refurbished iPhone 11 Pro Review: Premium Phone, Pleasing Price
Are you wondering if the refurbished iPhone 11 Pro holds up to the hype of its brand-new counterpart?
Let's cut to the chase: Launched by Apple in 2019, this high-end piece of tech still rivals its younger siblings if you're comparing price against features.
So, if you're considering joining the refurbished club, stay with us.
We're about to delve into performance, camera quality, durability, and so much more.
Or, get a refurbished device now! Explore our range of refurbished iPhones to find out what you can save today with UR.co.uk.
Key Takeaways:
Battery Life: Has a better battery life than the iPhone XS.




Amazing Three Cameras: Camera that'll beat most Android phones of its time.



Refurbished: Get all the features of a new iPhone, but a fraction of the price.
The Quality of a Refurbished Apple iPhone
The thought of buying an iPhone 11 Pro refurbished often comes with concerns over quality, which leaves many asking themselves whether the device will last the duration of their phone contract, or even the time needed to save up for the latest iPhone version.
Well, what they don't know is that a refurbished phone can act practically brand new when restored correctly.
And that's what UR excels at.
With the help of our 90-point Phone Check performed by our expert phone engineers, you can expect the following specifications regardless of whether the iPhone 11 Pro is new or reconditioned by us.
Key Specifications:
Finish: Gold, Space Gray, Silver, Midnight Green




Capacity: Get an abundance of storage as found in the iPhone 11 Pro 256GB refurbished, or go for something smaller like the iPhone 11 Pro 64GB refurbished.




Size and Weight: Just 2.81 inches wide and 5.67 inches high, and weighs a mere 6.63 ounces.




Display: Super Retina XDR, 5.8-inch OLED Multi-Touch, HDR, with 2436 by-1125 pixel resolution at 458 ppi.




Chip: A13 Bionic chip accompanied by a Third-generation Neural Engine.



Battery Life: Comes with a 3046 mAh battery non-removeable battery that supports wireless charging.
The iPhone 11 Pro Design Aesthetic and Screen
Okay, so we've hashed out the specs, but what about the look and feel of this beauty? Enter the iPhone 11 Pro design, a thing of wonder.
A polished stainless steel band wraps around a textured matte glass back, blending industrial sturdiness with boutique elegance.
Now, the iPhone 11 Pro might look like the twin of the iPhone 11, but the devil is in the detail.
Apart from replacing the iPhone 11's aluminium sides, the iPhone 11 Pro also have smaller borders around the end of its screen, adding a sense of luxury to its all-screen display that slighter removed from its more inexpensive alternative.
And that's not all; the Apple iPhone 11 Pro also comes in a choice of black, silver, gold and green - all allowing you a sense of self-expression whilst maintaining its high-quality, sleek aesthetic.
The iPhone 11 Pro Screen
So, we've nailed the physical allure, but what are you really staring at all day? The Super Retina XDR display, of course.
Yes, it's a mouthful, but for good reason.
Dubbed the brightest display ever in an iPhone during its creation, this screen doesn't just talk the talk—it walks the walk.
Measuring at 5.85 inches diagonally, the display has curved corners that follow a graceful design. And it's not just about how big the screen is, but also about how crisp the visuals are.
It makes a world of difference, whether you're editing a portrait in your camera app or watching videos that need to pop.
Thoughts on the iPhone 11 Pro Screen
In many accounts, the 'notch' at the top of the display to hide the iPhone front camera could be perceived as off-putting to those who used the Dynamic Island feature found in later generations.
But don't let that deter you from its design.
With its vivid display and the phone's range of other features, you'll barely know it's there after a few minutes of usage.
iPhone 11 Pro Battery Life
While we've been raving about the aesthetics and display, let's shift gears and talk about the real hero—the battery.
You can have the sleekest phone on the street, but if it's dead by noon, then we're all left in a pickle.
With a 3046mAh battery capacity, the iPhone 11 Pro boasts a solid 14.5% longer battery life compared to the iPhone XS.
If you're a numbers person, that equates to 10 hours and 24 minutes of battery life in a typical usage scenario.
And if you're a fan of offline streaming, expect the device to stick with you for an impressive 18 hours of video playback.
Now, these figures are ballpark estimates, varying depending on your daily phone habits.
But hey, if you're opting for a refurbished model, you can breathe easy knowing it arrives with a minimum of 80% battery health.
New Camera System of its Generation
But the best feature of this device is undeniably the iPhone's camera.
Described as a whole new camera system during its release, the iPhone 11 Pro comes with a front camera and three rear cameras that take your photographing game up a notch when compared to previous generations.
When you buy these devices, you can expect the following:
Front Camera: 12MP TrueDepth, fixed-focus, 23mm-equivalent f/2.2-aperture lens




Rear Camera Array: Triple-lens 12MP




Ultra-wide-angle lens: 120-degree field of view, 2x optical zoom out




Wide lens: f/1.8 aperture




Telephoto lens: f/2.0 aperture, 2x optical zoom in and out



How is it different from previous models?
Well, the iPhone Pro and iPhone Pro Max are the first Apple iPhones to have a triple-lens camera system with ultra-wide, wide and telephoto cameras.
But how does the camera app hold up?
Camera App on the iPhone 11 Pro
A camera's hardware prowess is just half the story; it's the software that turns raw capability into photographic art.
With the iPhone 11 Pro, it's like having a mini photo studio in your pocket, thanks to its feature-rich camera app.
Take Night Mode, for example. It's the caped crusader for all your very low light adventures, capturing details and colours that even your eyes might miss.
Smart HDR is another superstar, making sure every click is worthy of a frame by adding nuanced tonality and detail.
Forget about those washed-out midday shots; with Smart HDR, every hour is golden hour.
Performance of the iPhone 11 Pro Camera
This isn't just about taking great photos; it's also about the ease of the journey from lens to screen.
The camera app facilitates almost magical transitions between the triple-camera setup, ensuring that you can go from ultra-wide to telephoto without any jarring shifts.
Nor does the quality decline with the zoom.
With this feature, you can get up close and personal with your subject without sacrificing an iota of quality.
The Pocket-Friendly Brilliance of Refurbished
With people clocking an average of 4 hours and 14 minutes daily on their smartphones, it's clear that these gadgets aren't just luxuries; they're lifelines.
And lifelines can be costly—almost £21,000 in a lifetime on electronic gizmos, including a staggering 16 mobile phones.
But what if I told you, you could snag all these marvels without burning a hole in your wallet?
Enter the magic word: Refurbished. It's the golden ticket to retrieving a device that's kinder to your pocket.
Depending on the product and its condition, you're looking at a potential savings jackpot—anywhere from 10% to 70% off the original sticker price.
That could be extra money for a day out, or extra accessories for your refurbished phone.
So why not save some pennies by going down a different avenue?
Do you want to know more deals offered by us? Then, explore our refurbished iPhone XS Max review and refurbished iPhone XS review to find out today.
FAQs About Your Next Refurbished Phone
Instead of searching the internet for hours on end, we've put together a range of FAQs that often pop up when considering an iPhone 11 Pro and refurbished phones.
So, let's get those concerns answered.
What's the scoop on video capabilities with refurbished phones?
You're not sacrificing anything here.
You'll get all the cinematic tricks, whether it's Dolby Vision to improve your viewing experience, or extended dynamic range for video editing; you'll get super crisp quality regardless of whether it's refurbished or not.
How customisable is the interface?
Everything from Dark Mode to the iTunes store is accessible.
You'll find your favourite settings, just like on a new phone, right where you expect them—whether it's long-press options on your lock screen or the automatic mode that optimises everything for you.
What about stereo speakers and sound quality?
The stereo speakers are just as punchy, and the headphone jack—or the lack thereof—is identical.
Trust us, when it comes to sound, there's no difference between a shiny new phone and one of UR's high-quality refurbished models.
How does it hold up for gaming and apps?
Whether you're a casual gamer or an app aficionado, performance doesn't suffer.
From the matte finish that offers a solid grip to the frosted glass that adds a touch of class, it's all the same.
Your games will still look brilliant on that OLED screen.
How does the iPhone 11 Pro compare to the iPhone XS Max?
Both the iPhone 11 Pro and the iPhone XS Max are considered luxury Apple devices. The main difference, however, comes down to the cameras.
Unlike the latter, the iPhone 11 Pro comes with an additional 12-megpixel ultra wide lens, meaning the camera has a wider field of vision.
Final Thoughts on our iPhone 11 Pro Review
So, you've gone through the iPhone 11 Pro's A to Z, from its Super Retina XDR screen to its extended battery life and that camera setup—just wow.
And you even got some detail on why going refurbished with UR is like hitting the jackpot when it comes to affordability.
But that's not all; UR even tosses in 12 months of FREE insurance with every device purchased by us, covering a range of unfortunate incidents involving your device.
So don't wait any longer!
Buy a refurbished iPhone 11 Pro, and save some money in the process.