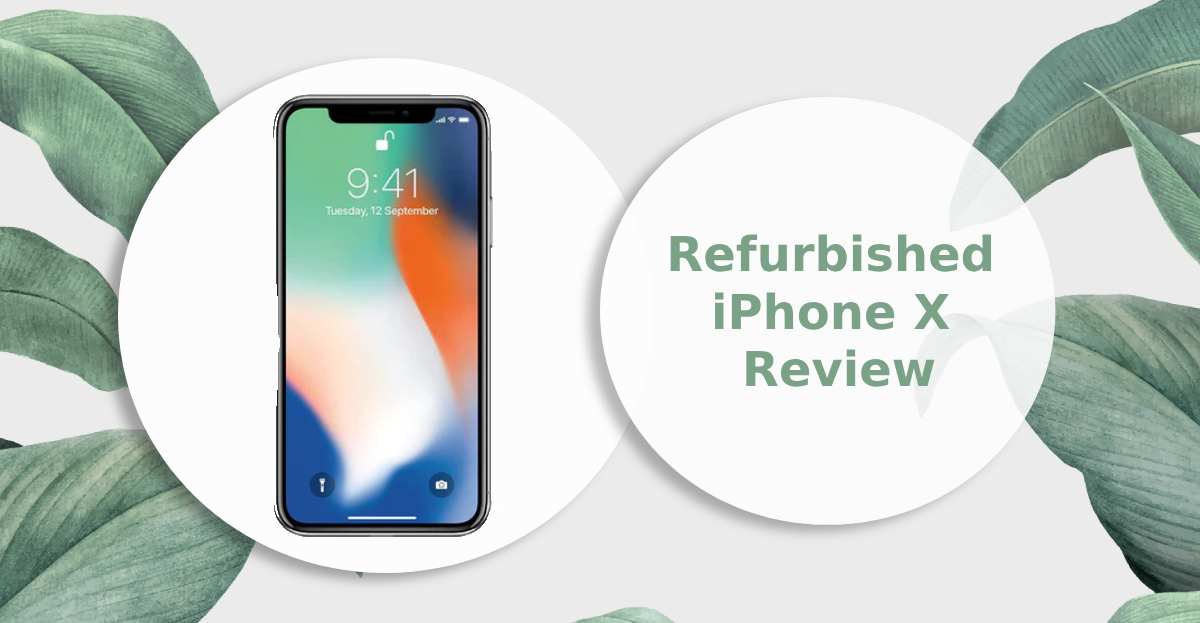 Refurbished iPhone X Review: Smart Savings for Smart Users
Are you searching for a device that combines both style and substance?
Here's the kicker: a refurbished iPhone X has a bundle of features to keep pace with your everyday life, while sparing your wallet the agony of a triple-digit meltdown.
Tempted to know more about its performance, enduring charm, and how it measures up to other heavy hitters in the smartphone game? Then stick around.
If you're already sold on the idea, give your clicking finger some exercise by exploring our collection of refurbished iPhones today.
Key Takeaways
Quality isn't sacrificed when it comes to refurbished, especially when UR.co.uk is in the mix.




Despite its years, the iPhone X remains one of the best for its user-friendly interface.




Not just a pretty face, this device offers top-tier functionality and innovative features.
iPhone X Specs Unmasked
The iPhone X refurbished isn't just eye candy; it's got the brains and brawn to match. Drenched in innovation, the phone remains a solid choice for those who adore Apple's blend of form and function.
Drenched in innovation, the phone remains a solid choice for those who adore Apple's blend of form and function.
Here what you get, regardless of whether it's new or refurbished. 
Display: 5.8-inch Super Retina HD OLED display, supporting HDR10 and Dolby Vision.




Weight: A mere 6.14 ounces, your pocket won't even know it's there when compared to later iPhone versions.




Chipset: Powered by the A11 Bionic chip with 64-bit architecture.




Memory & Storage: Choose between iPhone X 64GB refurbished or iPhone X 256GB refurbished, both coupled with 3GB RAM.




Camera: 12MP rear dual cameras and a 7MP front camera that makes your selfies pop.




Battery Life: A 2716 mAh lithium-ion battery gives you up to 21 hours of talk time and wireless charging.



And when you shop with us, you are guaranteed to have at least 80% battery health with every device. 
The Facts Behind the Madness
Are you wondering what this all means for you?
Well, with an OLED screen display, you're getting hues and deep blacks that'll display the vibrant essence of your favourite game or spur-of-the-moment photo opportunities.
And that's not all; the OLED display also means your iPhone X's screen is always free from distortion no matter the angle, meaning you don't need to worry about over-stretched pictures when viewing them in landscape mode.
Moving on to power, the A11 Bionic chip still packs a punch, capable of multitasking and running low-demand games with ease, allowing you to undertake your everyday tasks without a worry.
All these combined make the iPhone X perfect for those who want a low-budget Apple iPhone that supports easy everyday tasks without stretching their budget.
iPhone X Security Features
When it comes to virtual vaults for your personal data, the iPhone X isn't playing around.
This device ups the ante on security, bringing facial recognition into the next-level territory for a phone of its age.
What makes this phone your digital knight in shining armour?
Facial Recognition
The Face ID system is the masterpiece of its interface.
Utilising a trifecta of dot projector, flood illuminator, and infrared camera, this phone can map your face in detailed 3D.
Being the first iPhone with this feature, the iPhone X's Face ID system is hyper-vigilant.
It permits only five failed match attempts before triggering a switch to passcode mode, enhancing its already solid security.
That's not just face value; that's depth in protection.
Why Opt for a Refurbished iPhone X
But why should you consider a refurbished iPhone X over a new iPhone? 
Excellent question; we'll explore this together.
A Greener Future
Ever looked at the massive pile of electronic waste and wondered how you could be part of the solution, not the problem? 
Let's consider the refurbished iPhone X, not just for its impeccable specs, but as a choice that's both smart and responsible.
In our green and pleasant land, the stats on e-waste are far from pleasant, especially when the UK generates a staggering 23.9kg of e-waste per person.
By opting for a refurbished iPhone X, you're planting a seed for a more sustainable future, directly countering this troublesome trend.
Massive Saving with an iPhone X refurbished
Now, let's pivot for a second and talk about the cost savings.
Quality smartphones often come with a hefty price tag; we all know that.
But the refurbished route can pare down those costs like a hot knife through butter, without sacrificing features or functionality.
And rest easy; you won't be skimping on quality when you buy from us, not whilst we have our engineers on hand, undertaking 90-point PhoneChecks to ensure your phone's health and security.
So, if you're game for a top-tier smartphone that doesn't break the bank or the planet, a refurbished iPhone X is your ace in the hole.
You get to be a green hero and a budget ninja, all wrapped up in one smart decision. 
What's not to love?
Your Burning FAQ on the iPhone X
You've got questions; we've got answers.
Between the dazzling new displays and snazzy features, choosing between a refurbished iPhone and any other smartphone can turn into a real head-scratcher.
So, let's debunk some myths and break down the FAQs.
What makes the iPhone X different from the original iPhone?
The iPhone X is leagues away from the original iPhone in terms of pixel density and camera capabilities.
You get special features like portrait mode, Apple Pay and a dual rear camera, just to name a few.
How does Face ID work? Can it recognise me with glasses?
Face ID works using Apple's True Tone technology, capturing your unique facial features.
Don't fret about wearing glasses; Face ID is robust enough to identify you even when you're wearing your thickest holiday specs.
How does the battery indicator differ between Samsung Galaxy Note and iPhone X?
While both phones give you a good idea of your battery percentage, the Control Center on the iPhone X arguably offers a more detailed view of your battery life compared to the Samsung Galaxy Note.
Fancy a look at something else? Explore our refurbished iPhone 8 Plus review and refurbished iPhone 8 review to find out what else we have to offer today!
Final Thoughts on Our Refurbished iPhone X Review
The refurbished iPhone X isn't just a fleeting relic of the past; it's a classic that stands the test of time.
Ten years from now, people will still talk about its revolutionary Face Recognition and the leaps it made in its OLED screen.
It's the device that had everyone singing its praise and reconsidering their phones.
And it shouldn't stop now.
Get a refurbished iPhone X from UR.co.uk and enjoy the everyday simplicity this device offers. And rest assured, you'll be joining our commitment to sustainability in the process.
Happy shopping!