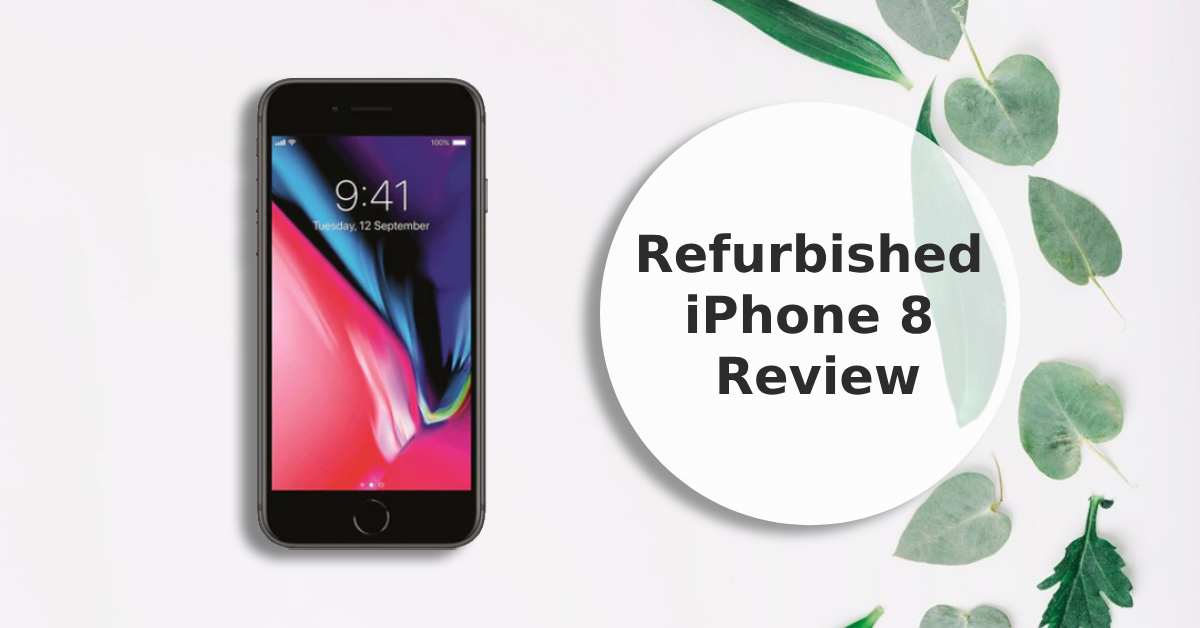 Refurbished iPhone 8 Review: Saving Money Smartly in 2023
When you consider the fast-paced evolution of smartphones, the refurbished iPhone 8 emerges as an enduring marvel of design and functionality.
With a price that won't leave your wallet gasping for air, we'll tackle all the gritty details—be it the intriguing performance metrics and stunning camera capabilities— that makes this refurbished Apple iPhone worth a second look.
But do you want a phone right now? Well, take a look at our range of refurbished iPhones. You might just find the right deal for you at UR.co.uk.
Key Takeaways:
Worried this device is an old iPhone that wont keep up? Don't underestimate its capabilities.




Great Portability: Get a phone that easily fits in your pocket.



Refurbished: Same functions at a cheaper price.
Unchanged Excellence in a Refurbished iPhone 8
Diving into the specs of an iPhone 8 refurbished involves no surprises—because they're identical to those of a brand-new unit.
If you're pondering whether going refurbished will somehow lower the bar, don't.
The iPhone 8 hasn't lost its charm; it's got the same snazzy features that turned heads even years after hitting the market.
Processor: The A11 Bionic chip ensures your refurbished iPhone 8 runs smoothly. 




Whether you're gaming, streaming videos, or multitasking, this processor got your back.




Display: The 4.7-inch Retina display offers vibrant colours and sharp images. 




True Tone adjusts the white balance according to your environment, and ambient light adjustment means it looks great in any lighting.




Battery Life: Enjoy your phone for hours with the iPhone 8 battery life, which allows you up to 14 hours of talk and time around 40 hours of audio playback.




Plus, when you buy from UR.co.uk, the battery on a refurbished iPhone 8 retains at least 80% battery health. That's more than enough to get you through days of regular use for years to come.




Storage options: Pick a storage choice that suits your needs with UR's iPhone 8 64GB refurbished and iPhone 8 256GB refurbished phones.




Whether you like taking photos or just using your device for calls, options are always available when you shop with us.



So, our thoughts on the specifications of a refurbished iPhone 8? Well, don't mistake the term 'refurbished' for 'outdated' or 'inferior.'
It still holds its ground against newer models in the market, especially when considering its price tag.
Stunning Photos with the iPhone 8 Camera
Let's focus on a key element that keeps the iPhone 8 relevant years after its release—the camera.
One might think that a camera in an older phone like the iPhone 8 would be obsolete.
Think again! Although iPhones from later generations have flashier camera specs, the iPhone 8's camera setup still packs a solid punch.
Specifications of iPhone 8 Camera
Want a camera for all moments of your everyday life? Don't we all?
When you buy an iPhone 8, you can expect a rear camera with 12-megapixel and f/1.8 aperture, sporting optical image stabilisation, and a six-element lens.
Whether you're snapping a quick picture at a party or capturing serene landscapes, the camera delivers high-quality images that'll make you weep with joy when considering the price you pay.
But that's not all; thankfully, for your social media selfies, you'll also have a 7-megapixel front-facing camera that boasts an f/2.2 aperture.
Alongside a 1080p HD video recording at 30 frames per second, you'll never worry about missing a moment, no matter your location.
Not so bad for an older-generation iPhone, eh?
Performance
And as far as user experience goes, simplicity is the name of the game with this one.
You won't find yourself tangled in a web of complicated settings with its easy-to-use design that performs particularly well outdoors during daylight hours.
When you use this device, you're capturing images that'll make you reconsider ever looking at other Android phones.
The Beauty of Compact Design in the iPhone 8
Now, let's discuss something that often takes a backseat in conversations about the latest and greatest phones—the sheer comfort of a well-designed, compact device.
The iPhone 8 is lighter and easier to handle than more recent Apple iPhones, Samsung and Google Pixel phones.
The Usable Design of an iPhone 8
Crafted for high-quality durability, the iPhone 8 boasts a glass and aluminium design that's built for pure protection.
And with three finishes to choose from—space grey, silver, and gold—you can pick a hue that best fits your style.
That's right, personalisation options to the designed just for you.
But here is the biggest charmer: its dimensions.
At 5.45 inches in height, 2.65 inches in width, and a slim 0.29-inch depth, the iPhone 8 offers a manageable handful, making it perfect for those who prefer a comfortable grip and an more pocketable device when compared to later generations.
The Values of a Refurbished iPhone 8 vs a Brand New Phone
At this point, you might be sold on the iPhone 8's specs, camera, and design.
But what if I told you that you can snag all these fantastic features without emptying your wallet?
Yes, we're talking about the values of a refurbished iPhone.
Your Wallet Will Thank You
Getting a refurbished iPhone 8 means you're securing a device that has already proved its worth in the tech world—without having to pay a premium price.
You'll be treated to the same Apple ecosystem and respectable hardware without feeling the financial burn.
So, if you're budget-conscious, going the refurbished route allows you to enjoy premium features while keeping your bank account healthy.
And what's better, at UR.co.uk, you can choose the quality yourself; look at the table below to find out more.
| Condition Level | Scratches and Signs of Use |
| --- | --- |
| Good | Light but visible scratches on both body and screen. |
| Excellent | Micro-surface scratches not visible beyond 30cm. |
| Premium | No visible scratches on screen or body. |
A Nod to Mother Earth
Beyond the money factor, you'll also be contributing to a greener planet. Opting for a refurbished phone keeps it out of landfills, reducing electronic waste.
Plus, you're lessening the demand for new devices, which curbs the need for raw materials and decreases your carbon footprint.
So why settle for less when you can get everything you need in one go?
Frequently Asked Questions About a Refurbished iPhone 8
Let's dig into the questions that keep popping up when it comes to the iPhone 8, particularly the refurbished models.
Whether you're on a tight budget or just considering a more sustainable option, these answers will help clarify the haze.
How Does Apple Maps Perform on a Refurbished iPhone 8?
Great news for you and your phone! Apple's most valued app, Apple Maps, runs smoothly on an iPhone 8, regardless of whether it's refurbished or not - just enable location services before you start.
So, as of 2023, the app is well-integrated with the operating system, ensuring a seamless navigation experience.
What's the Difference in Battery Life Compared to iPhone XS?
Unfortunately, the question is performance vs price. 
While Apple claims superior battery life for later models like the iPhone XS and XS Max, the difference shouldn't deter you if you're looking for a phone on a budget.
When comparing both, the iPhone 8 holds its own and offers great value to compensate for the huge difference in battery life.
Looking to explore more refurbished iPhone deals? Check out our latest blog posts on refurbished iPhone 14 Plus deals and refurbished iPhone 13 Pro Max deals to keep the momentum going.
Final Thoughts on the Refurbished iPhone 8
There you have it—a deep dive into the often-underestimated iPhone 8. From its camera capabilities to its compact design, this device packs a wallop.
Whether you're on a tight budget or simply cherish the feel of a smaller phone, it's a great option that doesn't skimp on quality. All the essentials, minus the excess.
And let's not forget, every phone purchased through UR.co.uk comes with 12 months FREE insurance and around £45 worth of accessories.
Peace of mind, served on a silver platter.