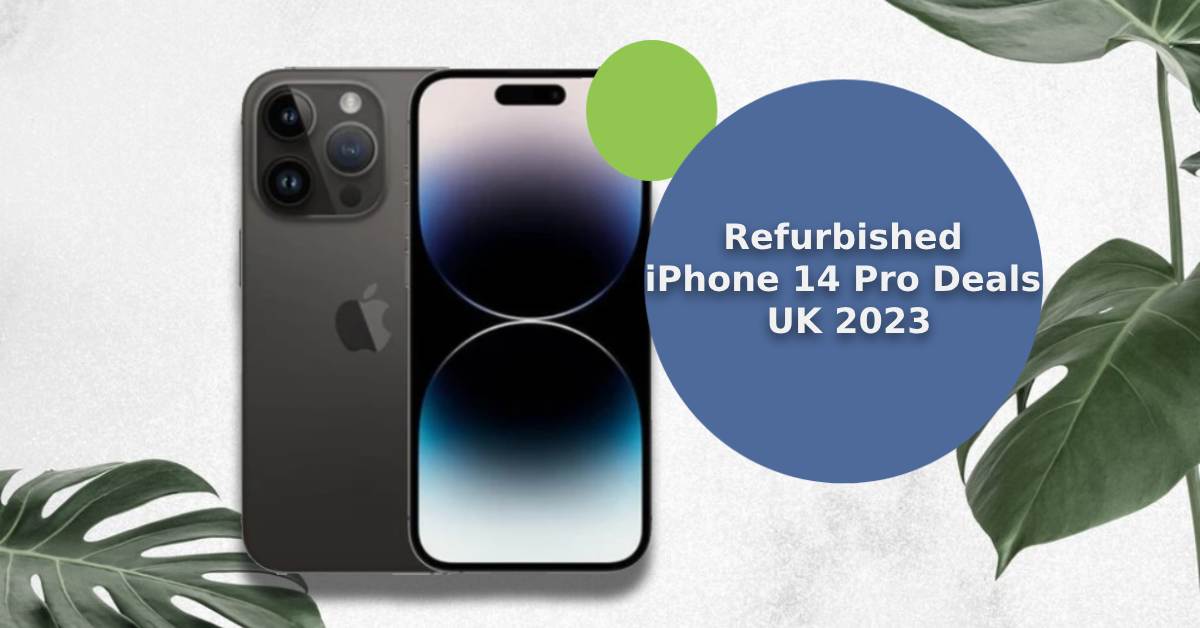 Refurbished iPhone 14 Pro Deals UK 2023: Where Innovation Meets Value
The quest for a smartphone that embodies both quality and affordability can often feel overwhelming.
Yet, in the sea of options, the refurbished iPhone 14 Pro stands out.
Offering advanced features without the premium price, it's a great buy for anyone looking to buy a luxury phone on a budget.
Read on further if top-tier tech at a friendly price is something that appeals to you.
Or buy one now! Explore a high-quality range of refurbished iPhone deals to get the best product for you today. Why wait any longer?
Key Takeaways
Assurance in Every Pixel: Each refurbished iPhone 14 Pro undergoes a thorough procession of testing, ensuring every feature is dancing harmoniously in rhythm.




Economy and Elegance: The refurbished route is about smart, informed choices for premium technology.



A Nod to Nature: Opting for a refurbished model is akin to planting a seed for a greener, more sustainable environment.
The Smart Choice of Refurbished iPhone 14 Pro
Before we marvel at the specs, let's navigate the benefits awaiting every savvy buyer opting for a refurbished iPhone 14 Pro.
Save Money
Imagine stepping into the world of exceptional technology, intricate design, and unrivalled user experience without the financial gulp.
The refurbished iPhone 14 Pro offers all the bells and whistles without draining your money.
You're not just purchasing a phone; you're making an investment, securing a device that embodies innovation and quality at a cost that respects your financial boundaries.
Quality Assurance
Doubts and hesitations are natural when considering the refurbished route, but here's the thing - every refurbished Apple iPhone from UR.co.uk is a testament to meticulous craftsmanship, and the brand's commitment to excellence.
It undergoes a rigorous 90-point Phone check, ensuring that what you cradle in your hands is not just a device but a pledge of quality, echoing the pristine performance of brand-new models.
Eco-Friendly
In a world where the environment is not just a concern but a responsibility, opting for a refurbished iPhone is a step towards conscious living.
You're reducing electronic waste and minimising the demand for new device production.
Every purchase is a voice, a stand, and with the refurbished iPhone 14 Pro, your voice is the narrative of sustainability and eco-conscious choices, especially when you consider that only 20% of global e-waste gets recycled each year.
So why settle for anything less?
Meet the specifications of the iPhone 14 Pro
The iPhone 14 Pro is the kind of phone that makes you stop and stare as you are pulled in by its incredible features and user-friendly interface.
Whether you're buying an Apple iPhone 14 Pro refurbished or brand new, you can expect the following:
Great Dimensions: It's a comfy fit in your hand, thanks to its 147.5 x 71.5 x 7.9 mm dimensions, and at 206 g, it's light but doesn't feel cheap.




Crystal Clear Display: The 6.1-inch LTPO Super Retina XDR OLED screen is a total showstopper. 




Movies, photos, games - they all look stunning, thanks to the 120Hz refresh rate, HDR10, and Dolby Vision.




And speaking of visuals, the 1179 x 2556 pixel resolution means everything is crystal clear.




A Sleek, Protective Design: Worried about scratches and cracks? Don't be. 




The Ceramic Shield glass has your back when it comes to protecting your screen in any event.




A Powerful Chip: Under the hood, the Apple A16 Bionic chipset ensures your phone is always snappy and responsive. 




No annoying lag here!




Storage For Days: Whether you're an app junkie or love capturing memories, storage won't be a worry.




You can choose from a refurbished iPhone 14 Pro 128GB all the way up to a refurbished iPhone 14 Pro 1TB to suit your everyday needs.



The refurbished iPhone 14 Pro is more than just a phone - it's your companion in the hustle and bustle of daily life, ready to make every task a breeze and every moment memorable.
Quality, affordability, and stellar performance – it's all right here.
Amazing Camera Features
Transitioning from the practical benefits of the refurbished model, let's zoom in on one of the iPhone 14 Pro's mesmerising features: the camera.
It's not just a lens but a gateway to capturing moments, telling stories, and freezing time with remarkable clarity and depth.
The camera showcases a new 48-megapixel quad-pixel main sensor that elevates every shot, crafting images with a blend of precision and artistry.
It's an instrument, not just of capture but of creation, where every frame tells a story enriched with detail and depth.
But that's not all; the addition of 2x telephoto lens broadens the narrative, unfolding a suite of four zoom options, each designed to encapsulate life's diverse moments with unparalleled finesse.
All this together puts the camera in a realm of reliability and consistency through its ability to deliver great images and videos in all conditions.
Embracing the Dynamic Island
Imagine a space on your phone that's not static but dynamic, alive, and interactive. 
That's the Dynamic Island for you.
It's this rectangular-shaped space that gracefully changes shape and size to present your alerts and notifications.
But it's not about just seeing these alerts - you're invited to interact with them.
A tap can expand them, making your engagement with the phone's notifications a unique journey every time.
This feature is another testament to the iPhone 14 Pro's commitment to making technology not just functional but personal and interactive.
Each notification becomes a visual treat, an interactive experience ensuring you're not just informed but involved.
For more details on the iPhone 14 Pro and other enticing deals, don't miss checking out iPhone 14 Deals and Best iPhone 13 Deals for a wealth of information and options tailored just for you.
Frequently Asked Questions
Some common queries tend to emerge when we deliver into the world of refurbished iPhone models.
But don't worry; we've curated and answered a few frequently asked questions to offer clarity and enhance your understanding of these devices.
Are the refurbished iPhone 14 Pro phones unlocked?
Yes, most of these devices are sim free and unlocked, offering you the flexibility to choose your network provider.
It eradicates the boundaries of contracts, giving you the liberty to switch networks as you please, ensuring connectivity isn't just constant, but also convenient.
How reliable is the battery of a reconditioned iPhone?
Every refurbished iPhone undergoes a stringent testing process, including the battery.
The device ensures that you're not just getting a phone, but a powerhouse of performance, ready to support your tasks and entertainment throughout the single day.
And with UR.co.uk, you can expect at least a battery life of 80% with every purchase.
Final Thoughts on Refurbished iPhone 14 Pro Deals
Stepping into the world of the refurbished iPhone 14 Pro, it's clear: this is where top-tier tech meets affordability.
Every spec, every feature, is tuned to make your everyday smoother, brighter, better.
Craving the unmatched performance of a luxury iPhone without the price tag? Look no further.
Explore UR.co.uk's collection of refurbished iPhone deals and grade yourself a bargain today.
Dive in, your perfect tech match is waiting!