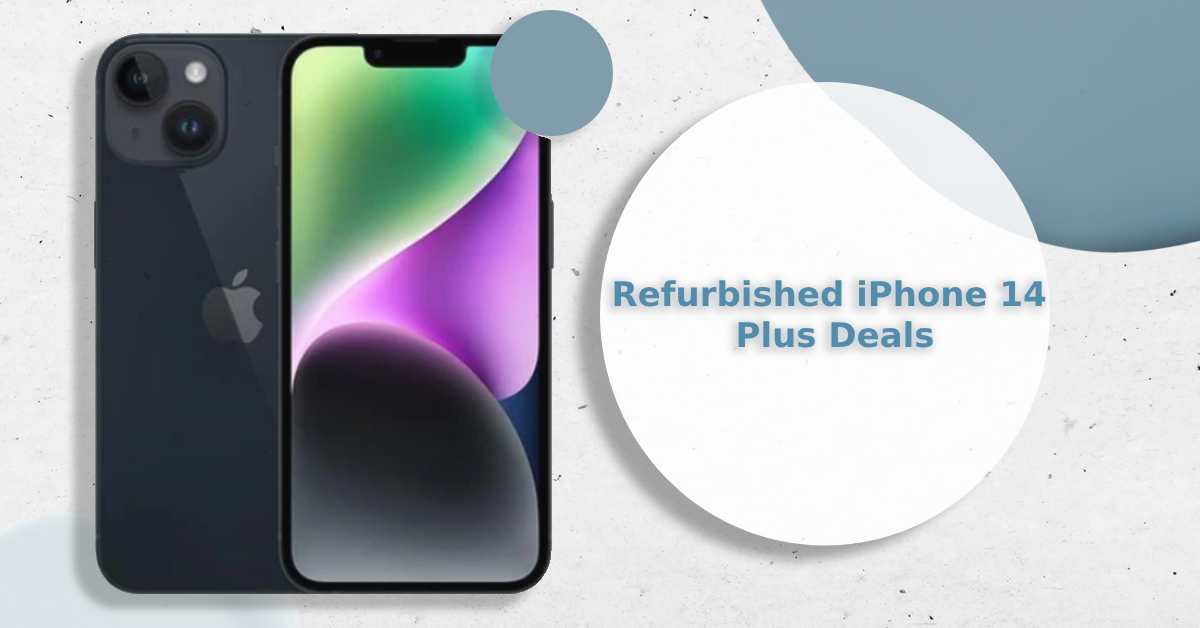 Bigger, Better, Cheaper: Unmissable Refurbished iPhone 14 Plus Deals 2023
Who says you need to empty your wallet for a top-of-the-line iPhone?
Well, not us! With refurbished iPhone 14 Plus deals, you're tapping into the Apple ecosystem without the eye-watering cost.
Stick around to find out what a refurbished Apple iPhone can offer you with UR.co.uk.
But why wait even longer? Get your device in the next few days by exploring our range of top-quality refurbished iPhone deals. You never know what you're missing out on.
Key Takeaways
Design: Get a customisable, sleek and stylish design.




Amazing Camera: Have great camera features at an affordable price.



Want it a bit cheaper? The refurbished root could be for you.
The Values of a Refurbished iPhone 14 Plus
Many equate "refurbished" with "worn-out" or "old," but let's dismantle that illusion right now.
A refurbished iPhone isn't a reject; it's more like a phoenix rising from its ashes.
Sure, it may have been put through the wringer, but with a bit of love and attention, a refurbished Apple iPhone 14 Plus can come out revamped and revitalised, ready for its next life.
At UR.co.uk particularly, each phone undergoes a 90-point PhoneCheck to ensure a reliable device with the same features found in its new counterpart, just with the added rare mark here and there.
What Your Wallet Says
Let's cut to the chase. Your wallet will practically thank you when you opt for a refurbished iPhone.
The lower price isn't pocket change; it's a substantial cut that allows you to reallocate funds elsewhere.
We're talking savings that could cover your monthly payments for a while. Who doesn't want to worry about cost when exploring a new device?
And when refurbished properly, you get the same action-packed device, often packed with all the bells and whistles of a new phone, at a slice of the original price.
Lowering Carbon Footprint
Aside from the money in your pocket and the quality in your hand, going the refurbished route is also a tip of the hat to environmental consciousness.
Did you know the UK is one of the largest producers of e-waste in the world? Yes, we're talking an unsettling 23.9kg of e-waste per head.
So when you opt for a refurbished iPhone, you're not just scoring a deal, but you're also contributing to a cleaner, more sustainable future.
Specifications of an iPhone 14 Plus
Enough about the virtues of refurbished iPhones; let's talk raw power and features.
If you're ogling the refurbished iPhone 14 Plus, there's a heap of reasons to make you swoon, regardless of whether it's new or a reconditioned iPhone.
When you receive your phone, you can expect:
Display: 6.7-inch Super Retina XDR OLED, resolution of 1284 x 2778 pixels, pixel density of 458 ppi, ceramic shield front and glass back, and IP68 rating for splash, water, and dust resistance.




Battery Life: Non-removable Li-Ion 4323 mAh, wired PD2.0 charging, 50% charge in around 30 minutes with a 20W adapter or higher, and wireless charging up to 15W.




And if that's not all, every purchase from UR.co.uk come with at least 80% battery health. 




Processor: Apple A15 Bionic chip coupled with 6 GB RAM.




Storage: Get internal storage to suit your lifestyle with options like the refurbished iPhone 14 Plus 128GB, 256 GB, or 512 GB.



Compared to its sibling, the iPhone 14, this Plus model offers a bit more room to breathe.
Sporting a larger 6.7-inch screen, it outshines the iPhone 14's 6.1-inch display.
And if you're someone who lives life unplugged, the Plus model's larger battery life promises to keep the party going longer than the standard iPhone 14.
It's like choosing between a sports car and a luxury sedan; both will get you there, but one does it with a little more flair.
Diving into the Key Features
Are you ready to explore the iPhone 14 Plus further? Excellent.
We're about to delve into its standout features—everything from its rugged durability to its battery life.
The Look and Feel of an iPhone 14 Plus
A refurbished iPhone 14 Plus is not just a powerhouse; it's a looker too.
Imagine holding a device that's tough enough to withstand life's little accidents.
Thanks to its IP68 rating, a new iPhone 14 Plus can take a dip of up to 6 meters for 30 minutes without causing damage.
But it's not all brawn; it's got beauty too.
Your phone will sport a Ceramic Shield front, paired with a sleek glass back.
These materials don't just make the phone durable; they make it elegant.
Aluminium sides add that extra oomph, offering a touch of sophistication that seals the deal.
Just choose from its range of colours to get started.
NOTE: The waterproof rating of a refurbished iPhone 14 varies between devices due to the steps taken in its refurbishment.
iPhone 14 Plus Camera
Snapping photos has become an essential slice of our daily lives, whether we're capturing memories or Instagramming every meal.
That said, an iPhone 14 Plus camera could give even some DSLRs a run for their money.
The main camera! 12-megapixels might not seem revolutionary, but don't let numbers fool you.
A ƒ/1.5 aperture is akin to a wizard at gathering light, making your low-light photos a sight to behold.
Coupled with sensor-shift optical image stabilisation, you're in for crisp, clear shots even when your hand's doing the jitterbug.
As for focus? Those 100% Focus Pixels are like having a built-in photographer, directing the camera's attention exactly where it's needed.
But wait, there's more! Imagine fitting the entire Grand Canyon into one frame.
The ultra-wide camera, also rocking a 12-megapixel sensor, stretches out a 120-degree field of view and nails it with a ƒ/2.4 aperture.
Perfect for landscapes, group selfies, or capturing that oddball mural down the street.
And get all these camera features for half the price with the help of a refurbished iPhone 14 Plus.
Now that's a deal.
Frequently Asked Questions
Do you have more questions? We're here to answer them.
Are refurbished iPhones locked to a network, or are they sim free?
A crucial query for jet-setters and wanderlusters!
Most refurbished phones are sim free, meaning you're not tied down to any specific network.
Want unlimited data while exploring the Grand Canyon? No sweat.
You choose your data plan, not the other way around.
What's the key difference between the iPhone 14 Pro Max and the iPhone 14 Plus?
The iPhone 14 Pro Max has more storage options and 'Pro' features than the iPhone 14 Plus.
But don't be put off! The iPhone 14 Plus is the cheapest iPhone out of the two, making it perfect for those on a budget.
Is accidental damage covered for refurbished iPhones?
Accidental damage often falls under the umbrella of insurance plans, and yes, it's worth buying.
But, when you buy from UR.co.uk, you can get all this for free with our 12 months insurance, covering a range of incidentals to give you peace of mind.
Intrigued by more Apple deals that fit the bill? Don't forget to check out our top-notch refurbished iPhone 13 Pro Max deals and refurbished iPhone 13 Pro deals for even more budget-friendly options.
Final Thoughts on Refurbished iPhone 14 Plus Deals
So, in the galaxy of smartphones, where does the refurbished iPhone 14 Plus fit?
Simply put, it's a star. 
With stellar specs, dazzling design, and a camera that could make even the moon blush, this device offers a universe of possibilities without breaking the bank.
And when you buy from us, you are taking part in our commitment to sustainability, making this phone more than just a smart buy.
Now, go ahead and make your day better with a refurbished iPhone 14 Plus.