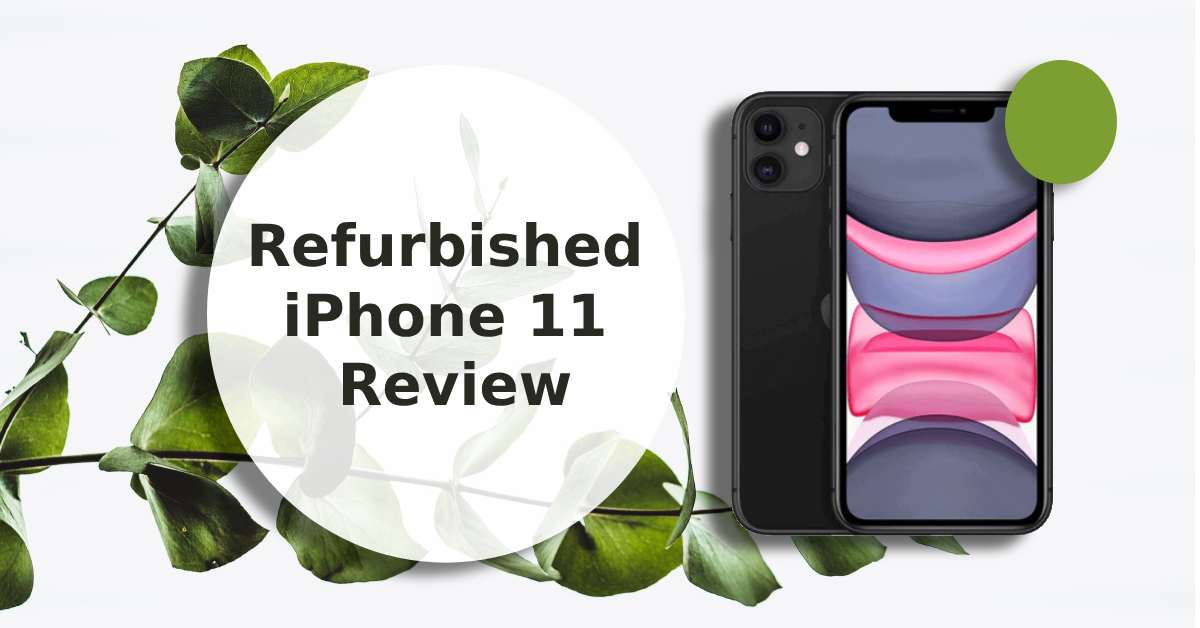 Refurbished iPhone 11 Review: Superior Tech, Sensible Savings
If your eyes pop at the cost of a fresh-off-the-assembly-line iPhone 11, but you still crave its drool-worthy features, then a refurbished iPhone 11 may be your saving grace.
Unlike its brand new counterpart, this refurbished marvel packs all the high-tech bells and whistles without depleting your savings.
Want the inside scoop on battery life, camera capabilities, and all the other trimmings? Then you're in the right place.
Are you looking to enter into the world of refurbished phones? Explore our range of refurbished iPhones today! You never know what treasures you'll find at UR.co.uk.
Key Takeaways:
Camera App: Multiple photographing features are just within arms reach.




Amazing Display: View bright on-screen imagery no matter the conditions.



Want all this but for less? Refurbished iPhones are the way for you.
The Values of Refurbished Phones
Let's face it: owning the latest iPhone often involves shelling out serious cash.
Whether you're on a tight budget or would rather invest your hard-earned money elsewhere—like, say, a dream vacation or those killer sound-cancelling headphones—an Apple iPhone, particularly the newer models, can make your wallet wince.
So, what's a smart alternative?
Refurbished phones present a cost-effective option without severely compromising the bells and whistles.
For instance, the iPhone 11 refurbished, or even an earlier model like a refurbished iPhone XS Max, won't lack essential features like good battery life, rear cameras, and the essential dark mode for late-night scrolling.
Instead, they'll have all the same specs as a brand-new phone if appropriately reconditioned.
So, let's see what you get when you buy an iPhone 11 refurbished.
Specs of a Refurbished iPhone 11
You can expect the following specs when buying an iPhone 11 refurbished by UR.co.uk.
Screen: This model boasts a 6.1" Liquid Retina HD display with IPS technology, and a resolution of 1792-by-828-pixels at 326 ppi.




Processor: Equipped with a 2.66Ghz 6-Core A13 Bionic that zips through tasks faster than you can say "Apple."




Storage: Choices, choices. Pick between an iPhone 11 64GB refurbished phone or one with 128GB, depending on your hoarding—err, storing needs.




RAM: 4GB. It's more than sufficient for your multitasking manoeuvrers.




Battery: The 3,110 mAh built-in rechargeable lithium-ion battery doesn't just offer good battery life; it supports wireless charging too. Toss that cord aside and embrace the future.



Have you heard bad news about refurbished phones and concerned about landing one with an issue? Worry not.
UR's UK-based workshop employs a cadre of expert phone engineers who subject each device to a rigorous 90-point phone check.
We scrutinise everything from battery life to camera quality to ensure you're getting a device that's up to snuff.
The iPhone 11 Camera
So you've got the basic specs of a refurbished iPhone 11; let's explore what this device can do for you.
The camera is often the make-or-break feature for many looking for a new iPhone.
But the refurbished iPhone 11 delivers.
Whether you're capturing memories or showing off your culinary experiments on social media, you can expect the following features:
Front-Facing Camera: With a 12MP image sensor and a fixed-focus lens sporting an f/2.2 aperture, your selfies will reach a new level.




Rear Camera: Dual-lens 12 MP rear camera array. That's right, two lenses that work in harmony for that perfect shot.




Wide Angle: One lens serves your standard wide-angle needs. Versatile and dependable.



Ultra Wide Angle: The second lens? An ultra-wide camera with a 120-degree field of view. More scenery, more friends, more everything in your shots.
iPhone 11 Camera App
Beyond just the hardware, the iPhone 11's camera app holds a treasure trove of features designed to make your photography journey both seamless and exciting.
Trust me, it's more than just point and shoot.
Portrait Mode isn't merely a setting; it's a photographer's dream. It renders a beautiful bokeh effect that gives your subject razor-sharp focus while blurring the background into artistic oblivion. 
Just what you need for those dramatic close-ups.
Then, there's Optical Image Stabilisation. 
Ever tried to film while bouncing along a cobblestone road? 
This feature irons out the jitters, ensuring smooth, professional-grade videos, regardless of the terrain or your caffeine levels.
But the night owl in you will adore Night Mode.
A feature missing from the iPhone XR, Night Mode transforms dim scenes into radiant compositions, allowing you to document your midnight escapades without that mood-ruining flash.
Camera Performance
Unfortunately, this model doesn't come with a telephoto camera like its more expensive counterparts. But don't let that deter you from its overall photography capabilities.
In testing conditions, the iPhone 11 has delivered accurate exposure with extended dynamic range, similar to the more luxurious iPhone 11 Pro Max.
Plus, its more advanced camera features mean the phone takes high-quality photos in low-light conditions better than some Android phones, like the Samsung Galaxy A12.
And that's not all! Just turn the iPhone 11 into a refurbished phone, and you get all these capabilities for a fraction of the price.
Now, that sounds like a good deal.
iPhone 11 Review of Its Display
Just like a brush needs a canvas, your photographic prowess demands a display that can do it justice. Say hello to the Liquid Retina HD display on the iPhone 11.
Measuring 6.1 inches diagonally in its standard rectangular shape, this is where the pixel meets the eye.
Who says LCDs can't be fantastic? With vibrant colours that pop off the screen and a brightness that could rival a spotlight, the Liquid Retina HD display challenges that assumption.
Even on an LCD, your photos look as dazzling as the moment you captured them. And let's not forget those video stream binges; the display makes every frame an event, every colour a spectacle.
It's a cinema in your pocket, minus the annoying guy munching popcorn behind you.
iPhone 11 Battery Life
So, you've got this killer display and a camera capable of producing images in all lighting conditions.
But what good are they if you're always tethered to a wall outlet, right?
Freedom comes in the form of the iPhone 11's 3,110mAh battery.
Compared to the newer iPhone 13, sure, the battery might be a smidgen smaller. But let's put that in perspective: Apple claims that the iPhone 11 can give you up to 17 hours of video playback.
That's almost an entire day of binge-watching your favourite shows, no strings attached.
But wait, there's more! If you're eyeing a refurbished model, rest easy with a battery health of at least 80% with every device purchased by us.
That's not just a number; it's a promise that your device won't fizzle out when you need it the most.
Do you want more insight on other iPhone models? Check our refurbished iPhone SE 2022 review and refurbished iPhone SE 2020 review for more information.
Final Thoughts on our Refurbished iPhone 11 Review
So here we are at the end of this tech odyssey.
From a camera that captures life in stunning detail, to a display that elevates every pixel, and a battery that just keeps going—the iPhone 11 effortlessly checks all the boxes.
Plus, when you buy a refurbished iPhone 11 from us, you're not just getting a device at a fraction of its original price, but you are also joining a commitment to sustainability.
Now, that's a win-win for all.