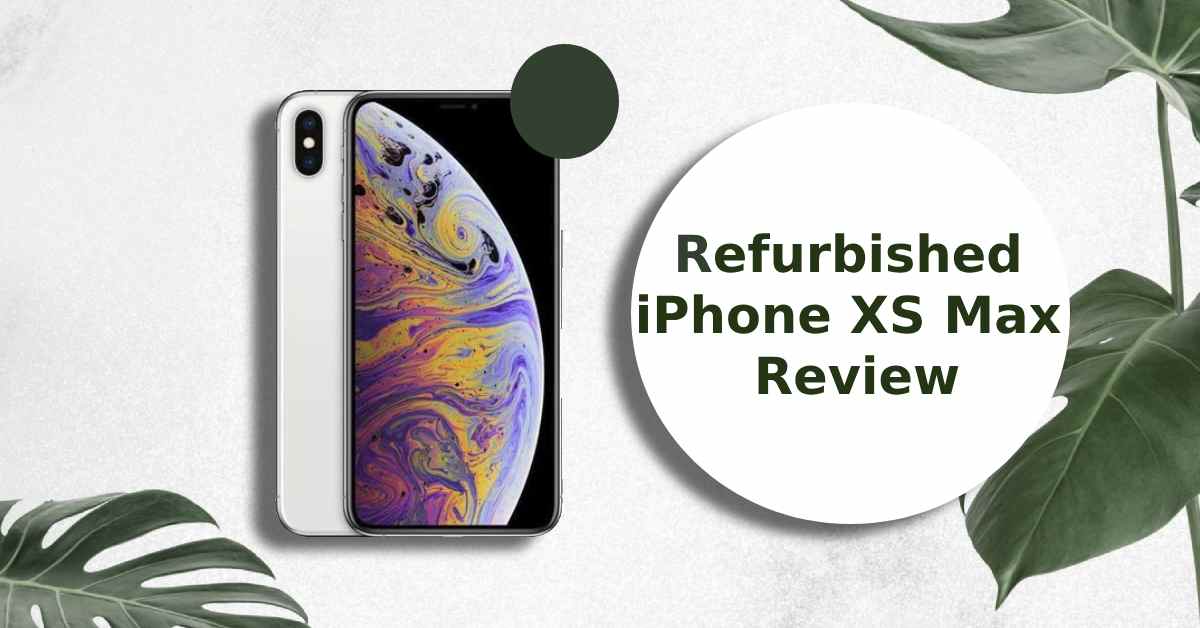 Refurbished iPhone XS Max Review: The Smart Way to Go Bigger
In the bustling world of smartphones, the refurbished iPhone XS Max emerges as the epitome of high-end tech on a budget.
With a dazzling 6.46-inch display, customisable storage options, and an A12 Bionic chip that rips through tasks, this powerhouse of a phone sets itself apart from the crowd.
If you've got champagne tastes on a lemonade budget, then keep reading to find out more with UR.co.uk.
Or, explore our range of refurbished iPhones today. With the deals we offer, you don't want to miss out.
Key Takeaways
Tailor your device to your needs with storage options ranging from 64GB to a whopping 256GB.




Bask in the immersive visuals on a sprawling screen that's perfect for gaming, streaming, and social browsing.



At UR.co.uk, the refurbished iPhone XS Max comes fully insured for a year, covering accidental damage, theft, and more.
Why Going Refurbished Makes Sense
Before we search further into the enchanting features of the iPhone XS Max, let's consider the value of opting for one that's been refurbished by UR.co.uk.
You don't want to be spending all your money on a new iPhone when you can get one at a fraction of the price, do you?
Guilt-Free Indulgence
Buying an iPhone XS Max refurbished is like discovering an unsung hero.
Why? Because it's an under-the-radar path to high-quality tech without breaking the bank.
It's akin to buying a certified pre-owned luxury car; you get almost all the bells and whistles at a fraction of the cost.
No need to break into your piggy bank or dig deep into your pockets.
Insurance Inclusion
If you're the worrying type, fear not.
With 12 months of free insurance covering theft, accidental loss, and even liquid damage, there's a sturdy safety net beneath you when you buy from us.
It's akin to having a guardian angel for your phone, ensuring your peace of mind.
Sustainability
What's more, each device arrives in a 100% biodegradable box, packed with eco-friendly accessories worth up to £45.
So not only are you saving money, but you're also doing your bit for the planet. It's a win-win that extends beyond your wallet.
Specs of an iPhone XS Max
But what exactly do you get inside a refurbished iPhone XS Max?
You've skimmed the headlines, pored through countless reviews, but now let's demystify the Phone XS Max refurbished specs.
What's evident right off the bat is its unapologetically large screen size, almost like it's daring you to take notice.
But are its innards equally enthralling?
Dimensions: This beast of a phone boasts a height of 6.20 inches, a width of 3.05 inches, and a slim depth of just 0.30 inches—a dimensional statement of its own, really.




Display: With a 6.46-inch diagonal screen featuring chic rounded corners, the visual aesthetic doesn't just speak, it sings.




Storage: Say farewell to storage woes, for this machine offers you a trifecta of sizeable options. 




With us, get an iPhone XS Max 64GB refurbished, or one with 256GB to suit your every need.




Chip: Under its shimmering exterior lies a mind, an A12 Bionic chip complemented by the next-generation Neural Engine, offering a blend of computational muscle and intelligence.




Battery Life: Should the open road call your name often, the iPhone XS Max's extra 1.5 hours of battery life compared to its iPhone X sibling is just the ticket.



But here's where the intrigue deepens: These technical marvels are consistent across the board, whether your iPhone XS Max is fresh from the Apple orchard or a premium refurbished model from UR.
Our 90-point PhoneCheck, stringent to the industry's harshest standards, ensures that each phone's performance promises no compromises.
So, when you decide to invest in a refurbished iPhone XS Max, rest assured, you're not just acquiring a piece of hardware; you're stepping into a world where technical excellence doesn't play second fiddle to aesthetics.
The Apple iPhone XS Max's Display
As we shift our gaze from general specs, there's something rather captivating about the refurbished iPhone XS Max's primary selling point.
It's the display, a massive screen of pixels and colours that redefine your visual interaction with the digital world.
The Pinnacle of Resolution
Boasting 2688-by-1242 pixels and an OLED Multi-Touch display isn't merely an upgrade from the smaller iPhone XS, or other smartphone devices like the Samsung Galaxy Note 9.
This is cinema-quality clarity, where each pixel is a performance, making even the most mundane tasks feel like a visual spectacle.
For those concerned about crispness, a pixel density of 458 ppi ensures that each image is a masterpiece of colour and detail.
The elevated resolution and pixel density make each moment on the screen a celebration of detail.
Whether you're streaming movies or flipping through photos, the visual splendour transcends mere dimensions.
iPhone XS Max's Camera
A device where design meets function, the iPhone XS Max doesn't just sit in your hand; it feels like an extension of you.
That's just one chapter of the story, though.
Now, let's dive into the technical realm of its camera.
Dual-Excellence
The iPhone XS Max harbours a symbiotic relationship between its two rear cameras—12MP each with its unique calling.
The wide-angle camera, resplendent with a ƒ/1.8 aperture, serves as your eye into vast landscapes and crowded rooms.
On the other hand, the telephoto lens, equipped with a ƒ/2.4 aperture, acts as the sniper of the duo.
It's your go-to for capturing distant subjects or fine-tuning intricate details.
It's not just about having two eyes; it's about having the right perspective through each.
The Art of Selfies
Gone are the days when front-facing cameras were an afterthought.
The iPhone XS Max features a robust 7MP selfie camera that doesn't shy away from its responsibilities.
With a ƒ/2.2 aperture, this little champ isn't just for video calls or blurry selfies.
It's built to seize your face in a cloak of clarity and ideal lighting.
And what's even better? You can have all this for a fraction of the price when you shop refurbished.
Frequently Asked Questions
We've walked you through the specs and talked up the undeniable value of getting a refurbished iPhone XS Max.
But we get it—questions linger, especially when comparisons to other phones like the iPhone XR are on your mind.
Is the iPhone XS Max Better Than the iPhone XR in Terms of Display?
Absolutely, the iPhone XS Max boasts an OLED display with more pixels and supports HDR—a feature perfect for watching videos.
In contrast, the iPhone XR has a slightly smaller LCD screen at 6.1 inches. If a great display is high on your priority list, then the XS Max is the way to go.
Does the iPhone XS Max Support Dual SIM?
You bet! This isn't just a phone; it's a multitasking marvel. With dual SIM support, you can effortlessly switch between work and personal calls.
It's like having two phones, but without the hassle of carrying another device.
What About Battery Life and Charging?
Battery life isn't just good—it's stellar.
The iPhone XS Max boasts one of the best battery lives when compared to the phones that came before it.
You get more time to binge on your favourite shows, capture selfies with the front camera, and even engage in one-handed use for extended periods.
But if you're still not convicted of the iPhone XS Max, then don't be left worrying. Explore our refurbished iPhone XS review and refurbished iPhone XR review, and see what else could be lurking around the corner.
Final Thoughts
So, here we are at the crossroads of tech marvels and smart choices.
The iPhone XS Max isn't just another item on your wish list; it's the epitome of what you'd want from modern technology—streamlined, user-friendly, and built to last.
And when you go for a refurbished model, you're not just saving bucks but also embracing a commitment to sustainability, all without sacrificing an ounce of the phone's inherent quality or capabilities.
So explore our range today.
You're not just buying a phone; you're investing in an experience.