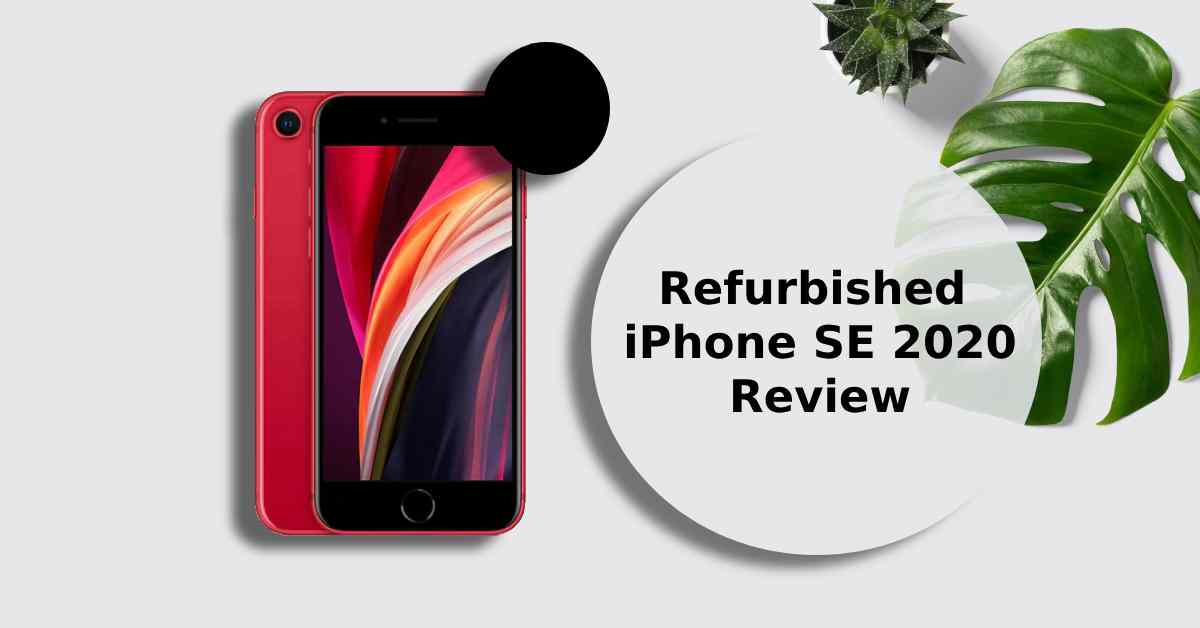 Refurbished iPhone SE 2020 Review: Compact and Cost-Effective
Are you craving that premium iPhone experience without splurging on a brand-new device? Feast your eyes on the refurbished iPhone SE 2020, brought to you by UR.co.uk.
Imagine harnessing the sheer power of an Apple iPhone 11 Pro, all wrapped up in the iconic, pocket-friendly design of the original iPhone SE.
Whether it's speed, affordability, or that sleek Apple aesthetic you're after, we've got all the answers you're seeking below.
Are you looking for a new phone today? Explore our collection of refurbished iPhones. Save time and money when you shop with us.
Key Takeaways:
Sleek Design: Looks like the original iPhone SE, but better.




Compacted Size: Want a smaller phone that still packs a punch? The iPhone SE 2020 could be the one for you.



Refurbished: Get all this for a more affordable price.
Demystifying the Refurbished iPhone SE 2020
When it comes to smartphones, the term "refurbished" often gets a bad reputation.
Many assume it means worn-out or second-hand, but that couldn't be further from the truth.
Allow me to clarify.
What are Refurbished Devices?
Refurbished phones like the iPhone SE 2020 are devices returned to the manufacturer or retailer for a variety of reasons.
Perhaps the original owner wasn't thrilled about the battery life, or maybe they simply changed their minds about the touch ID feature.
Regardless, these devices go through rigorous quality checks, software updates, and sometimes even hardware replacements to ensure they largely meet the same standards as a new iPhone fresh out of the box.
Plus, you can often decide the physical quality of the phone yourself, like with UR.co.uk!
Just select whether you want a Good quality phone showing some visible scratches, one with Excellent quality showing minor scratches invisible beyond 30cm away, or a Premium quality device that looks practically brand-new on purchase.
Already convinced? Look at our refurbished iPhone SE 2020 64GB  and refurbished iPhone SE 2020 128GB to see for yourself.
Apple iPhone SE 2020 Display
If you're nodding along with the idea that an iPhone SE 2020 refurbished offers serious bang for your buck, you'll be thrilled to hear about its display.
The iPhone SE boasts a 4.7-inch (diagonal) widescreen LCD Multi-Touch display equipped with IPS technology.




This pocket-sized powerhouse delivers a resolution of 1334-by-750 pixels at an impressive 326 ppi.



True Tone technology doesn't just serve as a marketing buzzword—it actually fine-tunes the white balance in sync with the ambient light around you.
That means whether you're scrolling through your camera roll or playing games, the screen adapts to offer a more natural, eye-friendly viewing experience.
Also, the iPhone SE 2020 has earned rave reviews for its LCD screen, which was dubbed the best of 2020 in some circles, meaning you can expect a screen quality that outperforms previous iPhones in its price range.
The overall screen size of the iPhone SE 2020 might be smaller than the iPhone XR or other smartphone devices like the Google Pixel phones, but rest assured, you'll be getting crisp, clear image quality expected of midrange phones.
Performance of the Apple iPhone SE 2020
So, you're impressed by the iPhone SE 2020's screen, but what about the performance of this piece of tech? Brace yourself; the device sports the A13 Bionic chip, the same chip found in the iPhone 11 series.
What does this mean for you? It means you're getting an affordable iPhone with the same power as more expensive Apple devices.
In performance tests, we're talking about a processor that runs laps around its predecessor, the A12, boasting a 20% uptick in performance, including in its six CPU cores, graphics processor and neural engine.
And that's not all; the processor's increased power efficiency means that whether you're multitasking with multiple apps or engrossed in night mode photography, the SE's battery performance will keep up.
Irritating glitches won't mar your gaming sessions, your video streaming won't buffer at the worst possible moment, and your apps will load faster than you can say "Touch ID."
The iPhone SE 2020 Camera Performance
From snappy performance to resilient battery life, the iPhone SE 2020 has us pretty well impressed.
But what about its camera? Is it up to the task when those picture-perfect moments pop up? 
Spoiler alert: It's got some tricks up its sleeve.
Rear Camera: Single camera that's 12-megapixel with a f/1.8-aperture lens.




Front-Facing Camera: Single 7MP with a 32mm-equivalent f/2.2 lens.




Other features: Portrait mode, night mode, burst mode and video recording.



So it's got a single 12-megapixel rear camera that sports a wide f/1.8 aperture—making it a reliable choice for low-light snaps.
It's also loaded with PDAF autofocus for quick focusing and optical image stabilisation to keep things steady when your hands aren't.
Unfortunately, the iPhone SE 2020 doesn't have a triple-lens array or fancy a 108-megapixel sensor, but that is reflected in the price of this device.
When it comes to the nitty-gritty, the iPhone SE 2020 thrives in natural light. Exposure and colour are its bread and butter.
In outdoor shots, colours stay vibrant, and details aren't lost to overexposure or murkiness.
Going Refurbished with UR.co.uk
So, we've talked camera, performance, and display—things the iPhone SE 2020 doesn't skimp on.
But what if you could amplify the value of this already budget-friendly phone? Enter the world of refurbished magic by UR.co.uk.
You can expect the following when you buy from us:
90-Point Check: Every phone undergoes rigorous scrutiny.




Condition Spectrum: Premium to Good, something for every wallet.




Eco-Box: Accessories worth up to £45, wrapped in a 100% biodegradable box.




Insurance: 12 months of FREE insurance, including theft and damage.



Beyond the obvious perks, there's a deeper layer of customer commitment at UR.co.uk.
For instance, their UK-based expert engineers set the gold standard in tech diagnostics, making sure every phone meets the strictest criteria in the industry.
In a crowded marketplace full of questionable refurbishing practices, UR.co.uk stands as a beacon of transparency and quality assurance.
Frequently Asked Questions
So you've eyeballed the specs, you've heard the buzz, but you've still got some burning questions.
Let's delve into a trio of common queries about this enigmatic yet approachable device.
Is Wireless Charging Just a Gimmick?
Absolutely not.
Wireless charging isn't just for the high-end, expensive siblings of the iPhone family.
It's a convenient, quick, and future-forward way to juice up your phone.
No fuss, no muss, no tangled cables.
Can the Main Camera Compete with Bigger Brothers Like the Pro Max?
While it doesn't boast an ultra-wide angle lens or a telephoto lens, the main camera on the iPhone SE 2020 is no slouch.
With Smart HDR and a dash of good light, you can snap some mightily impressive shots.
What's the Real Deal with the Price?
Best value alert! We're talking Apple Pay, Touch ID button, and a heap of features you'd expect on more expensive devices—all in a cheaper package.
It's one of the cheapest iPhone you can get with such a feature set.
So, if you're eyeing new phones but your wallet's playing games with you, this is your golden ticket.
Want some more articles like this iPhone SE 2020 review? Look at our refurbished iPhone 11 Pro review and refurbished iPhone XS Max review to find out more.
Final Thoughts on our iPhone SE 2020 Review
In a world rife with sky-high price tags for tech that's often more flash than substance, the iPhone SE 2020 humbly disrupts the scene.
Think about it: From a lightning-fast A13 processor to an LCD screen that gives pricier phones a run for their money, this device does not skimp on quality.
And remember, when you buy from us, you're not only snagging yourself all these features but joining a commitment to sustainability.
Go ahead, and take a look at our collection today.
You don't want to miss out.