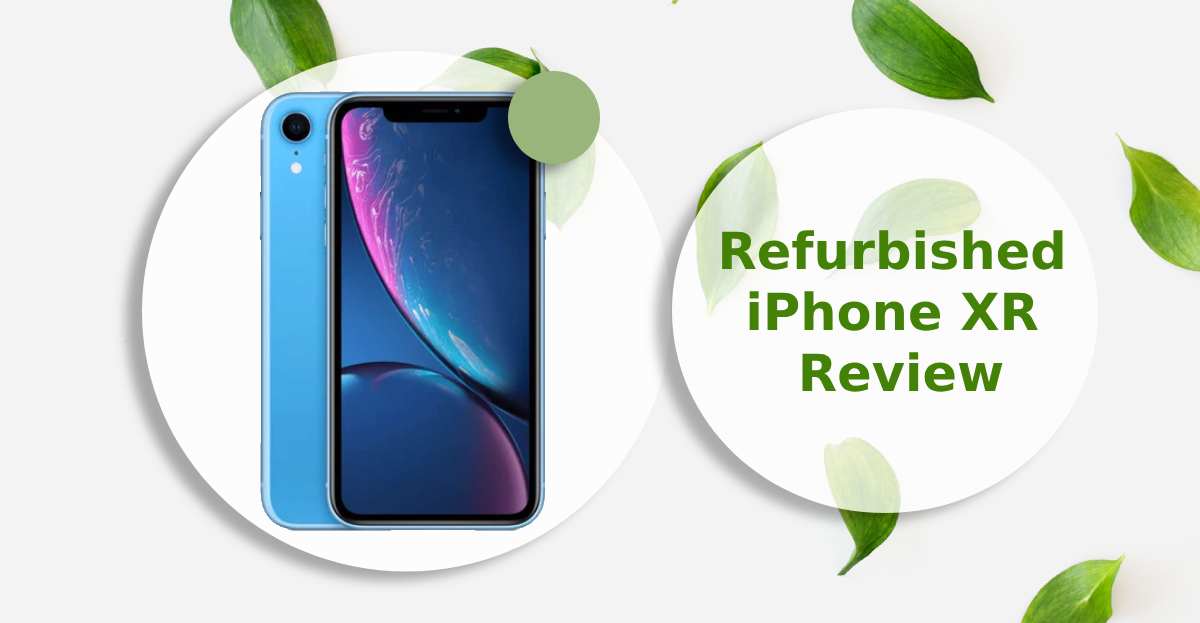 Refurbished iPhone XR Review: The Smarter Way to Save
When it comes to affordable iPhones, the XR has built quite a reputation.
It's a device that straddles the line between cost-effectiveness and high-end specs, like having an impressive battery life and camera features.
But, throw the word 'refurbished' into the mix, and it turns into a completely new ball game.
Want to know more? Explore our Apple iPhone XR review below and find out what UR.co.uk can do for you.
Sold on an iPhone XR refurbished already? Well, don't let us stop you. Take a look at our range of refurbished iPhones today for all the best specs wrapped in the most affordable package.
Key Takeaways:
Battery Life: Get a battery life that challenges higher-rated phones.




Not Too Big, Not Too Little: Has a screen display at the perfect size.



Refurbished: Receive all this for less!
Cracking Open the Specs
Before we dive headlong into performance and user experience, let's pause for a quick glance at the numbers that make our iPhone XR 128GB and iPhone XR 64GB refurbished tick.
Here's a snapshot of its vital stats in a handy table.
| Feature | Specification |
| --- | --- |
| Display | 6.1-inch Liquid Retina HD display, 1792 x 828 pixels, 326 ppi |
| Processor | Apple A12 Bionic |
| RAM | 3 GB |
| Storage | 64 GB, 128 GB, or 256 GB |
| Battery | Li-Ion 2942 mAh, non-removable battery |
Be warned, do not succumb to common misconceptions that refurbished equals poor performance. 
These specs are universal to the iPhone XR, regardless of whether the device is a new iPhone or one brought from us.
So, put those worries at ease! With our excellent 90-point PhoneCheck services at hand, you'll always be getting a top-quality result, no matter the phone.
The Real Deal on iPhone XR Battery Life
Let's cut to the chase: If you've got a thing for all-day battery life, the iPhone XR will make your day.
Dubbed as having the best battery life among Apple's glittering line-up, this phone helped fight the iPhone stereotype that often viewed these phones as battery guzzlers.
In tests, the iPhone XR's battery can stretch up to a whopping up to 25 hours of talk time. 
That's a ton of conversations, business calls, or late-night heart-to-hearts before even thinking of plugging in.
Switching gears—the battery stands also stands strong for up to 15 hours of internet usage.
Of course, these facts vary regarding individual usage, but when you compare that to the 12 to 13 hours of internet usage on the iPhone XS and XS Max, then that's some serious gains for a phone released in the same year.
And what's even better, you can get all this even cheaper with a refurbished iPhone XR, which comes with at least 80% battery health when brought from us.
Now, that's something worth thinking about.
The iPhone XR's Camera
Alright, you've heard about the superb battery life, but what about the camera?
When it comes to capturing memories, the iPhone XR is no slouch.
It dances the fine line between advanced tech and user-friendliness, making it a showstopper in the affordable photography game.
Camera Specs
When you buy a refurbished iPhone XR refurbished, you can expect the following:
Front-facing camera: 7MP, f/2.2 aperture, face detection

Rear Camera: 12MP wide camera, with ƒ/1.8 aperture and digital zoom up to 5x.



With it, you'll also receive:
Portrait mode with advanced bokeh and depth control
Portrait lighting with three effects: natural, studio, contour
Smart HDR for photos
Camera Comparison
Let's talk about the elephant in the room: the lack of a telephoto lens.
Before you go bemoaning the XR's single-cam setup, consider this—a solo lens doesn't mean you're missing out on killer shots.
In fact, its portrait mode offers advanced bokeh and depth control that'll still make your photos pop.
Plus, the absence of a dual-cam setup brings down the cost, making this beauty an affordable iPhone when compared to the iPhone XS Max.
Decoding the iPhone XR Display
Wondering how the iPhone XR hold up regarding its display?
Well, boasting a Liquid Retina HD display, this device promises an immersive experience that'll make you forget you're staring at a phone.
When it comes to resolution, the iPhone XR offers 1792-by-828 pixels, paired with a pixel density of 326 PPI.
These numbers mean that every detail, from the intricate design in your favourite game to the fine print on a webpage, is rendered with crisp clarity and vibrant colours.
Display Comparison
But how does it compare to other iPhones on the market?
Sitting at 6.1 inches diagonally, this all-screen LCD Multi-Touch display with IPS technology truly takes screen real estate to new heights.
The iPhone XR's display size wedges itself comfortably between its siblings: it's larger than the iPhone 8 Plus but just a hair shy of the iPhone X/XS.
So, if you like your screen tech as the perfect medium, then this phone is for you.
Your Go-To Spot for Refurbished iPhones
And what's even better? You get all this and more when you shop at UR.co.uk.
You can expect:
Planet-Friendly Choices: UR.co.uk takes environmental responsibility seriously, with each device shipped to you arriving in a 100% biodegradable box. 




So, you're contributing to a sustainable future at every part of the buying process.




Free Insurance and More: Exclusively for UR customers, we also provide 12 months of FREE insurance with every phone purchased. 




From accidental loss and liquid damage to theft and malicious damage—you're covered.




Extras: And let's not forget that a large majority of purchases come with £45 worth of accessories. 




What does that mean for you? Well, it means extra savings for a dinner out or a nice party with friends.
Frequently Asked Questions
Got a few niggling questions? You're not alone.
When people hear "refurbished iPhone XR," a cloud of queries often fogs up their minds. 
Let's clear the air, shall we?
Are There Any Visible Scratches or Defects on a Refurbished iPhone XR?
Well, the decision is all yours. 
You can select the physical condition of the phone yourself at the checkout, such as one with Good, Excellent or Premium quality.
But be assured, you'll always be getting a superb phone, regardless of whether it has the odd scratch or not.
How Does the Single Camera Perform in Different Conditions?
Look, it may not have optical zoom like some other flagship phones, but it punches above its weight.
The camera shines in low light performance and offers portrait mode shots that'll make you forget you're not working with a dual setup.
Why Should I Choose a Refurbished iPhone XR Over an iPhone SE or Android Phones?
Now that's the big deal!
When you stack up the XR in a price comparison, you'll find it offers key features like Face ID, wireless charging, and fast performance—all for the same amount or even less than newer iPhones or high-end Androids.
Want to know more about what UR could offer you? Well, take a look at our refurbished iPhone X review and refurbished iPhone 8 Plus review to find out what we have in-store today.
Final Thoughts
So, there it is—the full scoop on the refurbished iPhone XR.
From its radiant Liquid Retina display to its reliable single camera and enviable battery longevity, this device is far from a runner-up.
It's a powerhouse that plays in the big leagues, offering amenities you'd expect from much pricier gadgets.
If you're on the fence, remember: choosing a refurbished XR from UR.co.uk doesn't just save money. You're also choosing an eco-conscious choice that believes in a commitment to sustainability.
It's not just another phone; it's your next smart move.