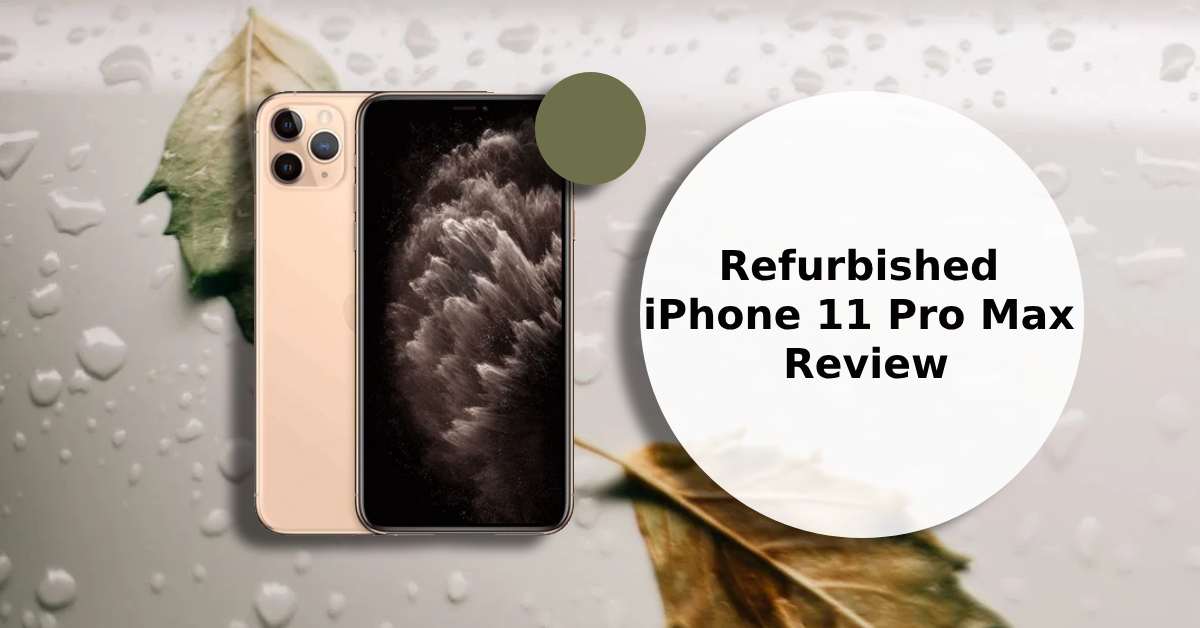 Refurbished iPhone 11 Pro Max Review: Maximum Value, Minimum Price
If you're aching to get your hands on an iPhone 11 Pro Max but dread the daunting price tag, you might find your sanctuary in a refurbished model.
In this deep-dive, we'll unearth whether this pocket-friendly alternative offers great performance, jaw-dropping camera quality, and overall reliability that's essentially for your everyday needs.
Keep reading to find out more with UR.co.uk.
Do you want an iPhone 11 Pro Max right this second? Well, skip right to our collection of refurbished iPhones. Your next device could be with you in a few days.
Key Takeaways:
Excellent Camera Bump: iPhone 11 Pro Max's three cameras rivals its predecessors.




Display: Bright, clear display with various features to suit your everyday needs.



Refurbished Way: Get the same phone for nearly half the price.
The Reality of New Phones
Let's kick off this section by diving into the daunting numbers behind premium smartphones like a new iPhone 11 Pro Max.
Over the past two decades, top-tier mobile phones have seen a 490% price surge, with flagship phones finally crossing the jaw-dropping £1,000 barrier years ago.
For many consumers, that's more than half of a monthly salary blown on a new phone, which isn't exactly what you'd call "affordable."
And what's even worse, the price of new devices doesn't show signs of taking a step back.
The Value of Refurbished Devices
But don't forsake Apple's shiny new product altogether. Let me introduce you to a cheaper alternative - The iPhone 11 Pro Max refurbished.
You could splurge on a flashy, brand-new iPhone 11 Pro Max, complete with all the bells and whistles.
But is it worth it when you have alternative options like the refurbished iPhone 11 Pro Max from UR?
Especially given that a refurbished model comes with all the same features, such as an OLED screen or telephoto camera, if refurbished correctly.
Sound interesting, right?
Specs of an iPhone 11 Pro Max Refurbished
Let's inspect what you get when you buy a phone the refurbished way.
Size and Weight: Width: 3.06 inches, Height: 6.22 inches, Depth: 0.32 inch. Weighing in at 7.97 ounces, it's a handful.




Display: 6.5-inch Super Retina XDR OLED display. Yep, 1242 x 2688 pixels with a pixel density of 458 ppi to give you vibrant imagery.




Chip: Armed with an A13 Bionic chip, it's not the newest Apple chip out there, but it still does the job.




Storage: Choices, choices! This phone is available in an iPhone 11 Pro Max 64GB refurbished and an iPhone 11 Pro Max 256GB refurbished model.




Various colours: Gold, Silver, Space Grey, and Midnight green color are all available.




Excellent Battery Life: The phone boasts a 3,969 mAh rechargeable lithium-ion battery. Cable or wireless charging is also available.




All devices from UR.co.uk also come with at least 80% battery health to ensure a good battery life for all.



How do we ensure all these specs?
UR.co.uk gives you premium quality without the hefty price tag due to our expert phone engineers, who administer a rigorous 90-point phone check on every device.
So, whether you choose a brand-new model or one of our certified refurbished beauties, you're getting the same industry-leading specs, thanks to the strictest diagnostic criteria in the game.
The iPhone 11 Pro Max Camera System
The iPhone Pro Max comes with a triple-camera system that was designed to be revolutionary during its release.
Apple claims it offers high-quality images and videos for all ranges of shots and lighting conditions.
Let's see what you get when you buy all this refurbished.
Primary: 12 MP 1/2.55″ sensor, 26 mm-equivalent f/1.8-aperture lens, PDAF, OIS.




Ultra Wide Camera: 12 MP sensor, 13 mm-equivalent f/2.4-aperture lens.




Telephoto Camera: 12 MP 1/3.4″ sensor, 52 mm-equivalent f/2.0-aperture lens, PDAF, OIS.




Front-facing Camera: Upgraded to a higher-resolution 12MP sensor for sharper shots and wider angles.



Camera App Features: Night mode, Slow motion videos, Portrait mode and more.
iPhone 11 Pro Max Camera Comparison
Peeling back the layers of technical jargon, let's put the iPhone 11 Pro Max's camera specifications up against some key industry rival Android phones and its own predecessors.
While the Samsung Galaxy Note 10+ prides itself on a higher-megapixel ultra-wide-angle camera, it's worth mentioning that a higher megapixel count doesn't always translate to superior quality.
When it comes to realistic, vibrant imagery, the iPhone 11 Pro Max has a knack for capturing the nuances that make each shot a masterpiece similar to that found in the Samsung Galaxy Note 10+.
And rewind your memory to the iPhone XS Max, and you'll grasp how monumental the leap has been.
Aside from the more obvious improvements like dramatically enhanced technical specifications, this model takes mobile cinematography to new heights with its ability to shoot silky-smooth 4K video at an incredible 60fps.
Toss in some sophisticated image stabilisation, and you've got yourself a pocket-sized film studio.
Display on iPhone 11 Pro Max
The iPhone 11 Pro Max boasts a Super Retina XDR display, a piece of engineering that's as exotic as it sounds.
This custom-designed OLED offers an immersive HDR viewing experience that makes movies feel less like scenes and more like lived experiences.
But the magic doesn't stop there.
Diving into the settings app unveils a treasure trove of features tailored to suit your surroundings. 
Take, for example, the dark mode: not only does it provide a sleek aesthetic, but it's also a boon for your eyes, reducing strain during those late-night social media binges.
Display Comparison
Ah, but how does this technological marvel compare to its rivals?
When pitted against the Galaxy Note 10, the iPhone 11 Pro Max's display rises like a phoenix.
It's not just about brightness or pixel count; it's about clarity, colour accuracy, and viewing angles that make you question how you ever settled for anything less.
Frequently Asked Questions
By now, you're probably bubbling over with questions, from the phone's camera lenses to that shiny lightning cable it comes with.
So, let's cut to the chase, shall we? We're here to dive into an FAQ session that puts your curiosity to rest.
How does the iPhone 11 Pro Max perform in low light?
Stellar, to say the least.
Thanks to Night mode, the camera lenses are fine-tuned to capture more light, giving your evening snapshots that extra oomph.
Whether it's a dimly-lit dinner or a midnight soiree, you'll be amazed by the clarity.
How does the iPhone 11 Pro Max stack up on battery life?
Talk about a road warrior, right?
When this phone hit the market, it was flexing one of the longest battery lives Apple had ever slapped into a device—lasting a whopping 5 hours more than its predecessor, the iPhone XS Max.
Thanks to that beefed-up battery, your apps don't just start; they sprint, smoothing out your day-to-day like a hot knife through butter.
Is the iPhone 11 Pro Max Face ID any different from previous generations?
Face ID on the iPhone 11 Pro Max doesn't just sit there; it's revved up and 30% faster than its older cousins.
Why? Well, it's all thanks to some nifty key features.
With smarter algorithms and a more generous angle for face-scanning, your phone cuts the chit-chat and jumps straight into action.
Less time staring at your screen, more time conquering your to-do list.
Do you have more questions on different Apple products? Explore our refurbished iPhone 11 review and refurbished iPhone SE 2022 review to find out more details.
Final Thoughts on our Refurbished iPhone 11 Pro Max Review
In the sprawling landscape of the smartphone industry, the refurbished iPhone 11 Pro Max stands out like a midnight green jewel.
Its bright screen and excellent phone cameras bring a sense of light quality luxury to everyday everyday activities without burning a hole in your pocket.
So go ahead and buy an iPhone 11 Pro Max refurbished today, and know you are joining a commitment to sustainability on the way.
Happy buying!