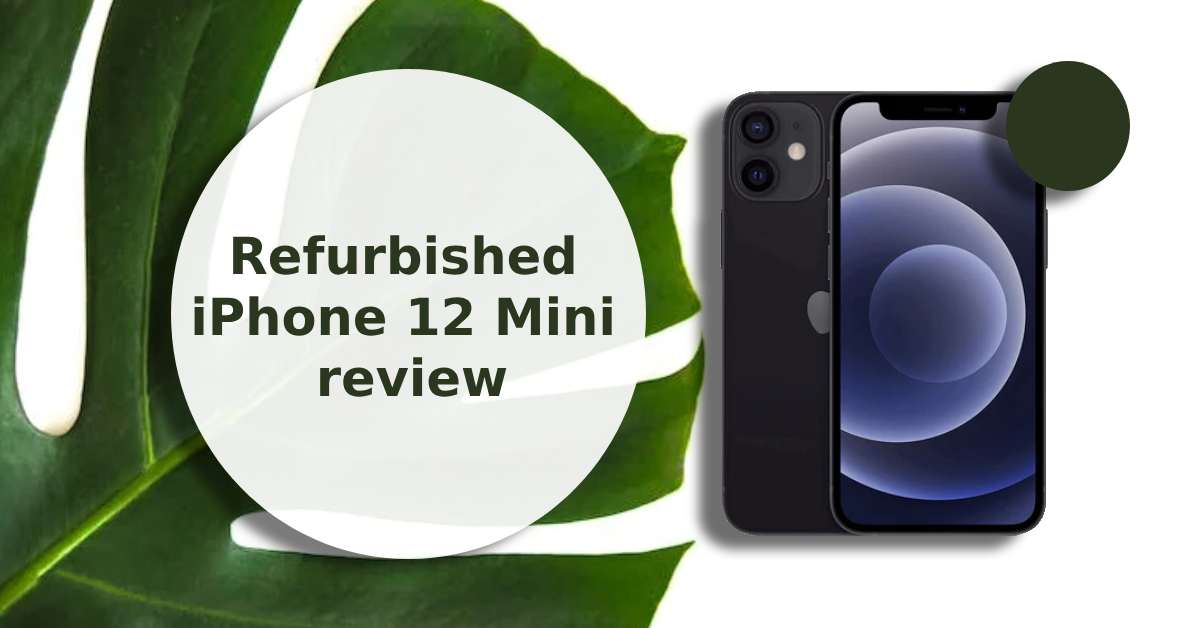 Small Size, Big Savings: Refurbished iPhone 12 Mini Review [2023]
In the world of tech, where bigger often feels better, there's a timeless charm in a tiny iPhone that delivers big results.
This is where the refurbished iPhone 12 Mini enters, with it's a small wonders like a brilliant camera and impressive staying power.
Despite its compact size, this little iPhone doesn't back down to anyone. Instead, it redefines what we expect from smaller devices by continuous offering great performance in tests.
Curious? Let's dive in.
Or if you're sold already, view this device and others today by exploring our curated selection of refurbished iPhones at UR.co.uk. More mighty small phones are waiting to be found.
Key Takeaways:
The iPhone 12 Mini: A small phone with all the same tech as more expensive models, such as the normal iPhone 12.




Snap Away in Style: Has an excellent camera quality when faced with a price comparison.



Get an Apple iPhone 12 Mini even cheaper when you go the refurbished root! The best part? They all come unlocked, so you're free to choose your mobile data, and other network packages yourself.
What Sets the iPhone 12 Mini Apart
In the vast lineup of iPhone 12 models, the iPhone 12 Mini stands out, not just for its petite stature but also for how it captures the essence of top-tier smartphones in a more manageable size.
With a measured 5.4-inch screen, this little dynamo evokes a sense of nostalgia, harking back to days when phones comfortably nestled in our palms.
Contrasting its size with the more expansive 6.1-inch iPhone 12, the Mini's design caters wonderfully to those who appreciate the blend of contemporary tech with an easy-to-handle form.
Yet, don't be misled by its size: the Mini doesn't skimp on features.
Apple's ingenuity shines as they've distilled the very essence of the iPhone 12 into the Mini's compact frame, ensuring no feature was left behind.
When you glance at the price tag, the Mini might seem like a more budget-friendly option, but it astoundingly offers all the robust features synonymous with the iPhone 12 generation.
But let's explore these facts even further with an iPhone 12 Mini refurbished.
Specs of the iPhone 12 Mini
Under the hood, the iPhone 12 Mini refurbished reveals impressive tech in every nook and cranny.
View the specs below for more information:
Specification
Details
Display
5.4-inch all-screen OLED
2340 x 1080 pixels, 476 ppi
Size and Weight
5.18 x 2.53 x 0.29 inches
Chipset
A14 Bionic chip
Battery
2227 mAh capacity
And what's even better, you can also receive ample storage, whether it's the refurbished iPhone 12 Mini 64GB or an iPhone 12 Mini 128GB refurbished, for photos, videos and other little features downloaded from the App Library.
Now all these number and technical terms may seem confusing to some, so let's break all this down and consider what this phone can do for you in your everyday life.
A Closer Look at the Refurbished iPhone 12 Mini's Display
Venturing into the visual splendour of the iPhone 12 Mini refurbished, we're greeted with a striking, all-screen OLED display.
Measuring 5.4 inches diagonally, this display packs a punch with a resolution of 2340-by-1080 pixels, resulting in a crisp 476 pixels per inch (ppi).
The difference it makes in image clarity is like night and day compared to older models or less advanced screens.
Be it refurbished or brand new from us at UR.co.uk, this screen dazzles with the same vibrancy and sharpness.
Clear Colours
Plus, the screen's HDR capability, paired with True Tone technology, brings visuals to life, offering a colour and contrast experience that's a feast for the eyes.
Imagine a canvas where every hue and shade is represented with utmost fidelity; that's what the wide colour (P3) gamut and a staggering 2,000,000:1 contrast ratio achieve.
This intricate orchestration of colour and contrast delivers an immersive experience, whether you're scrolling through photos or watching videos.
Comparison to Past Generations
Beyond just quality, the edge-to-edge design of the Mini's display plays a smart game of illusion.
Despite its overall smaller stature compared to the iPhone SE, the Mini cleverly offers more screen real estate.
When juxtaposed with the iPhone SE's LCD display, boasting a mere 326 ppi, the Mini's superiority in display technology becomes unmistakably clear.
It's a testament to how Apple has mastered the art of packing immense value into smaller packages.
Note: Whilst this phone comes with a robust ceramic shield, we suggest adding an extra layer of protection with the help of a screen protector to save you from unfortunate accidents.
But don't worry when you buy from us, as most devices come with $45 worth of accessories to help you on your way.
iPhone 12 Mini's Camera Capabilities
With the iPhone 12 Mini's camera prowess, capturing moments has never felt more artistic and precise.
Let's dive into the specifics of what this pint-sized powerhouse has to offer:
Dual 12MP rear camera system: A magic duo comprising a wide camera with a ƒ/2.4 aperture and an ultrawide camera boasting f/2.4 and a generous 120° field of view.




12MP front camera: Equipped with a main sensor, the Mini doesn't shy away from impeccable selfies. 




Plus, with its SL 3D sensor, depth estimation becomes a refined art, making those portrait mode photos pop with vibrancy and depth.



Additional Camera App features: Night mode for low light performance. Plus, gain extras like Live photos, Action Shots and more.
Camera Performance
The iPhone 12 Mini gracefully inherits the dual-camera system from its larger siblings, ensuring consistency across the iPhone 12 range.
Although reminiscent of the iPhone 11's camera layout, the Mini integrates subtle enhancements, elevating it to next-gen status. It's a gentle nod to the past, while confidently stepping into the future.
Yet, when the comparison game rolls out the red carpet for the iPhone 12 Pro Max, the Mini, while a shade humbler in its camera offerings, holds its own with gusto.
It's the best choice for photography enthusiasts who seek a compact device but refuse to skimp on quality.
Simply put, with the iPhone 12 Mini, size does not dictate the richness of the captured memories.
Exploring the iPhone 12 Mini's Battery Life
Nestled within the iPhone 12 Mini's sleek frame lies its power source: a 2227mAh battery, a compact dynamo in its own right.
Though it might whisper hints of modesty in capacity when compared to an Android Phone, this battery comes alive with performance, especially when you weigh its size and cost into the equation.
Performance of the Battery Life
The Mini is adept at juggling the modern user's needs with up to 10 hours of streamed video playback.
This feat might not set world records, but it's a testament to Apple's efficiency in packing a punch in small packages.
For those who balance work and play on their phones, this endurance is more than just numbers; it's reliability wrapped in elegance.
Wired Charging and Wireless Charging
Fast charging stands as one of the Mini's unsung heroes.
Imagine this: you're low on power, time is ticking, and there's a world waiting on the other end of your screen.
Here, the Mini charges up to 50% in just about 30 minutes with a 20W adapter.
But let's not forget wireless charging – a feature that adds a layer of convenience and modernity.
It's like stepping into the future; just place your Mini on a pad, and watch it rejuvenate without the hassle of cords.
Note: each refurbished device from UR.co.uk comes with at least 80% battery health, meaning battery life can vary slightly depending on the device.
The Refurbished Renaissance
But if you want all this slightly cheaper, let's throw the word 'refurbished' into the mix.
Many often equivalate refurbished iPhone or Android phones to old, faulty technology - objects that don't work within a few months of their initial purchase.
This simply isn't the case when you buy from us.
At UR.co.uk, before an iPhone, like the 12 Mini, or any other device gets our seal of approval, it passes through a 90-point phone check under the vigilant eyes of our engineers.
After these rigorous checks, they bless each piece with a Certificate of Identification and Functionality.
It's not just a piece of paper; it's our assurance that the device is ready to join the 'Circle' of trust.
So rest assured you'll be getting a high quality product at a fraction of the regular iPhone price when you shop with us.
A Smarter Choice Awaits
As the curtains draw on our exploration of the iPhone 12 Mini, particularly its refurbished counterpart at UR.co.uk, it's evident that smart choices extend beyond just features and specifications.
By opting for a refurbished model, you're not only embracing a pocket-friendly, compact powerhouse but also joining a commitment to sustainability.
Remember, every device you choose, whether it's for its camera prowess or its sleek OLED display, carries a story – one of expert care, rigorous checks, and a new lease on life.
So, you'll be walking away happy when you buy a device from us.