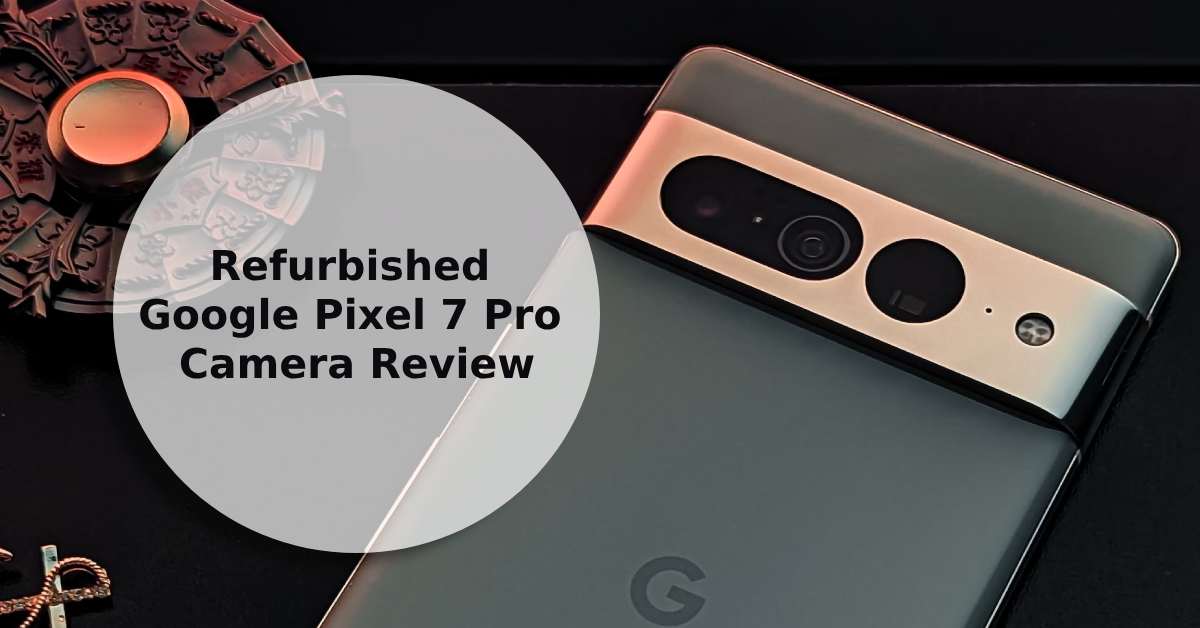 Refurbished Google Pixel 7 Pro Camera Review: Snap, Capture, and Be Dazzled
When it comes to painting with pixels, Google's Pixel 7 Pro camera weaves a captivating tale.
Consistent across test categories, it shines bright with excellent exposure, expansive dynamic range, and striking contrast in most lighting conditions.
While some say a camera doesn't make the photographer, the Pixel 7 Pro might just blur those lines.
Read on to find out more with UR.co.uk.
Do you want to test the camera yourself? Don't let us stop you. Explore our range of refurbished Android phones today; your next adventure awaits.
Key Takeaways:
Discover a range of stunning effects that are customisable to complement your unique photography style perfectly.




Experience more features than found in previous pixel generations.



Get all this and more when you opt for a refurbished phone.
The Pixel 7 Pro Camera Specs
Acquiring a Google Pixel 7 Pro refurbished implies a keen interest in mobile photography.
But before delving into performance and results, understanding the core specifications is essential.
So, what are the technicalities that Google claims set this phone's camera apart?
Without further delay, let's explore.
Main Attraction:
Housed in the camera bar, its triple camera setup is tailored for diverse shots:
Main Camera: 50 MP, employing a pixel binning technique that merges each 2x2 pixel group on the sensor. 




This method theoretically boosts colour accuracy and may enhance performance in low light settings, particularly at a 24mm focus.




Telephoto Camera: A 48 MP lens, equipped with 5x optical zoom. 




It also integrates OIS, PDAF, and Super Res Zoom technology, purportedly capturing detailed 12-megapixel images even at a 10x zoom range.




Ultra wide Camera: 12 MP with built in Macro Mode, designed to offer a wide dynamic range for expansive field-of-view shots.



And on the front:
Selfie Camera: Featuring a 10.8 MP wide-angle camera, not only for selfies but also capable of recording 4K videos at 30/60fps.



And good news for you! These specs remain the same regardless of whether your buying a brand new phone or a Google Pixel 7 Pro 128GB, a Google Pixel 7 Pro 512GB or a Google Pixel 7 Pro 256GB refurbished.
Now that's a good deal.
Image Quality of the Google Pixel 7 Pro Camera
Dipping into the world of the Pixel 7 Pro's camera output, initial tests reveal a commendable performance in ultra-wide shots.
Distortions, often a notorious challenge for many ultra-wide cameras, seem impressively controlled in this Google device, and it's noteworthy that the Pixel 7 Pro pictures typically exhibit a robust level of detail.
Whether you're capturing the gentle sway of trees or an eager dog sprinting across the park, the camera deftly handles motion, presenting sharpness and clarity on moving elements.
Any Limitations?
But, as with most camera phones, it's not entirely devoid of quirks.
In challenging lighting situations, especially where high contrast reigns supreme or under bright light, some images might occasionally lose detail.
It's a nuance observed in many high-end phones, and it's worth bearing in mind when shooting under such conditions.
In the grand scheme of mobile photography, however, the Pixel 7 Pro is holding its ground solidly, potentially marking its territory as one of the best camera phones of its generation.
Camera App Review
When it comes to camera apps, there's often a balance between complexity and capability.
Dive deep into the Pixel 7 Pro's camera app, and you'll uncover layers of intricate features designed to amplify your photography.
Dive into the Details
Cinematic Blur: No longer just for photos, this innovative feature drapes your videos with an enchanting portrait effect, making your subjects pop.




Long Exposure and Action Pan: For those moments when you want to capture the dance of light or the swift swing of action, these settings are your magic wand, both found snuggly in the Motion mode.



Portrait Mode: Time and again, it proves its worth. Delivering those mesmerising, focused shots with a blurred background; it's like having a mini photo studio right in your pocket.
Yet, as powerful as it is, the camera app does come with a learning curve.
It packs a wealth of tricks and tools, and harnessing its full potential might be a tad challenging for those not familiar with its plethora of features.
But once you get the hang of it, the possibilities are boundless.
Pixel 7 Pro vs Previous Generations
When combining all these positive aspects, it's clear that the Google Pixel 7 Pro lives up to the hype. Ever considered what makes it different from its predecessors?
Let's dive in further.
Super Res Zoom Revolution
The Pixel 7 Pro's Super Res Zoom stands out immediately.
With its ability to deliver 12-megapixel photos at a staggering 10x zoom, the results rival what you'd typically expect from a dedicated 10x optical zoom camera.
And for the adventurers, capturing distant details at 15x and even beyond, without the fuss of a tripod, is now a reality thanks to Zoom Stabilisation.
This makes the Google Pixel 7 Pro one of the first with all these features combined.
Low-Light Mastery
Low-light photography has seen a significant uplift.
The Pixel 7 Pro offers an enhanced Night Sight mode for those dimly lit scenarios and, to sweeten the pot, a newfound macro capability.
With its superior dynamic range, it paints close-up shots in richer, more vibrant hues, ensuring the foreground truly stands out.
Video Prowess
It's not just about still photos.
Google has heavily invested in video quality, allowing 4K60 FPS recordings across all cameras, including the front one.
And here's the kicker: the Speech Enhancement feature seemingly transforms your device into a mobile studio, isolating the speaker as if they were wearing a dedicated lapel mic.
Combined with the third iteration of Active Stabilisation, content creators are in for a treat.
Google's focus has always been clear: evolving the Pixel camera to be, unequivocally, the best camera phone on the market. And with these upgrades, they're well on their path.
Do you want more information on your favourite pixel products? Check our refurbished Google Pixel 4 XL review and refurbished Google Pixel 6 Pro deals to find out today.
The Perks of Going Refurbished
Embracing the refurbished realm, especially when considering a powerhouse like the Google Pixel 7 Pro, can genuinely redefine your tech journey.
Let's delve into why taking the refurbished avenue could be a stellar move for you:
Eco-Friendly Choice: In an age where sustainability is paramount, buying refurbished plays a vital role in curbing electronic waste. 




Opting for a pre-loved Pixel 7 Pro is more than just a smart economic choice; it's a step towards a greener planet.




Spectacular Savings: Who doesn't love the allure of flagship features without the hefty price tag? The refurbished world gifts you that luxury. 




You enjoy unparalleled tech experiences without burning a hole in your pocket.




12 Months of Peace: Exclusive to our UR family, every phone purchase comes bundled with 12 months free insurance. 




Accidental drops, unexpected splashes, or the unfortunate event of theft – rest easy knowing we're in your corner, protecting your tech treasures.



By opting for a refurbished Pixel 7 Pro, you're not just making a savvy purchase.
It's a combination of top-tier performance, appreciable savings, and a nod to eco-conscious living.
Transform your tech game and make a difference simultaneously.
Final Thoughts
Stepping into the world of refurbished technology, particularly with a gem like the Google Pixel 7 Pro, isn't just a smart economic move; it's a statement.
It reflects a commitment to innovation, balanced with a conscious effort towards sustainability.
In your hands, the Pixel 7 Pro isn't merely a device.
It's a testament to choosing quality and performance, while fostering a commitment to sustainability.
Join us on this journey, where each choice we make paves the way for a brighter, more responsible tomorrow.