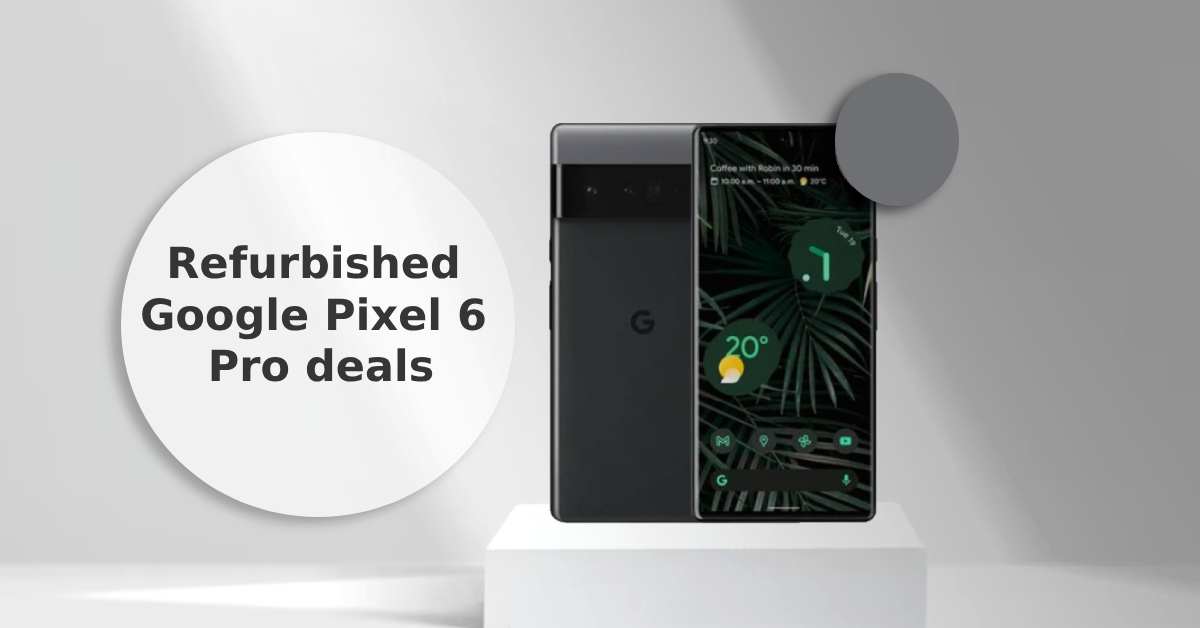 Refurbished Google Pixel 6 Pro Deals UK 2023: Go Pro or Go Home
Ready to revamp your smartphone life but wince at new phone prices?
A refurbished Google Pixel 6 Pro could be your golden ticket.
Imagine having a killer device with the works – top-notch cameras, stunning display, and monster battery – without emptying your pockets.
Are you sold? Stick around; we're diving deep into the game-changing deals, perks, and must-knows about this tech marvel.
Or, if you can't wait any longer, explore our range of refurbished Google Pixel devices. No matter the problem, we're always here to help at UR.co.uk.
Key Takeaways:
Different Colours: Pick a colour that suits your taste.




Luxury Specs: Get a phone with the best features for a fraction of the price.



Refurbished: Did you know you're helping the environment too? Don't settle for anything less.
Specifications of a Google Pixel 6 Pro
Before we dig into the financial side of snagging a Google Pixel 6 Pro refurbished, let's get familiar with what this gadget brings to the table.
It's the technological wunderkind of the mobile phones market, blending form and function like a Picasso of pixels.
Display: The 6.7-inch screen isn't just eye candy; it's a visual feast. 




With a resolution of 3120 x 1440 pixels and a 19.5:9 ratio, the LTPO AMOLED display comes with HDR10+ and Corning Gorilla Glass Victus.




That means vivid colours, deep blacks, and a screen that can withstand a tumble.




Dimensions: With dimensions of 163.9 x 75.9 x 8.9 mm, it's a device that celebrates more screen real estate, which stands as one of the larger phones, and offers you a grand stage for all your digital endeavours.




Google Tensor: The brain behind the brawn? The Google Tensor (5 nm) chipset. 




With Google's custom silicon, your device runs smoother, smarter, and faster.




Memory and Storage Size: Whether you're a casual scroller or a mobile power user, there's a memory configuration for you. 




Choose from options like a Pixel 6 Pro 128GB with 12GB RAM or ramp it up to 256GB with 12GB RAM, all utilising UFS 3.1 tech for faster data transfers.




Battery: This device packs a 5003 mAh battery that's non-removable. 




With fast charging, Qi wireless charging, and reverse wireless charging, it's more than just a phone; it's your day-long companion.



These specs remain the gold standard, whether you opt for a new of refurbished phone.
In short, this device isn't playing around.
It's geared to give you top-of-the-line features without breaking the bank.
Google Pixel 6 Pro Cameras
Stepping away from the over specs and going straight for the lens, the Google Pixel 6 Pro camera is a game-changer.
Sure, a picture is worth a thousand words, but the quality of those pixels can make or break your mobile photography game.
Let's dive into what makes this device a photographer's pocket dream.
50 MP Wide Camera: Features an f/1.9 aperture, capturing vivid details and making every pixel count.




48 MP Telephoto Camera: Comes with an f/3.5 aperture, perfect for zooming in on distant objects without losing clarity.




12 MP Ultrawide Camera: Equipped with an f/2.2 aperture and a 114-degree field of view, ideal for wide landscapes and big group selfies.



What's more, various tests shower this camera system with high scores for its contrast, colour accuracy, and autofocus.
In a nutshell, this isn't a camera that plays it safe; it goes for the extraordinary.
It's your go-to for everything from your dog's adorable antics to your latest culinary adventures.
You'll want to keep snapping, whether you're a photography beginner or a full-fledged shutterbug.
The Style Behind Google Pixel 6 Pro's Design
You'll definitely want to post this on your social media! 
The Google Pixel 6 Pro's design is where tech meets art, combining curvy elegance with angular precision.
Start with the dual-tone finish; it's no one-trick pony.
Available in five stylish shades like Sorta Seafoam and Kinda Coral, it tailors to personal aesthetics.
Are you planning on keeping it classic?
Cloudy White and Stormy Black offer timeless options, and don't forget Sorta Sunny for those that like a dose of summer in a device.
Just choose the option that suits you the best.
The Google Pixel 6 Pro vs. Google Pixel 6
Now, we've sung the praises of the Google Pixel 6 Pro's specs, but how does it stack up against its sibling, the standard Pixel 6?
Beyond the family resemblance, there are key differences that might tip the scale for new customers weighing their options.
Comparing Display
The Pixel 6 Pro flexes a 6.7-inch QHD+ display and a 120Hz refresh rate. 
However, its younger brother, the Pixel 6, makes do with a 6.4-inch Full HD+ panel and a 90Hz refresh rate.
In lay terms? The Pro's display is not only bigger but sharper and smoother. 
Whether you're watching videos, gaming, or simply scrolling through your feeds, the Pro delivers a more fluid experience.
Comparing Battery Life
When it comes to staying power, the Pixel 6 Pro's battery is no slouch either.
It packs a 5,000mAh punch, compared to the Pixel 6's 4,600mAh, and it also has a slight edge in wireless charging speed, boasting 23W to the Pixel 6's 21W.
The luxury features of the Google Pixel 6 Pro mean it was one of the best Google Pixel phones during its time of introduction - an aspect that is highly reflected in its substantial price tag when brought new.
But what if we said you can have all this for a fraction of the original total cost if another root is taken?
Have you changed your mind and want to explore more Google Pixel phones to suit your needs? Well, check our articles on refurbished Google Pixel 7 deals and refurbished Google Pixel 6 deals to find out more. 
The Value of Refurbished Phones
Say hello to refurbished phones! 
This is an avenue for many who want a luxury phone while on a budget.
The Pocket-Friendly Factor
Mobile phones, especially top-tier ones like Google Pixel 6 Pro, can carve out a hefty slice from your wallet.
But choosing a refurbished phone slashes the total cost while retaining all those juicy features, from Adaptive Sound that tweaks your audio environment to that drool-worthy camera.
You're not just saving money; you're getting the whole lot at a discounted price.
A Green Thumbs-Up
Sustainability isn't just a buzzword; it's a responsibility.
Opting for a refurbished phone is like giving Mother Nature a high-five by reducing e-waste, one device at a time.
Plus, it's a chain reaction: when you nab a refurbished phone, you're also encouraging the market to produce fewer new devices.
That's a double win—fewer phones end up in landfills, and you're helping dial down the manufacturing footprint.
Be one of the many tacking the 55,00 tonnes of UK e-waste predicted to be produced by 2030.
So there you have it: Opting for a refurbished phone isn't merely an exercise in penny-pinching; it's a conscientious choice that reverberates through both your wallet and the world at large.
FAQ about Refurbished Google Pixel 6 Pro
Navigating the terrain of refurbished mobiles can be like trying to find your way through a maze in the dark—plenty of turns and a few dead-ends.
So, let's shine a light on some of the burning questions you might have when searching.
What size of SIM card is compatible with a refurbished Google Pixel 6 Pro?
In terms of SIM cards, the Pixel 6 Pro embraces the modern standard by accepting a nano SIM, making it highly convenient for those who don't want to fiddle with larger, outdated SIM cards.
Does Google Assistant feature in refurbished models of the Pixel 6 Pro?
Yes! Refurbished or sparkling new, the Google Pixel 6 Pro comes equipped with Google Assistant. 
With a simple vocal command, you can navigate your device effortlessly.
How much money can you save with a refurbished Pixel 6 Pro?
The savings landscape varies from device to device, but one thing is certain: opting for a refurbished model will always dent your wallet less than its brand-new counterpart.
Save money for a trip with your friends or a night out on the town by buying a refurbished Google Pixel 6 Pro.
Is the refurbished Google Pixel 6 Pro water-resistant?
While the Pixel 6 Pro offers a degree of water resistance, it's crucial to note that the refurbishment process renders it not fully waterproof.
So, while a dash of rain shouldn't spell disaster, swimming is off the table.
Final Thoughts on Refurbished Google Pixel 6 Pro Deals
We've journeyed through the labyrinth of the Google Pixel 6 Pro, dissecting its top-tier specifications, unrivalled camera capabilities, and eye-catching design.
Opting for a refurbished model isn't merely a passing trend but rather an astute financial and ethical decision.
Envision yourself wielding this pocket-sized powerhouse, replete with all its bells and whistles, while your bank account remains robust.
And let's not forget—when you snag your refurbished Google Pixel 6 Pro from UR.co.uk, rest easy knowing it has breezed through an exhaustive 90-point PhoneCheck. You're not just buying a phone; you're investing in peace of mind.
So, go on, take the plunge today.