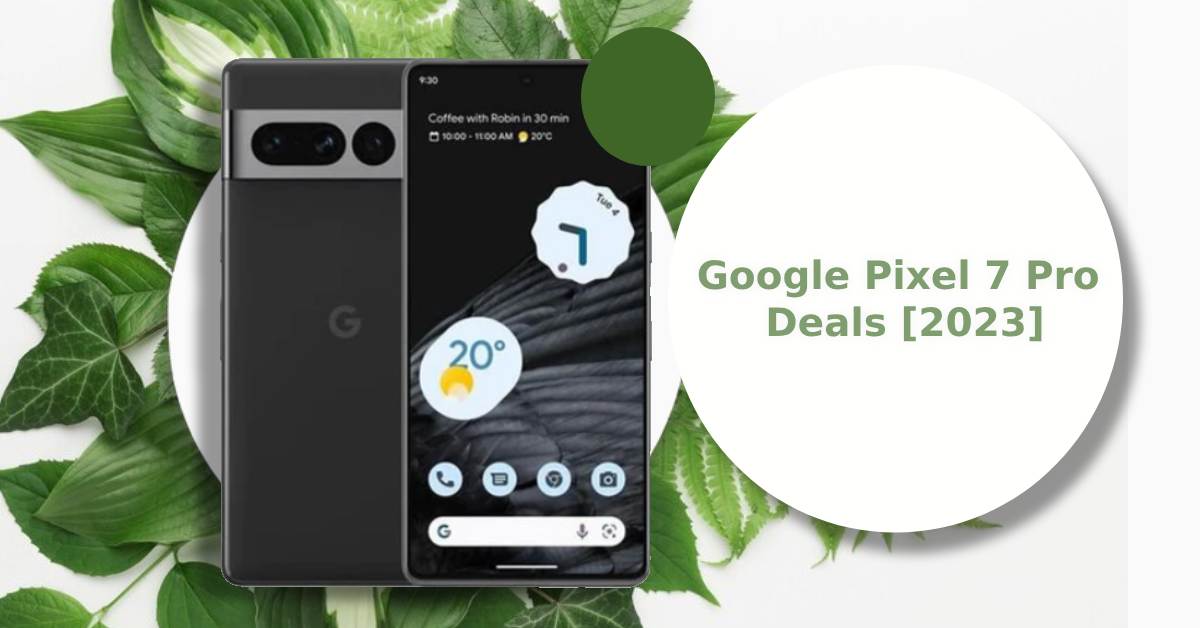 Google Pixel 7 Pro Deals [2023]: Affordable Luxury at Your Fingertips
Are you intrigued by the Google Pixel 7 Pro? Good call—it's not just a phone; it's a pocket-sized photography studio paired with a jaw-droppingly crisp display.
Do you want more information on what this phone could offer you?
Stick around to learn how you can score this technological masterpiece without emptying your pockets.
Are you captivated by the Google Pixel 7 Pro Refurbished and all its bells and whistles? Well, check out our collection of refurbished Google Pixel phones to explore your options.
Key Takeaways:
Camera apps are a game-changer for the Google Pixel 7 Pro.
Great speed and efficiency claims are correct for this device.
The Google Pixel 7 Pro's processor is an extreme battery saver.
The refurbished root offers great quality but half the price.
Why Should a Google Pixel 7 Pro Be My Next Device?
If you're searching for a top-tier phone, Google Pixel 7 Pro should be your go-to gadget.
This device doesn't merely keep pace with your hectic life; it elevates your whole mobile phone experience beyond that you've ever experienced.
Packed with ground-breaking tech and next-level features, this phone's not just for calls and texts—it's an upgrade button for your digital world.
Key Specifications of a Google Pixel 7 Pro
When you snag a Google Pixel 7 Pro, here's the rundown of what you'll get:
Display: Imagine a dazzling 6.7-inch full-screen that sports a 19.5:9 aspect ratio.




We're talking QHD+ LTPO OLED with 512 PPI and a Smooth Display that goes up to a 120 Hz refresh rate, making scrolling feel like gliding on ice.




Dimensions and Weight: Sized at 162.9 x 76.6 x 8.9 mm and tipping the scales at 212 grams, this phone's form factor is as sleek as they come—easy to slide in your pocket or hold for those endless video chats.




Operating System and Chipset: Rocking Android 13 and powered by the zippy Google Tensor G2 (5 nm) chipset for fast speed.




Memory Options: Options galore! Whether you prefer a 128GB storage and 8GB RAM, or you're shooting for the stars with a whopping 512GB and 12GB RAM, this phone's got a size to fit your lifestyle.



Battery: A beastly 5,000 mAh non-removable battery that beats that of its Google Pixel 6 Pro predecessor.
Spectacular features of the Google Pixel 7 Pro
All this technical jargon might boggle the minds of most people who just want to know the phone's key features without all the confusion.
But don't worry; let's expand on what we already know and explore how the key features of the Google Pixel 7 Pro could help you in your daily life.
The Pixel 7 Pro Camera
It would be wrong to leave the crown jewel of any smartphone unexplored: the camera and video quality.
With the Pixel 7 Pro, we're talking a 48MP 5x telephoto zoom camera that laughs in the face of distance, capturing faraway subjects as if they're right in front of you.
Include its new AI Super Res Zoom to help capture high-resolution images, and you can say goodbye to fuzzy photos and hello to clean, crisp images full of detail.
And if that wasn't enough, the ultra-wide sensor on this gadget has had a serious upgrade, surpassing earlier Pixel phones in depth and detail.
The Pixel 7 Pro doesn't just capture moments; it elevates them.
With its advanced camera features, you're not just taking photos and videos—you're crafting visual stories.
The Tensor G2 Processor
Look inside the phone's inner workings, and you'll find a technological marvel.
The Pixel 7 Pro uses Google's own Tensor G2 processor, developed in collaboration with Samsung Semiconductor.
When breaking everything down to the bare basics, the Tensor G2 processor packs a serious punch.
Setting new standards for high-performance computing in the mobile sphere, benchmark tests have demonstrated how this chip delivers near flagship-grade performance, making everyday smartphone tasks a breeze.
But here's where the plot thickens. Unlike some other processors that devour battery life, the Tensor G2 is more energy-efficient than its predecessor.
So, what does this all mean for you? It means that the Pixel 7 Pro offers a truly intelligent computing experience.
It's powerful yet efficient, fast yet frugal.
Crystal Clear Display
The Google Pixel 7 Pro's display isn't just "good"; it's a feast for the eyes.
Clocking in at 3,120x1,440-pixel resolution, this screen is as sharp as a knife and as bright as a sunny afternoon.
No squinting or screen tilting needed; this display is there for you, in crystal clear detail.
But the story doesn't end with pixels and brightness.
This device muscled its way to in the ultra-premium category, and for good reason. It's not just about the numbers; it's the overall experience that counts.
With perfectly adapted brightness and contrast levels, you're in for a visually stunning HDR10 video experience.
Whether it's the explosion in an action flick or the intricate details in a nature documentary, the Pixel 7 Pro delivers.
Overall, with its exceptional camera capabilities, energy-efficient Tensor G2 processor, and crystal-clear display, this phone does more than tick all the boxes.
It adds quality, efficiency, and a dash of brilliance to your daily life.
Accessories and Compatible Smart Devices
Now, let's talk about accessories that'll take your Pixel game from strong to unbeatable.
Consider this the ultimate gear guide to amplify your mobile game.
Google Pixel Buds Pro: These aren't your average earbuds. Imagine walking in a bustling city but hearing your podcast as if you're in a soundproof room.




Noise cancellation and spatial audio features make that a reality.




USB C to 3.5mm Adapter: Say goodbye to compatibility woes.




This adapter lets you connect with 3.5mm headphones or speakers. Old school meets new school, and they get along splendidly.




Google Pixel Watch: Google's debut smartwatch syncs seamlessly with your Pixel 7 Pro.




Whether you opt for the WiFi or LTE model, your wrist just becomes a lot smarter when wearing a Google Pixel watch.




Google Pixel Stand 2: Lay your phone down and let it charge with no strings attached. Compatible with any Qi-enabled device, but tailor-made for your Pixel.



With these accessories, your phone isn't just a device; it's a multi-faceted experience.
And what's even better, every refurbished Pixel 7 Pro brought from us comes with accessories worth up to £45.
Now that's a deal.
The Irresistible Case for a Refurbished Google Pixel 7 Pro
So you're interested in the Pixel 7 Pro, but maybe you're not quite ready to part with a hefty sum for a new one.
Lucky for you, a refurbished Pixel 7 Pro gives you all the luxury without the eye-watering price tag.
The Cost Factor
First things first, let's talk money. Who doesn't want the bells and whistles of a top-tier phone without emptying their piggy bank?
When you go the refurbished route, you're talking about big savings.
You could literally save hundreds of pounds without compromising on quality.
Imagine what you could do with that extra cash. Weekend getaway, anyone?
The Functionality
Now, let's squash the myth that refurbished means "second rate."
At UR.co.uk, every phone gets put through the wringer, a 90-point check by our expert phone engineers, to be exact.
And guess what? They're all scored according to the strictest diagnostic criteria in the industry.
Minimal scratches, practically brand-spanking-new looks, and a minimum 80% battery life—what's not to love?
Your refurbished Pixel 7 Pro will be so shiny, it'll feel like you're unboxing a brand-new device.
The Environmental Impact
Buying a refurbished phone isn't just good for your wallet; it's a high-five to Mother Earth.
You're reducing waste and making a choice that's as good for the planet as it is for your peace of mind.
Plus, each phone you save from a landfill contributes to a cycle of sustainable consumerism.
It's like planting a tree without getting your hands dirty—a simple act with lasting impact.
Frequently Asked Questions (FAQs) About Your Pixel 7 Pro
We get it, you've got questions about your soon-to-be new Pixel 7 Pro and want them answered without searching the internet for hours on end.
So let's see what we can do for you.
Can the Google Pixel 7 Pro be used with major operator networks?
Absolutely, the Google Pixel 7 Pro is compatible with major operator networks.
This ensures that you can stay connected seamlessly, no matter your service provider.
How does the actual battery life of a Pixel 7 Pro compare to other phones?
The Pixel 7 Pro's battery life depends on the phones usage within a given day.
Whilst some sources claim a decrease battery life when compared to the previous Pro 6 Pixel phone, battery testing conducted by Google suggests that the Pixel 7 Pro can last up to 24 to 72 hours when in Extreme Battery Saver Mode.
Either way, while mileage may vary, the Pixel 7 Pro offers options to stretch that battery life far beyond what you might expect.
What are the benefits of the Google Photos app on Pixel 7 Pro?
With the Google Photos app, all your photos are transferred automatically, giving you easy access from any compatible device.
Plus, it's not just about storage; it's about making your life simpler. The app also has fantastic features like Magic Eraser that work seamlessly on the Pixel 7 Pro.
Imagine erasing unwanted image elements or enhancing even your tiniest subjects by simply using Pixel 7 Pro touch screen camera features.
When combined with the phone's excellent camera, it's like having a pocket-sized photo studio that also takes calls.
Are you curious to dig even deeper into the Pixel world? Check out these enlightening reads on are Google Pixel phones good? and does Google Pixel support eSIM? for more Pixel information.
Invest in One of Our Google Pixel 7 Pro Deals Today
There you have it, the full spread—Pixel 7 Pro, its top-notch features, and the accessories that make it a tech marvel.
This isn't just about owning a phone; it's about investing in a digital companion that elevates your day-to-day.
From capturing cinematic moments to running marathons of meetings, this device has your back.
And let's not forget, it comes with the peace of mind and extra perks when you snag it as a premium refurbished Pixel 7 Pro phone from UR.co.uk.
So here's to smarter choices, killer photos, and a phone that truly gets what you want.