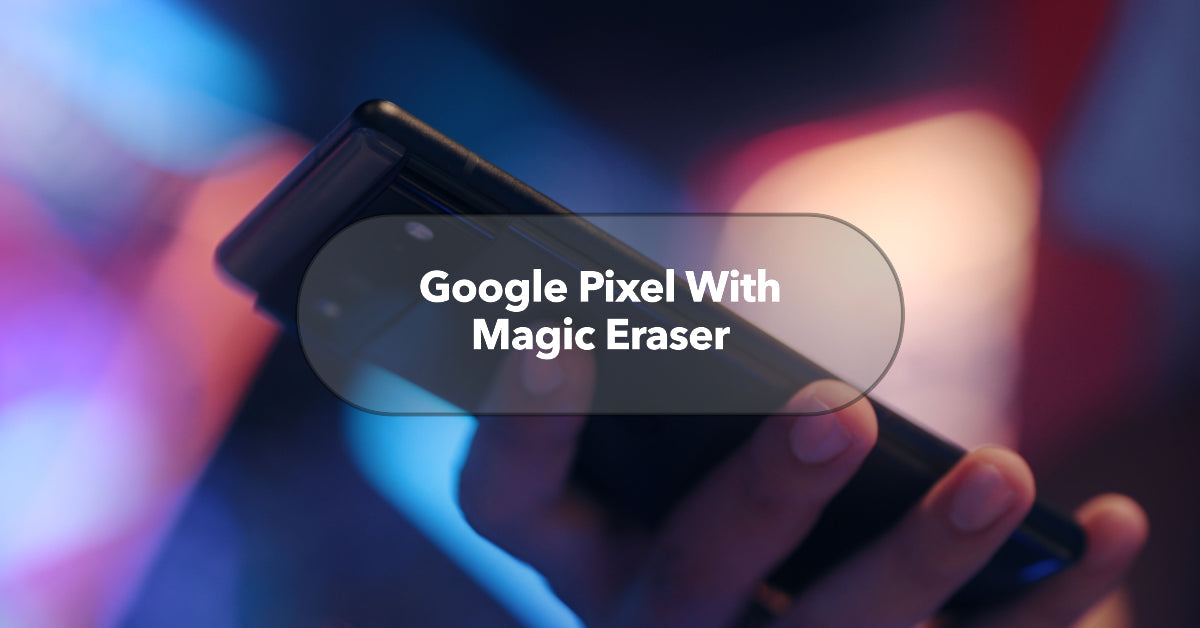 Google Pixel With Magic Eraser: Snap, Erase, Perfect!
Ever wished you could erase unwanted photobombers from your shots with a simple touch? Now, Google Pixel phones have got your back.
They come loaded with awe-inducing features like Magic Eraser and Photo Unblur. These aren't just snazzy words; they're transforming how you save memories.
Snap a pic, tap to edit, and poof - perfection! Read on for the whys and hows.
Make Every Photo a Masterpiece
Say Goodbye to Distractions with Magic Eraser
Ever taken what you thought was a great photo, only to notice a pesky telephone pole or a random vehicle ruining the background?
Google Pixel's Magic Eraser tool lets you get rid of those unwanted objects effortlessly.
Just select Magic Eraser from the bottom toolbar and draw a circle around the objects you want to erase. 
No more photobombers, no more distractions, just pure, focused imagery.
Unblur Your Memories with Photo Unblur
Sometimes, the best moments happen in a flash, and motion blur can dampen that frame of joy.
Google Pixel phones utilize machine learning and facial recognition with the Photo Unblur feature, especially on the Pixel 7 and Pixel 7 Pro models.
Sharpen those fuzzy images and enhance facial features to create stunning visuals.
Ready to Dive into Google Photos App
Here's a chance to harness the magic eraser work. The free tool is not a complex Photoshop brush.
No, it's more like an invisible hand that refines your photos.
Tap to Edit: Open your photo, tap the edit button, and access the magic eraser feature.
Erase and Save: Erase objects or background and save a copy with just a few taps.
Google One Subscription: Want more? With a subscription, explore more photo editing tools within the Google photos app.
Android Phones Rejoice: Yes, iPhone users, this magic is exclusive to Pixel phones. Time to switch?
Magic Eraser, Photo Unblur, and more - it's all there, waiting for your tap and creativity. So why wait?
Explore the next level of photo editing and create memories that are truly your own!
The Magic Behind the Eraser
Understanding How Magic Eraser Works
What's under the hood of the magic eraser feature on Google Pixel phones? Advanced AI, that's what! 
It identifies and erases distractions, such as vehicles, extra objects, or other unwanted elements, all with just a few taps.
Simply circle the object with the magic eraser tool, and watch it vanish. No need for a complicated Photoshop brush; it's that simple.
Compatibility and Access
Fancy these tools? They're all yours if you have the right phone. Magic Eraser is available on Pixel 6 and later phones, while Photo Unblur adds extra sparkle on Pixel 7 and Pixel 7 Pro models.
Make Photos Pop with Google Photos
Edit on the Go: With the Google photos app, photo editing is now in your palm. Select Magic Eraser and get rid of those unwanted objects.
Save and Frame: After erasing distractions, hit the save button, frame that great photo, and show it off!
Android Over iPhone: Sorry iPhone enthusiasts, these features work exclusively on Android phones, particularly Google Pixel. Time for a switch?
A New Era of Photo Editing
Forget the tedious work of editing on your computer. Google Pixel phones bring the power of professional editing right to your fingertips.
Edit, erase, focus, and save; it's all a tap away.
Focus on What Matters: Magic Eraser lets you rid your photos of distractions, focusing on what's truly important.
Bring Images to Life: Photo Unblur sharpens and enhances, breathing life into every image.
Tools for Everyone: Whether a pro or just someone who loves taking photos, these tools make every shot magazine-worthy.
Still wondering where to get your Google Pixel? Look no further than ur.co.uk.
Get a phone with a 90-point check, 12-month warranty, free insurance, £45 worth of accessories, a 30-day money-back guarantee, and we plant a tree with every order! Don't miss out!
So there you have it, the Google Pixel phone is not just another device; it's a creative companion that stands by you.
Snap, erase, perfect - a world of endless possibilities awaits! The time to jump in is now. Happy snapping!