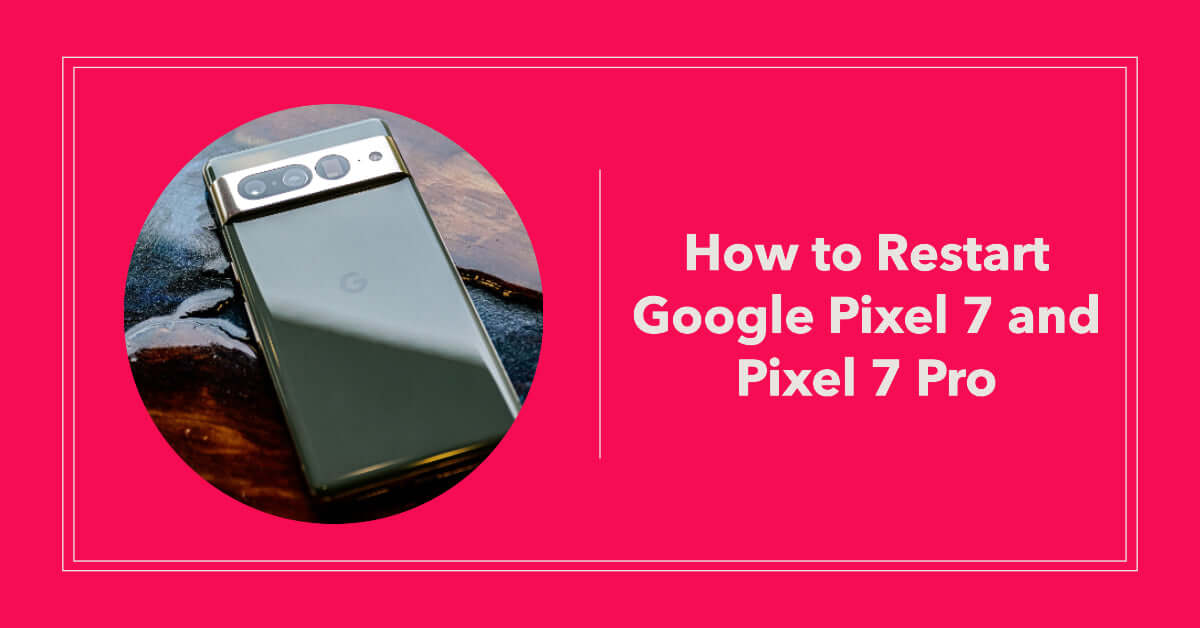 How to Restart Google Pixel 7 and Pixel 7 Pro: A Quick and Easy Guide
Need to give your Google Pixel 7 device a fresh start?
Restarting your device is easier than you think! In just a few simple steps, you can get your phone back on track.
To quickly restart your Google Pixel 7 or Pixel 7 Pro:
Press and hold the power button.
Tap 'Restart' from the options that appear.
Wait for your phone to power off and on again.
Before we dive deeper, be sure to check out our range of refurbished Google Pixel 7 and Google Pixel 7 Pro models on UR.co.uk, where quality meets affordability.
Pixel 7 & Pixel 7 Pro: Know Your Device
In the world of Google Pixel, every new release comes with a unique set of features, as our Pixel 6 vs Pixel 6 Pro comparison shows.
The Google Pixel 7 and Pixel 7 Pro are no different, featuring the very best that Google devices have to offer.
These devices are sleek, powerful, and packed with user-friendly interfaces, making them a popular choice for tech enthusiasts and everyday users alike.
As you browse our refurbished devices, you'll find that we offer a wide array of options, all of which have been tested through our PhoneCheck certification process.
The same rigorous checks apply to our refurbished Google Pixel phones, ensuring they're ready to serve you reliably.
Why Restart Your Google Pixel Device?
Before we discuss the steps on how to restart your Google Pixel 7 or Pixel 7 Pro, it's crucial to understand why restarting your phone can be beneficial.
According to our guide on how to look after your refurbished phone, restarting helps in:
Clearing cached data
Closing background apps
Refreshing your device's system
Potentially resolving minor software glitches
It's a simple yet effective remedy that can enhance the performance and longevity of your device.
Steps to Restart Your Google Pixel 7 and Pixel 7 Pro
In this section, we'll guide you on how to restart your Google Pixel 7 and Pixel 7 Pro.
Press and hold the power button: Find the power button on the right side of your Google Pixel 7 or Pixel 7 Pro. Press and hold it until you see a menu appear on your screen.
Tap on 'Restart': In the menu that appears, you'll see a few options. Tap on the 'Restart' option.
Wait for your device to restart: Once you've tapped 'Restart', your device will begin the restarting process. This usually involves the screen going dark for a few moments before the Google logo appears, signifying that your device is rebooting.
Keep in mind that if your device is unresponsive, you might need to perform a force restart instead.
You can do this by holding the power button and the volume down button simultaneously for about 10 seconds, until the device restarts.
What's in the Box?
When you purchase a refurbished Google Pixel 7 or Pixel 7 Pro from UR, you may wonder what's in the box.
Along with your device, you'll also receive a charging cable and adapter to keep your device powered up. 
That's not to mention 12 months of FREE insurance!
Tips for Maintaining Your Google Pixel 7 and Pixel 7 Pro
Once you've familiarised yourself with how to restart your Google Pixel 7 or Pixel 7 Pro, it's essential to know how to maintain your device to ensure its longevity.
Continue reading for our tips on keeping your Pixel device in tip-tip condition.
Keeping your Google Pixel 7 and Pixel 7 Pro Clean
Regularly cleaning your phone is a simple but crucial task. 
Given the frequent handling of mobile devices, they can quickly become a breeding ground for bacteria and germs.
Here's how to clean your Google Pixel 7 and Pixel 7 Pro safely:
Switch off your device and remove any attached cables: It's essential to turn off your device and disconnect any plugged-in accessories before cleaning.
Use a microfibre cloth: Dampen a microfibre cloth with a bit of water. Don't use any cleaning agents, especially those containing bleach or alcohol, as they can damage your device's surface.
Gently wipe the surface: Wipe your device gently, paying attention to the screen, back, and sides. Avoid getting any water into openings like the charging port or speaker grilles.
Dry your device: After cleaning, use a dry microfiber cloth to remove any moisture.
Software Maintenance
Keeping your device's software updated can significantly impact its performance.
Follow these steps to ensure your Google Pixel 7 or Pixel 7 Pro is running the latest software:
Connect to Wi-Fi: Software updates can be large, so it's best to connect to Wi-Fi to avoid depleting your mobile data.
Go to Settings: Navigate to the 'Settings' menu on your Google Pixel 7 or Pixel 7 Pro.
Scroll to System: Scroll down to the 'System' option and tap on it.
Tap on Advanced: Within the 'System' menu, tap on 'Advanced' to expand the options.
Tap on System Update: Finally, tap on 'System Update' to check if there are any available updates for your device. If there are, follow the on-screen prompts to install.
Remember, regular updates not only provide new features but also improve security and fix any potential bugs.
Protecting Your Device
Protecting your device physically can prevent accidental damages.
Consider using a phone case and a screen protector for your Google Pixel 7 or Pixel 7 Pro to safeguard against drops and scratches.
Browse through our collection of accessories to find the perfect fit for your device.
Battery Health
Maintaining your battery's health is essential for your device's performance. Avoid letting your battery drain completely.
Instead, aim to keep it between 20% and 80% most of the time. 
You should also avoid exposing your device to extreme temperatures, which can harm the battery's health.
UR Warranty and Insurance
Remember, all refurbished devices from UR come with a comprehensive warranty.
Plus, our device insurance can provide additional protection against accidental damage, mechanical breakdown, and more.
Rest assured knowing that when you purchase from UR, you're covered.
Trade-in and Upgrade Your Google Pixel 7 and Pixel 7 Pro: A Step-by-Step Guide
As your Google Pixel 7 or Pixel 7 Pro ages, or as your needs change, you might find yourself wanting to upgrade to a newer model.
At UR, we've made this process simple and rewarding with our trade-in program. 
Follow this guide to trade in your Google Pixel 7 or Pixel 7 Pro and upgrade to a newer device:
| Steps | Description |
| --- | --- |
| Device condition | We accept devices in various conditions. However, the device's current condition significantly impacts its trade-in value. Ensure that your device is clean and in the best possible state before you start the trade-in process. |
| Back up your data | To avoid losing any data, back up your Google Pixel 7 or Pixel 7 Pro. You can use Google's backup services or any third-party app that suits your needs. |
| Factory reset your device | After backing up your data, it's essential to factory reset your device. This action will erase all data and return the device to its original settings. |
| Get a trade-in quote | Visit our trade-in page and provide the necessary details about your Google Pixel 7 or Pixel 7 Pro. We'll provide an estimated quote based on the information you give us. |
| Send us your device | If you're happy with the quote, follow the instructions to send your device to us. We'll inspect it and confirm the trade-in value. |
| Receive your credit | Once we've inspected your device, we'll send you the agreed amount which you can choose to put towards your next phone! |
Remember, trading in your old device is not only an excellent way to upgrade at a lower cost, but it's also a sustainable choice.
At UR, we're committed to reducing e-waste and believe in giving devices a second life.
After trading in your Google Pixel 7 or Pixel 7 Pro, explore our wide selection of refurbished devices, including the latest Google Pixel models.
Our devices have a comprehensive 12-month warranty, and we offer an insurance plan for additional protection. Plus, we provide free delivery and returns for a worry-free shopping experience.
Whether buying or trading in your Google Pixel 7 or Pixel 7 Pro, UR is here to ensure you get the best value and service.
Don't forget to sign up for our newsletter below to stay updated on our latest deals and offers.