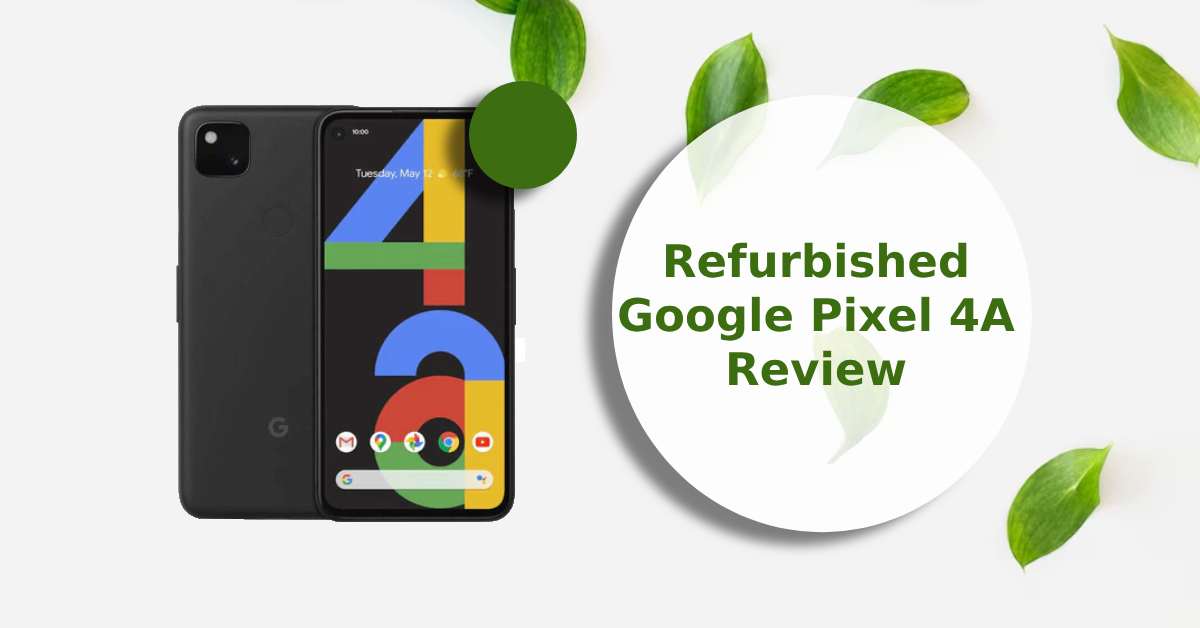 Refurbished Google Pixel 4A Review: More Than Just A Budget Phone
Amidst a sea of smartphones, the Google Pixel 4A emerges as a dark horse, offering a compelling concoction of affordability and reliable performance.
Its allure lies not in flashy gimmicks but in its steadfast promise to deliver a solid smartphone experience.
But how does it perform when you throw the word 'refurbished' into the mix?
Let's look under the hood and discover what's inside together.
Or if you want to get buying a new device straight away, don't let us stop you! Explore our range of refurbished Android phones to see what you can find today at UR.co.uk.
Key Takeaways:
Solid Battery Life: Though it doesn't support wireless charging, its capabilities are more than enough to get you through two days untethered from the plug.




A Range of Features: Get an efficient, compact phone with all the extras you'll need in your everyday life.



Refurbished: The refurbished phone has all this, plus continuous security updates, for a fraction of the overall original price.
Discover the Essence of Google Pixel 4A.
As Google's savvy stride into the budget-friendly realm, the Pixel 4A stands as a testament to the brand's commitment to accessibility without compromise.
Nestled comfortably in the mid-range tier, this clever device takes a confident step back from the grandeur of its predecessors, the Pixel 4 and Pixel 4 XL, and focuses on core functionalities without the daunting price tag.
With its charmingly minimalist design, the Pixel 4A champions ease of use, fitting snugly into the palm of the hand in a way larger devices can't mimic.
A single-handed user's dream, it shuns excess, offering a pure, undiluted Android experience that Google has carefully curated.
But what happens when you purchase its 'refurbished' counterpart?
Specs of the Google Pixel 4A
When exploring the specs, it's clear the Google Pixel Pixel 4A refurbished cut the fluff and kept what you truly need:
Dimensions: Just right for one-hand use at 144 x 69.4 x 8.2 mm.




Weight: Featherlight at 143 grams, it's no pocket-sag culprit.




Display: A crisp OLED always on display that makes colours pop and details sharp.




Power: A Qualcomm SDM730 Snapdragon 730G heart that keeps things zipping along smoothly.




Operating System: The device originally came with Android 10, but new updates are still available as of late 2023.




Audio Listening: The Google Pixel 4A has stereo speakers and a headphone jack to support in-ear or overhead headphones.




Battery Life: A dependable 3140 mAh that keeps the lights on all day. 




Unfortunately, the Google Pixel 4A doesn't come with wireless charging.



The Pixel 4A isn't trying to be a show-off; it's the reliable buddy that gets you through the day, takes great photos, and doesn't fuss.
It's got the guts to handle your daily grind with grace, and storage capabilities to support the little add-on along the way, such as found in the Google Pixel 4A 128GB refurbished.
And if you go for a refurbished model, you'll hardly notice it's not fresh out of the box- a fact demonstrated in our 90-point phone-checked refurbished devices, all designed to keep your phone running for years to come. 
This is a little nudge, telling you that sometimes, less really is more.
A Lens to the World
Let's shift focus to the real eye-catcher of the Google Pixel 4A – the cameras.
It's not just about the number of lenses but the quality of shots you can capture with what you've got.
And the 4A, my friends, makes every shot count.
A 12.2-megapixel single rear camera, armed with an f/1.7 aperture, means clarity isn't just a word; it's a promise.




The 8-megapixel selfie camera, with an f/2.0 lens, ensures your selfie game is strong, with an 84-degree field of view to get all your good sides.



Additional features: Portrait Mode, Astrophotography Mode, and more.
Performance of the Google Pixel 4A Camera
But what do these numbers translate to in real-world use?
Imagine capturing the twinkle of city lights in a low-light lounge, snapping a portrait that's as sharp as your suit, or filming a video that's stable enough to make a tripod jealous - it's that good.
The Pixel 4A's camera interface is the cherry on top – intuitive and easy to use, and with those sweet little tweaks like a cinematic pan that makes you feel like a professional photographer.
Plus, it arguably offers the same, if not better, photo quality than more expensive Pixel devices, like the Google Pixel 4.
So, whilst it's not trying to be a DSLR, it still gives a great amount of features for the price you're paying.
Features Needed for the Everyday
One of the many great perks of this device is its range of features suited to make your life a little bit easier.
Whether it be Google Assistant or its battery life, you've got options to adapt your phone to your everyday needs.
Let's explore them together.
Google Assistant Help.
The Google Pixel 4A isn't just another smartphone; it's your personal Assistant, thanks to the deeply integrated Google Assistant.
Consider it the genie in your pocket – always ready to leap into action. But it's not just about being ready; it's about understanding you, your commands, and your quirks.
Google's Assistant on the Google Pixel 4A has been fine-tuned to suit most commands and answer questions, meaning you don't have to speak in code or repeat yourself like a broken record to be heard.
Instead, speak freely to your phone, and the Assistant understands you in a way that could rival other AI interfaces, like that found on the more expensive iPhone SE 2022.
What does this mean for you? It means a world where you don't have to fumble typing on your phone, or adapt your voice to suit a robot.
Google Assistant has already done the job for you.
Battery Life on the Google Pixel 4A
And even better news, the longer battery life of the Google Pixel 4A also gives you the chance to untether yourself from a charging plug.
Its light design with simple features means the Pixel 4A can last up to two days on a single charge, depending on your average daily activities.
Plus, various tests also show how it can last 12 hours and 17 minutes of video playback, indicating the Pixel 4A has a better battery life than a large range of older pixel phones.
Isn't that nifty?
Note: each refurbished phone from UR.co.uk has at least 80% battery health, so battery life can vary slightly across different devices.
Extra Features
Plus, you'll also gain a variety of other features to help you on your ways, such as:
The Google Play Store to gain extra Google or third party apps to support your mobile experience, whether that be Google Docs or the latest game.




The Personal Safety app to notify you of sticky situations in real time.




Other noteworthy additions include Google Recorder, Now Playing, and the allowance of video calls, so you can see the faces of those dearest to you whilst on call.



Tack on seamless security updates that keep your device ahead of the curve, and a library of apps that's ever-growing, ensuring your Pixel remains not just relevant, but pioneering.
Whether for work or play, your refurbished Pixel is an evergreen companion.
Want to know more about Google Pixel phones? Well explore other devices with almost double the storage in our refurbished Google Pixel 7 Pro camera review and Google Pixel 4 XL review. Don't miss out any longer!
The Smart Economics of Refurbished Phones
Opting for a refurbished Google Pixel 4A from UR.co.uk isn't just about getting a deal; it's an investment in smart, conscious living.
Here's the scoop on why the refurbished path gleams with benefits:
Cost-Effective: Refurbished is the new black in tech fashion. It's about high-end quality without the high-end price tag. 




More money left in your pocket for life's other callings.




Eco-Friendly Choice: Each refurbished phone is a vote for Mother Earth, curbing e-waste and embracing a greener lifestyle without compromising on tech needs.




Free Insurance: We're talking 12 months FREE insurance. It's our way of saying, "We've got your back," covering everything from coffee spills to unintended tumbles.



Choosing a refurbished Pixel 4A is like finding that rare vinyl in a stack of records; it's a special kind of joy.
It's a nod to savvy spending, earth-loving, and all-around smart living.
It's not just a purchase; it's a pat on the back from future you, thanking you for making such a wise choice.
Final Thoughts on our refurbished Google Pixel 4A review
The journey through the specs and perks of the Google Pixel 4A ends here, but it's just beginning for you.
Step into the world of refurbishment from UR.co.uk and get all the functionality of a brand-new Google Pixel 4A - all whilst joining a commitment to sustainability.
Afterwards, your pocket, your conscience, and yes, even your tech-savvy ego can bask in the glow of a decision well made.