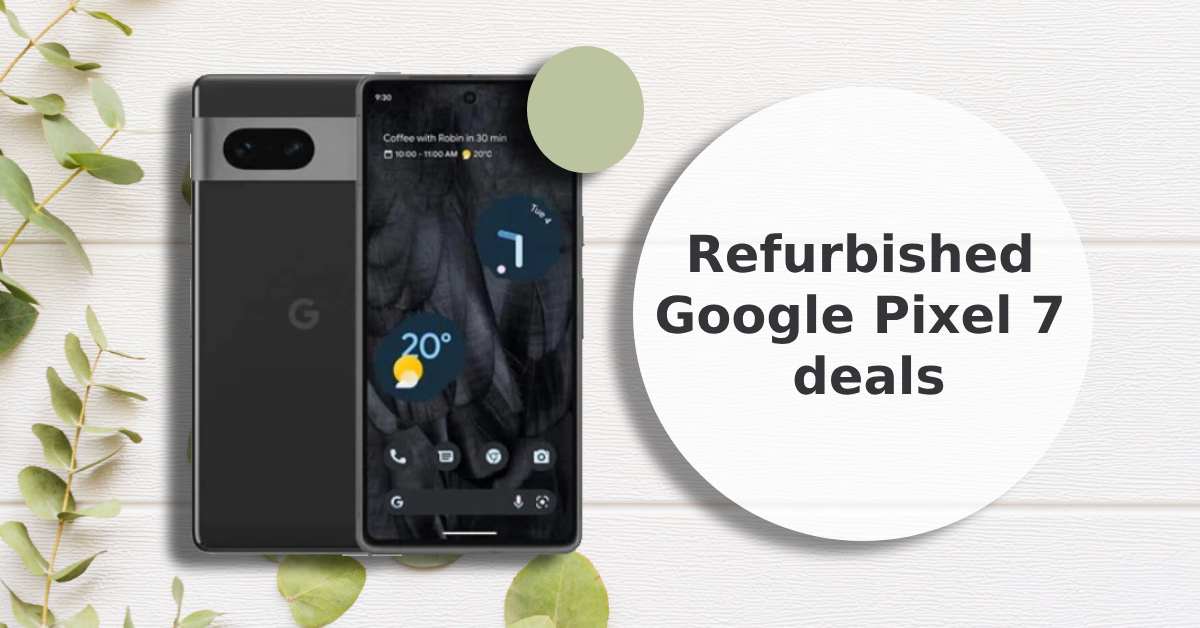 Refurbished Google Pixel 7 Deals UK 2023: Seventh Time's a Charm!
Are you craving the latest mobile technology but baulk at the eye-watering price tags?
What if I told you the Google Pixel 7—with its superb camera and extreme battery saver mode—can be yours without breaking the bank?
Yes, we're talking about scoring refurbished Google Pixel 7 deals that make sense for both your wallet and your tech cravings.
Stick around to find out more.
Do our amazing refurbished Google Pixel devices already tempt you? Well, explore our range today; a Google Pixel 7 refurbished by us might be your next big purchase.
Key Takeaways
Key Specifications: Enjoy your everyday mobile experience with impressive specs.




Audio Luxury: Have nifty little features that tailor themselves to you.



Refurbished Devices: Decode the terminology around "refurbished" and know exactly what you're getting.
Specifications of a Google Pixel 7
If you're interested in a Google Pixel 7 but want to know more, then hold on!
Before you dip into your wallet, we've got some vital intel on the stellar specs of this marvel of a device.
Whether you're eyeing a brand-new shiny toy or opting for a refurbished gem, you're in for a treat of top-tier hardware.
Display: A 6.3-inch AMOLED display with 1080 x 2400 pixels resolution and a 90Hz refresh rate ensures your video quality will be vivid and scrolling smooth as butter in your favourite apps.




Processor: The phone employs the Google Tensor G2 chipset, an upgrade from the Google Pixel 6's Google Tensor, so expect even smoother operating system transitions and less lag.




Memory: Touting 8GB of RAM and either 128GB or 256GB storage options, room for your digital content is hardly a concern—you can download all your beloved apps with space to spare.




Battery Life: A robust 4,355mAh non-removable battery with compatible wireless charging is part of the package, promising durability and longevity, even when you engage the extreme battery-saver mode.



In a nutshell, the Google Pixel 7's stunning display, rapid processor, and enduring battery life offer substantial bang for your buck, whether you opt for a new or refurbished device.
Unearth the Pixel 7's Photographic Mastery
In a market flooded with phones boasting camera prowess, the Google Pixel 7 raises the bar, delivering photos that'd make even professional photographers nod in approval.
Forget awkward angles and dully lit shots; this device promises to turn even the clumsiest of us into selfie savants and landscape legends.
Vivid, Detailed Snapshots
With its 50MP main camera, the Google Pixel 7 doesn't just snap photos; it crafts visual stories filled with stunning clarity.
Far from an exercise in pixel-packing, this sensor elevates each minuscule detail, capturing scenes from bustling street markets to serene sunset beaches with equal aplomb.
Plus, pair that with the 12MP ultra-wide lens, and you suddenly find yourself playing the director, framing sweeping landscapes and epic group selfies that defy the conventional borders of mobile photography.
But it's not just about the numbers; it's also come packeted with more helpful features, like autofocus and Night Sight.
Forget the aimless screen tapping of yesteryears; this device zeroes in on your subject with laser-like precision, eliminating blurriness and taking your photo game to new heights no matter what the condition.
The refurbished Google Pixel 7 becomes not just a device, but a reliable companion for both life's spontaneous moments and meticulously planned photo opportunities.
Adaptive Sound on Google Pixel 7
Say goodbye to fumbling around with volume controls and equaliser settings.
The Google Pixel 7 boasts an Adaptive Sound feature, effortlessly tailoring your auditory experience to your environment.
It's like having a sound engineer right in your pocket.
The Genius Behind Adaptive Sound
Utilising the phone's sophisticated microphones, Adaptive Sound senses the decibel levels and unique acoustics of your surroundings.
Whether you're nestled in a quaint home office or navigating the cacophony of a bustling city street, this feature works in real-time to optimise your audio.
And the ingenious part? This isn't a glaring, abrupt change. You won't feel the need to dive into settings and fix what the phone adjusted.
Rather, the changes are so nuanced that you'll feel the audio has naturally adapted to your new locale, much like your eyes adjust to varying levels of light.
The Perks of a Google Pixel 7 Refurbished
Dive into the world of refurbished phones, and you'll soon find it's not just a playground of savings, but also an oasis for eco-conscious tech aficionados.
Here, we demystify why opting for a refurbished phone—be it a Pixel 7 or another gadget—is a stellar move for both your wallet and Mother Earth.
Save Yourself Some Money
Lusting after the latest tech can run your bank account dry.
But refurbished phones, which are rigorously tested and restored to their former glory, offer you the coveted features without the eye-watering price tag.
You get to own a high-end phone that behaves like new but costs significantly less.
It's like buying a luxury car with just a few miles on it—the same exhilarating drive, less sticker shock.
Sustainability is More than a Buzzword
With climate change looming like a storm cloud on the horizon, every choice counts.
Picking up a refurbished phone significantly lowers your carbon footprint.
Why? Because reusing a device instead of tossing it into a landfill stops the cycle of constant manufacturing and the wastage it brings along.
Get a refurbished phone and be one of the many tackling the 1.6 million tonnes of e-waste products in the UK each year.
Frequently Asked Questions
Puzzling over whether to grab a refurbished Pixel 7? 
Let's clear the fog and lay out some crisp, cut-to-the-chase answers.
How Does the Airtime Plan Work with Refurbished Phones?
Let's talk airtime plans.
Generally, a device plan just covers the cost of your phone, whilst an Airtime plan is designed for the extra bits and bobs when you're using it, such as data, minutes and texts.
Different mobile networks offer their unique spins, encompassing elements like a fair usage policy, unlimited data, and unlimited minutes.
However, when you buy from UR.co.uk, you're upfront cost often covers the device alone.
This means you're not a tangled web of mandatory add-ons, instead allowed to choose an Airtime plan yourself that aligns with your budget and lifestyle.
How Reliable is the Battery Life in Refurbished Android Phones?
Are you worried about the refurbished Pixel 7 leaving you in a pickle? Fret not.
The battery life on these phones gives you hours of uninterrupted screen time, fast charging capabilities, and the assurance of not having to lug around a charger.
And remember, when you shop at UR.co.uk, you are guaranteed to have at least 80% battery health with every device.
If you still have questions or are on the hunt for jaw-dropping deals, you won't want to miss out on these exciting guides on refurbished Google Pixel 6 deals and Google Pixel 7 Pro deals. There are more offers you don't want to miss!
Final Musings on the Refurbished Pixel 7 deals
From camera prowess to adaptive sound finesse, the Pixel 7 offers an ensemble of features that tick all the right boxes.
Couple that with the cost-efficiency and environmental kudos of choosing a refurbished device, and you've got yourself a win-win scenario.
So, if your fingers are itching to own this technological marvel, what's stopping you? Get a Google Pixel 7 refurbished by us today, and receive peace of mind knowing our one year warranty has got you covered.
Make the smart choice now.