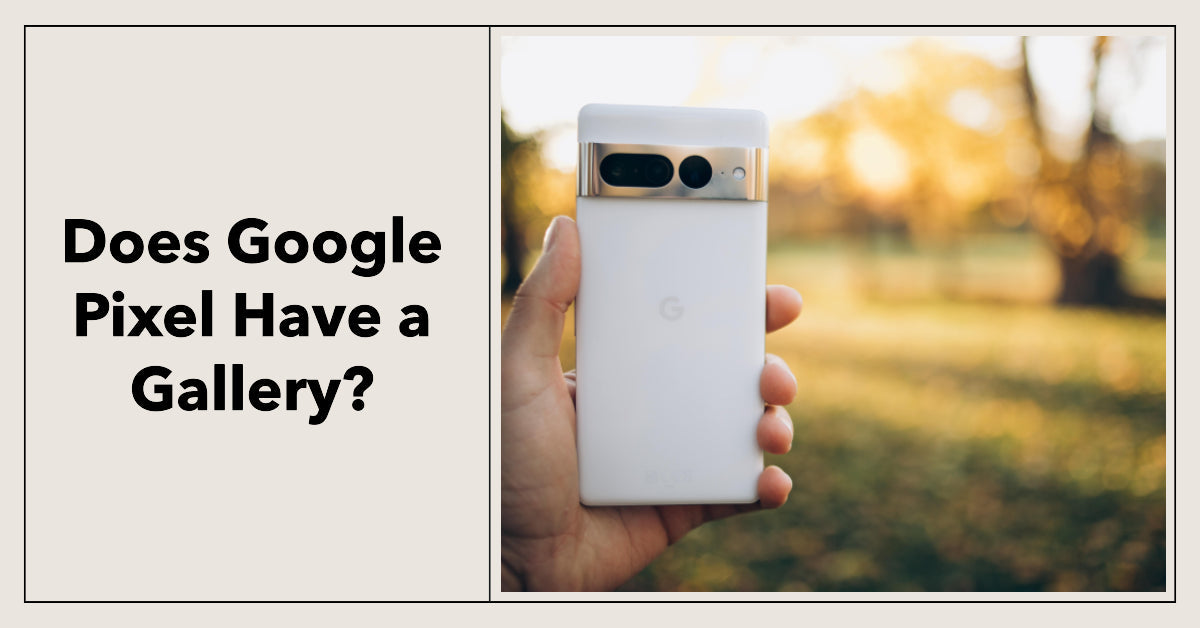 Does Google Pixel Have a Gallery? Dive into the World of Google Photos!
Google's Pixel devices have quite a reputation when it comes to high-quality photography.
But does Google Pixel have a gallery? Yep! Google Photos, a handy gallery app, comes installed as standard on Google Pixel phones.
It's more than just a photo storage hub. From advanced editing features to cloud backup, Google Photos has it all. 
Want to see your memories come alive? Read on.
But don't forget - here at ur.co.uk, we offer these high-quality refurbished Google Pixels with a 90-point check, 12 months of FREE insurance, and even a 30-day money-back guarantee.
Now, let's explore the gallery!
Your Google Pixel Gallery App: A Virtual Treasure Chest
Google Photos isn't just your average photos app. Imagine having your pictures and videos organized neatly, spiced up with AI-driven details and editing features.
You can even access those memories without an internet connection, thanks to offline Google Photos alternative methods.
Let's dive into the treasure chest:
Images & Videos: Your Pixel phone displays these in default view, all neatly arranged.
Editing Tools: Cropping, blurring, colour adjustments - the gallery app has it all.
Library Access: Tap the library and create your custom albums; sync with other devices too!
Locked Folder: Got a secret? Keep it locked. But remember, no cloud backup for this one.
Storage Options: Original quality, storage saver, or express? You choose.
Transforming Images with the Google Photos App
Ever wished for a gallery app that's more than just an image holder? Google Photos on your Google Pixel does just that.
From photos to camera features, it's a playground for both amateur snappers and pro photographers. 
Here's a sneak peek:
AI Recommendations: Get smart suggestions for your photos based on the content. Food? Landscape? You name it.
Advanced Editing Features: Play with filters, layouts, and even video editing. Make your memories pop.
Collaboration & Sharing: Create shareable albums, chat within shared memories, and much more.
Whether it's your default Google Photos or other gallery apps on your Pixel phone, the tools to transform your photos and videos are at your fingertips.
It's your phone, your gallery, your masterpiece. So why wait? 
Experience the magic with a Google Pixel, and unleash the artist in you!
Unleashing Creativity with Google Photos: The Pixel Advantage
The magic of Google Photos doesn't stop at mere storage and display. The app transforms your Google Pixel into a robust creative hub, allowing you to manipulate and enhance your pictures and videos like never before.
Here's the creative juice you can sip on:
The Edit Tab: A Portal to Perfection
Cropping and Adjusting: Cut, rotate, and tweak your images to the perfect ratio.
Portrait Blur: Add professional touches with portrait blur; make your subjects stand out.
Colour Mastery: From vibrant hues to subtle shades, control the colour dynamics.
AI Enhancements: Let the machine learning recommend enhancements based on your photo's content.
Video Editing: Not Just for Pictures
Standard Tools: Cut, trim, adjust brightness, and more - all within your Google Photos app.
Memories Creation: Get animations, collages, and movie recommendations based on uploaded media.
Music and Effects: Add music or apply effects to turn your clips into cinematic experiences.
Managing Offline: The Google Photos Alternative
Offline Access: Sync folders and access your media even without an internet connection.
Device Folders Management: Customize your device folders for a personalized gallery view.
Unlimited Storage: Even without going online, manage your photos with ease.
Safeguarding Memories: Security with Convenience
Locked Folder Feature: Secure private photos and videos without cloud backup.
Clear Device Storage: Identify and delete backed-up media files to free up space.
Accessible on Desktop: Through Google Drive app, seamlessly upload local folders.
Make the Switch: Your Perfect Pixel Awaits
What makes the Google Pixel stand out is how it elevates your gallery experience. With Google Photos as your default gallery, the world of photos and videos finds a new definition.
Be it the easy access to your library, the handy editing tools, or the features to secure your memories - it's all here.
At ur.co.uk, we understand the joy of owning a Google Pixel phone, including the Pixel 7 and Pixel 6 Pro.
Along with our 12-month free insurance and £45 worth of accessories, we make sure you have everything to create, explore, and enjoy.
So why just view photos when you can make them come alive? Grab your Google Pixel today, and let your creativity soar!
And remember, with every order, you're planting a future with us – one tree at a time.