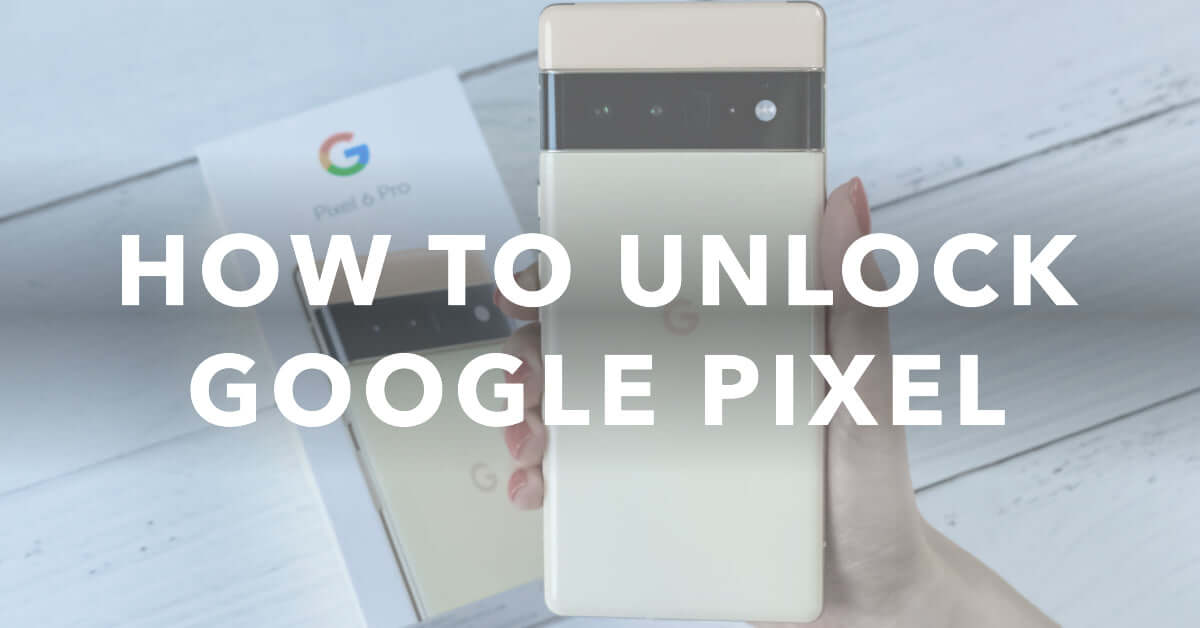 Set Your Pixel Free: How To Unlock Google Pixel without Losing Data
Locked out of your Google Pixel? No worries!
You can use the Pixel repair tool, recovery mode or a factory reset to get back in.
Read on for the lowdown!
Eyeing an upgrade? snag a top-notch, certified refurbished Google Pixel from ur.co.uk. Every purchase plants a tree, and you get 12 months FREE insurance and £45 of free accessories. It's a win-win!
Give Your Pixel a Quick Reboot Before Anything Else
Before attempting any fancy unlocking manoeuvres, try the simple fix of turning your Google Pixel off and on again. 
Press and hold the power button for at least 10 seconds until the device fully shuts down.
Once the screen darkens, release the power button and wait a few moments. Next, reboot your Pixel by long pressing the power button again until you see the familiar Google logo.
This basic reboot can solve many minor software glitches that lead to sudden lockouts. So don't forget to try it first!
Lean on the Pixel Repair Tool to Remove Screen Locks
Google designed their own specialized unlocking tool for freeing Pixels from lock screen purgatory.
The Pixel Repair Tool works by connecting your phone to a Windows PC via USB cable.
After installing the repair tool on your computer, select "Remove screen locks" from the menu. 
The app will automatically detect your Pixel and guide you through removing any passwords, PINs, or patterns blocking access.
This is one of the simplest ways to regain entry without affecting your data. 
And it works like a charm on most models, including the Pixel 4a, Pixel 5, Pixel 6, and Pixel 6 Pro.
Boot Into Recovery Mode to Reset Locks
Android phones like the Pixel have a secret backdoor for getting past lock screens called Recovery Mode. 
Here's how to use it:
First, turn off your Pixel. Once it's fully powered down, press and hold the Power button and the Volume down button at the same time.
Keep holding both buttons until you see the Recovery Mode menu appear on screen. 
Use the Volume keys to scroll down to the "Wipe data/Factory reset" option. Finally, select it by pressing the Power button.
This special factory reset bypasses lock screens by erasing them, but keeps your Google account details intact.
So right after your Pixel restarts, just log back into your account and voila! Your lock is removed without losing apps and data.
Reset Your Pixel as a Last Resort
If all else fails, a standard factory reset will obliterate any trace of your lock screen. Just know that this also erases everything on your phone storage.
To initiate a nuclear factory reset, power off your Pixel first. Then, turn it back on and tap "Forgot password?" below the lock screen prompt.
Follow the on-screen cues to fully reset your device. Once finished, your Pixel will run like brand new.
You'll just need to enter your Google account details again during setup to restore your data.
Obviously, this should only be used as a last ditch attempt when other options aren't working. But it will definitely remove any stubborn locks!
Break Out the Big Guns: ADB and Fastboot
For seasoned techies facing an extra stubborn lock, Android Debug Bridge (ADB) and Fastboot mode provide advanced unlocking options.
These require connecting your powered-down Pixel to a computer via USB and entering special commands to boot it into debugging modes. 
From there, you can use coding to unlock the device.
It's a complex process best left to programmers. But if you love a technical challenge, look up ADB and Fastboot unlocking guides tailored to your specific Google device. 
Just tread carefully, as mistakes can brick your Pixel!
Call Upon the Google Gods to Work Their Magic
If you remember your Google account but not your lock password, try Find My Device. 
Simply log into your Google account on any browser and use the remote unlock feature.
This sends a special signal to your Pixel allowing you to reset the screen lock. It's like magic - the Google gods smile upon you and regain access!
As long as you don't do a full factory reset, your data remains intact through the unlock process.
What Are the Odds of Losing Your Data?
Unless you opt for the full nuclear factory reset, most unlocking methods won't touch your actual data. They simply remove the password or pattern keeping you from accessing your Pixel.
Your photos, downloads, notes, and apps are stored separately from those lock screens. So you can rest easy knowing your data probably won't disappear during the unlock process.
Of course, it doesn't hurt to back up your Pixel regularly as a precaution. But typically, unlocking won't nuke your stuff.
Time to Call In the Phone Doctors!
If you're still locked out after trying all the tricks above, it may be time to hand your Pixel over to the professionals. Google's own device support team offers world-class troubleshooting.
For quick, affordable repairs, ur.co.uk has qualified phone experts with decades of combined experience under their belts. 
They can swiftly unlock your Pixel and get you back up and running!
In Summary: Liberate Your Pixel Without Losing Your Stuff
Getting locked out of your Pixel can really put a damper on your day. But even the most stubborn lock screens can usually be removed without destroying your precious data.
Tools like the Pixel Repair app, Recovery Mode, ADB commands, and remote unlocking services do the trick in most situations. Just pick your unlocking method carefully to avoid resetting your device unnecessarily.
With some strategic troubleshooting, you can regain access to your device! 
Just be sure to reset your lock password afterwards, so you don't end up trapped again.
FAQs: Common Google Pixel Unlocking Queries
Got additional questions about liberating your locked-down Pixel? Here are some frequently asked topics to aid your unlock quest:
How do I factory reset my Google Pixel phone?
Well, to factory reset Google Pixel, you just need to turn off your phone, restart, tap "Forgot password?" below the lock screen, and follow the prompts to select factory data reset. This will erase everything and reset the device.
What if I forgot my Pixel's password and pattern?
If your Google Pixel is locked, try rebooting into Recovery Mode. Or use Find My Device to remotely reset your password. The Pixel Repair Tool can also remove screen locks from a locked Android phone without deleting your stuff.
Can I unlock an Android phone without losing data?
Yes, you can use Recovery Mode or the Repair Tool to unlock your Android phone while keeping your files and account details intact. Just don't do a full factory reset of your Google Pixel.
Why does my Pixel keep restarting and showing the boot screen?
This usually happens when some software files got messed up. Try restarting first. If that doesn't work, you may need to reset the Google Pixel device.
I forgot my lock pattern - how do I regain access to my Pixel?
Boot into Recovery Mode and select "Wipe data/Factory reset" to erase the lock pattern. Re-enter your Google account when it restarts to get back in.
What if my Pixel is stuck on the Google logo during boot?
Force restart by holding the power button for 30+ seconds. If it's still stuck, you may need to factory reset the Android device.
How can I unlock my Pixel without a computer?
Recovery Mode and Find My Device allow Android device unlock without a PC. But for best results, use the Pixel Repair Tool on Windows.
I forgot my Google account password - can I still unlock my Pixel?
Indeed, it's possible. You can bypass the issue by performing a factory reset on your device. Alternatively, you can also utilize the Pixel Repair tool to resolve it.
What happens if I do a factory reset on my Pixel?
A full factory reset will erase everything stored on the device. You'll have to reinstall apps and re-enter account info afterwards. Only use as a last resort if nothing else works.