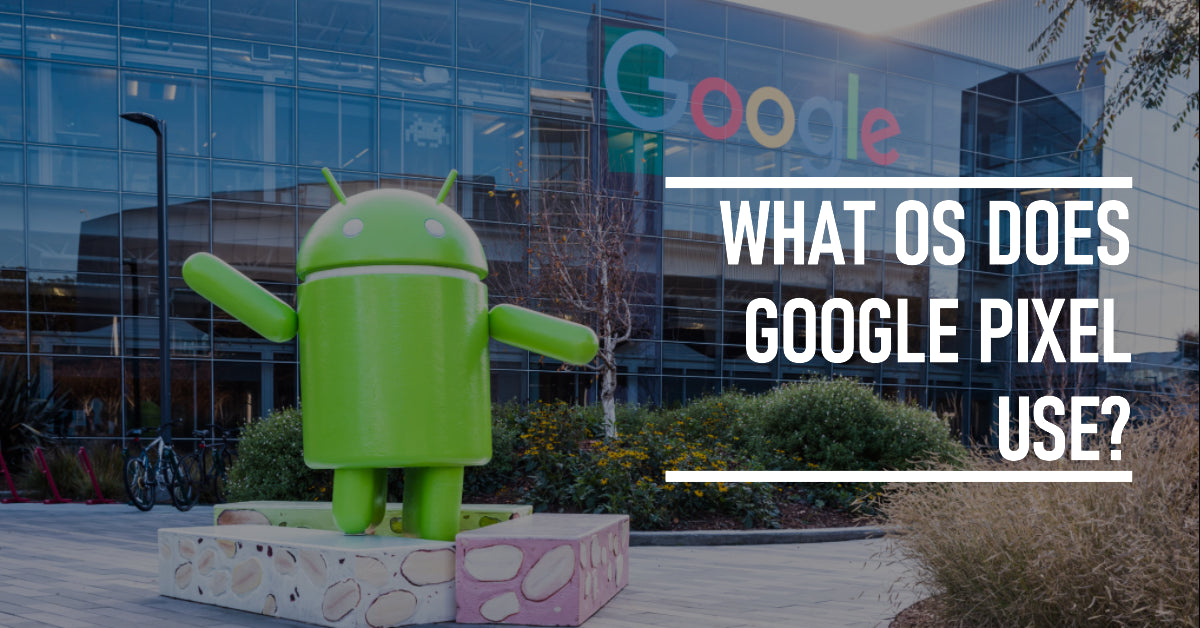 What OS Does Google Pixel Use? A Deep Dive for UR Phone Buyers
Dive into the seamless universe of Google's Pixel phones, powered by the robust Android OS.
Our comprehensive guide unveils the synergy between the Google Pixel and Android, promising a swift, clutter-free user experience.
Ready to immerse yourself? Continue reading to find out all you need to know.
Looking to make the switch? Discover the range of refurbished Google Pixel phones at ur.co.uk!
Introducing Google's In-House Pixel Smartphone Lineup
Examining Google's Motivations for Selecting Android
Android makes perfect sense as the operating system of choice for the Pixel lineup.
Its flexible open-source nature gives Google room to craft software innovations and Pixel-exclusive capabilities.
On top of this, Android allows seamless integration with Google's wider ecosystem of apps and services.
Sounds good, right?
Customization and Control
Google's Pixel phones offer an unparalleled software experience, owing to Android's deep level of customization.
The tech giant masterfully fine-tunes the interface, handpicks default apps, and curates pre-installed features.
In contrast, Apple's iOS ecosystem has a more walled-off approach, limiting such extensive software customization possibilities.
Tight Integration Opportunities
Pixel phones, with their Android platform, provide a unique advantage.
Google's own apps and services, including Gmail, Maps, Assistant, and Photos, are seamlessly integrated into these devices.
The depth of this integration surpasses what iOS devices can offer.
Pre-Release Software Development
Given that Android is open source, it enables Google to craft and fine-tune versions of the software that are precisely optimized for Pixel devices.
The use of pre-release developer previews serves as an invaluable tool for refining the software, ensuring it's polished and primed for public release.
The Benefits of Stock Android on Google Pixel Phones
Pixel phones stand out from other Android devices notably due to their use of a pristine, untouched version of the operating system.
Owing to this stock Android approach, users experience substantial performance advantages coupled with swift access to the freshest updates of the Android version.
No Bloatware or Performance Drag
With stock Android, there is no bloatware or duplicate apps dragging down performance. 
The interface feels fast and fluid. Updates can roll out quickly with no third-party skin holding things up.
Feature Updates Direct from Google
Pixels get feature updates and monthly security patches direct from Google on day one. 
Other Android phones often wait months for the latest Android version updates to arrive.
Streamlined Look and Feel
Stock Android also provides a consistent streamlined interface designed by Google. 
There are no messy third-party skins overwhelming the experience and User interface.
Reviewing the Android Version History on Pixel Phones
Google Pixel phones have consistently launched with the newest Android version year after year. The first Google Pixel came with Android 7.1 Nougat.
Subsequent Pixels launched with Oreo, Pie, Android 10, 11, 12L, and more recent versions, including Android 14, launched in the latter half of 2023.
Leading Updates and Long-Term Support
Major Android updates have a tendency to land on Pixel phones before any other device.
Google pledges its commitment to Pixel users by guaranteeing at least three years of version updates, along with monthly security patches.
Such a level of support outshines that offered by other brands in the Android market.
Showcasing New Android Capabilities
New Android versions debut on Pixel first, allowing Google to highlight the latest OS capabilities. For example, Android 12L offered deeper multi-tasking support and a two-column layout for large-screen Pixels.
Developer Previews Allow Refinement
Google releases early Android developer previews for each upcoming version. This allows extensive quality assurance testing and user feedback to refine the OS before public release.
Why Android Uniqueness Enhances Pixel's Capabilities
Android's flexibility gives Google opportunities to build innovative Pixel-exclusive features that showcase the capabilities of their devices.
AI-Enhanced Computational Photography
For example, the Pixel's Magic Eraser utility leverages Google's AI expertise to easily remove unwanted objects and distractions from photos. This takes advantage of Android's openness.
Creative Camera Modes
Motion Mode on Pixel phones creates dramatic motion blur effects on subjects in action. Long Exposure offers similar artistic effects for low light scenes. 
These showcase the photography strengths of Pixel hardware combined with Android.
Next-Generation Assistant Integration
Google Assistant is deeply integrated into Pixel phones, enabling conversational voice commands, real-time translation, and more. This highlights Google's AI leadership through their flavor of Android.
Who Are Pixel Phones Designed For?
With their combination of responsive software, excellent cameras, and AI-enhanced features, Pixel phones cater to discerning Android enthusiasts who want the ultimate Google-designed mobile experience.
Android Fans Seeking Premium Hardware
Pixel appeals to Android devotees seeking premium hardware directly from Google. These users want maximum quality and access to the latest OS capabilities.
Tech Lovers Who Enjoy Photography
With class-leading camera performance, Pixel also attracts photography buffs looking for the best smartphone cameras on the market. The computational photography prowess highlights Android's capabilities.
Those Seeking a Streamlined Experience
Users frustrated with bloated third-party Android skins find Pixel's clean stock software experience appealing. There are no duplicate apps or performance drags.
Closing Thoughts on the Tight Integration of Pixel and Android
Discover the exceptional blend of Google's advanced technologies and Android's flexibility with ur.co.uk's Pixel range.
Enjoy the seamless integration and deep customisation options that come with every Pixel device.
Experience the fluid performance of stock Android and stay ahead with early access to updates.
Explore ur.co.uk's Pixel range now and elevate your Android experience to new heights.
FAQs - Your Pixel and Android Phone Questions Answered
What makes the Google Pixel Phone's operating system unique?
The Google Pixel phone comes with the Android operating system, providing a clean, bloat-free experience. The Pixel 7, in particular, was launched with Android 13.
Google ensures that all Pixel phones receive major OS updates for at least three years after their release, thus always keeping your mobile operating system up-to-date.
How does the Google Pixel phone integrate with Google Photos?
One of the advantages of using a Pixel phone is its seamless integration with Google Photos. This allows for easy backup, organization, and accessibility of your photos anytime, anywhere.
Where can I buy a Google Pixel phone?
Experience the power of a Google Pixel phone from ur.co.uk. Our refurbished phones are rigorously tested, come with a 12-month warranty, free insurance, and £45 worth of accessories.
Plus, we offer a 30-day money-back guarantee and plant a tree for every order. Find your perfect Pixel on our website today!
What is Dual Pixel Phase Detection?
Dual Pixel Phase Detection is a camera technology utilized in Pixel phones.
It significantly improves autofocus speed and accuracy, contributing to the high-quality images Pixel phones are known for.
Does the Google Pixel Phone support wireless charging?
Yes, the Google Pixel Phone supports wireless charging. This feature is further complemented by products like the Google Pixel Stand, which allows easy docking and charging.
How is the battery life on the Google Pixel Phone?
The battery life on the Google Pixel Phone is robust, designed to last all day under typical usage.
Plus, features like Adaptive Battery can further optimise battery usage based on your habits.