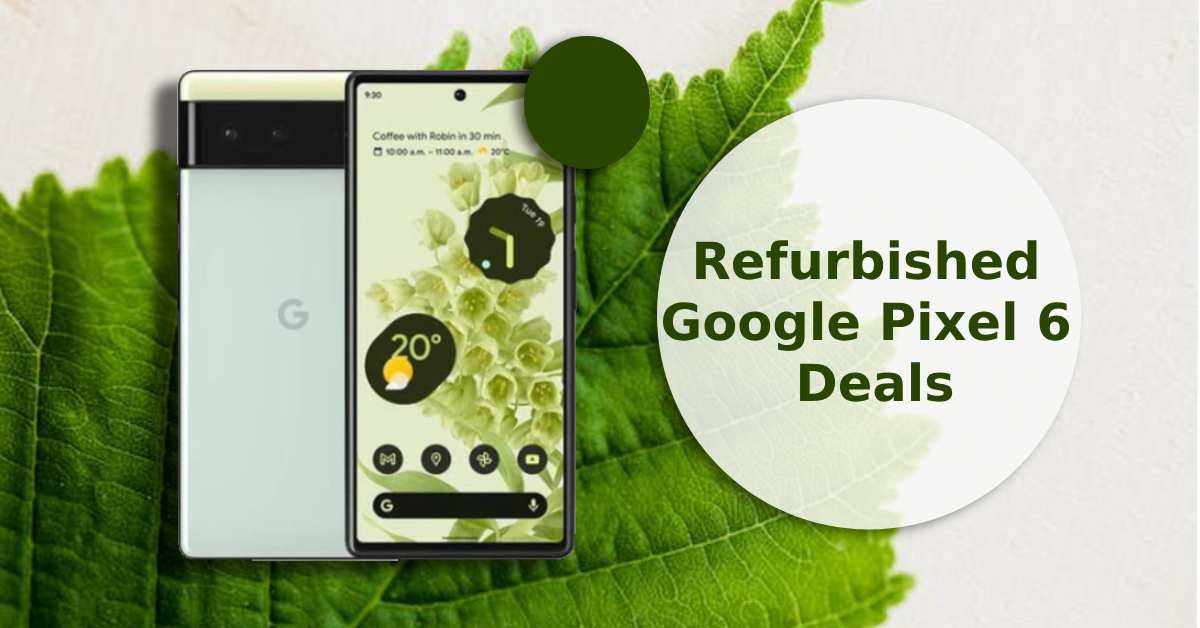 Refurbished Google Pixel 6 Deals [2023] - Your Ticket to Pure Android
So you're lured by the Google Pixel 6's cutting-edge features but hesitant about the sky-high price tag.
No worries; you can have your cake and eat it too.
Thanks to high-quality refurbished Google Pixel 6 deals, you can score a nearly-new device without breaking the bank.
Read on to find out more with the help of UR.co.uk!
But why wait? If you're looking for a Google Pixel 6 refurbished right here, right now, then explore our range of refurbished Google Pixel phones. We're here to save you time and money.
Key Takeaways:
Have It All: Save money and have all the features of a new phone.




Sustainability: Reduce electronic waste and save the planet whilst at it.



FAQ: Got more question? We have answers.
Key Specifications of a Google Pixel 6
When you're in the market for a phone, chances are you're not just looking for a pretty shell.
You want a device that meets your lifestyle demands, offers uncompromising performance, and perhaps most importantly, won't fizzle out when you need it most.
Well, lucky for you, the Google Pixel 6 comes in a sleek design with a range of features for your everyday needs, regardless of whether it's new or refurbished tech.
Dimensions: A sleek design measuring 158.6 x 74.8 x 8.9 mm gives it a premium hand feel.




Weight: Tipping the scales at 207 g—just the right balance between heft and lightness.




Display: You're looking at an AMOLED screen, 90Hz, HDR10+, with a size of 6.4 inches and a resolution of 1080 x 2400 pixels. That translates to sharp, vibrant visuals.




Chipset: The phone's heart is Google Tensor (5 nm), supported by an octa-core CPU.




Memory: Choose between a Google Pixel 6 128GB with 8GB RAM or 256GB with 8GB RAM.




Battery Life: Li-Ion 4614 mAh that's non-removable, capable of 50% charge in just 30 minutes with its 30W charger. 




And, when you get your phone from us, your phone is guaranteed to have a battery health of at least 80%.



Yes, the Pixel 6 is not lightweight in the tech arena.
It showcases a harmonious marriage of aesthetics and raw power, and offers a sublime experience, whether you're browsing the internet, capturing stunning photos, or just enjoying the crisp screen for your favourite show.
Pixel 6's Eye-Catching Camera Capabilities
Let's zoom in on the Pixel 6 camera, the beating heart of your social media game and the go-to gadget for those memorable snapshots.
Featuring a 50-megapixel wide camera, you're assured of high-definition photos that look like they were shot by a professional.
But the Pixel doesn't stop at grandiose vistas; it goes wider with its 12-megapixel ultra-wide camera. Panoramic scenes and group photos suddenly become effortless endeavours.
For the selfie enthusiasts among us, the 8-megapixel front-facing lens guarantees your best side is always on display.
Picture this: every detail captured, every moment frozen in time, and all without lugging around a cumbersome DSLR.
And if numbers talk, the Pixel 6's DXOMARK score of 132 shouts from the rooftops.
In its price range, this score is nothing short of a standing ovation, making it the best Google Pixel option for aspiring photography fanatics.
Powerhouse Google Tensor Chip
All right, let's talk brains—more specifically, the intellectual prowess of the Google Tensor chip that beats within the Pixel 6.
With its machine-learning capabilities, this chip turns your phone into something more than a device; it's practically a personal assistant.
Picture walking down the streets of Paris and needing quick translations from English to French. With real-time language translation, the Tensor chip ensures you're never lost in translation.
And that's not all; snap a photo or a video, and the chip's intelligent algorithms refine the quality to an artistic degree, sharpening each Pixel and enhancing the lighting.
No more worrying about noisy shots or washed-out videos; the Tensor chip is your personal photo editor and director rolled into one.
The Power of Refurbished Devices
If you thought the Pixel 6 was fascinating, brace yourself.
We're diving deep into the unsung hero of consumer choices—refurbished phones.
From the cash you save to the tree you virtually hug, getting your hands on a refurbished device is a triple win.
So, let's break down why this choice is an all-around winner.
The Eco-Friendly Move
Here's something you might not have considered: when you choose refurbished, you're basically becoming an environmental steward.
Yes, you heard right.
Every refurbished phone contributes to reducing e-waste and conserving the valuable materials used in new devices.
Think of it as a modern-day equivalent of planting a tree, all while enjoying your favourite apps and snapping enviable selfies.
An Investment You Won't Regret
Talk about a value proposition! 
These phones pack a punch, offering you top-notch performance without cleaning out your wallet.
In the case of a refurbished Pixel 6, you're looking at high-quality cameras, substantial battery life, and speedy processors at a fraction of the total cost of a brand-new phone.
So whether you want to invest in a new hobby, take a spontaneous road trip, or just treat yourself, that extra money in your pocket opens up a world of possibilities.
Quality That Speaks Volumes
Last but by no means least, let's address the elephant in the room: quality.
While the stigma of "used" often lurks in the background, refurbished phones from reliable vendors undergo rigorous tests.
Take our 90-point PhoneCheck, for example. It ensures that your phone is up to snuff, meeting industry-leading standards.
Apart from the rare mark, you get a device that's practically indistinguishable from a new one, ensuring you can savour every Pixel, byte, and beat without a second thought.
So, in essence, if you opt for a refurbished Pixel 6—or any refurbished phone for that matter—you're playing it smart on multiple levels.
FAQ for Future Refurbished Pixel 6 Owners
When diving into the world of refurbished smartphones—Google Pixel 6 included—a ton of questions pop up. It's like stepping into a whole new universe filled with geeky jargon and fine print.
That's why we're serving up answers to the four most burning questions you're probably thinking about right now.
Is the Google Pixel 6 Water Resistant?
You bet! The Pixel 6 is water-resistant.
However, keep in mind that while new phones often have this feature, we can't guarantee the same for all refurbished models.
Can I Choose My Network Provider?
Absolutely. Your refurbished Pixel 6 comes unlocked, leaving you free to pick a network that suits your data needs and coverage preferences.
What's the Delivery Process Like?
Once you make your purchase on our website, we're all about getting your shiny Pixel 6 into your hands, stat! 
Our delivery is quick with 100% biodegradable packaging, and you'll get full details on the delivery date, so there's no nail-biting waiting involved.
In a nutshell, whether you're new customers or a smartphone aficionado, opting for a refurbished Pixel 6 on a network of your choice is a deal you'll relish.
For those of you who are looking to stay ahead of the curve, don't miss our cutting-edge Google Pixel 7 Pro deals. It's the next big thing you'll want to keep an eye on!
Get a Refurbished Google Pixel 6 Today!
You've waltzed through the specs, snapped out of the pixelated daydreams about the camera, and even grilled us through your FAQs.
Now, you're standing at the crossroads, pondering the path to take.
Whether it's the cutting-edge Google Tensor chip or the prospect of a circular economy through refurbished options, there's a lot in the Pixel 6's corner cheering for you.
So don't wait any longer; buy a Google Pixel 6 refurbished by UR.co.uk and get rewarded with £45 worth of accessories free.
Take the next big step today.