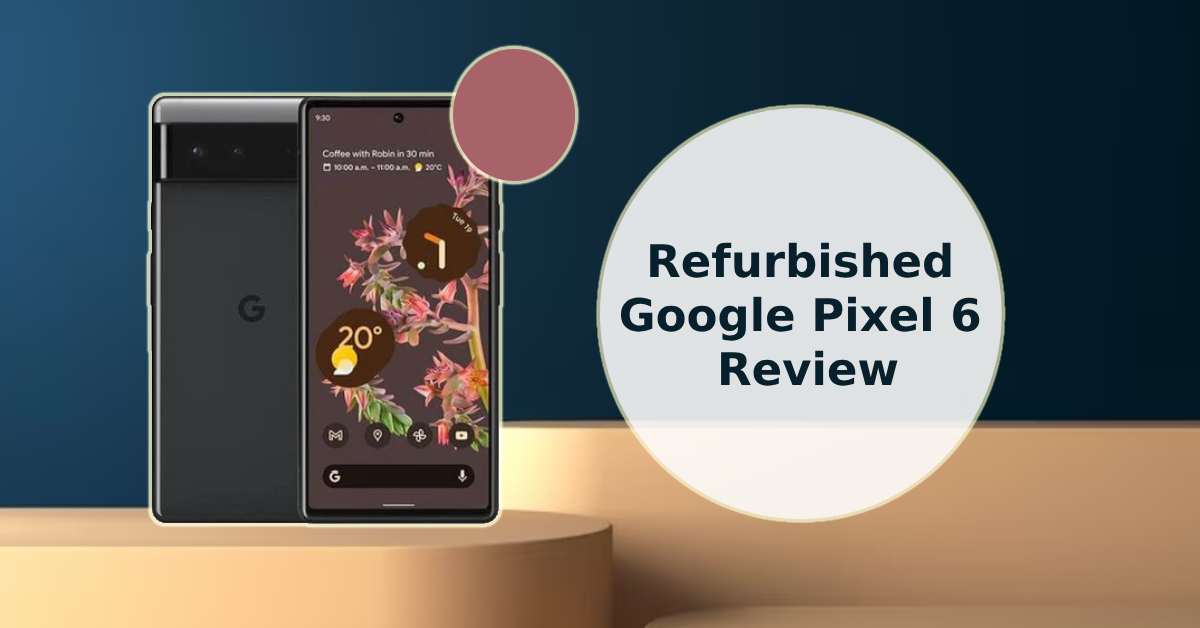 Refurbished Google Pixel 6 Review: Eco-Smart Choice for Tech Enthusiasts
The Google Pixel 6 Pro hit the shelves waving flags of innovation with its snazzy design and the spanking new Google Tensor chip under the hood.
Now, as a refurbished contender, it dangles the price of high-end specs without the wallet-whopping price.
The question is, does a refurbished version of the Google Pixel 6 still deliver the goods?
Want to take a look at different Google Pixel phones yourself? Explore our range of refurbished Android phones. There's more waiting to be found at UR.co.uk.
Key Takeaways:
Great Camera: Get amazing pictures with the rear camera, nestled in the new camera bar.




Excellent Battery: It has a long battery life with fast charging capabilities.



Refurbished Phones:

Receive all the unique features of the Google Pixel 6, but nearly half the price.
What to expect with a Google Pixel Refurbished?
Realised in 2021, the Google Pixel 6 promised innovation with its new Tensor System-on-chip, designed to improve AI and machine learning functions.
But, these changes came with a hefty price, which can still be seen in the brand-new Google Pixel 6 even today.
So, let's see what specs you receive when you purchase this device significantly cheaper, with the aid of the Google Pixel 6 refurbished.
| Specification | Detail |
| --- | --- |
| Dimensions | 158.6 x 74.8 x 8.9 mm |
| Display | 6.4 inches, AMOLED, 90Hz, HDR10+, 1080 x 2400 pixels |
| Chipset | Google Tensor (5 nm) |
| CPU | Octa-core (2x2.80 GHz Cortex-X1 & 2x2.25 GHz Cortex-A76 & 4x1.80 GHz Cortex-A55) |
| GPU | Mali-G78 MP20 |
| Main Camera | 50 MP, f/1.9, 25mm (wide), 12 MP, f/2.2, 17mm, 114˚ (ultrawide) |
| Front Camera | 8 MP, f/2.0, 24mm (wide) |
That's correct; it appears that you receive the same specs of a brand-new phone, even when the device has been reconditioned.
Plus, you all gain ample room for storage with the Google Pixel 6 128GB refurbished and the Google Pixel 6 256GB refurbished.
Curious about how a refurbished Pixel 6 stands up to daily demands and whether the savings justify the purchase? Stick around as we dissect its features even further.
Google Pixel 6 Battery Life
Venture beyond the sleek aesthetics and robust build of the Pixel phone, and you'll discover the Google Pixel 6 harbours a resilient source of power.
Its battery life doesn't merely tick the boxes for longevity but astounds with its endurance.
Imagine not having to reach for the power port for two full days; the Pixel 6 accomplishes this with ease under moderate usage.
Even when subjected to the rigorous demands of constant browsing, the device endures for over 14 glorious hours, surpassing its Pro sibling by a full hour.
Other Battery Features
Plus, the Qi wireless charging melds convenience with efficiency for the Pixel 6, accommodating up to 12W of charging capacity for those who prefer a cord-free experience.
It's not just about lasting longer; it's about smart power management.
And the presence of the Extreme Battery Saver mode on the Google phone is akin to having an emergency power reserve.
It's that extra layer, an extreme measure, to push the envelope when you find yourself in a pinch, ensuring your device remains awake even when every percentage point counts.
The Google Pixel 6 Camera
When it comes to the camera on the Pixel 6, Google has flexed its software muscles to squeeze every drop of quality out of the hardware.
In bright light or in your cosy living room, this camera doesn't miss a beat.
Colours pop, details are sharp, and even those tricky dark corners come out clear.
Night-time shots? No problem. The Pixel 6 isn't afraid of the dark, pulling in colours that make midnight seem like twilight.
Sure, it may not have the telephoto lens that its big brother, the Pixel 6 Pro, boasts, but don't think for a second it's lost any charm.
It's perfect for the shutterbugs who want a phone that fits snugly in their pocket but still packs a photographic punch.
Camera App Features
Plus, the device comes with a range of camera and photo editing features to adapt your image to your liking. Below are just a few included:
Portrait Mode: Like a pro camera, it blurs the background and keeps your friend or cat in crisp focus. 




This is compatible with your selfie camera and rear cameras.




Motion Mode: This one's for capturing your dog's frisbee catch or a skateboard trick, all without the blur.




Magic Eraser Tool: It's like having a magic wand to wave bye-bye to photobombers or rubbished ruining your perfect shot.



In a nutshell, the Google Pixel 6 camera may not have all the bells and whistles of pricier models, but it's a no-brainer for anyone after high-quality snaps without the fuss.
Google Tensor Processor
The heart of the Google Pixel 6's performance is the Google Tensor chip, a leap that brings the device not just in line with, but often ahead of its contemporaries.
Google's bold claim of an 80 percent uptick in CPU prowess and a staggering 370 percent GPU acceleration over its predecessor, the Pixel 5.
Users can feel this difference in the snappy responsiveness and the buttery smooth graphics.
Comparison to other Flagship Phones
Pitting the Google Tensor against the formidable Snapdragon 888 offers a peek into the future.
The Tensor excels in handling complex tasks and graphics-heavy games, making it a silent powerhouse.
Though the Snapdragon 888 holds its ground with an impressive AnTuTu 10 score and instruction set architecture, the Tensor's superior floating-point computational abilities and higher GPU frequency showcase its edge in certain arenas.
The significance of these advancements cannot be overstated—especially for a chip that's just stretching its legs in the market during its release.
With this level of performance, the Pixel 6 isn't just keeping up; it's setting the pace.
Other Notable Key Features
The Google Pixel 6 isn't just about its camera and processor; it's a symphony of features that cater to both convenience and aesthetics.
The inclusions are thoughtful, enhancing the user experience with each interaction.
Google Assistant: Seamlessly integrated to assist with daily tasks and searches, making the Pixel 6 a personal aide.




In-display Fingerprint Sensor: Provides quick and secure access to the phone, nestled beneath the vibrant display.




Always-on Display: Information at a glance without having to wake the phone, a perfect blend of utility and power efficiency.




Colour Variety: The Pixel 6 doesn't just work well; it also steps out in style with hues like Stormy Black, Kinda Coral, and Sorta Seafoam.



These features underline the Pixel 6's ambition to be more than a smartphone; they want it to be an indispensable part of your day.
From the moment the Always-on Display shows your first notification to the last "Hey Google" command of the night, the Pixel 6 is a constant, helpful companion.
Wrapped in its striking colour choices, it's a device that's as unique as its user—proving that utility can indeed come with a dash of personality.
Want to look at more Android phones without the hefty price of buying from the Google store? Look at our refurbished Google Pixel 6 Pro review and refurbished Google Pixel 4a review to learn more.
Reasons to Get a Google Pixel 6 Refurbished
With the Pixel 6's impressive features laid out, one might wonder about the smartest way to acquire this tech companion.
Refurbished options are not just a purchase but a statement—a blend of savvy shopping and conscious living.
Here are three compelling reasons to consider going refurbished:
Cost-Effective: Opting for a refurbished Pixel 6, you get the coveted features of a flagship at a slice of the original cost. It's a smart move, especially when considering the price and release date of new models.




Quality Assurance: With UR.co.uk, each device undergoes a rigorous 90-point phone check, ensuring you get a phone that meets the highest standards of performance and aesthetics.




Eco-Friendly Choice: Choosing a refurbished Pixel 6 is a vote for the environment. It reduces e-waste and the demand for new resources, aligning your tech needs with eco-responsibility.



When you opt for a refurbished Pixel 6, you're not just getting a premium phone; you're also making a choice that feels good in your hand and your heart.
It's a smart pivot from the conventional, championing both your financial and ecological ethos.
Frequently Asked Questions
In the realm of refurbished tech, questions bubble up like a well-made espresso.
Let's demystify some of the top queries about the Pixel 6 and get you up to speed on what this savvy device offers.
Does the Refurbished Google Pixel 6 Have Ample Screen Real Estate?
Absolutely, the Pixel 6 doesn't just flirt with excellence; it commits.
Offering a generous 6.4-inch OLED display, it ensures that whether you're gaming or scrolling, the visual experience is nothing short of captivating.
But if you want something a bit bigger, it's best to go with the Google Pixel 6 Pro refurbished, to be sure.
What About USB-C Charging Compatibility?
Indeed, the Pixel 6 embraces the USB-C revolution.
It charges with ease, matches the fast-paced world, and ensures that you're never left trailing behind with outdated ports.
Does the Google Pixel 6 Refurbished Still Have Consistent Security Updates?
Security is no joking matter, and the refurbished Pixel 6 takes it seriously.
Rest assured, Google's vigilance in updates is like a digital guardian, keeping your device shielded from the boogeymen of the cyber world.
Final Thoughts on Your Refurbished Google Pixel 6 Review
The Pixel 6, refurbished by UR.co.uk, is a symphony of specs.
Each feature, from the immersive screen to the vigilant security, composes a narrative of innovation and reliability.
It's a testament to Google's commitment to blending functionality with finesse.
Plus, with UR.co.uk, you're not just getting a phone; you're joining a commitment to sustainability and investing in a piece of tech that's been tuned to perfection.
Have fun shopping!