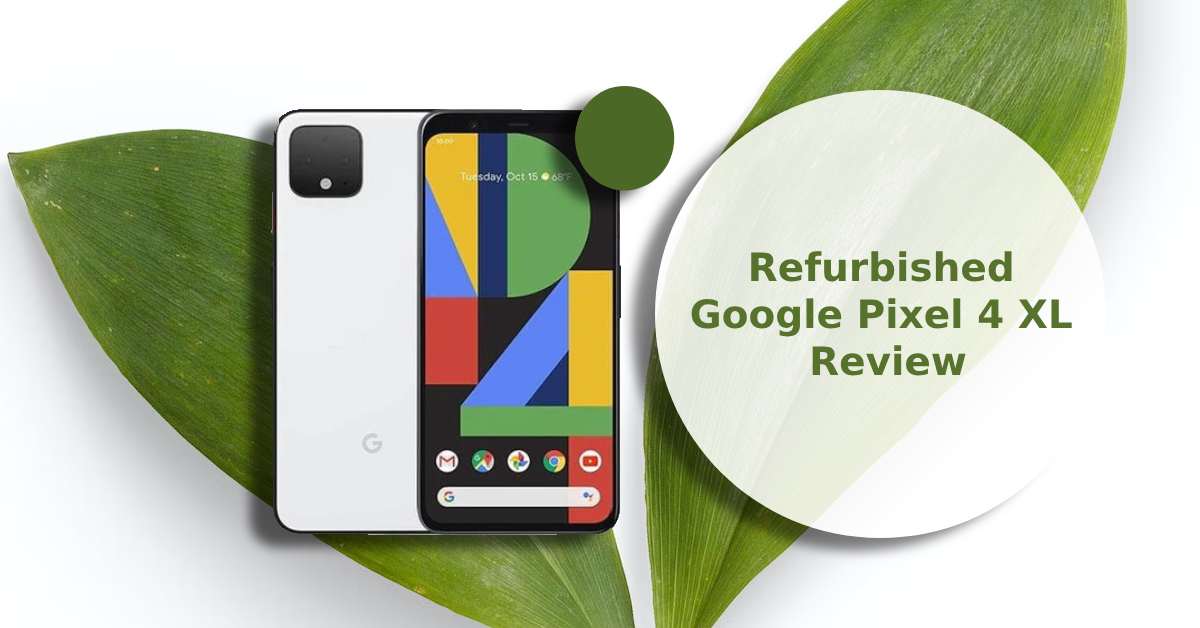 Google Pixel 4 XL Review: The Values of Going Refurbished
Are you looking for a phone that's got its game on point? The Google Pixel 4 XL might just be your jam, especially if photography and efficiency sit high on your wishlist.
After navigating the nuances of camera tech, battery life, and Google Assistant, you'll find that the device has aged well in both design and performance, especially when considering its price point.
Keen to learn more? Don't just skim the surface; let's plunge into every facet, peeling back the layers of what makes this phone tick.
Or do you fancy testing the device yourself? Who can blame you? Explore our range of refurbished Android phones today and see what UR.co.uk has to offer for you.
Key Takeaways:
Relevant Even Today: The Google Pixel 4 XL still supports future software updates to keep your device relevant for years to come.




Up-graded Design: Get better features than found in its predecessor, like Google Assistant and a new face unlock system that could rival Apple's Face ID.



The Refurbished Path: Receive all this cheaper than that brought at the Google store.
Arrival and Ambitions of the Pixel 4 XL
When the Google Pixel 4 XL burst onto the scene, it wasn't just another face in the crowd.
With ambitions as large as its display brightness, this Google phone sought to turn heads and sway Apple's loyalties.
At the heart of its innovation lies a neural coprocessor designed to give machine learning and overall performance a big boost.
Gesture control took a leap too, entering the realm of the almost magical with Motion Sense, letting you silence calls or snooze alarms with a mere wave of your hand.
Google Assistant, already a staple in pixel phones, got an IQ bump, aiming to solve your problems faster than you could type them into a G Suite account.
But how does this all fair when the Google Pixel 4 XL refurbished emerges onto the scene?
Basic specs of the Google Pixel 4 XL
Before we dive any deeper, let's explore the realm of the Google Pixel 4 XL specs.
Although some might consider them slightly outdated when compared to newer Android versions, this device still stands strong in the pixel lineup.
With the help of our 90-point phone check, you can expect the following regardless of whether it's a brand new phone, or brought refurbished.
Display: Sporting a 6.3-inch P-OLED screen with 90Hz refresh rates, it flaunts HDR capabilities and a resolution of 1440 x 3040 pixels.




Its pixel density is around 537 ppi, and don't forget that trusty Corning Gorilla Glass 5 shield.




Dual Camera System: The main event here is a 12.2 MP wide-angle lens with an f/1.7 aperture coupled with a 16 MP telephoto lens boasting an f/2.4 aperture.




Selfie Camera: For those selfie aficionados or perhaps a quick video call, the Pixel offers a single 8 MP lens with an f/2.0 aperture.




Chipset: Powered by the Qualcomm SM8150 Snapdragon 855 chipset, which is built on a 7-nanometer architecture, this Google phone aims for efficiency and performance in tandem.




Memory: Armed with 6GB of RAM and options such as the Google Pixel 4 XL 64GB refurbished or Google Pixel 4 XL 128GB refurbished to cover all your storage needs.




Battery Life: Battery capacity of 3700mAh, which supports wireless charging and USB-C with USB-PD and a 18W/2A charging brick.



All these numbers and technical words could be perceived as nonsense to those with limited tech knowledge.
But don't worry! Let us guide you through the key features of the Google Pixel 4XL and how they could help you in your everyday life.
Google Pixel 4 XL Camera and Camera App Review
The Pixel 4 XL, with its dual-camera system, employs some intriguing tech under the hood to provide a range of creative options.
One key feature is the Night Sight setting, adept at drawing out details even when the lights are low.
It's also armed with Super Res Zoom, which enhances the image quality of zoomed pictures, giving them a clarity that rivals the images captured from its main camera lens.
For those entranced by portraiture, the portrait mode blurs the background just enough to make your subject stand out, a juxtaposition of focus and blur creating visual poetry.
Does it Outweigh its Limitations?
Yet, amidst these noteworthy elements, the phone has a couple of Achilles' heels.
While the Pixel 4 XL's camera performs exceedingly well in various lighting conditions thanks to HDR+, it hasn't quite mastered the art of video capture.
In the rapidly evolving tech landscape, where competitors have raced ahead with 8K video and beyond, the Pixel 4 XL's video capabilities seem to lag at 4K.
Also, the absence of an ultra-wide lens limits your ability to capture expansive vistas or large groups without resorting to panorama mode, an acceptable but less convenient workaround.
Yet, these shortcomings don't overshadow the fact that the Pixel 4 XL is a formidable tool for still photography.
If capturing a serene sunrise or a candid smile is your main gig, this phone has got you covered.
Just don't expect this Pixel stand at the same quality as a high-end smartphone.
Range of Features on the Google Pixel 4 XL
Transitioning from its visual storytelling capabilities, the Google Pixel 4 XL also packs a punch when it comes to other elements of the user experience.
Take the 90Hz OLED display, for example; it doesn't just look great, it feels sublime.
With each swipe, tap, or flick of the finger, you can sense the screen's responsiveness and smoothness.
The display feels like the digital equivalent of gliding on ice; effortless and satisfying.
Security on the Google Pixel 4 XL
In a clear pivot from earlier models, Google decided to leave out a fingerprint sensor in the Pixel 4 XL.
Rather than being a step back, this is more like a giant leap into the future with its "Face Unlock" feature.
Compared to the more traditional security measures, facial recognition stands out as a robust yet user-friendly way to keep your personal data under lock and key.
Whether you're a tech aficionado or someone who prioritises convenience, Face Unlock cuts down the time between picking up the phone and diving straight into your apps.
Convenience
And if that's not all, you still have access to a range of features indigenous to the Google Pixel Phones, such as Google Play and Google Pay.
Whilst Google Play allows you to download a range of apps fit for your everyday needs, Google Pay enables contactless purchasing online and in-store, giving you the chance to leave your wallet and debit card at home.
Not too bad for an inexpensive phone, eh?
Values of the Refurbished Google Pixel 4 XL
While the Pixel 4 XL's dazzling display and Face Unlock are cool, let's dig into something equally transformative but often overlooked—the magic of buying refurbished.
Why drop wads of cash on a brand-new device when you can snag one that's been lovingly restored to its former glory?
Cost Savings: You're getting a high-performing gadget without breaking the bank. What's not to love?




Quality Assurance: Here at ur.co.uk, every phone goes through a 90-point check by expert engineers. Your phone is as good as new, without the new price tag.




Free Insurance: Exclusive to UR customers, we offer 12 months of free insurance. From theft to liquid damage, we've got you covered.




Goodies Galore: Your phone arrives in a 100% biodegradable box with up to £45 worth of accessories.



Remember, when you buy refurbished, you're not just getting a phone.
You're getting a promise, a commitment to quality that stands toe-to-toe with new devices.
And hey, in the world where "new" often equals "expensive," refurbished is the unsung hero coming to save your day and your bank account.
Frequently Asked Questions
Look, if you're thinking about a refurbished phone, especially something as snazzy as the Pixel 4 XL with its night sky photography prowess, you're bound to have a bunch of burning questions.
Let's lay those questions to rest, shall we?
How does the battery life on a refurbished phone compare to other phones?
When you grab a phone from ur.co.uk, not only do you get a device with at least 80% of its original battery life, but you also get a gadget that's been rigorously tested.
You won't find yourself scrambling for a charger any more than you would with a brand-new phone.
Think of it as having a longer battery life that's ready for a full day's marathon of your favourite third-party apps.
Do refurbished phones support feature drops and software improvements?
You bet they do. Buying a refurbished Pixel 4 XL means you'll still be in line for all the Android updates, from better cameras to new assistant features.
You're not getting a static piece of tech; you're getting a dynamic device that grows better over time.
What are stereo speakers like on a Google Pixel 4 XL?
Ah, imagine a personal concert right in the palm of your hand! Outfitted with a robust dual stereo speaker system, the Google Pixel 4 XL delivers an auditory experience that is nothing short of sublime.
These speakers don't just talk the talk; they genuinely amplify your auditory world, whether you're grooving to high-octane tracks or absorbing the latest episode of a gripping podcast.
Got more questions on your favourite refurbished Android phones? We have answers. Read our refurbished Google Pixel 6 Pro deals and refurbished Google Pixel 7 deals to get more information today.
The Full Monty on Value and Quality
In the vast world of phones, the refurbished Google Pixel 4 XL isn't just another pretty face. It's the full package—quality, affordability, and a commitment to sustainability.
This isn't just a collection of cool features and solid performance; it's all that without burning a hole in your wallet.
So, if you're hunting for a sweet deal that's big on both performance and doing the right thing, your search ends here.
Get ready to swipe right—your Pixel 4 XL from ur.co.uk is basically the smartphone equivalent of a soulmate.