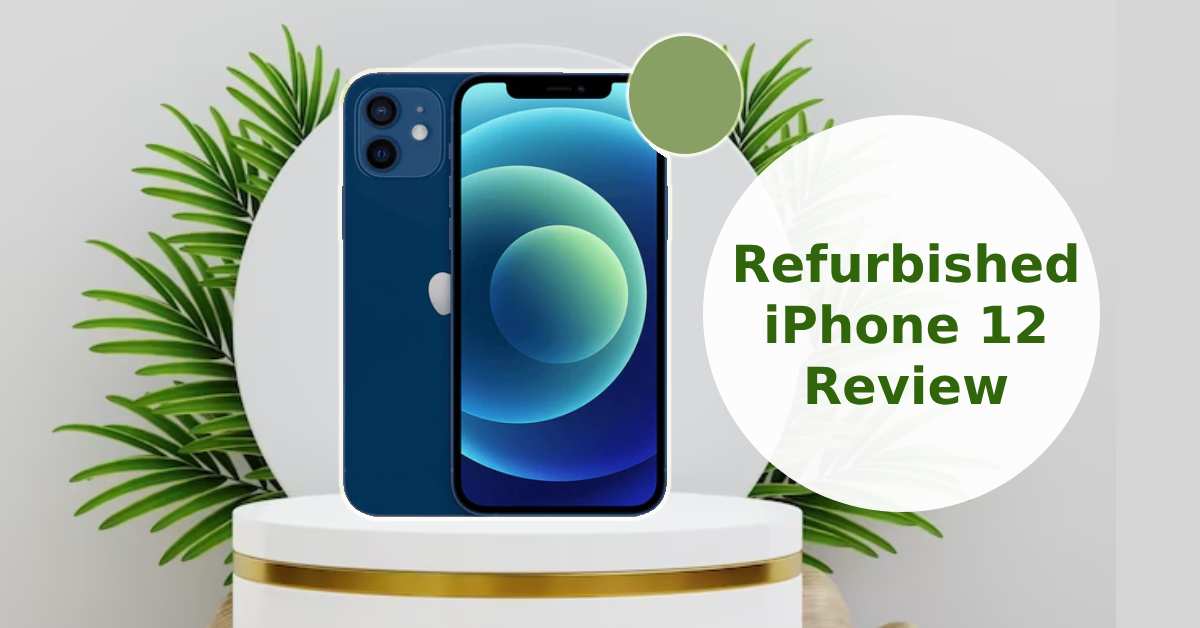 Refurbished iPhone 12 Review: Innovation within Your Budget
Are you tempted by the prospect of a refurbished iPhone 12? You might wonder whether it's a smart investment or will land you in a technical mishap.
Well, an iPhone 12 refurbished might offer you more than what you've previously expected.
Stick around as we peel back the layers of Apple's once-coveted flagship, reimagined through refurbishment.
Or, if you want to complete some research yourself, why not explore our range of refurbished iPhones at UR.co.uk? Go ahead, and decide for yourself today.
Key Takeaways:
Vivid Display: Arguably better than some Apple Pro models.




Battery Life: The bane of most iPhone users' existence, but rest assured you're getting great quality with the refurbished iPhone 12.



Reconditioned iPhone: The right choice for those wanting high-quality features at a lower price.
Specs of the Refurbished iPhone 12
The iPhone 12, launched in 2021, was designed to offer a cost-effective update for iPhone X and iPhone 11 users and presents a chance for newcomers to experience Apple's innovative technology.
But before we explore this device any further, feast your eyes on the specs below to get a basic understanding of what it can offer you.
| Specification | Detail |
| --- | --- |
| Display | 6.1-inch Super Retina XDR OLED, 2532 x 1170 px |
| Processor | Apple A14 Bionic chip |
| RAM | 4 GB |
| Storage Options | 64GB, 128GB, 256GB |
| Rear Camera | Dual 12MP (wide and ultra-wide lens) |
| Front Camera | 12MP TrueDepth |
| Battery Capacity | 2815mAh Li-Ion |
If you're worried that buying a refurbished phone means you're compromising on quality, rest assured that an iPhone 12 64GB refurbished, as well as other storage models, has the exact same specifications as a brand new one.
Now, with your mind at ease, let's see how this device performs under tests.
The Display on the Refurbished iPhone 12
Embarking on the display qualities of the iPhone 12 is like stepping into a vivid world of technology.
Super Retina XDR display stretches a generous 6.1 inches across the phone's face, boasting a crisp 2532-by-1170-pixel resolution at a dense 460 pixels per inch.
As you swipe and tap, you're greeted with a luminance that makes low-light reading a breeze and indoor browsing a joy, with colours that stay true to life's vibrant palette.
Compared to Android Phones
Impressively, when stacked against the pricier iPhone 12 Pro, the standard iPhone 12 displays superior colour accuracy, leading with an outstandingly low Delta-E (dEITP) of 1.442.
This precision is a significant leap forward, especially considering the price bracket the iPhone 12 nestles in.
Plus, there's a substantial amount of screen real estate that delivers an immersive experience, albeit without the high refresh rate screens now typical in competing Android devices, like the Google Pixel 6.
Battery Life of the iPhone 12
The battery life of the iPhone 12 is a testament to Apple's prowess in power optimisation.
Even with a modest 2815mAh battery, the synergy between hardware and software extends the phone's longevity.
Here's a snapshot of what you can expect in terms of battery performance:
Up to 17 hours of video playback
Up to 11 hours of streamed video playback
Who Has the Better Battery Life?
In a landscape where Android phones boast larger batteries, the iPhone 12 manages to hold its ground thanks to Apple's SoC efficiency.
This savvy use of resources means that, despite having a smaller battery capacity on paper, the iPhone 12 competes neck and neck with some of its rivals, proving that bigger isn't always better.
Furthermore, the inclusion of wireless charging and MagSafe technology ushers in a level of convenience, providing users with flexible charging options without being tethered to a cable.
Note: All refurbished iPhones from UR.co.uk come with at least 80% battery life to protect your phone for years to come.
Camera System on the Apple iPhone 12
The rear dual 12MP camera setup, inclusive of wide and ultra-wide lenses, captures moments with accuracy and vibrancy that breathe life into each frame.
But the autofocus emerges as a key performer, unwavering in its precision across diverse lighting scenarios. It swiftly locks on subjects, drawing out fine details and textures in bright to moderately lit environments.
Selfie Camera and More
Meanwhile, the front-facing TrueDepth camera, with its 12MP lens, has not shied away from the competition.
It excels in snapping high-fidelity selfies that exhibit excellent contrast and rich colours while maintaining a natural look, free from the overzealous noise reduction often found elsewhere.
This suite of imaging prowess positions the iPhone 12 as a versatile tool for both casual snapshots and serious shutterbugs craving quality without complexity.
Plus, you also get a range of features to help you on your way, such as Night mode Smart HDR to help you create vivid photos in most conditions.
Design of the iPhone 12 Refurbished
Venturing beyond the camera, the iPhone 12 greets the senses with a robust yet refined design that's both visually appealing and reassuringly solid in hand.
It boasts a front Ceramic Shield that Apple claims to be tougher than any smartphone glass during its creation, offering peace of mind alongside elegance.
The glass back melds seamlessly with an aluminium frame, culminating in a design that feels premium to the touch.
Plus, you can choose the external quality yourself at UR.co.uk, whether it's Good quality that shows some signs of wear, Excellent with visible scratches up to 30cm away or Premium, which practically looks like a brand new model.
The Values of Refurbished iPhones
Opting for a refurbished iPhone 12 is not just about getting your hands on a premium device; it's about embracing a choice that radiates savvy and sustainability. Here's why:
Economic Wisdom: Refurbished phones come at a fraction of the cost of their new counterparts, offering undeniable value.




Eco-Friendly: Buying refurbished is a green move. You extend the life of a device, reducing electronic waste and conserving resources.




Accessories Galore: Your purchase includes a suite of accessories housed in a 100% biodegradable box, spotlighting the blend of luxury and eco-consciousness.




Peace of Mind: Enjoy 12 months FREE insurance, covering a spectrum of potential mishaps, setting a benchmark for worry-free ownership.



Embracing a refurbished iPhone 12 is not just a transaction; it's a testament to making smart choices that benefit both your wallet and the planet.
With a focus on delivering quality that satisfies the strictest diagnostic criteria, UR.co.uk positions itself as a steward of sustainable luxury in technology.
Frequently Asked Questions
How does a refurbished iPhone 12 compare to previous models like the iPhone XR?
The leap from an iPhone XR to a refurbished iPhone 12 is not just about stepping up a generation; it's a significant upgrade.
Whilst both phones have the same screen size, the iPhone 12 has a 6.1-inch Super Retina XDR OLED display, which out performs the iPhone XR Liquid Retina IPS LCD display.
Additionally, the refurbished iPhone 12 is kitted with the A14 Bionic chip, granting it more power for all tasks compared to the XR's A12 chip.
Are the camera capabilities of the refurbished iPhone 12 a significant upgrade from previous iPhones?
Absolutely! The refurbished iPhone 12's camera system is a testament to Apple's dedication to photographic excellence.
Night shots are now more detailed and brighter thanks to better low light performance across both the main and ultra-wide cameras.
There's no telephoto camera, but the dual-camera system still packs a punch, delivering quality that few smartphones can rival, even the iPhone XR.
Want more questions answered on your favourite refurbished phone? Look at our refurbished iPhone 12 Pro Max review and refurbished iPhone 12 Mini review to find out more.
Final Thoughts on our Refurbished iPhone 12 Review
In the constellation of smartphones, the iPhone 12 shines with a distinct brilliance.
With its fusion of a vivid Super Retina XDR display, the prowess of the A14 Bionic chip, and a camera that captures life with stark clarity and colour, it delivers an experience, striking the right note with tech enthusiasts and casual users alike.
Plus, owning an iPhone 12 from UR.co.uk means enjoying the pinnacle of innovation, with the added bonus of £45 worth of accessories to help you on your way.
Go ahead, and enjoy your iPhone 12 refurbished by us today.