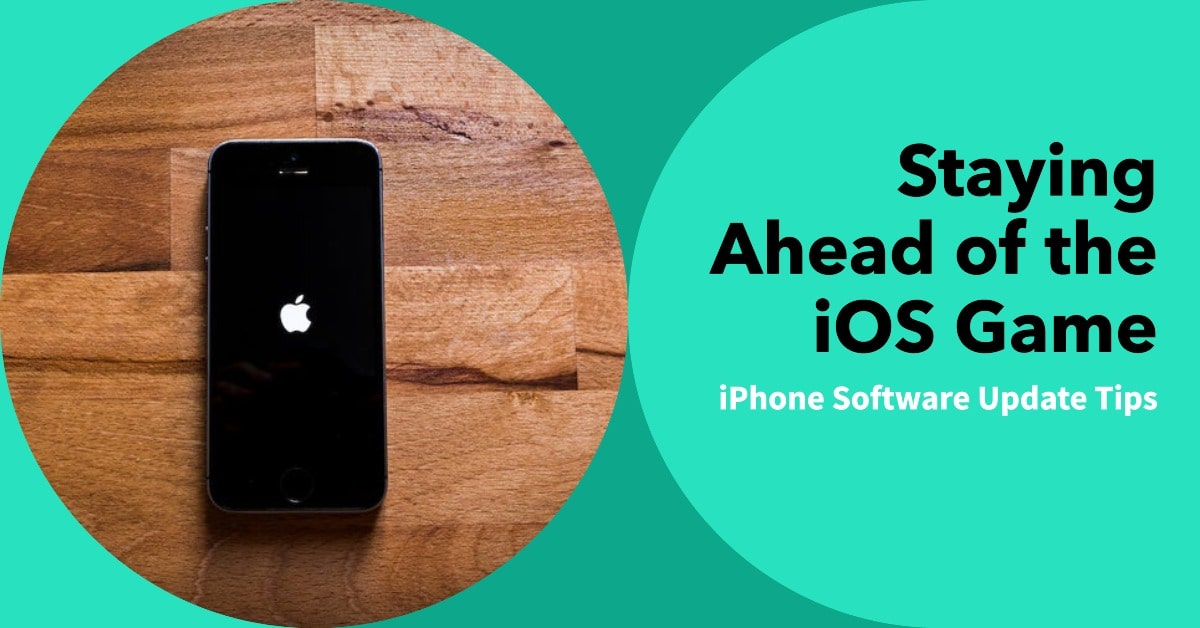 Staying Ahead of the iOS Game: iPhone Software Update Tips for 2023
Are you up-to-date with the latest iOS update for iPhone?
With the launch of iOS 16 and the much anticipated iPhone 14 range including premium devices such as the iPhone 14 Pro Max in the latter stages of 2022, now is the time to ensure your device is running at peak performance.
In this guide, we'll share our top tips for how to download and install the latest updates, so you can learn how to keep your iPhone 8 and above safe and reliable in 2023 and beyond.
Or if you're on the hunt for a refurbished iPhone, look no further than ur.co.uk – we have a wide array of models available, all with free next day delivery! 
Why It's Important to Download iOS Updates
Stay ahead of the curve and unlock the full potential of your iPhone by staying up-to-date with the latest version of iOS!
Not only will updating keep you safe by providing critical security updates, but you'll also gain access to amazing new features, improved battery life, and seamless performance.
It doesn't matter if you buy or own a new or refurbished iPhone, what is important is ensuring you install iOS updates on your device.
Keeping your iPhone up to date provides several benefits, including:
New features and enhancements
Improved performance and stability
Bug fixes and security patches
Compatibility with the latest apps and technologies
Access to the latest emojis and iMessage effects
By updating to the latest IOS, you can ensure your iPhone continues to function optimally and stay protected against any potential security vulnerabilities.
What Is the Latest Version of iOS?
Are you anxiously awaiting the newest iOS version on your iPhone?
Don't hesitate any longer and get the latest version, which at the time of writing is iOS 16.3.1.
Apple has added a multitude of bug fixes and invigorated critical security for your safety in this version of their popular mobile operating system.
Keep all your data and applications securely stored, as well as unlock exclusive new features simply by upgrading to the newest version!
Installing the newest iOS is just a few taps away - who doesn't love the plethora of magnificent features Apple's operating system perpetually delivers?
Which iPhones Can Run iOS 16?
Are you keen to upgrade to iOS 16? If so, you'll be able to provided it's an iPhone 8 or later.
You can easily install iOS 16 through a simple download and update to the latest version (which, as mentioned, at the time of writing, is the 16.3.1 update).
Once you've updated, you'll gain access to all the new features this state-of-the-art operating system has to offer!
So if you own an iPhone 8 or beyond, make sure you don't miss out on the cutting-edge capabilities now available by updating to iOS 16 today.
When Will iOS 17 Be Announced and Released?
iOS 17 will be officially announced and released in September 2023, bringing with it an array of exciting new features.
From a revamped CarPlay experience to updates to the Siri virtual assistant and the ability to sideload apps and content, the next version of Apple's mobile operating system is sure to impress.
Plus, with compatibility for mixed reality headsets, iOS users will be able to take their devices into new dimensions. So mark the date – iOS 17 is sure to be an update you don't want to miss!
Will Apps Still Work If You Don't Update iOS?
No need to worry! Even if you don't update your iPhone, chances are your apps will still work without interruption. Apple endeavours to keep all the software in perfect compatibility, so most of the time, there should be no issues.
That said, if you want to take advantage of the latest features and bug fixes, then updating is highly recommended. 
Thus, you can continue using your apps hassle-free even if you opt not to upgrade.
Will An Update For iOS Cause Data Loss?
Yes - updating your iOS can cause data loss! In most cases, it's quite possible the update will reduce your device's storage capacity or permanently delete some of your files.
This can be a huge issue if you don't have a recent backup stored somewhere safe.
Before initiating an update, make sure that you've properly backed up all of your important data to avoid any potential losses.
It's always better to be safe than sorry!
How to Check What Version of iOS Your iPhone Has Installed
To see which version of IOS you have running on your iPhone, follow these simple steps:
Go to "Settings"
Tap "General"
Tap "About"
Look for the "Software Version" field.
The number displayed next to "Software Version" is the current IOS version installed on the iPhone.
How to Download and Install Software Updates on an iPhone
To update your iPhone, ensure your phone is connected to WIFI and is either on charge or has at least 50% battery.
Go to "Settings" > "General" > "Software Update"
If an update is available tap "Download and install"
Follow the on-screen instructions to complete the update process
FAQ
Why is iPhone software not updating?
iPhone software might not update because of Apple server issues, network connection problems, or insufficient storage space. It's recommended to try again later or seek assistance from Apple Support.
Should I update my iPhone straight away after an update is released?
Updating your iPhone as soon as a new version of iOS is released can provide new features and fixes for bugs that can improve performance. 
However, some users may encounter unexpected problems, so some may decide to wait a little while before updating.
Is it safe to update the software on iPhone?
Yes, it's safe to update the software on your iPhone, provided you're not jailbreaking your device. Before initiating any updates, back up all important data in case something goes wrong during the process.
What happens if you don't update your iOS software?
If you don't regularly update your iPhone software, certain apps could eventually become incompatible and stop working altogether. 
Security vulnerabilities which would also otherwise be eliminated through updates will remain exposed and put your device at risk of being compromised.
Does an iPhone software update affect battery life?
A new version of iOS typically uses more resources than before, which could reduce battery life depending on your usage. 
However, users may find their iPhone battery life increases due to improvements made with subsequent updates. This includes better power management algorithms and improved hardware-software integration.
Do iOS updates take up space?
Yes, you usually require between 1.5 GB to 2 GB of free storage space for installation, so make sure there's enough space available prior to downloading the upgrade or deleting unused content or transferring larger files onto other devices.
How long does an iOS update take?
The time required for completing an iOS upgrade depends largely on both the size of the OS file and current network conditions, which vary greatly between locations. Generally, updates should take no longer than 30 minutes, depending on the size of the update.