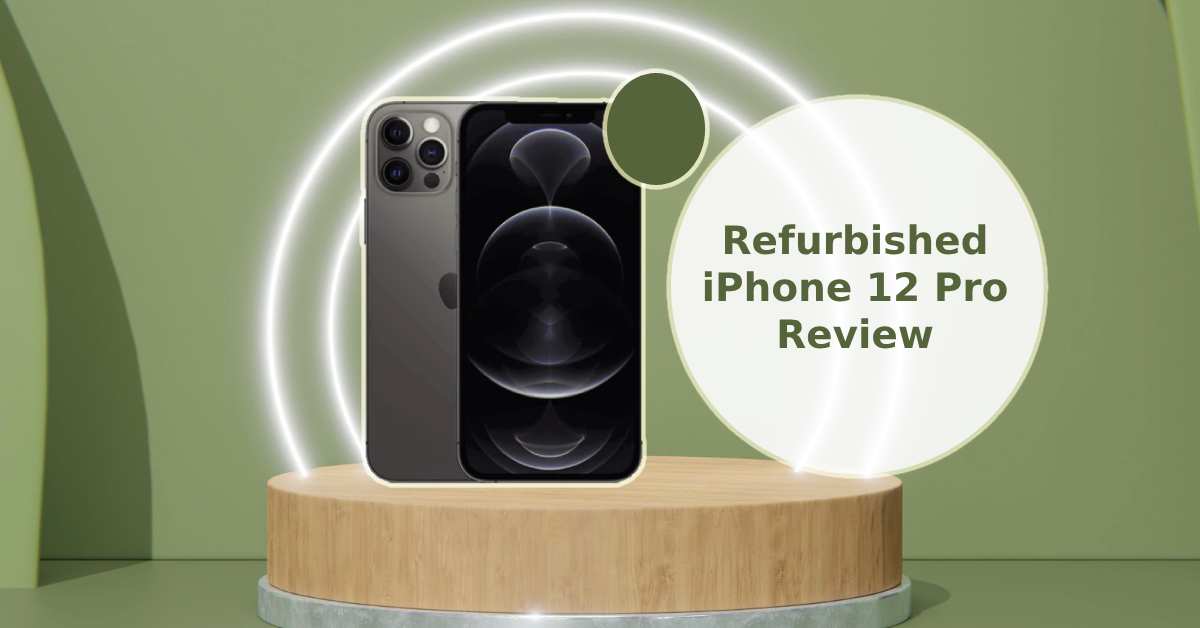 Pro Features, Not Pro Prices: Refurbished iPhone 12 Pro Review
In the sweet spot where top-notch tech meets wallet-friendly prices, the iPhone 12 Pro refurbished stands tall.
It begs the question: does it pack the same performance punch and crystal-clear camera quality as its fresh-out-the-box twin?
Let's cut to the chase and find out if this Apple favourite keeps its cool and capability even after a makeover.
Do you want an Apple iPhone today? Well, don't wait any longer! Explore our range of refurbished iPhones and see what you can find at UR.co.uk.
Key Takeaways:
Fantastic Camera Quality: Produce great photos in low light conditions with the iPhone 12 Pro night mode.




Dolby Vision Smart HDR: The first of its kind in an Apple iPhone.



Refurbished iPhone: Purchase a cheaper iPhone with the same quality as a new phone.
Specs of the iPhone 12 Pro Refurbished
In 2020, the iPhone 12 Pro made a splash, targeting enthusiasts craving next-level premium features beyond what the iPhone 12 offers.
Now, before we dive deeper into the savvy world of this sophisticated device, take a moment to glance at the specs below.
They're your sneak peek into what the iPhone 12 Pro has in store for you.
| Specification | Detail |
| --- | --- |
| Display | 6.1-inch OLED, 2532x1170 pixels, 460 ppi |
| Dimensions | 146.7 x 71.5 x 7.4 mm |
| Weight | 164 g (5.78 oz) |
| Processor | Apple A14 Bionic chip |
| RAM | 4GB |
| Battery | Non-removable Li-Ion 2815 mAh battery |
Battery Life of the iPhone 12 Pro
Peering into the daily grind, how does the iPhone 12 Pro's battery hold up? Apple's own metrics reveal a stamina that should carry most through the day and then some.
Here's the iPhone 12 Pro battery life Apple claims to exist:
A notable up to 17 hours of video playback, letting you review content or relax with your favourite shows.




Up to 11 hours of streamed video playback, ensuring entertainment never takes a backseat.




An impressive up to 65 hours of audio playback, ensuring your soundtrack continues for almost three days straight.



Plus, the device is eligible for wireless charging and has features like Low Power Mode to save your battery life even further.
Closure Look at the iPhone 12 Pro Battery Life
But those Apple's claims reflect its reality? 
Well, the device's 18W fast charging trumps older models like the iPhone XR, offering a swift energy boost, bringing your phone from zero to ready-for-action quicker.
Remember, though, real-world battery longevity hinges on numerous factors, including the intensity of tasks and even the fickleness of network quality.
A day spent capturing Dolby Vision HDR videos or playing graphics-intensive games on Apple Arcade could drain the battery faster than Apple's estimates suggest, pushing that quick-charging feature into the limelight.
But be assured your device will have longevity with a refurbished device, which comes with at least 80% battery health when you shop with us.
Video Recording on the iPhone 12 Pro
Venturing into the realm of video recording, the iPhone 12 Pro takes the stage with aplomb.
Its claim to fame rests on being the world's first smartphone to offer Dolby Vision Smart HDR recording – a feature that brings the luminous depth of Hollywood's finest to the palm of your hand.
Quality of Dolby Vision Video Recording
The device's capability to maintain good exposure across various lighting conditions ensures that your memories are not just recorded but are imbued with a vividness that stands the test of time.
Low-light environments, a notorious challenge for mobile cameras, are handled with finesse, producing usable footage where others falter.
Plus, the sophisticated HDR technology woven into every frame helps maintain a balance in scenes that would typically be marred by harsh shadows or blown-out highlights.
Add a digital zoom up to 10x for video recording, and you can produce material with better quality than most mobile video recordings.
The Difference Between iPhone 12 and iPhone 12 Pro
If you've just read our refurbished iPhone 12 review, I bet you're wondering what the difference is between the iPhone 12 Pro and its more inexpensive counterpart.
Well, upon closer inspection, the iPhone 12 Pro provides extra features to justify its heftier price tag.
Let's explore this further.
Aesthetic and Build
When you compare the iPhone 12 and the iPhone 12 Pro, the difference in materials is immediately apparent.
The iPhone 12's aerospace-grade aluminium body exudes a modern, matte elegance, yet the iPhone 12 Pro takes it up a notch with its glossy, surgical-grade stainless steel band that wraps around the edges.
It's not just about looks; the choice of materials also influences the phone's feel and durability in subtle ways.
Camera Capabilities
Shift focus to the camera systems, and the distinctions grow sharper.
The iPhone 12 Pro's main camera is a step up with its trio of 12MP lenses – Ultra Wide lens, Wide lens, and Telephoto lens, each lens fine-tuning your photo's focus, depth, and clarity.
The cherry on top is the LiDAR Scanner, exclusive to the Pro model, which enables Night mode portraits.
This cutting-edge sensor maps the environment, measuring light distance and pixel depth, which transforms low light photography into an art, bringing out details usually shrouded in shadows.
Performance and Multitasking
Under the hood, RAM capacity distinguishes the two – the iPhone 12 Pro houses 6 GB, allowing for smoother multitasking and more efficient handling of demanding applications compared to the iPhone 12's 4 GB.
This extra memory complements the Pro's advanced camera features and overall system responsiveness, ensuring that the device maintains peak performance even when processing high-resolution Dolby Vision HDR videos.
What are our overall thoughts? Though the iPhone 12 Pro comes with a bigger price tag than the iPhone 12, it's well worth it when considering the high-quality features packaged inside.
The Smart Choice of a Refurbished iPhone 12 Pro
But what if I told you that you can receive all this for a fraction of the original price with an iPhone 12 Pro refurbished?
Here are the values this device could offer you:
Economic Sense: The allure of a lower price tag for the same cutting-edge technology is undeniable. 




A refurbished iPhone 12 Pro offers all the high-fidelity video and cutting-edge features at a fraction of the cost.




Sustainable Thinking: Opting for a refurbished model is a nod to environmental consciousness. 




It reduces e-waste, giving a second life to devices that would otherwise contribute to landfill clutter.




Quality Assurance: With a refurbished iPhone from UR, you're not just saving money; you're also securing peace of mind. 




These phones undergo a rigorous 90-point phone check, ensuring they meet the highest standards of functionality and aesthetics.



Each point above threads the needle of smart consumerism, where value, responsibility, and quality form the fabric of a wise purchase decision.
Frequently Asked Questions
Do you have more questions? Let's get them answered.
How does the iPhone 12 Pro's refurbished Smart Data Mode tailor my experience?
Harnessing the intelligent Smart Data Mode, the refurbished iPhone 12 Pro deftly alternates between 4G and 5G networks, enhancing your device's battery efficiency without hampering the seamless connectivity you expect from a top-tier smartphone.
To what extent does the camera system on the refurbished iPhone 12 Pro elevate photography?
With its refurbished iPhone 12 Pro, UR.co.uk delivers a camera system that merges the precision of telephoto lenses, the breadth of an ultra-wide sensor, and the nuance of Deep Fusion technology.
It promises an exquisite photography experience that captures more light, rendering professional-grade imagery in a range of lighting conditions.
Is the refurbished iPhone 12 Pro in step with the latest charging innovations and accessories?
Embracing modernity, the refurbished iPhone 12 Pro is equipped with the MagSafe wireless charging feature, fostering a quick and stable connection to power up your device.
Moreover, it maintains compatibility with a plethora of MagSafe accessories, ensuring that your experience is not just on par with new phones but also versatile and up-to-date..
Final Thoughts on Our iPhone 12 Pro Review
Diving into the heart of the iPhone 12 Pro, it's clear this device is a powerhouse.
With an OLED display that brings visuals to life, a LiDAR sensor that enhances AR capabilities, and a camera system that captures moments with stunning clarity, it's a testament to Apple's innovation.
Plus, the fusion of these specs in a refurbished model from UR offers not just a phone but a companion for your high-tech lifestyle, which comes with £45 worth of accessories to help you on your way.
So get the iPhone 12 Pro Refurbished by us today; it's a chance you don't want to miss.