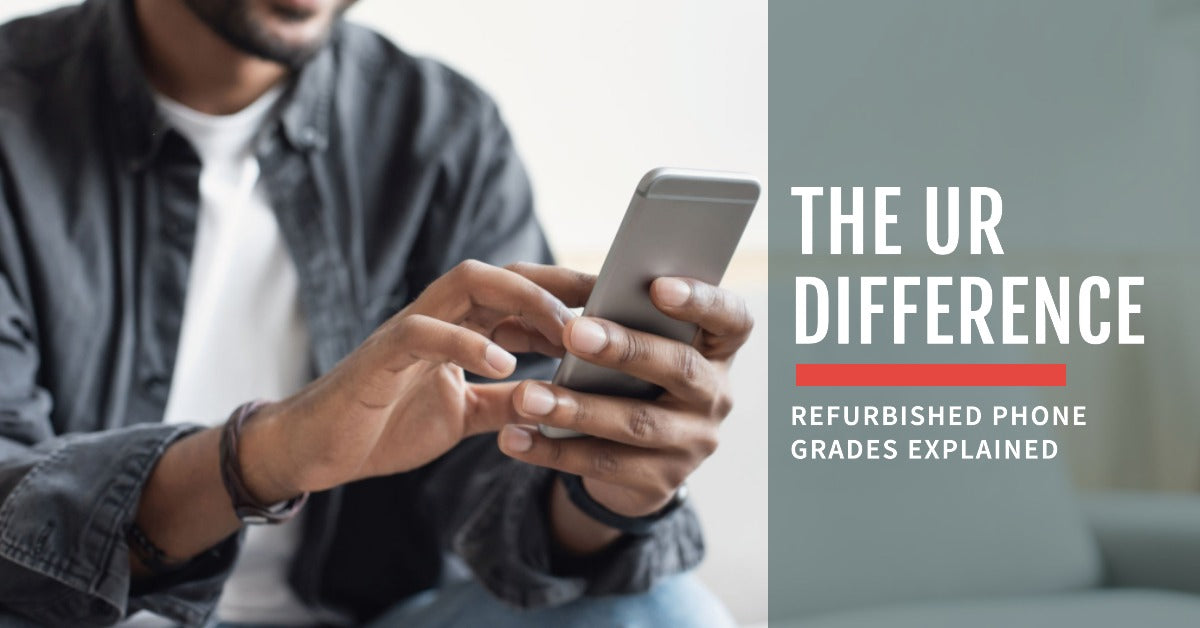 The UR Difference: Refurbished Phone Grades Explained
Ready to upgrade your phone but feeling a little uncertain? We feel you. There's so much to consider: make and model, colour, storage capacity - the list goes on.
At UR, we understand that every buyer's needs and preferences are unique. That's why we have designed a robust grading system that caters to a range of budgets and requirements.
Here's a quick glimpse at our grading tiers:
| Condition | Description | Battery Health |
| --- | --- | --- |
| Premium | Top-tier refurbished phones with impeccable appearances | Minimum of 80% |
| Excellent | Near-perfect devices with barely noticeable micro-surface scratches visible only beyond 30cm | Minimum of 80% |
| Good | Pre-loved devices with light visible scratches on the body and screen | Minimum of 80% |
No matter the cosmetic grade, every UR phone undergoes rigorous testing and is PhoneCheck certified - ensuring it's in perfect working order and ready for your pocket.
Read on to learn more about how UR is transforming the phone market and why you can upgrade with confidence.
Ready to buy now? Then check out our complete range of refurbished phones and get the best deal guaranteed!
What Is A Refurbished Phone?
Refurbished phones are pre-owned items professionally restored to their original working condition.
Rigorous testing, repairs, and cleaning processes ensure they meet strict quality standards before being resold.
You can learn more about what to expect in our guide to buying a refurbished phone.
Assessing the safety of refurbished devices
Refurbished phones sold by ur undergo stringent quality checks performed by our qualified in-house technicians.
Ultimately, you can rest assured knowing you're getting a device that works just as it would straight out of the box.
Refurbished phones can last as long as new ones if purchased from an established certified refurbished phone seller like ur.co.uk.
Our 12-month warranty and 12 months of free insurance provide complete peace of mind knowing you're covered for things like phone theft, accidental damage, and technical issues.
What are Refurbished Grades?
What is the grading system and how does it work?
Refurbished devices are graded based on their cosmetic condition. The way we do things here at ur is to grade the device as either premium, excellent, or good.
What this means is that you can find devices that look almost new, with minimal signs of wear, for a much lower price than buying a brand-new device.
No matter what grade you choose, all devices we sell are guaranteed to be fully functional and tested before being sent out. 
Whether buying refurbished iPhones or Samsung refurbished phones, you can do so with full confidence from ur.co.uk.
Find out more in UR guide to grading.
How is the cosmetic condition of a refurbished product determined?
The cosmetic condition of a refurbished product is determined by as the device is inspected for signs of wear and tear. 
Scratches, scuffs, dents, blemishes, or other noticeable imperfections are inevitable signs of previous use.
Once the strict 90-point check is complete, the device is then graded accordingly and placed for sale on ur.co.uk. 
What to Expect From Different Grades of Refurbished Devices
Many manufacturers used a lettered grading system, so you'll often see listed in the description - grade A, grade B, Grade C, etc.
But here at ur.co.uk, we like to keep things simple - providing three clearly defined grades of refurbished devices allowing you to make an informed choice:
Premium
Our flagship refurbished smartphones look and feel as good as new ones, with no signs of scratches or other imperfections on the screen or body. You can expect a minimum battery health of 80%.
Excellent
Our excellent-rated refurbished smartphones show minor signs of use, although some micro-surface scratches on the screen or back may be visible up close. 
Like the premium grade, all our 'excellent' rated devices have a minimum battery health of 80%.
Good
Our 'good' refurbished smartphones have been previously used and are likely to show some visible scratches on both the body and screen. Nevertheless, all devices still have a minimum battery health of 80%.
Should I Buy a Refurbished Phone?
Whether to buy a refurbished phone depends on your needs and budget.
Refurbished
Refurbished devices can offer a cost-effective solution if you're on a tight budget but still want a quality product.
However, if you need the latest technology or cutting-edge features, then a new phone may be a better option.
If you decide to opt for the former, you can have full confidence in the quality of refurbished devices from ur.co.uk.
Are refurbished devices in good condition?
Yes, refurbished devices from UR.co.uk are graded appropriately before going on sale, so you know what you're getting before you hit the buy button.
It's important to check the grade of the product before purchasing to ensure you're getting a quality item.
But now you know what the grades mean, simply choose the most appropriate for your needs and budget and away you go!
Do refurbished devices come with a warranty?
Yes, you'll get a 12-month warranty with any device you buy from ur.co.uk, providing complete peace of mind.
And, as if that wasn't enough, we'll also throw in 12 months of free insurance (that you won't get anywhere else) - not to mention £45 of FREE accessories!
The UR Difference: The Best Place to Buy a Refurbished Phone
Embrace the Circle: A Sustainable Approach to Devices
Join UR's mission to revolutionise consumer habits with our Circle—a circular approach to loving, using, and returning devices.
Our passion for extending device lifespans reduces e-waste and our carbon footprint, while our price match guarantee and tree-planting initiatives add to the appeal of refurbed devices.
Rigorous Quality: The 90-Point Phone Check
Our UK-based expert phone engineers ensure top-notch quality by conducting a comprehensive 90-point phone check on each device.
With the industry's strictest diagnostic criteria, ur phones earn their Approved Used status, ready for you to love and use.
Excellence Certified: Joining the Circle
After thorough approval, our engineers certify each device with its own Certificate of Identification and Functionality, granting it access to the eco-friendly Circle.