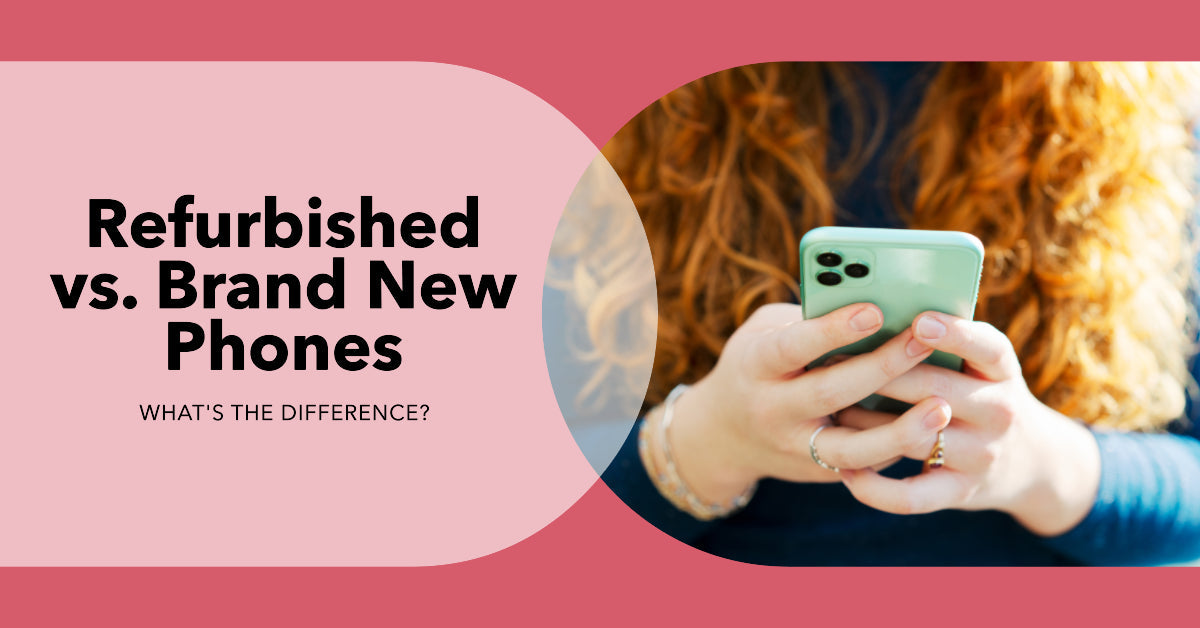 How Is A Refurbished Phone Different To A Brand New Phone?
Refurbished Vs New Phones: The Winner May Surprise You!
Think high-tech has to mean high-cost?
Think again.
Step into the smart, savvy world of refurbished handsets from UR.co.uk and discover exactly how you can get a device that works like new at a fraction of the cost.
These aren't just 'used' phones - they're professionally restored masterpieces that offer you all the cutting-edge features without cutting deep into your finances.
Intrigued? Let's unveil the magic behind our refurbishing process.
Key Takeaways
Quality and affordability? That's UR refurbished phones for you.
Want the latest tech? A new device has the edge, but at a price.
Warranties aren't exclusive to new devices; refurbished phones from UR.co.uk have solid coverage too - 12 months of FREE insurance and a 12-month warranty period with every device!
Professional in-house technicians ensure top-notch refurb quality - 90-point check and Phonecheck certification included with all refurbished devices from UR.co.uk
The Basics: What Does Refurbished Even Mean?
Let's set things straight: "refurbished phone" isn't a fancy term for a "shabby second-hand phone." It's a pre-owned device that's been checked, fixed, and spruced up to be as good as new.
Each refurbished handset at ur.co.uk undergoes a detailed 90-point check. It's as comprehensive as it gets, making sure everything from the battery life to the screen quality is top-notch.
What's more, our refurbished mobile phones are Phonecheck certified. That's your safety net against any hiccups.
So keep in mind, when you're buying refurbished phones, you're not just being frugal; you're also buying peace of mind.
The Allure of Brand New: Is It All It's Cracked Up To Be?
There's something magnetic about a brand-new phone. It's untouched, unblemished, and it smells like—well, newness.
You get all the original accessories in the box, and you're the first to lay hands on it. But this luxury comes at a higher price, both for your wallet and the environment.
New phones typically offer the latest features and software updates right out of the gate. But let's be real: not everyone needs a phone that can practically make coffee for you.
Refurbished units from UR will serve you just as well, without burning a hole in your pocket!
Price Tag Tango: Refurbished vs New
When it comes to cost, refurbished phones have the upper hand. They're a lot cheaper than their brand-new counterparts, often with moderate discounts that will save you a pretty penny.
But don't just take our word for it; check out our collection of refurbished iPhones and Samsung Galaxy phones to see the best deals for yourself.
New phones, on the other hand, will set you back a bit. They come with the latest version of everything, but that luxury has a price tag.
And remember, new models cause prices to decrease for other units, so today's brand-new phone is tomorrow's deal.
Quality and Reliability: No Compromises
You might think a refurbished phone is a gamble on quality. Think again. At ur.co.uk, we're all about the circular economy.
Our expert in-house technicians don't just fix phones; they restore them to their former glory. Each device means a lot to us, and it shows in our 90-point check and 12-month warranty.
New phones come with a fresh warranty, sure, but they're not immune to issues. Manufacturer defects, software bugs—you name it.
The point is, both refurbished and new phones have their pros and cons, but with our 12-month free insurance, you're covered either way.
Want to know more? Dive into our blog post on how to tell if a phone is refurbished.
The Warranty Wonders
Warranties are like safety nets, and guess what? They're not exclusive to new handsets. 
When you buy a refurbished phone from ur.co.uk, you're not just getting a device; you're getting a promise.
Our 12-month warranty is as solid as they come. It's a testament to the confidence we have in our refurbishing process and our in-house technicians.
But what about new phones? Sure, they come with a warranty, often a one-year warranty, just like our refurbished devices.
But here's the catch: new phones can also have their quirks—manufacturer defects, software glitches, you name it. 
So, a warranty is a must, whether you're going refurbished or brand new.
Accessorise Me: What Comes in the Box?
Ever felt that happy rush of opening a box like a kid on Christmas? That's the feeling we want for you.
But let's be real, these days getting a charger and cable in the box is a long shot. You usually have to dig one up or pay extra.
But there's a silver lining at ur.co.uk. Every refurbished phone we deliver comes with £45 worth of accessories, including the much-needed charger and cable.
These are quality items you'll use every day. Concerned about the condition of our phones? Have a look at our guide to what condition do refurbished phones come in.
The Green Choice: Environmental Impact
Let's talk planet Earth for a sec. Buying a refurbished phone is like giving a high-five to Mother Nature.
New phones require raw materials, energy for manufacturing, and let's not forget, they contribute to e-waste when they're eventually discarded.
Refurbished phones, on the other hand, are all about the circular economy.
At ur.co.uk, we take it a step further. For every refurbished phone sold, we plant a tree. It's not just about selling phones; it's about making a difference.
So, when you choose refurbished, you're not just saving money; you're also doing your bit for the planet.
Software and Updates: Always in the Loop?
When it comes to software, new phones are like the star students, always first to raise their hands for updates.
They're equipped with the latest version of the operating system and will be first in line for future updates.
But let's face it, not everyone needs to be on the cutting edge of tech all the time.
Refurbished phones might not be the first to get new software features, but they're far from outdated.
Many refurbished handsets can run the latest OS, and they're more than capable of handling everyday tasks like social media, web browsing, and even some decent photography.
The Insurance Game: Are You Covered?
Insurance is like that extra layer of bubble wrap when you're shipping something valuable. New phones often come with insurance options, but they can be pricey.
Now, what if we told you refurbished phones aren't left in the dust?
At ur.co.uk, we offer 12-month free insurance. That's right, a whole year of peace of mind, free of charge.
And if you're still on the fence about going the refurbished route, our Should I Buy a Refurbished Phone guide might just tip the scales for you.
Making the Final Call: Why Buying a Refurbished Phone from UR Tops a Brand New Handset
Decision time. You've weighed the pros and cons, and now it's time to make your pick. If you're all about the latest features and don't mind paying a premium, a new phone might be your jam.
But if you're looking for a phone that offers great value without compromising on quality, a refurbished phone is your go-to.
Remember, at ur.co.uk, we offer 12 months of insurance you don't get anywhere else, not to mention a 30-day no quibble money-back guarantee.
That's how confident we are in our refurbished mobile phones.
You get to try out the phone, see if it vibes with you, and make a no-risk decision. It's all about giving you the freedom to choose what's best for you.
From iPhones to Google Pixels, there's plenty of choice here at UR. So, which device will you choose? Browse our extensive collection of refurbished phones now!