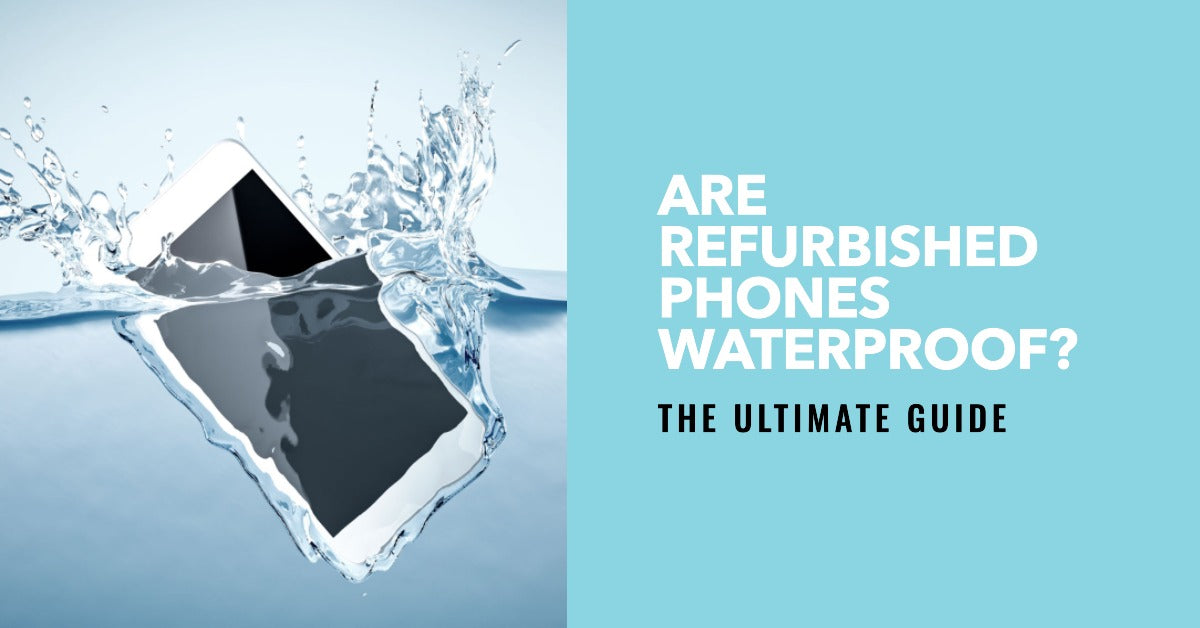 Are Refurbished Phones Waterproof? The Ultimate Guide for 2023
It's a question that often crosses the minds of those considering purchasing a refurbished phone: are refurbished phones waterproof?
In short, refurbished phones are unlikely to be waterproof because the original seal that made them waterproof is broken when the phone undergoes a rigorous refurbishment process.
However, don't let this deter about refurbished you from exploring the world of refurbished phones!
There are many reasons why investing in a refurbished phone from ur.co.uk is a wise decision, including:
Budget-friendliness: Enjoy top features at a fraction of the price.
Eco-consciousness: Reduce e-waste and promote sustainability.
Reliability: Rigorously tested and certified for quality assurance.
Read on to find out why waterproofing may not be guaranteed and useful tips on keeping your device protected.
What are Refurbished Phones?
Refurbished phones are pre-owned devices that have been expertly restored to their original glory.
These savvy treasures are meticulously inspected by skilled technicians, ensuring excellent quality assurance as well as providing an affordable, eco-friendly alternative to brand-new smartphones.
With a rigorous rejuvenation process, refurbished phones offer a guilt-free way to stay connected without compromising your budget or our planet.
So, get ready to unbox your nearly-new gadget and relish in the satisfaction of a smart purchase that ticks all the right boxes!
Why Waterproofing Isn't Guaranteed on Refurbished Devices
The Refurbishing Process
One of the primary reasons why waterproofing cannot be guaranteed on refurbished devices is due to the refurbishing process itself.
To properly diagnose and repair any issues, UR needs to open up each device, potentially compromising its original water-resistant seal.
Although sellers like UR strive to use only the best components while refurbishing phones, it's important to note that waterproofing might not always be maintained.
The refurbishing process involves several key steps to ensure the phone functions as it should:
Inspection: The phone is carefully examined for any defects, damages, or issues that need to be addressed.
Repair: Any necessary repairs are carried out, including replacing faulty parts, fixing software issues, and addressing cosmetic damages.
Testing: Once the repairs and cleaning are done, the phone is rigorously tested to ensure it functions as expected.
Packaging: The refurbished phone is repackaged with the necessary accessories and documentation before being sold.
Normal Wear and Tear
Even with brand-new phones, water resistance tends to decrease over time as a result of normal wear and tear.
So it's natural for refurbished devices to face similar challenges to a brand-new phone in maintaining their water resistance.
Waterproof vs. Water-Resistant: Know the Difference
When discussing the water-related capabilities of refurbished phones, it's important to clarify the difference between waterproof and water-resistant devices.
Waterproof Phones
A waterproof phone is designed to withstand complete immersion in water without suffering any damage. 
It is built to withstand water pressure and prevent water from entering the device, even when submerged for an extended period (usually no longer than 30 minutes).
Water-Resistant Phones
Water-resistant phones are designed to withstand light splashes or accidental exposure to water, but they are not meant to be submerged completely.
They have a certain level of protection against water, but it's not as robust as a waterproof device.
So, Can Refurbished Phones Be Considered Waterproof?
Now that we understand the difference between waterproof and water-resistant devices, let's get to the main question: Are refurbished mobiles waterproof?
In general, refurbished phones cannot be guaranteed to be waterproof, even if the original device had a waterproof or water-resistant rating.
The reason for this is the refurbishing process, which often involves opening the device to inspect, repair, and clean its internal components.
Opening the device can compromise the original waterproof sealing, making it difficult to ensure that the refurbished phone retains its initial waterproof capabilities.
How To Protect Your Refurbished Phone From Water Damage
While your refurbished phone might not come with a guaranteed waterproof seal, there are several steps you can take to protect your device from potential water damage:
Avoid exposing your phone to liquids: Keep your phone away from pools, showers, or other sources of moisture.
Use caution with wet hands: Be mindful when using your phone with wet hands or in high humidity conditions.
Invest in protective accessories: Consider purchasing a waterproof case or pouch to help protect your device from accidental splashes or spills.
UR's Commitment to Quality and Customer Satisfaction
At ur, we understand the importance of providing high-quality refurbished devices while maintaining transparency with our customers.
Every refurbished phone we sell goes through a 90-point check and is Phonecheck certified, ensuring that you receive a top-notch device.
Additionally, our phones come with a 12-month warranty, free insurance for 12 months, £45 worth of accessories, and a 30-day money-back guarantee as outlined in our refund policy. 
Plus, we plant a tree with every order as part of our commitment to sustainability.
What's Included in the Box?
When you purchase a refurbished phone from ur, you can expect to receive:
UR new phone
Cable
Plug
100% compostable eco-case*
Screen protector*
Cleaning cloth
Warranty card
Sim tray opener
*selected devices only
Learn more about everything included by visiting our "What's In The Box" page.
FAQs About Refurbished Phones
Final Thoughts
While it's true that there is no guarantee that refurbished phones will maintain their original waterproofing, this shouldn't discourage you from considering a high-quality, certified refurbished device from ur.co.uk.
By taking proper precautions and investing in protective accessories, you can help safeguard your phone against potential water damage.
So go ahead and browse our collection of refurbished iPhones and Samsung Galaxy devices, knowing that you're making an informed decision backed by UR's commitment to quality and customer satisfaction.
And don't forget – with every purchase, we're planting a tree to contribute to a greener future!