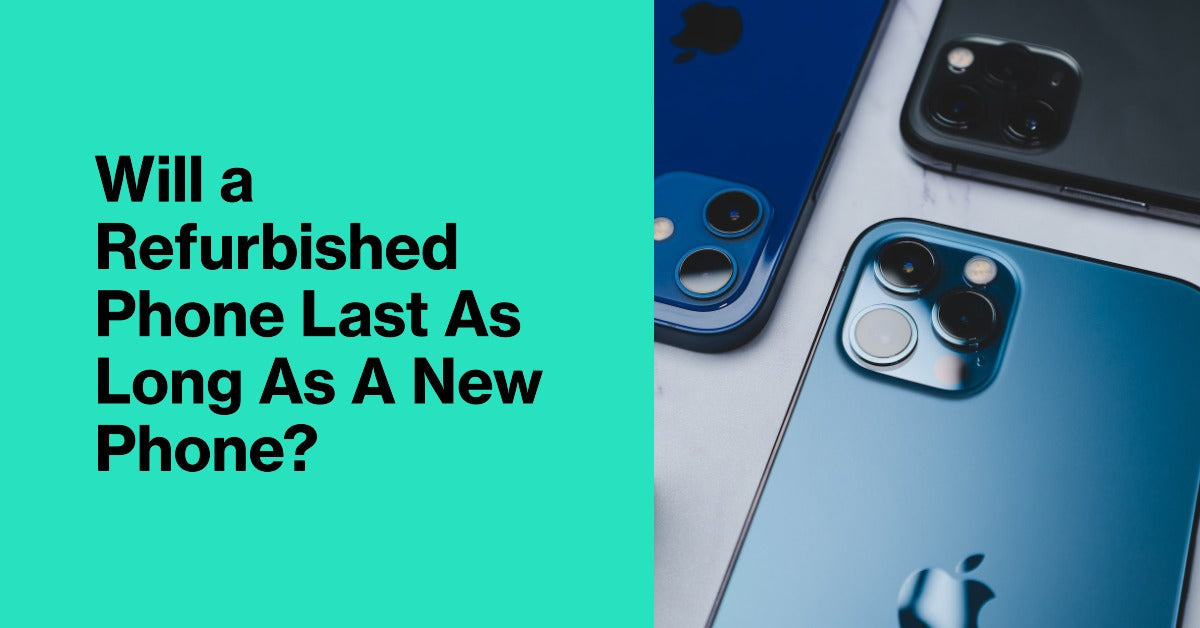 Will A Refurbished Phone Last As Long As A New Phone?
In today's fast-paced world, we're always seeking ways to be both cost-effective and eco-conscious.
But can a refurbished phone truly last as long as a new one? Yes, absolutely it can if you buy from a reputable seller like ur.
Join us as we dive into the world of refurbished handsets, and discover how:
Our rigorous 90-point check ensures top-notch quality
An 80% minimum battery health guarantees longevity
Our 12-month warranty, 30-day money-back guarantee, and free insurance offer peace of mind
Rest assured, your refurbished mobile phone from ur will be given a new lease on life without compromising performance.
Read on to unveil the true potential of these hidden gems. 
How Good Are Refurbished Phones?
Refurbished mobile phones are like second-hand books: they might have a few bumps, some scuff marks and the occasional folded page, but underneath it all is a wealth of knowledge and ancient wisdom.
The same goes for a refurbished phone – even though you may be getting a slightly used device, it's still capable of providing you with all the features of a new model at an even more appealing price.
So if you're looking for a great deal on your next handset, consider buying a refurbished phone – it could be just what you need to stay ahead of the ever-changing technology curve.
Why Do People Sell Their Phones to Refurbished Phone Retailers Like UR?
Many people sell their old phones just to get their hands on the newer model, mostly for vanity and aesthetic purposes. 
It's rare to see refurbished phones which are significantly worse than the same model straight out of the box.
Not to mention, we are extremely picky about which refurbished mobile phones will make it to resale. 
We have strict and rigorous testing to ensure that any phone we sell is up to scratch.
If you're still not convinced, UR offers a 12-month warranty should you face any problems (as well as 12 months of free insurance).
We'd hope any other reputable retailer selling refurbished phones would do the same, but we can only speak for ourselves, of course.
Looking to sell your phone? Look no further than ur. Join the circle and get lightning-fast payment for your device today!
Will A Refurbished Phone Last Long?
Yes! Most refurbished phones will last as long as their brand-new counterparts. 
The only difference is that a refurbished phone has been previously used for some amount of time and, as such, may have minor wear and tear.
However, rest assured that we only sell refurbished phones which have passed our 90-point check test and come with minimum battery health of 80%. 
This means you can buy a refurbished phone from us with confidence knowing your device will last you for years to come.
Our strict checks are Phonecheck certified, so you can be sure that your refurbished phone is in tip-top condition. 
Our simple grading system makes it easy to identify the quality of our devices so you can make an informed decision.
Plus, with our 12-month warranty, 30-day money-back guarantee and free insurance, you won't need to worry about anything if something were to go wrong.
Ultimately, refurbished phones can be a great option for those looking to get more bang for their buck. 
As long as you purchase from a reputable supplier like ur.co.uk, you'll be able to enjoy the same quality and performance of a brand-new phone without breaking the bank.
Is A Refurbished Phone Right For Me?
If you want a decent camera, internet access, apps, and be able to call and text without a hefty price tag, a refurbished smartphone is perfect for you.
Take a look through the selection of phones we have on offer and make your own mind up as to whether a refurbished phone is the right choice for you. 
Each phone has an individual description and grading, so you know exactly what you're getting.
Still not convinced? A member of our team will be more than happy to talk through any of your concerns with you.
The Longevity of Refurbished Phones - Final Thoughts
Refurbished phones have proven to be just as reliable as a brand new handset without the hefty price tag. So why not let your wallet breathe a sigh of relief and give these hidden gems a chance?
Browse our range of refurbished iPhones and Samsung refurbished phones today and experience the perfect blend of quality and affordability.
And remember, when you buy a refurbished phone from us, you can be sure that your device has passed all necessary tests and comes with a 12-month warranty and free insurance.
So what are you waiting for? Get ahead of the ever-changing technology curve and make your next purchase count by buying a certified refurbished mobile phone today!
FAQs
How long should a refurbished phone last?
Nothing is ever built to last, but with proper care and maintenance, there's no reason your refurbished phone won't last as long as a new device. We always recommend buying from a reputable supplier like us to guarantee the best quality possible.
Do refurbished phones come with warranties?
Yes! We offer our customers a 12-month warranty on all of our refurbished phones, as well as 12 months of free insurance. 
Plus, we have a 30-day money-back guarantee if you're not completely satisfied after buying a refurbished phone from us.
Are refurbished phones safe?
Refurbished phones are just as safe to use as brand-new devices, provided they are bought from a reputable supplier such as ur. 
All of our phones have passed a rigorous 90-point check test. 
In the unlikely event that something does go wrong, we also offer a one-year warranty and free insurance so you can be rest assured your device is covered.
Is refurbished better than used?
You're taking a risk when buying a used phone instead of a refurbished device. 
Not only will it not come with a warranty or insurance in case of a problem, but you also won't know if the phone was previously damaged or faulty.
All of our refurbished phones are professionally inspected and will have several tests carried out to ensure they meet our high standards for quality and performance.
What is the average life of a smartphone?
Research shows that the average life of a new smartphone is approximately two to three years. But we here at ur.co.uk are on a mission to change that. 
Our refurbished handsets are carefully inspected, tested and repaired to ensure the best quality assurance possible.
Regular maintenance, including cleaning, updates, and battery monitoring can also help increase your phone's longevity. 
If you take good care of your device, it should last longer than the average lifespan for smartphones.
Are Refurbished Phones or Second-Hand Phones Good Quality?
The quality of a refurbished handset varies depending on several factors, including the condition it was in when acquired, the attention to detail put into its repair and testing, and the quality assurance process employed.
A second-hand phone sold directly by the previous owner may have been taken care of, but it won't have gone through any quality assurance process. 
In other words, buying from a private seller means that there is no guarantee of how long it will last or its performance capabilities.