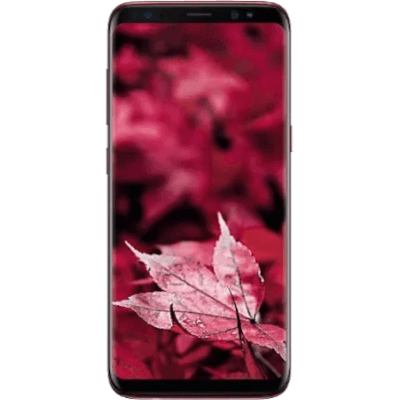 Samsung Galaxy S8
This collection is empty
Why buy a refurbished Samsung Galaxy S8?
The Samsung Galaxy S8, which was released in the spring of 2017, is still one of the best-designed Android handsets to date. Its most prominent feature is a 5.8-inch super AMOLED edge-to-edge screen with Corning Gorilla Glass 5 protection for cinematic viewing.
A refurbished Samsung Galaxy S8 has an extremely fast octa-core processor and 4GB RAM, which is ideal for streaming films or playing graphics-intensive games. It also has a microSDXC slot and 64GB of memory, so you'll never run out of room while downloading applications or saving images.
Gigabit LTE and Gigabit Wi-Fi are available on the Galaxy S8 and S8+. They also have 1024-QAM Wi-Fi, which means you can enjoy up to 20% quicker download rates than the previous model. So speed isn't an issue if you're downloading large files or sharing your data.
With every purchase, you'll get free packaging, high-quality accessories, and exclusive benefits
We know that many customers are afraid to buy a used phone, which is why we want you to join our Circle with confidence. Here's just some of the perks you can enjoy with ur:
1) Beautiful and biodegradable packaging - When you receive your phone, it will be packaged in a lovely biodegradable box that may be used as a storage container or compost once your device's Circle life is up.
2) Free charger and cable - You'll get a free 20W fast charging plug and cable when your phone comes to your door, so it'll be ready to use right away. We only offer the greatest accessories to our consumers, so you can rest assured that the quality of your charging bundle is outstanding.
3) A fun variety of biodegradable phone cases - We want to give you extra protection in addition to our warranty and great refurbishment skills. Your phone will come with your choice of biodegradable cases from our beautiful selection.
4) Free glass screen protector - Another way to protect your phone from harm is to use one of our free screen protectors. We always have your best interests in mind!
5) 12-month warranty in case of any issues - You want to feel safe when you buy a Samsung Phone. That's why we provide a 12-month warranty for complete peace of mind.
6) A tree planted in your honour - Last but not least, for every ur phone purchased, we will plant a tree in your honour - so go ahead and purchase one for yourself or someone else (and don't forget to tell us who it was!).
Refurbished Samsung S8 with peace of mind lasting longer than a new phone 
Every phone that travels through our UK-based factories is subjected to 90 tests and inspections. This rigorous 90-point phone inspection guarantees that ur phones are always ready for what life throws at you.
Our phones are rated using the industry's tightest diagnostic criteria, which are carried out by our skilled phone engineers with unrivalled tech know-how. The Approved Used status of ur phones is down to this thorough refurbishment process. Our experts have approved it for use by you and your family.
Our engineers certify each device with its Certificate of Identification and Functionality after it has been reviewed and authorised. Only then will it be permitted to join the Circle.
Join the ur Circle today - you'll never need to buy new again.
Stay in the loop
Once you're in the loop you won't want to leave.
Be part of our Circle for exclusive offers and discounts.