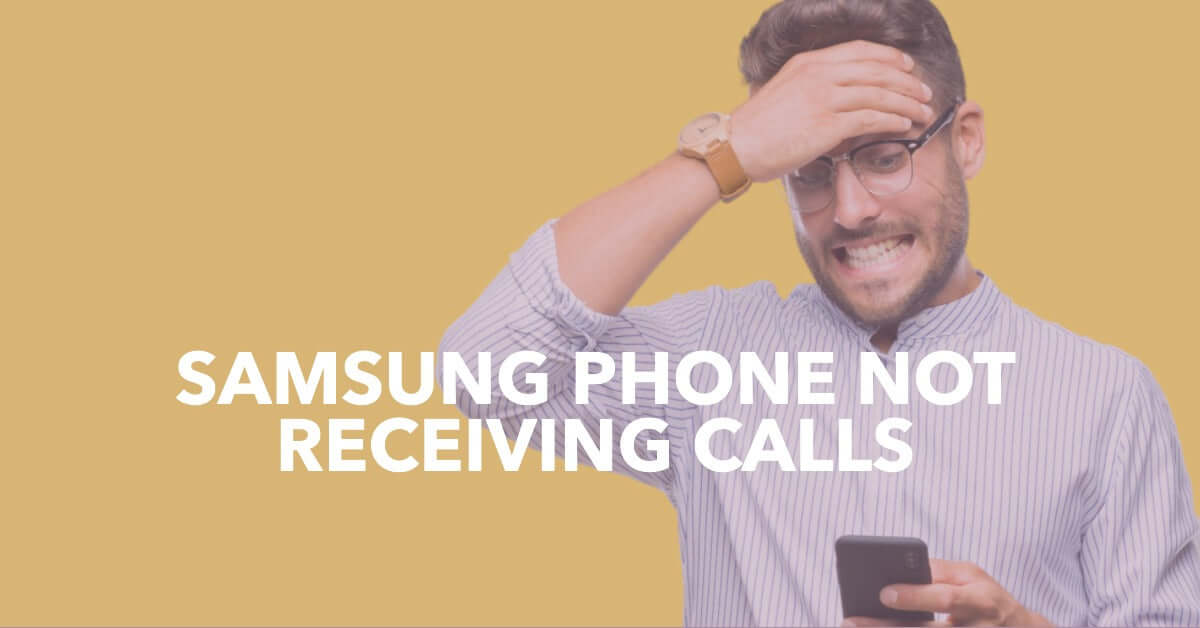 Samsung Phone Not Receiving Calls: Complete Guide to Fixing It! [2023]
Have you recently been in the unsettling situation of discovering that your Samsung phone is not receiving calls?
In this comprehensive guide, we'll delve into what could be causing this inconvenience and how to resolve it.
At UR.co.uk, we provide certified, multi-brand refurbished phones, including a broad range of Samsung Galaxy models.
Let's dive right into the troubleshooting steps you need to follow.
Check Your Phone Settings
Before you panic, it's essential to look into the basic settings of your Samsung device. If your phone is in Airplane Mode, it will stop all incoming calls. 
Also, check the 'Do Not Disturb' feature. If it's enabled, you may not receive calls.
Need help navigating these settings?
You can find out how to turn off roaming on Samsung and how to enable WiFi calling on Samsung through our detailed blogs.
Examine Your SIM Card
Sometimes, the culprit might be a faulty SIM card. Remove your SIM card from the device and inspect it for any visible damage. 
If you're unsure about how to change or inspect your SIM card on a Samsung device, our guide on changing SIM cards on Samsung will come in handy.
Restart Your Device
At times, all your phone needs is a simple restart. This action can often fix minor glitches that may be hindering your phone from receiving calls. 
If you need guidance on this, our blog post on how to turn off Samsung S21 provides easy steps on how to restart your Samsung device.
Update Your Phone's Software
Outdated software might also lead to your Samsung phone not receiving calls. Updating your device to the latest Android version can solve many issues, including this one. 
You can discover more about Samsung software updates in our blog section.
Remember, whenever you face technical issues with your phone, it's crucial to approach the problem methodically and patiently.
Are There Any Blocked Numbers?
Have you accidentally blocked the number that's trying to reach you? To check this, go to your phone settings and navigate to the 'Call' section. 
There, you will see an option for 'Block numbers.' Ensure that the number you're expecting a call from isn't listed there.
Contact Your Network Provider
If you've tried all the steps above and your Samsung phone still isn't receiving calls, the issue might be on your service provider's end. 
Reach out to them for support. 
They may guide you through some additional troubleshooting steps or inform you about possible service outages in your area.
At UR.co.uk, we believe in providing our customers with extensive knowledge on how to make the most of their mobile devices. 
For more tips, guides, and insights, don't forget to explore our FAQs and blog section.
Buy Certified Refurbished Samsung Devices
If the troubleshooting steps mentioned above don't work, or if your Samsung phone has been facing persistent issues, it might be time to consider an upgrade. 
From the Galaxy S22 Ultra to the Galaxy A series, we've got a phone to fit everyone's needs.
Refurbished phones aren't just cost-effective; they're also tested and certified to ensure they're as good as new. 
Wondering what condition do refurbished phones come in? We've got you covered. 
Each of our devices undergoes a PhoneCheck certification process to guarantee it meets high standards.
"When you purchase a refurbished phone from UR.co.uk, you're not just saving money; you're also making a sustainable choice that's good for the planet."
Sustainable Smartphone Shopping
Speaking of sustainability, have you ever wondered why refurbished phones are good for the environment? 
By choosing to buy a refurbished device, you're helping reduce electronic waste and conserve natural resources. 
At UR.co.uk, we are committed to promoting sustainability in the smartphone industry. 
You can learn more about our Karma program, which focuses on environmental initiatives and our ethical practices.
Comprehensive Warranty and Insurance
Once you've chosen your preferred Samsung device from our collection, we help you protect your investment. 
We offer a straightforward device warranty registration and device insurance to cover any potential issues you may face with your refurbished phone.
Your Satisfaction is Our Priority
Your satisfaction is at the heart of our service. We stand by the quality of our products, which is why we have a fair refund policy in place. 
We aim to provide an excellent shopping experience at every step of your journey, from exploring our extensive collections to after-sales support.
So, why wait? Find the perfect Samsung phone for you from our comprehensive refurbished collection. 
Learn More and Stay Updated
Samsung Phone Not Receiving Calls - A Summary
At UR.co.uk, we're here to ensure you're never left in the dark when your Samsung phone starts playing up. 
From troubleshooting your device to helping you find the perfect refurbished replacement, we've got you covered. 
Remember, a problem with your phone receiving calls can be just a minor hiccup, and with the right tools and resources, you can have it sorted out in no time.
If you're in the market for a new phone, don't forget to explore our wide range of refurbished Samsung Galaxy phones and take the sustainable route while saving money. 
And if you have any questions or need further assistance, don't hesitate to get in touch. We're always here to help!