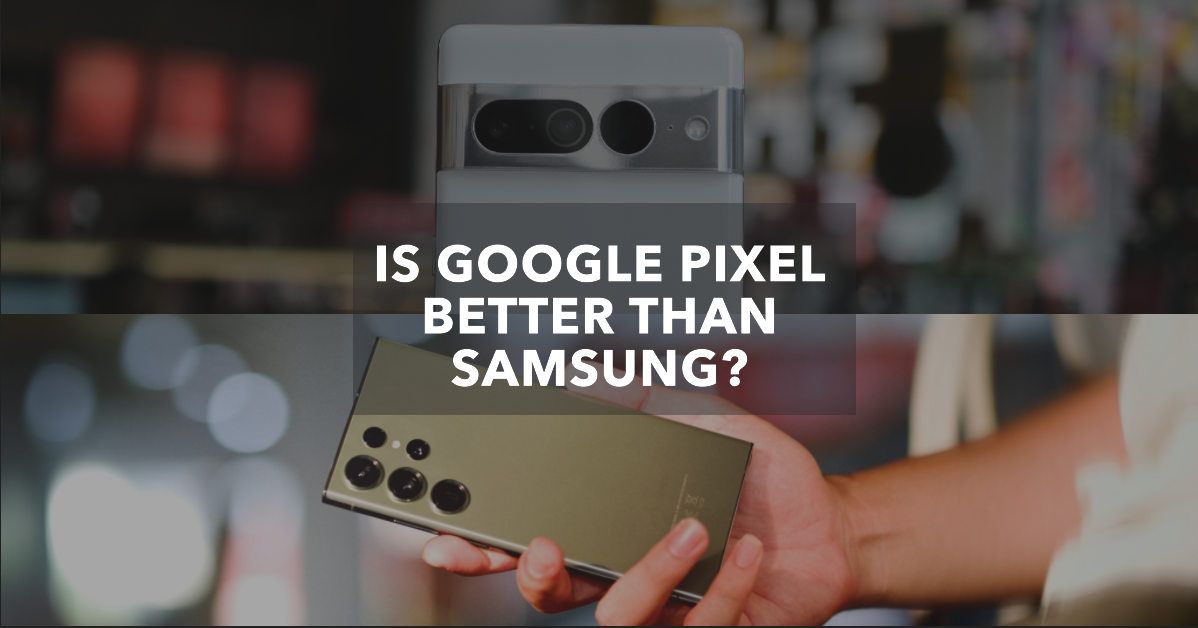 Is Google Pixel Better Than Samsung? The Android Titan Face-Off
Android phones have come a long way, evolving from humble beginnings to big player in the smartphone market.
But when it comes to picking the best Android phone in 2023, two giants stand above the rest - Google's Pixel and Samsung's Galaxy.
These two smartphone heavyweights pack incredible cameras, silky smooth displays and the latest specs.
But is Google's Pixel lineup truly better than Samsung's finest Galaxy devices?
Let's dive in and compare these Android titans across the key battlegrounds - camera, software, design, performance and value - to crown the ultimate Android champion.
Best Samsung and Google Pixel Deals at UR.co.uk
Get your hands on the latest Samsung Galaxy and Google Pixel smartphones at unbeatable prices.
As the UK's premier refurbished tech retailer, we offer all the quality and service you'd expect from a brand-new device but at a fraction of the cost!
Samsung Galaxy Deals - Flagship Power without The Premium
Treat yourself to Samsung's cutting-edge OLED screens, versatile pro-grade cameras and super-powerful performance without breaking the bank.
The formidable Galaxy S22 Ultra delivers PC-like multitasking with its S Pen stylus and pro-level photography with an advanced 108MP camera and 100x Space Zoom.
Or enjoy silky smooth scrolling and graphics on the vibrant 6.5" FHD+ 120Hz screen of the more affordable Galaxy A52s.
With refurbished models in either good, excellent or premium condition backed by our 90-point inspection and 12 months of free insurance, you can enjoy the very best of Samsung for less!
Google Pixel Deals - Computational Photography Perfection
Get your hands on Google's acclaimed Pixel series and their award-winning cameras. Capture stunning portraits, vivid night scenes and sweeping landscapes with the Pixel's market-leading computational photography.
The Pixel 7 and 7 Pro take mobile image quality to the next level with up to 30x Super Res Zoom and Macro Focus. 
Or pick up the Pixel 6 Pro and its telephoto lens capable of 4x optical zoom for intricate details near and far.
With Google's latest innovations for less, now is the time to discover the Pixel difference! 
Our refurbished Pixel deals mean stellar camera phones without the premium price tags.
Every phone from UR.co.uk comes professionally refurbished, covered by warranty, free insurance and more. Shop today and save!
Camera - Pixel's Computational Magic vs Galaxy's Photography Flexibility
The camera remains one of the most important features for any smartphone. And in the camera department, Google Pixel has always had an edge over the competition courtesy of its computational photography.
No matter which Galaxy you pick, from the S22 Ultra to the Z Fold3, the Pixel 6 Pro matches and often exceeds them when it comes to image quality, especially in low light.
Samsung's cameras capture fantastic shots too, but Pixel's AI-powered software magic is peerless.
Software - Pure Android vs Feature-Packed One UI
When it comes to software, you can't beat Pixel's clean Android experience straight from Google, with rapid software updates and nifty exclusives like Call Screen.
Samsung's packed One UI interface on the other hand offers greater customization and unique features like Bixby Routines.
For many, Pixel's uncluttered software is a breath of fresh air while Samsung fans love the additional control and functionality of One UI.
Design - Premium Style or Practicality?
When it comes to design, both Google and Samsung have very distinctive styles. Google Pixels have historically opted for a more understated, practical aesthetic - think the two-tone Pixel 3 or the clean look of the Pixel 5.
With the Pixel 6 and 6 Pro however, Google embraced a striking new visual identity, with the bold horizontal camera bar housing the phone's impressive imaging sensors.
Samsung's Galaxy smartphones, on the other hand, drip with premium style, featuring curved displays and glass sandwich constructions.
The Galaxy S22 and Z Fold 4 come in a wide array of eye-catching colours too, like Bora Purple and Lime Gold.
Those who value form may find Samsung's design flair more appealing while those who care more about function will appreciate the Pixel's pragmatic, easy-to-hold style.
Display - Vibrant AMOLED vs Smooth Refresh Rates
When it comes to display quality, Samsung has traditionally held the edge with its stunning, vibrant AMOLED panels featuring on Galaxy flagships.
The Galaxy S22 Ultra's 6.8" QHD+ display with dynamic 120Hz refresh rate is perfect for movies and games.
But Google's displays have come a long way too. The Pixel 6 Pro's 6.7" LTPO OLED display delivers gorgeous colours too and matches the Galaxy's smooth 120Hz refresh rate.
Some may still prefer the incredible contrasts of Samsung's screens, but Pixel's displays are no longer far behind.
Performance - Raw Power vs Real-World Speed
On paper, Samsung's flagship Galaxy S and Z series phones are performance powerhouses, packed with bleeding edge specs like the Snapdragon 8 Plus Gen 1 and up to 12GB of RAM.
This raw power makes Samsung phones tear through intensive tasks like video editing and multitasking.
But interestingly, in real-world use, Google's Pixel 6 models with the Tensor chip feel just as fluid and responsive.
While Samsung crams in more RAM and higher benchmark-topping specs, Google's software optimization helps the Pixel offer exceptional performance whether you're browsing social media or playing graphics-intensive games.
Battery - All Day Endurance or Wire-Free Power?
Battery life is a key consideration when choosing any smartphone. The Galaxy S22 and S22 Plus have smaller 3,700 mAh and 4,500 mAh batteries respectively compared to the Pixel 6's 4,614 mAh cell.
In real-world usage however, both Samsung and Pixel's flagships easily deliver a full day of use unless you are hammering the screen at max brightness constantly.
Where Samsung pulls ahead is charging speeds and wireless charging capability.
With 25W wired charging and fast wireless charging support, juicing up your Galaxy S22 is easy.
The Pixel 6 tops out at a slower 21W wired charging and lacks wireless charging.
Samsung also offers reverse wireless charging to turn your S22 into a wireless pad for accessories.
Bixby vs Google Assistant - The AI Battle
Software can make or break the user experience on any smartphone. And central to that experience is the virtual assistant.
Samsung has its own Bixby assistant while Google Assistant comes built into Pixel phones.
Google Assistant's natural language processing and ability to understand commands and context makes it far more useful than Samsung's Bixby in real world scenarios.
Bixby does have some Samsung-specific capabilities like device controls but for most tasks, Google Assistant is leaps and bounds ahead. 
With Google's AI expertise, it's no surprise Pixel has the smarter virtual assistant.
Extras - Unique Special Features
Beyond core specs and capabilities, Samsung and Google pack their flagships with special features to help them stand out.
For Samsung, that includes seamless ecosystem integration with products like the Galaxy Buds and Galaxy Watch. 
You also get Samsung exclusives like Samsung DeX desktop mode, Bixby Routines for automation, and Knox security.
Google's Pixel offers its own set of unique capabilities too, powered by AI. These include the Recorder app that does real-time audio transcriptions, Direct My Call that screens calls, and features like Magic Eraser and Motion Mode for the camera.
While gimmicky at times, these additions showcase the tech prowess of both companies.
Verdict - The best Android phone is...
When it comes to weighing all the factors like camera, software, design, display, performance, battery, value, and features, the Google Pixel 6 Pro and the Galaxy S22 Ultra offer some seriously exciting options. 
The Pixel 6 Pro steals the show with its killer camera that outshines other flagships, a sleek interface that glides like butter, and a pocket-friendly price that won't break the bank. 
Meanwhile, the Galaxy S22 Ultra is a premium beast with its top-notch build quality, mind-blowing display, stylus support, and a camera setup that's as versatile as a Swiss Army knife. 
Both phones have their own charms, so it's up to you to decide which one suits your style and budget.
The Choice Is Yours!
The fierce battle between Samsung's Galaxy and Google's Pixel lines has made Android phones better than ever.
With two tech giants competing year after year to innovate and push the boundaries of smartphone technology, the consumers are the real winners.
While the Pixel 6 Pro gets the slight edge overall, the Galaxy S22 Ultra packs plenty of strengths like its premium fit and finish.
So depending on which features matter most to you - incredible camera, lush display or stylus support - and your budget, both Samsung and Google's Android flagships are worthy contenders for your next upgrade.
The choice ultimately comes down to your priorities. But no matter which side you pick in the battle of Google Pixel phones vs Samsung Galaxy phones, there's no denying Samsung and Google make two of the best smartphones you can buy today.
Frequently Asked Questions About Google Pixel and Galaxy Phones
Which phone has the best camera for capturing portraits and skin tones?
The Google Pixel 6 Pro is better for capturing natural-looking portraits and accurate skin tones thanks to its advanced camera software and machine-learning capabilities.
The Pixel's Portrait Mode adds beautiful background blur to human subjects while retaining fine details like hair, skin textures, and facial features.
Samsung's Galaxy S22 Ultra has a great portrait mode too but can sometimes overly smooth faces.
Which phone has the most versatile camera setup?
With its 108MP main, 12MP ultra-wide, 10MP telephoto and 10MP periscope zoom lenses, the Galaxy S22 Ultra easily wins in terms of camera hardware flexibility.
You get up to 100x digital zoom and Samsung's lenses capture great natural-looking photos and video in various conditions.
The Pixel 6 Pro's 50MP camera is extraordinary but can't match the optical zoom capabilities of Samsung's array of lenses.
How well do these flagship phones handle graphics-intensive games?
Both the Google Pixel 6 Pro and Samsung Galaxy S22 Ultra can handle demanding 3D games without breaking a sweat thanks to their top-tier processors - Google's Tensor chip and Snapdragon 8 Gen 1 respectively.
You'll be able to play graphics-rich titles like Genshin Impact smoothly at the highest settings without issue on these Android flagships.
What colours are the Pixel 6 Pro and S22 Ultra available in?
The Pixel 6 Pro comes in Stormy Black, Cloudy White and Sorta Sunny (pale yellow).
The Galaxy S22 Ultra has Phantom Black, Phantom White, Green, and Burgundy colour options.
So both offer understated, bold, and fun colourways to choose from. Samsung does offer more versatility here.
Latest Articles

Google Pixel vs Apple iPhone: A Comparative Review for the Ages