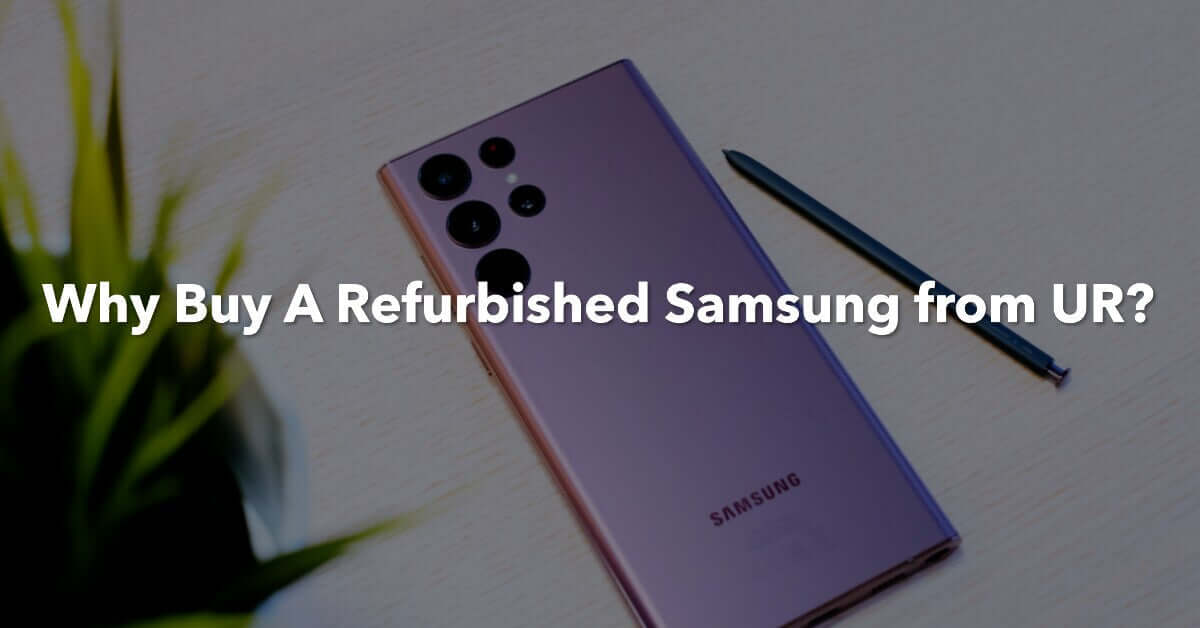 Why Buy a Refurbished Samsung Phone From UR? Discover the Difference!
Welcome to UR, where your satisfaction is our top priority. Experience the thrill of owning a certified refurbished Samsung phone that combines quality, affordability, and peace of mind.
Whether it's the high-end S22 Ultra, mid-range Galaxy S21, or budget-friendly A series device, phone undergoes a meticulous 90-point check, ensuring its flawless performance.
With a 12-month warranty, Phonecheck certification, and 12-month free insurance, your investment is protected.
But that's not all! Enjoy £45 worth of accessories, a 30-day money-back guarantee, and the knowledge that with every order, a tree is planted.
Join us on this exciting journey and discover why UR in the right place to get the latest technology at the fraction of the price!
Unmatched Quality: Experience Certified Refurbished Samsung Galaxy Phones at Their Best
When it comes to refurbished Samsung phones, UR.co.uk offers unmatched quality.
Our certified refurbished Samsung phones are meticulously reconditioned to ensure they perform at their best.
We understand the importance of having a reliable smartphone, which is why we go the extra mile to deliver top-notch quality devices.
Experience the excellence of refurbished Samsung phones with UR.co.uk.
Affordable Luxury: Premium Devices at Unbeatable Prices
At UR.co.uk, we believe that everyone should have access to premium devices without breaking the bank.
That's why we offer affordable luxury through our range of refurbished Samsung Galaxy phones and other models.
Our commitment to providing unbeatable prices allows you to enjoy the latest models and features at a fraction of the cost of a brand-new phone.
Discover the perfect balance of quality and affordability at UR.co.uk.
Rigorous 90-Point Check: Ensuring Top-notch Quality Every Time
Quality is our top priority at UR.co.uk, so we have implemented a rigorous 90-point check on all our refurbished Samsung smartphones, including the Galaxy S20, Galaxy S22, and much more.
Our expert technicians meticulously inspect each device, ensuring functionality remains top-notch.
From the screen to the camera, every aspect of the phone is thoroughly examined to guarantee that it meets our high quality standards.
Rest assured, knowing that every refurbished Samsung Galaxy phone you purchase from us has undergone a comprehensive quality check.
Peace of Mind: 12-Month Warranty and Excellent Customer Support
At UR.co.uk, we understand the importance of peace of mind when purchasing a refurbished phone. That's why we offer a 12-month warranty on all our refurbished Samsung phones.
Your phone's warranty coverage ensures that you are protected against any unforeseen issues that may arise.
Our dedicated customer support team is always ready to assist you with any questions or concerns you may have.
Experience peace of mind with UR.co.uk's excellent warranty and customer support.
Phonecheck Certified: Trust the Expertise of Refurbished Phone Specialists
When it comes to refurbished Samsung phones, trust is essential. 
At UR.co.uk, we are proud to be Phonecheck certified, demonstrating our expertise in refurbishing phones to the highest standards.
We understand the importance of delivering reliable devices, so we have invested in the knowledge and skills necessary to become Phonecheck certified.
When you choose a refurbished Samsung Galaxy phone from us, you can trust that it has undergone rigorous testing and inspection by our specialized in-house technicians.
Experience the peace of mind and reliability of Phonecheck-certified refurbished phones at UR.co.uk.
Comprehensive Protection: 12-Month Free Insurance Included
UR.co.uk understands the value of protecting your investment. That's why we provide comprehensive protection with every refurbished Samsung purchase.
Enjoy the peace of mind that comes with a 12-month free insurance plan.
This coverage ensures that your refurbished Samsung Galaxy is financially protected against accidental damage, theft, and other unforeseen events.
With UR, you can expect top-notch refurbished Samsung products with unbeatable benefits.
Fully functional, expertly graded, and protected from risks. Enjoy 12 months of FREE insurance, exclusive to UR.co.uk. Upgrade your phone with confidence today!
Bonus Accessories: £45 Worth of Extras With All Reconditioned Samsung Phones
At UR.co.uk, we're firm believers in enhancing your refurbished Samsung phone experience. 
That's why we include bonus accessories worth £45 with every purchase.
From protective cases and screen protectors to charging cables and more, these extras are carefully selected to complement and protect your refurbished Samsung phone.
Enjoy the added convenience, style, and value of bonus accessories included with the selection of the best refurbished Samsung phones right here at UR.co.uk.
Once you've received your unlocked device, simply insert your sim card from any mobile network of your choice and away you go!
Green Initiative: Help the Environment - We Plant a Tree with Every Order
UR.co.uk is committed to making a positive impact on the environment.
With our green initiative, we plant a tree for each customer who decides to shop with us.
By choosing buy refurbished tech from us, you contribute to reducing electronic waste and help in the reforestation efforts.
Join us in our mission to create a greener future, one refurbished Samsung phone at a time. Help the environment and make a difference with UR.co.uk's green initiative.
More of an Apple fan? Check out our guide to why you should buy a refurbished iPhone from UR.