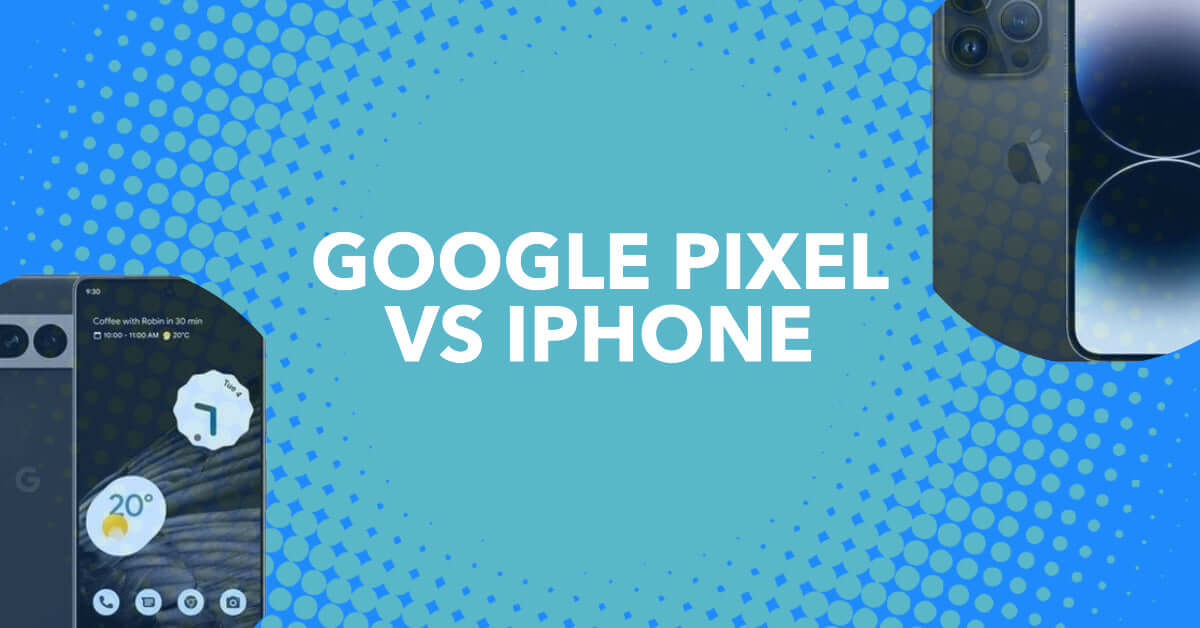 Google Pixel vs Apple iPhone: A Comparative Review for the Ages
In the heated debate of Google Pixel vs iPhone, determining the refurbished champion is no easy feat.
Each device boasts distinct strengths - Google Pixel impresses with its computational photography prowess, while iPhone captivates with its seamless, intuitive ecosystem.
But which handset should grace your palm?
The answer lies in aligning the phone's capabilities with your unique needs.
Dive deeper into our comprehensive comparison to make an informed choice.
Get your hands on your perfect match from our wide array of refurbished Google Pixel and refurbished iPhones all with 12 months of FREE insurance. Don't wait, your next smart move is a click away!
Charging and Battery Capabilities: Clash of the Titans
Battery life is one of the critical aspects of any smartphone, much like how endurance is crucial for marathon runners.
In this sphere, iPhones typically stand out with their impressive longevity.
Models like the iPhone 13 are optimized meticulously to ensure peak performance over extended periods, often outlasting their Pixel counterparts.
While the Pixel range does offer rapid charging support, replenishing up to 50% in approximately 30 minutes, iPhones take a slow and steady approach.
Charging might take a bit longer, but the 
iPhone models ensure a consistent power supply that can last throughout your day.
And let's not forget about the innovative charging solutions Apple brings to the table. 
iPhones now support MagSafe wireless charging, which provides a simple attachment and an efficient charge.
While Pixel phones use standard Qi wireless charging, they lack the ease provided by the magnetic snap of MagSafe.
To sum it up, if you're looking for a phone that can keep up with your day, an iPhone is a solid choice.
Rest assured, all our refurbished phones at ur.co.uk come with a USB cable and charger as part of our £45 worth of FREE accessories , so you'll be ready to go right out of the box.
Camera Clash: Pixel's A.I. vs iPhone's Optics
Now for the main event - an epic camera clash! Pixel and iPhone cameras trade blows with their photographic prowess. 
Let's break down their unique strengths.
The Google Pixel packs a mighty image processing punch. Using AI and computational photography, the Pixel range captures stunning shots, especially in dim lighting where iPhone cameras can stumble.
Clever software tricks like Magic Eraser on the Pixel 6 remove unwanted objects from images with just a few taps.
Meanwhile, iPhone flaunts excellent optical hardware like telephoto lenses for 3x optical zoom. 
Apple's 12MP cameras may seem underpowered on paper, but innovative software squeezes every bit of image quality from the sensors.
The iPhone 13 lineup also introduces Cinematic mode for beautiful focus transitions when capturing video.
Don't count the Pixel out just yet. Models like the Pixel 6 Pro fight back with 4x optical zoom.
Pixel's Super Res Zoom feature uses AI techniques to make zoomed-in shots pop with clarity. Motion Mode brings artistic background blur to your photos and videos with ease.
This imaging showdown ends in a split decision. Both product ranges take absolutely stunning photos and videos, no matter the lighting conditions.
When only the best camera phones will do, ur.co.uk's certified refurbished iPhone and Pixel lineup delivers.
Display Duel: Pixel's Size vs iPhone's Brightness
Onto the display duel between Pixel and iPhone screens. Both shine with stellar visuals, but they take different approaches.
Pixel phones tend to have larger, higher resolution OLED displays compared to same-generation iPhones.
Take the Pixel 6 Pro's expansive 6.7" QHD+ display as an example. This gives Pixel more screen real estate in a slimmer body.
But iPhone screens glow brightly, reaching higher peak brightness levels than Pixel. So images and videos pop with incredible vibrance.
iPhones also showcase Apple's fantastic True Tone technology to automatically adjust color temperature.
Beyond size and brightness, both ranges impress. Smooth 120Hz refresh rates make scrolling silky. 
Vibrant colours and inky blacks come standard with OLED technology. These displays dazzle like fighters dancing around the ring.
Processing Punch-Out: How Fast is Fast Enough?
Under the hood, Google Pixel and Apple iPhone pack some of the most powerful mobile chipsets around. Let's compare their processing prowess.
Apple's A16 processor extends their chipset dominance, beating out Pixel's Google Tensor chip on paper.
But benchmark battles don't tell the full story.
In real-world use, both smartphones obliterate demanding tasks with ease - gaming, multi-app juggling, video editing - no sweat. Everything snaps open instantly thanks to up to 12GB of RAM.
Whether you choose the brawny A16 Bionic or intelligent Tensor chip, you can't lose.
Plus, both companies provide years of major software updates to keep performance peppy.
With speed like this, do a few clock cycles matter? For certified smoothness choose Pixel or iPhone.
OS Slugfest: Flexible Android vs Refined iOS
Time for a battle between operating systems! 
Like unique boxing styles, Android and iOS take different approaches. Let's unpack their strengths.
Android serves up a buffet of customisation options. 
You can trick out the home screen with widgets galore, swap default apps to suit your workflow, tweak every setting imaginable - the flexibility is unrivaled.
Meanwhile, iOS prizes refinement over configurability. The polished interface has an intuitive flow, with fluid animations tying the experience together.
But this curation comes with limitations, and iOS offers less wiggle room in how you use your device.
Choosing between the two OS heavyweights comes down to personal preference. 
Do you value customisable control above all else? Or appreciate refined software cohesion?
With both the Android phones and iOS devices in our inventory, ur.co.uk gives you options.
Special Features Face-Off: Software Tricks and Treats
Beyond the two phones' core functions, Google and Apple incorporate special features that set their smartphones apart. 
Pixel and iPhone both showcase unique skills here.
The iPhone 14 Pro flaunts Apple's Dynamic Island - an ingenious way to transform the front camera notch into a multi-tasking hub for notifications.
Meanwhile, the Pixel 6 and 7 series brings Magic Eraser for easily removing unwanted objects from photos.
Apple also wins on ecosystem integration. Handoff makes it effortless to transition tasks between your iPhone, iPad and Mac. 
Pixel's AI-powered smarts bake enhanced intelligence directly into the device experience.
With tricks like these up their sleeves, both ranges showcase innovative capabilities beyond the basics.
Our certified refurbished inventory brings together the latest and greatest features.
Value Blows: Premium Phones Without Painful Prices
Flagship smartphones often carry painful price tags, but ur.co.uk's certified refurbished inventory brings huge savings.
Plus we provide complimentary accessories like cases and cables worth £45 with every order.
And benefits like warranties, quality assurances, and free Klarna financing bring even more value.
Whether you choose an economical Pixel 4a or splurge on an iPhone 14 Pro Max, ur.co.uk makes premium phones accessible.
And the Winner is...You!
After 12 exhausting rounds, the Pixel vs iPhone bout ends in a split decision draw. 
Both bring unique skills and advantages that appeal to different buyers.
The Pixel prevails with its AI-powered camera chops, fluent Android personalisation and leading battery life. 
But the iPhone counters with size-defying displays, its unbeatable App Store ecosystem and luxe design.
There's no unanimous victor here. Based on your needs and preferences, either product range can claim the title with ur.co.uk's certified refurbished status.
From budget-friendly models like the Pixel 5 or iPhone SE 2022 to cutting-edge flagships, we offer premium phones ready to match your style.
So choose your fighter carefully. And with ur.co.uk's assurances, freebies and service, you can raise your phone in victory every time!
Our Phonecheck-certified refurbishment process ensures your device will be fully functional and in accordance with your chosen grade, whether you pick Pixel or iPhone.
Google Pixel vs iPhone: FAQs
Still undecided between Google or Apple? Here are answers to some common questions when choosing between these smartphone titans:
Is it hard to switch from iPhone to Pixel?
Switching from iPhone to Pixel is fairly straightforward. 
When you set up your new Pixel, you'll log in with your Google account to transfer over email, contacts, calendar info and more.
You can also move photos and videos to Google Photos for easy backup and syncing. Just be sure to turn off iMessage so you continue getting texts properly.
After a short adjustment period, using Android on a Pixel will feel second nature.
What will I miss switching from Android to iPhone?
The biggest adjustment switching from Android to iPhone is losing some customisation options.
You can't readily change default apps, add widgets everywhere or customise the home screen as much.
But Apple's ecosystem brings its own conveniences like Handoff, AirDrop and tighter hardware/software integration.
Give yourself time to get used to iOS - it doesn't take long before it feels intuitive.
Is Pixel safer than iPhone?
When it comes to security, iPhone and Pixel are quite evenly matched. Both use advanced encryption and processors with secure enclaves to safeguard your data.
Pixels integrate antivirus software, while Apple controls the full stack.
As long as you update software regularly and avoid suspicious links, Pixel and iPhone both offer excellent safety.
Why choose Apple over Android?
Some key reasons to choose an iPhone over an Android phone include the polished iOS interface, Handoff syncing between devices, long software support, smooth app experiences, privacy focus, and resell value.
The Apple ecosystem also offers perks like AirDrop, iMessage, Apple Arcade/TV+, tight accessory integration and exceptional customer service at Genius Bars.
If these benefits appeal to you, an iPhone makes sense.
Why Choose Android over iOS?
Reasons to pick Android over iPhone include greater customisation, more hardware variety, Google integration, split screen apps, lower prices, sideloading, and open ecosystem.
For many, the flexibility of Android trumps iOS's walled garden. 
Choices like launchers, widgets, themes, and configurability give you control. If you want a phone to bend to your workflow, Android is the way to go.
Whichever direction you go, ur.co.uk can kit you out with a like-new certified refurbished Pixel or iPhone backed by our assurances.
Browse our inventory today and take your pick of these smartphone superstars!
Latest Articles

Is Google Pixel Better Than Samsung? The Android Titan Face-Off