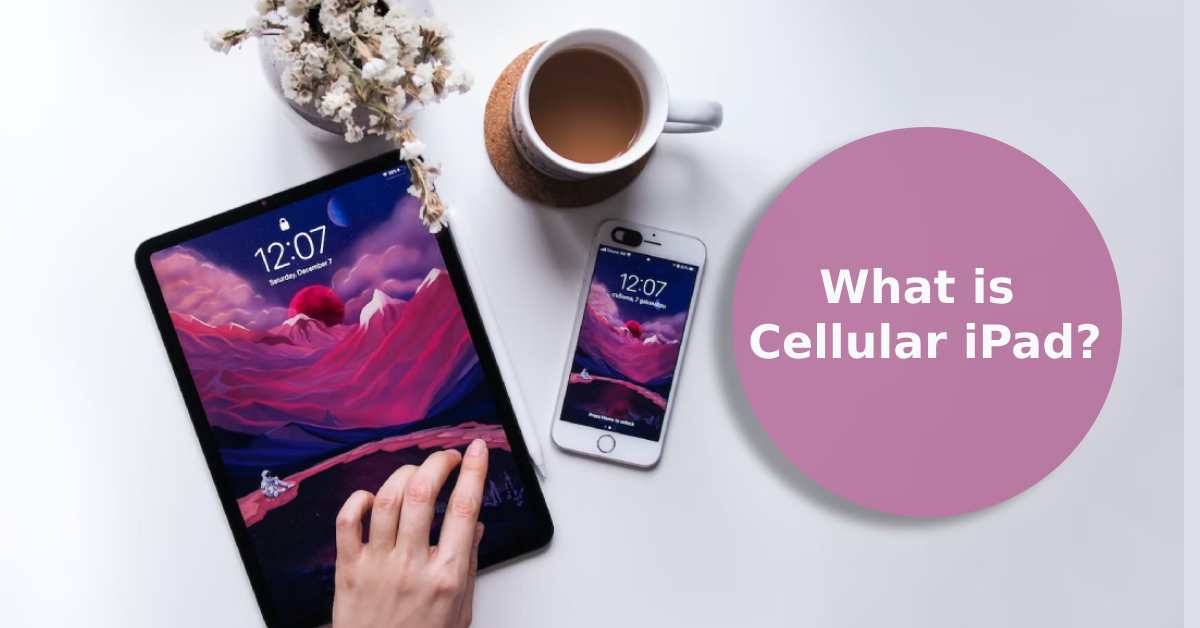 What is Cellular iPad? - Exploring Beyond Wi-Fi
Are you wondering what a cellular iPad is?
Well, it's like an average iPad, but even better.
Cellular iPads allow you to connect to the internet via a cellular network.
Say goodbye to hunting for Wi-Fi; with this gadget, you've got the internet in your pocket wherever you go.
Curious to unlock its full potential? Keep reading to find out with UR.co.uk.
Ready to dive into the world of iPads? Make sure to browse our collection of high-quality, cheap refurbished iPads, including refurbished iPad Pro, refurbished iPad Mini and refurbished iPad Air.
Key Takeaways:
Cellular iPads give you comprehensive access to data, no matter the location.

It's not just about the device; think about data plans.

It is ideal for travellers or those tired of Wi-Fi woes.

Set-up? It's easy.
The Value of Cellular iPads
The extra cash for a cellular iPad upfront might seem steep, but the long-haul perks make it worth every penny.
With cellular functionality, your iPad transforms from a homebody device to an on-the-go tech companion.
Imagine uninterrupted internet access, even when you're miles away from any Wi-Fi network. This is basically giving your iPad the freedom to roam the digital world without any leash.
Need to send an urgent email or join a virtual meeting? No problem; you're fully covered.
Data-sharing options even allow your iPad to be the internet saviour for your other devices when Wi-Fi is scarce.
The initial cost is definitely a splurge, but the enduring benefits make the cellular iPad an invaluable asset.
By the way, if you've ever found yourself wrestling with an iPad that's acting wonky, we've got some quick fixes. Take a glance at our blogs on why does my iPad keep crashing or how to stop iPad from going to sleep to keep that tech running smoothly!
How to Set Up Cellular Service on Your iPad
Setting up cellular service on your iPad is a walk in the park. Let's dive right in.
The Physical SIM
So you've got your new cellular iPad in your eager mitts. What's next? Time to talk SIM cards.
Grab the SIM eject tool that comes with your iPad, or an alternative object that can easily fit into the hole, such as a paperclip or pin.




Find a small hole near the side of the device.




Press it! Out pops the SIM tray.




Insert your physical SIM card.




Voila! You're one step closer to full cellular functionality.



Think of it as putting a key into a lock. But this isn't just any key; it's the golden ticket to internet freedom beyond Wi-Fi zones.
QR Codes and eSIM
Meet the eSIM, a digital alternative to the physical SIM.
Some iPad models offer dual SIM support, meaning you can have a physical SIM provided by your chosen network and an eSIM already built in.
To activate an eSIM, you'll usually scan a QR code or enter a confirmation code given to you after confirming your data plan.
Double the SIM, double the fun—or, more accurately, double the cellular connection options.
Data Plans and Cellular Networks
So you've popped in your SIM or activated your eSIM. 
Before you start streaming your favourite show, let's talk data plans.
Network Providers
Remember, you're not just picking a data plan; you're also choosing a network provider. This decision should never be made in haste, especially with the buffet of options available.
Your plan can range from pay-as-you-go to monthly contracts to unlimited data, so it's essential to align your data plan with your iPad usage.
But it doesn't stop there.
If you've got multiple Apple devices, like a refurbished iPhone Apple and iPad, some cellular services allow you to share data between them.
You also have to weigh up the positives and negatives of major network providers and lesser-known companies.
Are you wondering what's the difference?
Well, many lesser-known companies can offer competitive pricing and features that might not make headlines but are nifty nonetheless.
Either way, make sure you compare different providers before making your decision in order to get the best deal.
Cautionary Tales of Cellular iPad Usage
Before you go into the world of cellular freedom, let's consider some words of caution that could save you from buyer's remorse later.
Don't Let Data Drain Your Pockets
Cellular connectivity on an iPad is great until you find yourself drowning in monthly fees.
Unlike a Wi-Fi-only model, the cellular version needs a data plan, meaning that each megabyte used could potentially be eating into your wallet.
So, if you find yourself streaming the latest binge-worthy series at the coffee shop, double-check you're not using cellular data unless you've got an unlimited plan to back you up.
Or, put on a data cap!
Just navigate to "Settings," then tap into "Cellular"> "Cellular Data Options."
Here, you'll encounter a treasure trove of settings that let you control your data usage like a maestro.
Battery Drain
Having cellular data on your iPad sounds like a dream until you realise it can be a silent assassin to your battery life.
Sure, the convenience of staying connected wherever you roam is great, but it comes with repercussions.
Unlike when you're hooked to a Wi-Fi network, cellular connectivity requires more power to maintain a connection.
So, keep a lookout for this when you're out and about.
iPads that Allow Cellular Service
Before you go splurging on that iPad you've been eyeing, let's hit the pause button.
Not all iPads allow a cellular data plan.
Have a look at the table below to help you find which models come with those extra connectivity perks.
| iPad Model | Generations |
| --- | --- |
| iPad Pro 12.9-inch | 3rd generation or later |
| iPad Pro 11-inch | 1st generation or later |
| iPad Air | 3rd generation or later |
| iPad | 7th generation or later |
| iPad Mini | 5th and 6th generation |
More Cellular iPad Queries
Do you have more questions? Let's get them answered.
Is a Wi-Fi Only iPad Different from a Cellular iPad?
Absolutely. A wifi only iPad relies solely on wifi networks for internet access.
With a cellular iPad, you have the added advantage of using mobile data when wifi is out of reach.
How Do iPad Models Differ in Cellular Capabilities?
The newer the model, the better the cellular tech.
For instance, an iPad Pro offers more advanced cellular features than an iPad Mini.
Also, depending on your iPad model, you might get a Retina display, Apple Pencil support, and other snazzy perks to help you on your way.
What's an Apple SIM and How Does It Work?
An Apple SIM is a physical or digital SIM card that allows you to switch between carriers without needing a new SIM.
It's handy for people who travel or just want the flexibility to flip between cellular plans.
Do I Have to Pay a Monthly Fee for Cellular Service?
Yes! Using a cellular iPad means you'll need a cellular plan, and that generally involves a monthly fee.
But it's a small price to pay for the freedom to surf wherever you please.
Final Musings on the Cellular iPad Adventure
So, you've mapped out your cellular iPad terrain.
We've dug deep into what cellular iPads offer, how they differ from Wi-Fi-only models, and how to customise data plans and settings.
You've even got tools now to keep that bill in check. It's not just a piece of tech; it's a lifeline in a hyper-connected world.
And before you go, did you also know that every refurbished iPad from UR has a 90-point check and comes with a one-year warranty? It's just something to think about for your next purchase.
Cheers to smart choices and smarter tech!